Draft National Youth Policy 2021
---
The Government has reviewed the existing draft National Youth Policy, 2014 and prepared a new draft National Youth Policy (NYP).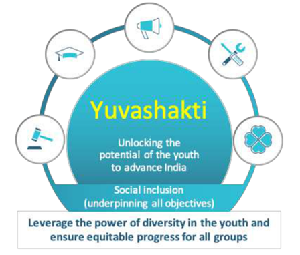 The draft NYP envisages a ten-year vision for youth development that India seeks to achieve by 2030.
It is aligned with the Sustainable Development Goals (SDGs) and serves to 'unlock the potential of the youth to advance India'.
The draft NYP seeks to catalyse widespread action on youth development across five priority areas viz. education; employment & entrepreneurship; youth leadership & development; health, fitness & sports; and social justice.
Each priority area is underpinned by the principle of social inclusion keeping in view the interests of the marginalized sections.
Five Priority Areas and Action Imperatives of the Draft National Youth Policy 2021
Priority Areas

Action Imperatives

Education

('ensure access to equitable and quality education')

Make the education system relevant for the youth – incorporate 21st-century skills, value-based education and large-scale delivery of vocational education linked to employment
Support the NEET Youth (youths not in education, employment or training) through retention and reintegration efforts, physical or online access expansion, and targeted learning programmes
Build an inclusive education system for the marginalised and disadvantaged youths through targeted schemes, inclusive resources and pedagogies, and appropriately trained teachers and counsellors

Employment and Entrepreneurship

('empower youth to grow enterprises and find sustainable employment')

Revitalise the rural economy and retain youth with attractive income opportunities within agriculture and agriculture-allied areas
Generate employment in urban/peri-urban areas with micro-region-specific employment strategies that promote district-specific industries and SME cluster development
Strengthen youth entrepreneurship with necessary investments in entrepreneurship education, mentorship and support systems, and targeted support for social entrepreneurs
Support informal and gig economy workers, and enable gig sector growth with adequate social security provisions and leveraging demand-supply matching technology
Drive overall employment by reforming skilling, rationalising all schemes basis outcomes, and providing specific support to urban migrants and marginalised youth segments

YOUTH DEVELOPMENT AND LEADERSHIP

('empower youth to be the leaders of tomorrow')

Strengthen the youth volunteering ecosystem through streamlined opportunities, mentorship, and due rewards and recognition
Invest in youth leadership development through targeted programmes, opportunities to engage with issues of governance and politics, and broader exposure to raise aspirations
Mobilise a one-stop youth enablement platform to achieve youth volunteering and leadership goals
Develop leadership capacities in marginalised youths through specific inclusion measures

HEALTH

('ensure health and wellbeing of all youths')

Strengthen preventive healthcare practices among youth through integration with the education curriculum and large-scale awareness campaigns
Strengthen healthcare for mental health issues, substance use disorders and sexual and reproductive health concerns
Track youth health metrics, and use data and technology to improve access and quality of treatments
Undertake specific measures to provide quality healthcare access for all marginalised youths

FITNESS AND SPORTS

('develop a culture of fitness and sports, and achieve eminence')

Build a culture of sports and fitness among youth
Enable holistic development of sportspersons through comprehensive talent searches, quality coaching, equitable investments in sporting infrastructure and long-term support beyond sporting careers
Undertake special efforts to include marginalised segments in sports and fitness programmes

SOCIAL JUSTICE

('create a safe, just and equal society for the youth')

Empower and safeguard the youth through various measures including value-based education, provision of safe spaces with support services, increasing awareness regarding rights and legal-aid and specific efforts to address cybercrime
Enable faster delivery of justice and strengthen juvenile rehabilitation
Review and strengthen all social protection schemes to ensure social justice for marginalised and vulnerable youths
Scheme For Strengthening of Pharmaceutical Industry
---
On 11th March, 2022, Department of Pharmaceuticals, Ministry of Chemicals and Fertilizers released the guidelines for the scheme "Strengthening of Pharmaceutical Industry (SPI)".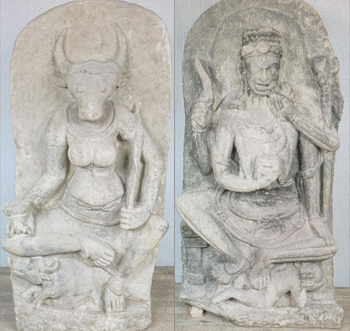 Aim
To strengthen the existing infrastructure facilities in order to make India a global leader in the Pharma Sector.
Salient Features
Under the Scheme, financial assistance to pharma clusters will be provided for creation of Common Facilities. This will not only improve the quality but also ensure the sustainable growth of clusters.
Further, in order to upgrade the production facilities of SMEs and MSMEs so as to meet national and international regulatory standards (WHO-GMP or Schedule-M), interest subvention or capital subsidy on their capital loans will be provided, which will further facilitate the growth in volumes as well as in quality.
3 Components
Assistance to Pharmaceutical Industry for Common Facilities (APICF): To strengthen the existing pharmaceutical clusters' capacity for their sustained growth by creating common facilities.
Pharmaceutical Technology Upgradation Assistance Scheme (PTUAS): To facilitate Micro, Small and Medium Pharma Enterprises (MSMEs) of proven track record to meet national and international regulatory standards.
Pharmaceutical & Medical Devices Promotion and Development Scheme (PMPDS): To facilitate growth and development of Pharmaceutical and Medical Devices Sectors through study/survey reports, awareness programs, creation of database, and promotion of industry.
Impact
Quality and Technology Upgradation: It is expected that the units supported under this scheme will act as Demonstration Firms for the pharma clusters and MSE Pharma Industries, to develop on quality and technology upgradation fronts.
Improving, Productivity, Quality and Sustainability: It will help to address the rising demand in terms of support required to existing Pharma clusters and MSMEs across the country to improve their productivity, quality and sustainability.
Establishing India as a Global Leader: Scheme will contribute to establish India a global leader in Pharma Sector by providing financial assistance to Pharma clusters for creation of Common
Vigyan Sarvatra Pujyate
---
The Government of India organised Vigyan Sarvatra Pujyate as part of Azadi ka Amrit Mahotsav.
Vigyan Sarvatra Pujyate (science is revered all over) was celebrated as a nationwide week-long programme of competitions and lectures for students from February 22 to 28 simultaneously in 75 locations.
Azadi ka Amrit Mahotsav is a year-long programme undertaken by the Government to pay homage to freedom fighters and showcase the country's achievements in various fields on the eve of 75th anniversary of its Independence.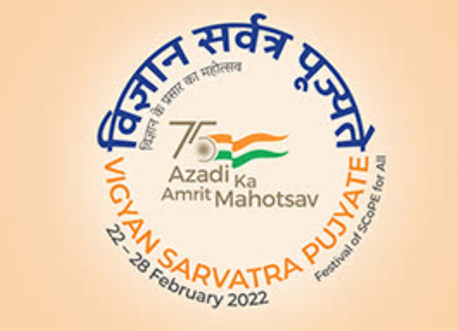 Aim
The programme was designed to inspire India's youth and help them navigate into building a progressive nation; bring to the fore stories of people in science who made these achievements possible; reinforce the commitment of the scientific community towards the economic and social development of the country; present the awe inspiring futuristic mega science projects embarked upon by the nation and highlight the work being done by R&D organisations from across the country as they lead science and technology efforts on the road to 2047.
Organisers
Various ministries and organisations jointly organised the programme.
Coordinating Agency
Vigyan Prasar - an autonomous organisation of DST with a mandate to promote science communication in the country - is the coordinating agency.
Themes
The programme was grouped under four themes as follows:
The first theme was `From the annals of the history of S&T'. This section traced the contributions of founders of modern science and institutions of national importance to nation-building.
The second theme was 'Milestones of Modern S&T'. It highlighted critical discoveries, innovations, or inventions that made a mark in the global science or India's development story.
The third theme was `Swadeshi Paramparik Inventions and Innovations'. It showcased 75 inventions or technologies that made India self-reliant.
The fourth theme was `Transforming India'. It looked at the road ahead for the next 25 years of Indian S&T.
National roll-out of Ayushman Bharat Digital Mission
---
After the pilot of Ayushman Bharat Digital Mission (ABDM) was completed in the six Union Territories of Ladakh, Chandigarh, Dadra & Nagar Haveli and Daman & Diu, Puducherry, Andaman and Nicobar Islands and Lakshadweep, on 26th February 2022, the Union Cabinet has approved the national roll-out of tis Central Sector Scheme of Ministry of Health and Family Welfare with a budget of Rs.1,600 crore for five years.
Implementing Agency: The National Health Authority (NHA) is the implementing agency of Ayushman Bharat Digital Mission (ABDM).
Finer Points of the Mission
Ayushman Bharat Digital Mission will connect the digital health solutions of hospitals across the country with each other. The Mission will not only make the processes of hospitals simplified but also will increase ease of living. The Digital Ecosystem will also enable a host of other facilities like Digital Consultation, Consent of patients in letting medical practitioners access their records, etc. With the implementation of this scheme, old medical records cannot get lost as every record will be stored digitally.
Under the ABDM, citizens will be able to create their ABHA (Ayushman Bharat Health Account) numbers, to which their digital health records can be linked.
This will enable creation of longitudinal health records for individuals across various healthcare providers, and improve clinical decision making by healthcare providers.
Benefit
The mission will improve equitable access to quality healthcare by encouraging use of technologies such as telemedicine and enabling national portability of health services.
Not only will ABDM facilitate evidence-based decision making for effective public health interventions, but it will also catalyse innovation and generate employment across the healthcare ecosystem.
Recent Successful Digital Initiatives
Digital health solutions across healthcare ecosystem have proven to be of immense benefit over the years, with CoWIN, Arogya Setu and eSanjeevani further demonstrating the role technology can play in enabling access to healthcare. However, there is a need to integrate such solutions for continuum of care, and effective utilization of resources.
National Digital Health Eco-system
It is a National Digital Health Eco-system that supports Universal Health Coverage in an efficient, accessible, inclusive, affordable, timely, and safe manner, through provision of a wide-range of data, information and infrastructure services, duly leveraging open, interoperable, standards-based digital systems, and ensuring the security, confidentiality and privacy of health-related personal information.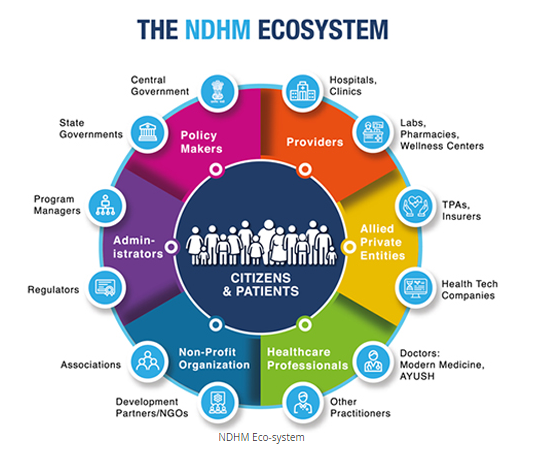 Green Hydrogen/ Green Ammonia Policy
---
On 17th February 2022, the Ministry of Power notified the green hydrogen and ammonia policy.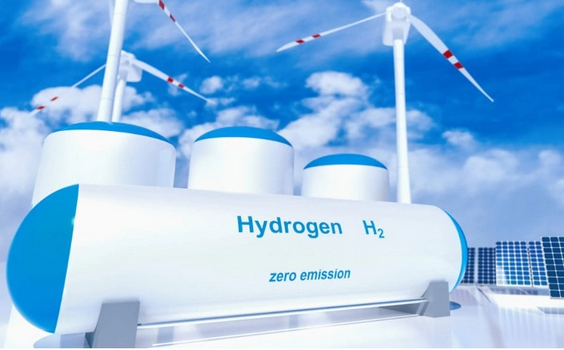 Green Hydrogen
Hydrogen and Ammonia are envisaged to be the future fuels to replace fossil fuels. Production of these fuels by using power from renewable energy, termed as green hydrogen and green ammonia, is one of the major requirements towards environmentally sustainable energy security of the nation. Government of India is taking various measures to facilitate the transition from fossil fuel / fossil fuel based feed stocks to green hydrogen / green ammonia.
Finer Points of the Policy
Green Hydrogen / Ammonia manufacturers may purchase renewable power from the power exchange or set up renewable energy capacity themselves or through any other, developer, anywhere.
Open access will be granted within 15 days of receipt of application.
The Green Hydrogen / Ammonia manufacturer can bank his unconsumed renewable power, up to 30 days, with distribution company and take it back when required.
Distribution licensees can also procure and supply Renewable Energy to the manufacturers of Green Hydrogen / Green Ammonia in their States at concessional prices which will only include the cost of procurement, wheeling charges and a small margin as determined by the State Commission.
Waiver of inter-state transmission charges for a period of 25 years will be allowed to the manufacturers of Green Hydrogen and Green Ammonia for the projects commissioned before 30th June 2025.
The manufacturers of Green Hydrogen / Ammonia and the renewable energy plant shall be given connectivity to the grid on priority basis to avoid any procedural delays.
The benefit of Renewable Purchase Obligation (RPO) will be granted incentive to the hydrogen/Ammonia manufacturer and the Distribution licensee for consumption of renewable power.
To ensure ease of doing business a single portal for carrying out all the activities including statutory clearances in a time bound manner will be set up by MNRE.
Connectivity, at the generation end and the Green Hydrogen / Green Ammonia manufacturing end, to the ISTS for Renewable Energy capacity set up for the purpose of manufacturing Green Hydrogen / Green Ammonia shall be granted on priority.
Manufacturers of Green Hydrogen / Green Ammonia shall be allowed to set up bunkers near Ports for storage of Green Ammonia for export / use by shipping. The land for the storage for this purpose shall be provided by the respective Port Authorities at applicable charges.
Benefits
The implementation of this Policy will provide clean fuel to the common people of the country.
This will reduce dependence on fossil fuel and also reduce crude oil imports.
The objective also is for our country to emerge as an export Hub for Green Hydrogen and Green Ammonia.
The policy promotes Renewable Energy (RE) generation as RE will be the basic ingredient in making green hydrogen. This in turn will help in meeting the international commitments for clean energy.
National Hydrogen Mission
The National Hydrogen Mission was announced by the Prime Minister on India's 75th Independence Day (i.e. 15th August, 2021).
The Mission aims to aid the government in meeting its climate targets and making India a green hydrogen hub.
This will help in meeting the target of production of 5 million tonnes of Green hydrogen by 2030 and the related development of renewable energy capacity.
(Source: PIB)
New India Literacy Programme (NILP): Beyond Foundational Literacy and Numeracy
---
The Union Government has approved a new scheme "New India Literacy Programme' for the period FYs 2022-2027 to cover all the aspects of Adult Education to align with National Education Policy 2020 and Budget Announcements 2021-22.
The National Education Policy 2020 has recommendations for Adult Education and Lifelong Learning.
The Union Budget 2021-22, announcement had been made to enable increased access of resources, online modules covering the entire gamut of adult education will be introduced.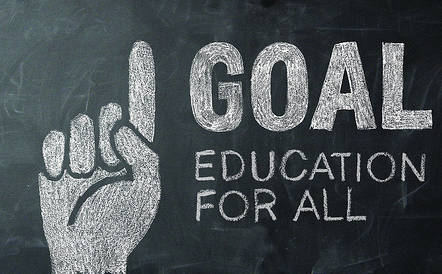 Objective of the Scheme
The objectives of the scheme is to impart not only foundational literacy and numeracy but also to cover other components which are necessary for a citizen of 21st century such as critical life skills (including financial literacy, digital literacy, commercial skills, health care and awareness, child care and education, and family welfare); vocational skills development (with a view towards obtaining local employment); basic education (including preparatory, middle, and secondary stage equivalency); and continuing education (including engaging holistic adult education courses in arts, sciences, technology, culture, sports, and recreation, as well as other topics of interest or use to local learners, such as more advanced material on critical life skills).
Target
The scheme will cover non-literates of the age of 15 years and above in all state/UTs in the country.
The target for Foundational Literacy and Numeracy for FYs 2022-27 is 5 (five) crore learners @ 1.00 crore per year.
Non-literates in India
As per Census 2011, the absolute number of non-literates of the country in 15 years and above age group is 25.76 crore (Male 9.08 crore, Female 16.68 crore).
In consideration of the progress of persons certified as literates being to the tune of 7.64 crore under the Saakshar Bharat programme implemented during 2009-10 to 2017-18, it is estimated that currently around 18.12 crore adults are still non-literate in India.
Method
The above target is aimed to achieve by using "Online Teaching, Learning and Assessment System (OTLAS)" in collaboration with National Informatics Centre, NCERT and NIOS in which a learner may register him/herself with essential information like name, date of birth, gender, Aadhaar number, mobile number, etc.
Implementation
The scheme will be implemented through volunteerism through online mode. The training, orientation, workshops of volunteers, may be organized through face-to-face mode.
All material and resources shall be provided digitally for easy access to registered volunteers through easily accessible digital modes, viz, TV, radio, cell phone-based free/open-source Apps/portals, etc.
Priority and Saturation in Literacy
The age cohort of 15-35 will be saturated first followed by ages 35 and above. Priority will be given in terms of categories to the Girls and women, SC/ST/OBC/Minorities, Persons with Special Needs (Divyangjans), Marginalized/ Nomadic/ construction workers/ laborers/etc. who can substantially and immediately benefit from adult education.
In terms of location/area, the focus shall be on all aspirational districts of NITI Aayog, districts with literacy rates less than the National/State average, districts with female literacy rates less than 60% as per the 2011 Census, Districts/ Blocks with large SC/ST/ Minority population, Educationally Backward Blocks, Left Wing Extremism Affected districts.
Centre-State Share of Cost
The estimated total outlay of "New India Literacy Programme" is Rs.1037.90 crore which includes Central share of Rs.700 crore and State share of Rs.337.90 crore respectively for the FYs 2022 -27.
"Adult Education" is now 'Education for All'
Adult Education is now 'Education for All' in the country: As a progressive step, it has also been decided that from now onwards that the term "Education For All" will be used in place of "Adult Education" by the Ministry in view of the fact that the terminology "Adult Education" is not incorporating appropriately all non-literates of 15 years and above age group.
NITI Aayog's Vernacular Innovation Program
---
Recently, Atal Innovation Mission (AIM), NITI Aayog, launched the Vernacular Innovation Program (VIP) to enable innovators and entrepreneurs to have access to the innovation ecosystem in 22 scheduled languages.
About The Program
The Vernacular Innovation Program is an initiative to lower the language barrier in the field of innovation and entrepreneurship and will systematically decouple creative expressions and languages of transaction.
To build the necessary capacity for the program, AIM has identified and will be training a Vernacular Task Force (VTF) in each of the 22 scheduled languages.
Each task force comprises vernacular language teachers, subject experts, technical writers, and the leadership of regional Atal Incubation Centers (AICs).
Significance
VIP will be a stepping stone in the journey of the Indian innovation and entrepreneurship ecosystem which will cement the cognitive and design thinking attitude in young and aspiring minds.
The program will assist India in building a strong local network of design experts and innovation practitioners.
It will help in overcoming the barriers of language and empower innovators in the farthest areas of the country.
It will provide equal opportunities to vernacular innovators who represent the staggering 90% of Indian population.
Policy on Traffic Management of Drones Notified
---
The Ministry of Civil Aviation has notified a traffic management policy framework for drones. It envisages private, third-party service providers for ensuring safe operations.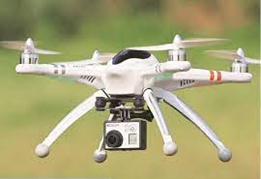 (Image Source: PIB)
Highlights
Automated Traffic Management: Under the framework these Unmanned Traffic Management Service Providers (UTMSP) will extend automated, algorithm-driven software services instead of voice communication as in the traditional Air Traffic Management (ATM) systems.
Segregation: They will primarily be responsible for segregating and separating a drone from other drones and manned aircraft in the airspace below 1,000 feet in the country.
Supplementary Service Providers: The traffic management providers will be assisted by Supplementary Service Providers (SSPs), who will maintain data about terrain, weather, and location of manned aircraft and provide services such as insurance, data analytics and drone fleet management.
Integration of UTM & ATM: The drone traffic management policy also requires integration of UTM with ATM so that flight plans and real-time location of manned aircraft can be recorded as well in order to continuously separate manned and unmanned aircraft from each other.
Access to Law & Security Agencies: Law enforcement and security agencies will also have access to some information in the UTM ecosystem on a need-to-know basis.
Service Fee: The policy also allows UTMSPs to levy a service fee on users, a small portion of which will also be shared with the Airports Authority of India.
Narcotic Drugs and Psychotropic Substances Act 1985
---
Over 72,000 cases were registered across the country under the Narcotic Drugs and Psychotropic Substances (NDPS) Act, that is, more than 8 cases every hour through the year.
About Narcotic Drugs and Psychotropic Substances Act, 1985
It was enacted in 1985 to fulfill India's treaty obligations under the Single convention on Narcotic Drugs and Psychotropic Substances, United Nations Convention Against Illicit Traffic in Narcotic Drugs and Psychotropic Substances.
It prohibits any individual from engaging in any activity consisting of production, cultivation, sale, purchase, transport, storage, and/or consumption of any narcotic drug or psychotropic substance.
The NDPS Act regulates and bans use of any drugs except for medicinal purposes, prescribing stringent punishment for violators
Objectives
To take measures for preventing, combating and regulation of operations relating to narcotic drugs and psychotropic substances.
To provide for the forfeiture of property derived from or used in, illicit traffic in narcotic drugs and psychotropic substances.
To implement the provisions of the International conventions on Narcotic Drugs and Psychotropic Substances and for all the relevant matters.
To add or omit the list of psychotropic substances
Applicability
The NDPS Act prohibits a person from manufacture / production / cultivation/ possession/ sale / purchase / transport / store / consume any narcotic drug or psychotropic substance without due permission from the appropriate authorities.
Narcotic Drugs
Narcotic Drug means coca leaf, cannabis (hemp), opium, popy straw and includes all manufactured drugs.
Psychotropic Substances
Psychotropic substance means any substance, natural or synthetic, or any natural material or any salt or preparation of such substance or material included in the list of psychotropic substances specified in the Schedule.
Essential Narcotic Drug
Itincludes isomers, within specific chemical designation, the esters, ethers and salts of these drugs, including salts of esters, ethers and isomers, whenever existence of such substance is possible and any other narcotic substance or preparation which the Central Government may, by notification in the Official Gazette, declare to be a manufactured drug.
The term 'essential narcotic drug' has been inserted by NDPS (Amendment) Act, 2014 vide SRO 1183(E), dated 30.4.2014.
Examples: Codeine, Hydrocodone, Oxy-codone, Fentanyl, Methadone and Morphine.
Punishment for Possession/Use of Drugs under NDPS Act
Punishment prescribed under the NDPS Act is based on the quantity of drugs seized. Following amendments, it "grades punishment into three categories depending on the quantity of drugs seized and also provides for judicial discretion as far as the severity of punishment is concerned".
To take the example of cannabis, the punishment for the cultivation of any cannabis plant may extend to rigorous imprisonment for up to 10 years and can also involve a fine which may extend to Rs 1 lakh.
Further, the production, manufacture, possession, sale, purchase, transportation and illegal trafficking of cannabis envisages punishment based on the quantity seized.
Thus, punishment for the seizure of a "small quantity" of cannabis can involve rigorous imprisonment of up to one year and include a fine of up to Rs 10,000. When the seizure is of a "quantity lesser than commercial quantity but greater than small quantity", the convict can be awarded rigorous imprisonment of up to 10 years and be asked to pay a fine of up to Rs 1 lakh.
Possession of a commercial quantity of cannabis is to be punished with rigorous imprisonment for a term that "shall not be less than 10 years but which may extend to 20 years" while a fine "which shall not be less than one lakh rupees but which may extend to two lakh rupees" can also be imposed with the court authorised to also "impose a fine exceeding two lakh rupees".
In Section 27, the Act also deals with punishment for consumption of "any narcotic drug or psychotropic substance", laying down that when the drug consumed is "cocaine, morphine, diacetylmorphine or any other narcotic drug or any psychotropic substance", the punishment would involve "rigorous imprisonment for a term which may extend to one year, or with fine which may extend to twenty thousand rupees".
For any other drug not included in the above list, the punishment will be for up to six months, and can include a fine of up to Rs 10,000.
The Act takes a serious view vis-a-vis repeat offenders, prescribing rigorous imprisonment of up to "one and one-half times of the maximum term" of imprisonment for that offence and also a fine "which shall extend to one and one-half times of the maximum amount" of fine.
Repeat offenders are also liable to even face the death penalty if they are convicted again of a similar offence depending on the quantity of drugs seized.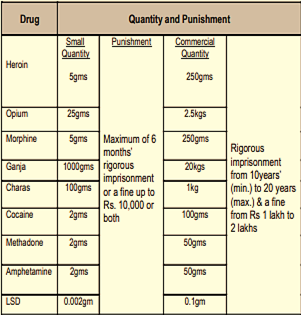 Swachh Bharat Mission-Urban 2.0 & AMRUT 2.0
---
On 1st October, 2021, the government launched the Swachh Bharat Mission-Urban (SBM-U) 2.0 and Atal Mission for Rejuvenation and Urban Transformation (AMRUT) 2.0 .
In pursuance of the Prime Minister's vision, the schemes, with an outlay of about ₹ 4.4 Lakh Crore, will adopt 'Universal Approach' and make a move towards 'Saturation' in sanitation and water availability in all Urban Local Bodies (ULBs).
About Swachh Bharat Mission-Urban 2.0
SBM-U 2.0 envisions to make all cities 'Garbage Free' and ensure grey and black water management in all cities.
Focus
The Mission will focus on source segregation of solid waste, utilizing the principles of 3Rs (Reduce, Reuse, Recycle), scientific processing of all types of municipal solid waste and remediation of legacy dumpsites for effective solid waste management.
It will focus on ensuring complete access to sanitation facilities to serve additional population migrating from rural to urban areas in search of employment and better opportunities over the next 5 years.
Key Components
Complete liquid waste management in cities in less than 1 lakh population – a new component introduced under SBM-Urban 2.0 will ensure that all wastewater is safely contained, collected, transported and treated so that no wastewater pollutes our water bodies.
Under the Sustainable Solid Waste Management, greater emphasis will be on source segregation.
Material Recovery Facilities and waste processing facilities will be set up, with a focus on phasing out single use plastic.
Construction & demolition waste processing facilitieswill be set upand mechanical sweepers deployedin National Clean Air Programme cities and in cities with more than 5 lakh population. Remediation of all legacy dumpsites will be another key component of the Mission.
Impact
It is expected that under Swachh Bharat Mission-Urban 2.0, all statutory towns will become at least ODF+; and all cities with <1 lakh population ODF++. Systems and processes will be in place so that all waste water is safely treated and optimally reused and no untreated wastewater pollutes water bodies.
Regarding the Solid Waste Management, it is expected that all cities will achieve at least 3-star Garbage Free certification under SBM-U 2.0.


Atal Mission For Rejuvenation And Urban Transformation (AMRUT) 2.0
AMRUT 2.0 aims to provide 100% coverage of water supply to all households in around 4,700 urban local bodies by providing about 2.68 crore tap connections and 100% coverage of sewerage and septage in 500 AMRUT cities by providing around 2.64 crore sewer/ septage connections, which will benefit more than 10.5 crore people in urban areas.
Focus
Mission has a reform agenda, with focus on strengthening of urban local bodies and water security of the cities.
Major reforms include rejuvenation of water bodies, rain water harvesting, reducing Non-Revenue Water (NRW), meeting 40% industrial water demand through recycled used water, dual piping system for bulk users through building bye-laws, Unlocking value & improving land use efficiency through proper master planning, improving credit rating & accessing market finance including issuance of municipal bonds and implementation Online Building Permission System under EoDB.
Key Components
There will be several defining features of AMRUT-2.0. These include upscaling from 500 cities covered under AMRUT with 1 lakh+ population to all 4,372 cities, covering 100% urban India.
Urban Water Information System through NRSC will be developed, leading to Aquifer Management system. Information, Education and Communication campaign will spread awareness among masses about conservation of water.
'Pey Jal Survekshan' will be conducted to promote progressive competition among cities.
AMRUT 2.0 will adopt the principles of circular economy and promote conservation and rejuvenation of surface and groundwater bodies.
AMRUT 2.0 will adopt the principles of circular economy and promote conservation and rejuvenation of surface and groundwater bodies.
The Mission will promote data-led governance in water management and technology Sub-Mission to leverage latest global technologies and skills.
Impact
The mission signify a step forward in the march towards effectively addressing the challenges of rapidly urbanising India and will also help contribute towards achievement of the Sustainable Development Goals 2030.
The Mission seeks to promote AatmaNirbhar Bharat through encouraging Startups and Entrepreneurs.
It will lead to promotion of GIG economy and on-boarding of youth & women.
The AMRUT-2.0 Mission will promote Public Private Partnership (PPP). It has been mandated for cities having million plus population to take up PPP projects worth minimum of 10 percent of their total project fund allocation which could be on Annuity/ Hybrid Annuity / BOT Model.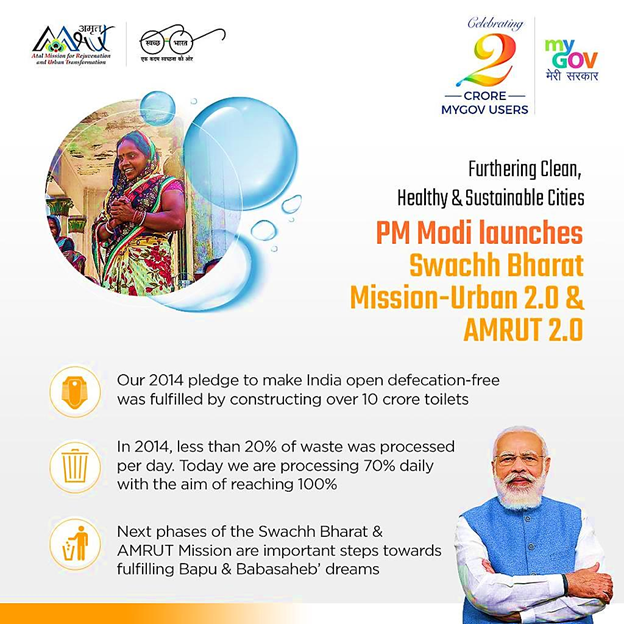 Ayushman Bharat Digital Mission
---
On 27th September 2021, Prime Minister Launched Ayushman Bharat Digital Mission.
Ayushman Bharat – Digital Mission, will now connect the digital health solutions of hospitals across the country with each other. The Mission will not only make the processes of hospitals simplified but also will increase ease of living.
The initiative will enable individuals to discover hospitals, laboratories and pharmacies across the country.
Under this, every citizen will now get a digital health ID and their health record will be digitally protected.
It will create a seamless online platform that will enable interoperability within the digital health ecosystem.
---