India's Declining Total Fertility Rate
---
According to recently released Sample Registration System data of 22 states, Total Fertility Rate (TFR) for India has declined to 2.2 in 2017 after being stable at 2.3 between 2013 and 2016.
Total Fertility Rate (TFR)
TFR may be defined as average number of children that would be born to a woman if she experiences the current fertility pattern throughout her reproductive span (15-49 years).
The total fertility rate is a more direct measure of the level of fertility than the birth rate, since it refers to births per woman. This indicator shows the potential for population change in a country.
A TFR of about 2.1 children per woman is called replacement-level fertility, which means a population that is stable, neither rising nor falling.Population starts falling below this level.
Rural Vs Urban TFR
The TFR has more than halved in both urban and rural areas, falling even below the replacement level in the former where it is 1.7, down from 4.1 in 1971.
In rural areas, TFR has fallen from 5.4 to 2.4 during the same period. For rural areas, it varies from 1.6 in Delhi and Tamil Nadu to 3.3 in Bihar.
For urban areas, the variation is from 1.1 in Himachal Pradesh to 2.4 in Uttar Pradesh and Bihar. Of the 22 states, only six have a TFR of 2 or more in urban areas.
It goes below 2 in both urban and rural areas, where girls complete schooling and reduces further as they pass college. Bihar, with the highest TFR of 3.2, had the maximum percentage of illiterate women at 26.8%, while Kerala, where the literacy rate among women is 99.3%, had among the lowest fertility rates.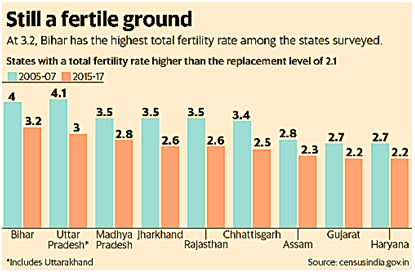 Age Group TFR
The 25-29 age groupsis the most fertile, except in Bengal, Chhattisgarh, Andhra Pradesh and Maharashtra, where it peaked between 20 and 24.
Only Jammu &Kashmirhits the peak after 30.
Reasons for Declining TFR
Increasing awareness(Access to information either via local healthcare workers or via other form of media)
Better education
Late marriage
Financially independent women
Better Access of Health care and reproductive health care
Rapid Pace of Urbanisation (Eliminating the need for more children to work in the Farms)
General dip in fertility levels due to health and lifestyle reasons
Indication for Government
India has entered into period of demographic dividend, which could spell faster economic growth and higher productivity.
As such, the government needs to engineer its policies to harness the opportunity. It must also formulate policies to take care of higher medical costs as the population ages and productivity shrinks.
As more people live away from their parents, India will also need to have an affordable social security system that provides pension to the elderly and takes care of their daily needs and medical expenses.
India's Demographic Dividend
Since 2018, India's working-age population (people between 15 and 64 years of age) has grown larger than the dependent population-children aged 14 or below as well as people above 65 years of age. This bulge in the working-age population is going to last till 2055, or 37 years from its beginning.
Demographic Dividend(DD)
The DD is the economic growth potential that can result from shifts in a population's age structure, mainly when the share of the working-age population (15 to 64) is larger than the non-working-age share of the population (14and younger, and 65 and older)
It is the name given by Harvard economists David Bloom and David Canning to the boost in economic growth that can result from changes in a country's population age structure.
How DD Increases Economic Growth?
It can increase economic growth through six channels-
Increasing Labour Force: The first channel is through the swelling of the labour force, as more people reach working age.
Increased Fiscal Space: The second channel is the increased fiscal space created by the demographic dividend to divert resources from spending on children to investing in physical and human infrastructure.
Rise in Women's Workforce:The third channel is the rise in women's workforce that naturally accompanies a decline in fertility, and which can be a new source of growth.
Increase in Savings Rate:The fourth is the increase in savings rate, as the working age also happens to be the prime period for saving.
Additional Boost to Savings: The fifth channel is an additional boost to savings that occurs as the incentive to save for longer periods of retirement increases with greater longevity.
Shift towards Middle Class Society:The sixth channel is a massive shift towards a middle-class society that is already in the making.
Way Forward
India has the advantage of a longer span of the demographic dividend due to the differences in the patterns in demographic transition across states.
The benefits of the demographic dividend can be reaped only if sufficient investments are made for basic infrastructure, health, educational attainment, and skill upgradationof the workforce, apart from the creation of sufficient numbers of suitable jobs to provide employment to the expanding workforce.
It is necessary that people in the working age are gainfully employed and that those working have proper education and skills so that they are productive in the workplace. Otherwise, the demographic dividend can also turn into a demographic burden.
---