Transparent Taxation – Honoring The Honest
---
In a bid to reward the taxpaying citizens of India, the government on 13th August, 2020, launched a new platform 'Transparent Taxation – Honoring the Honest', to honour the honest taxpayers of the country.
Aim
To ease compliance by making the tax system, "People-Centric & Public Friendly" and issue refunds faster to benefit honest taxpayers in the midst of coronavirus (COVID-19) pandemic.
Need
The number of taxpayers is significantly low with only 1.5 Crore paying taxes in a country of 130 Crore people.
Background
It is to be noted that the new scheme, Transparent Taxation – Honouring the Honest is an extension of E-assessment scheme- 2019 launched by Government of India in September 2019.
Key Features
Faceless Assessment
It aims to eliminate the interface between the taxpayer and the Income Tax Department.
There will be no need for the taxpayer to visit the income tax office or the officer.
The selection of a taxpayer is possible through systems using analytics and Artificial Intelligence.
The system abolishes territorial jurisdiction.
A taxpayer may belong to a particular city but the assessment order, review and the finalisation will take place in different cities.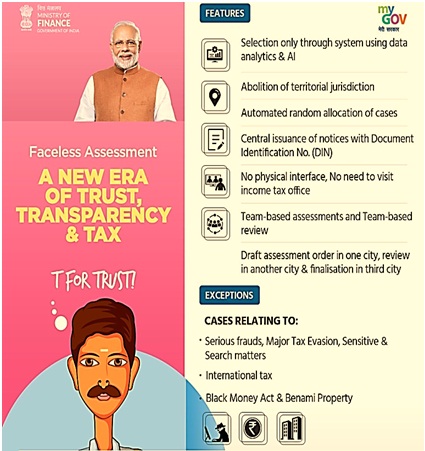 Faceless Appeal
Under the system, appeals will be randomly allotted to any officer in the country.The identity of the officer deciding the appeal will remain unknown.
The taxpayer will also not be required to visit the income tax office or the officer and the appellate decision will be team-based and reviewed.
The appellate decision will be team-based and the appeals will be reviewed.
Exceptions:The benefits of Faceless Tax Assessment and Appeals do not apply to cases relating to:
Serious frauds
Major Tax Evasions
Sensitive & Search Matters
International Tax
Black Money Act & Benami Property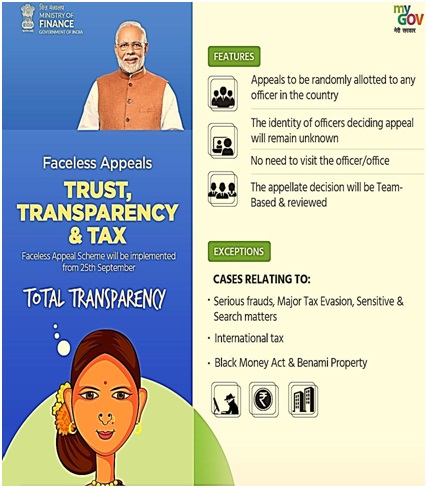 Taxpayer Charter
It outlines the rights and responsibilities of both tax officers and taxpayers.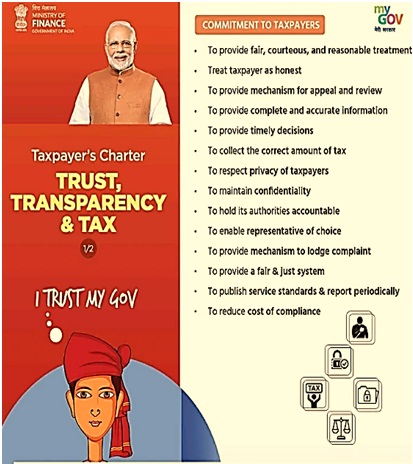 Implementation
Faceless Assessment and Taxpayer's Charter is implemented with immediate effect; the Faceless Appeal will be effective from 25th September 2020.
Impact
Strengthening Tax System: The platform will add strength to the government's efforts of reforming and simplifying the tax system. It will benefit several honest tax payers, whose hard work powers national progress. It will also give a big push to a seamless, faceless, and paperless administration.
More Transparency:The launch will initiate major tax reforms aimed at bringing transparency in income tax systems, easing the tax compliance and also rewarding honest taxpayers amid the coronavirus crisis.
Nation Building:The honest taxpayers of the country play a very big role in nation-building. When the life of the country's honest taxpayers becomes easier, the country also develops, the country also moves forward.Further, this would help in achieving the goal of a Self - Reliant India, AtmaNirbharBharat.
Recent Tax Reforms
With a view to providing for the resolution of pending tax disputes the IT Department also brought out the Direct Tax "Vivad se Vishwas Act, 2020" under which declarations for settling disputes are being filed currently.
In March, 2020, the Dividend distribution Tax was also abolished.
Document Identification Number (DIN) was introduced wherein every communication of the Department would carry a computer-generated unique document identification number, bringing more transparency in official communication.
In September, 2019, the Corporate Tax rates were reduced from 30 percent to 22 percent and for new manufacturing units the rates were reduced to 15 percent.
The tax slabs have also been rationalised as a part of the ongoing reforms where there is zero tax upto an income of 5 lakh rupees, while the tax rate has reduced in the remaining slabs too.
To effectively reduce taxpayer grievances / litigation, the monetary thresholds for filing of departmental appeals in various appellate Courts have been raised.
Issues Involved
In the newly announced system, serious frauds, major tax evasion, sensitive and search mattershave been kept out of the ambit of the faceless appeals .
Further, italso excludes international taxation and Black Money Act as well as the Benami Property Act.
Moreover, Tax officials are pushing back against the new faceless tax assessment program. They see problems in the lack of consultation and inadequate resource to implement the changes.
According to them, faceless tax assessment may reduce tax collection, which in turn mayraise pressure on officers to meet lofty tax targets for the current fiscal year.
Way Forward
India's tax administration has been known for tax harassment, where overzealous well-intentioned officials while raising tax revenues, have dampened growth and at times done more damage than good.
The issue of alleged tax harassment by officers gained much attention in India after VG Siddharta, the founder of India's largest coffee shop chain, committed suicide in July, 2019 and left behind a note accusing tax authorities of persecuting him.
The launch of the platform is a landmark decision and carries forward the journey of direct tax reforms, following the several measures that have been taken by the CBDT to aid taxpayers.
National Digital Health Mission
---
On 15th August, 2020, the Prime Minister launched the National Digital Health Mission(NDHM) while addressing the nation from Red Fort on India's 74th Independence Day.
Background
The National Health Policy 2017 had envisaged creation of a digital health technology eco-system aiming at developing an integrated health information system that serves the needs of all stakeholders and improves efficiency, transparency and citizens' experience with linkage across public and private healthcare.
In the context of this, central government's think-tank NitiAayog, in June 2018, floated a consultation of a digital backbone for India's health system — National Health Stack.
As part of its consultation, NitiAayog proposed a Digital Health ID to "greatly reduce the risk of preventable medical errors and significantly increase quality of care".
This proposal was then further taken up by the Central government with the Ministry of Health and Family Welfare, the NHA, and the Ministry of Electronics and IT preparing a strategy overview document for "Making India a Digital Health Nation Enabling Digital Healthcare for all".
Salient Features NDHM
Implementation
National Health Authority (NHA), the attached office of the Ministry of Health & Family Welfare and the apex Central Government agency responsible for the implementation of Ayushman Bharat Pradhan Mantri Jan ArogyaYojana, has been given the mandate by the Government of India to design, build, roll-out and implement the NDHM in the country.
Pilot Project
In its first phase, the mission will begin in Union Territories such as Andaman & Nicobar Islands, Chandigarh, Dadra & Nagar Haveli, Daman & Diu, Lakshadweep, Ladakh and Puducherry.
Creation of National Health Id System
Under the mission, every Indian will get a new Aadhar-like health ID that will store the individual's medical records, including doctor visits, diseases, the line of treatment and drugs taken.
This will also come integrated with the facility of using telemedicine, e-pharmacy, creating a national health registry.
One copy of a patient's records are stored in their doctor's files and one is stored in their own individual locker (which can be owned by a company or by the government).
Other than the registry of doctors, professionals, and institutions, this allows for decentralised storing.
From a doctor's appointment to hospitalisation for any treatment, this ID will become essential.
Key Building Blocks
The NDHM comprises six key building blocks or digital systems namely, Health ID, Digi Doctor, Health Facility Registry, Personal Health Records, e-Pharmacy & Telemedicine – that will enable access to timely, safe and affordable healthcare through a 'citizen-centric' approach.
The vision is to create a national digital health ecosystem which provides timely and efficient access to inclusive, affordable, and safe healthcare to all citizens.
Leveraging Technology
The key feature of this mission is the technology part - it will leverage open digital systems to provide high-quality healthcare for all.
It will integrate various digital health services to create an ecosystem which can assimilate existing health information systems.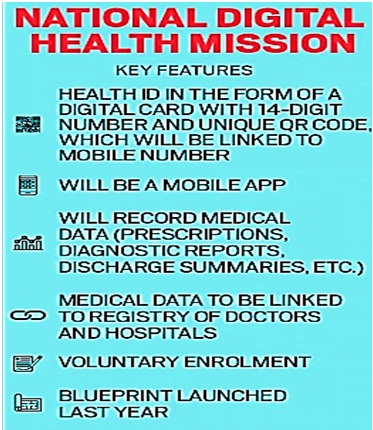 Significance
Achieving Universal Health Coverage:NDHM will significantly improve the efficiency, effectiveness, and transparency of health service delivery and will be a major stride towards achievement of the United Nations Sustainable Development Goal 3.8 of Universal Health Coverage, including financial risk protection.
Reducing Existing Gaps:The NDHM is a holistic, voluntary healthcare programme that will reduce the existing gap between various stakeholders such as doctors, hospitals and other healthcare providers, pharmacies, insurance companies, and citizens by bringing them together and connecting them in an integrated digital health infrastructure.
Empowering Citizens:It will help to liberate citizens from the challenges of finding the right doctors, seeking appointment with them, payment of consultation fee, making several rounds of hospitals for prescription sheets, among several others and will empower all Indians with the correct information and sources enabling them to take an informed decision to avail the best possible healthcare.
Challenges
However, with India still lacking a law on data protection, the digital health mission and the semblance of the policy to Aadhaar is expected to trigger privacy concerns in the days to come.
Global Instances of Centralised Health Record System
In 2005, the UK's National Health Service (NHS) started deployment of an electronic health record systems with a goal to have all patients with a centralised electronic health record by 2010.
While several hospitals acquired electronic patient records systems as part of this process, there was no national healthcare information exchange.
The program was ultimately dismantled after a cost to the UK taxpayer was more than £12 billion, and is considered one of the most expensive healthcare IT failures.
The project had been beset by changing specifications, technical challenges and clashes with suppliers, which left it years behind schedule and way over cost.
PM Svanidhi: Micro-Credit Facility Scheme
---
On 1st June, 2020, the Ministry of Housing and Urban Affairs has launched a Special Micro-Credit Facility Scheme - PM SVANidhi (PM स्वनिधि ) - PM Street Vendor's AtmaNirbharNidhi, for providing affordable loans to street vendors.
Earlier, the Scheme was announced as a part of the Economic Stimulus-II under the Atmanirbhar Bharat Abhiyan.
Aim
It is aimed at enabling the street vendors to resume their livelihoods that have been adversely affected due to COVID-19 lockdown.
Need
The lockdown has affected the lives and livelihoods of many especially daily wagers including street vendors who businesses were affected due to the restrictions.
They usually work with a small capital base taken on very high interest rates from informal sources.
Further, they might have consumed their savings and high cost capital during the lockdown.
In such a time, there is an urgent need to provide affordable credit to them to ensure their business gets a boost.
Salient Features
Applicability
The scheme would benefit vendors, hawkers and people involved in goods and services related to textiles, apparel, artisan products, barbers shops, laundry services etc. in different areas.
The scheme is valid until March 2022.
Loan Facility
The vendors can avail a working capital loan of up to Rs. 10,000, which is repayable in monthly instalments within a year. The loans would be without collateral.
There will be no penalty on early repayment of loan.
Interest Subsidy
On timely/ early repayment of the loan, an interest subsidy @ 7% per annum will be credited to the bank accounts of beneficiaries through Direct Benefit Transfer on six monthly basis.
Role of Urban Bodies
Urban Local Bodies will play pivotal role in the implementation of the scheme.
SIDBI to be Technical Partner
Small Industries Development Bank of India(SIDBI) is the technical partner for implementation of this scheme.
It will manage the credit guarantee to the lending institutions through Credit Guarantee Fund Trust for Micro and Small Enterprises.
Harnessing Technology for Empowerment
In line with the Government's vision of leveraging technology to ensure effective delivery and transparency, a digital platform with web portal/ mobile app is being developed to administer the scheme with end-to-end solution.
The IT platform will also help in integrating the vendors into the formal financial system.
This platform will integrate the web portal/ mobile app with UdyamiMitra portal of SIDBI for credit management and PAiSA portal of MoHUA to administer interest subsidy automatically.
Encouraging Digital Transactions
The scheme incentivises digital transactions by the street vendors through monthly cash back.
Focus on Capacity Building
Government in collaboration with State Governments, State Missions of DAY-NULM, ULBs, SIDBI, CGTMSE, NPCI and Digital Payment Aggregators will also launch a capacity building and financial literacy programme of all the stakeholders and IEC activities throughout the country.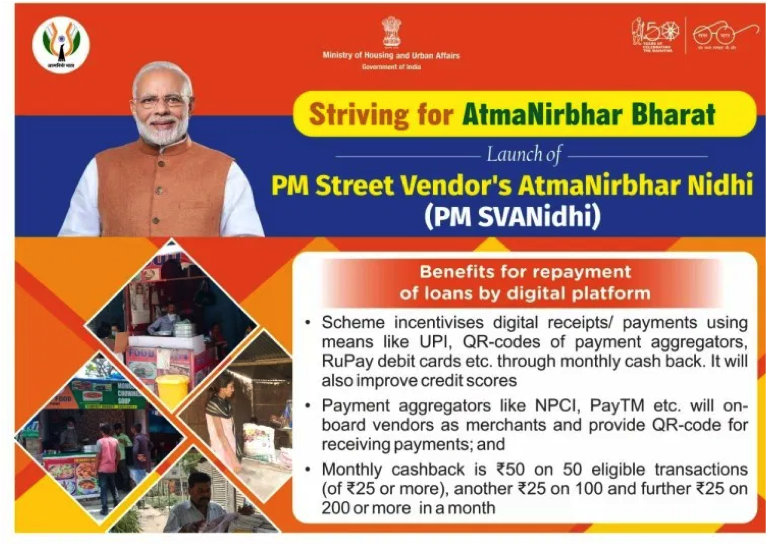 Significance
This is for the first time in India's history that street vendors from peri- urban/ rural areas have become beneficiaries of an urban livelihood programme.
It is for the first time that Microfinance Institutions, Non-Banking Financial Company, Self Help Groups have been allowed in a scheme for the urban poor due to their ground level presence and proximity to the urban poor including the street vendors.
Impact
This scheme will go a long way in enabling them to resume work and earn livelihoods.
Over 50 lakh people, including vendors, hawkers, thelewalas, rehriwala, etc. in different areas/ contexts are likely to benefit from this scheme.

The

scheme provides for escalation of the credit limit

on timely/ early repayment of loan to help the

vendor achieve his ambition of going up on the economic ladder.
Pradhan Mantri Matsya Sampada Yojana
---
On 20th May, 2020, the Union Cabinet approved the Pradhan Mantri Matsya Sampada Yojana (PMMSY) - a scheme to bring about Blue Revolution through sustainable and responsible development of fisheries sector in India.
The PMMSY was announced recently in the third tranche of the Rs 20.97 lakh crore Atmanirbhar Bharat package by the government.
However, PMMSY first figured during the 2019-20 Budget, presented on July 5, 2019.
Need
The fish production in India during 2017-18 was estimated to be 12.60 million metric tonnes, of which nearly 65% came from the inland sector while about 50% of the total production was from culture fisheries.
Therefore, India's contribution was 6.3 per of the global fish production in the year 2017-18.
India exports more than 50 different kinds of fish and shellfish products to about 75 countries worldwide.
Aims and Objectives
Harnessing of fisheries potential in a sustainable, responsible, inclusive and equitable manner
Enhancing of fish production and productivity through expansion, intensification, diversification and productive utilization of land and water
Modernizing and strengthening of value chain - post-harvest management and quality improvement
Doubling fishers and fish farmers incomes and generation of employment
Enhancing contribution to Agriculture GVA and exports
Robust fisheries management and regulatory framework
Salient Features of PMMSY
Time Period
PMMSY will be implemented over a period of 5 years from FY 2020-21 to FY 2024-25 in all States/Union Territories.
Components
It will be implemented as an umbrella scheme with two separate Components namely (a) Central Sector Scheme (CS) and (b) Centrally Sponsored Scheme (CSS).
Central Sector Scheme (CS)
The entire project cost will be borne by the Central government (i.e. 100% central funding).
Central Sector Scheme Component (CSS)
The funding pattern for the Northeastern and Himalayan states will be 90% central share and 10% state share
For other states it will be 60% central share and 40% state share
For Union territories (with and without legislature) it will be 100% central share.
This component is segregated into Non-beneficiary oriented and Beneficiary orientated sub-components/activities under the following three broad heads:
Enhancement of Production and Productivity
Infrastructure and Post-harvest Management
Fisheries Management and Regulatory Framework
State Programme Units
A well-structured implementation framework would be established for effective planning and implementation of PMMSY.
This inter-alia includes creation of State Programme Units in all States/UTs & District Programme Units and Sub-District Programme Unit in high fisheries potential districts.
Cluster or Area-Based Approach
For optimal outcomes, 'Cluster or area-based approach' would be followed with requisite forward and backward linkages and end to end solutions.
Suitable linkages and convergence will be fostered with other centre and state government schemes wherever feasible.
Thrust to New Technologies
Thrust will be given for infusing new and emerging technologies like Re-circulatory Aquaculture Systems, Biofloc, Aquaponics, Cage Cultivation to enhance production and productivity, quality, productive utilization of waste lands and water for Aquaculture.
Special Focus
Special focus on Coldwater fisheries development and expansion of Aquaculture in Brackish Water and Saline Areas.
Focused attention would be given for fisheries development in Jammu and Kashmir, Ladakh, Islands, Northeast, and Aspirational Districts through area specific development plans.
Holistic Development
It envisages development of Coastal fisher communities in a holistic manner through integrated modern coastal fishing villages with necessary infrastructure.
Collectivization of fishers and fish farmers through Fish Farmer Producer Organizations (FFPOs) to increase bargaining power of fishers and fish farmers is a key feature of PMMSY.
Well-structured extension support services are envisaged under PMMSY.
Besides, large number of Fisheries Extension Services Centers would be set up in private space to create job opportunities to young professionals.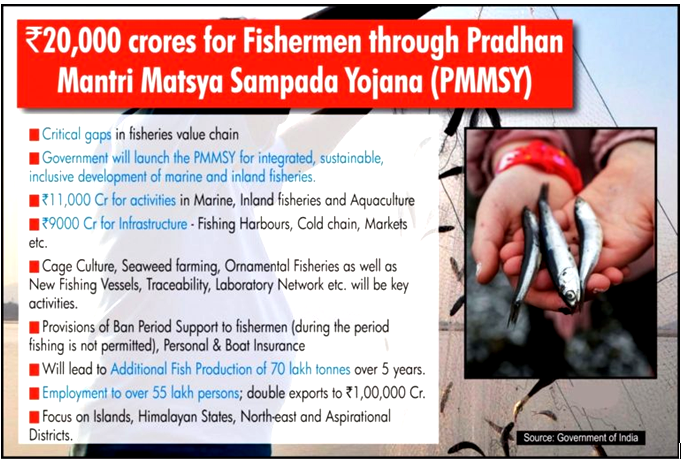 Major Impact
Addressing the critical gaps in the fisheries sector and realize its potential.
Augmenting fish production and productivity at a sustained average annual growth rate of about 9% to achieve a target of 22 million metric tons by 2024-25 through sustainable and responsible fishing practices.
Improving availability of certified quality fish seed and feed, traceability in fish and including effective aquatic health management.
Creation of critical infrastructure including modernisation and strengthening of value chain.
Creation of direct gainful employment opportunities to about 15 lakh fishers, fish farmers, fish workers, fish vendors and other rural/urban populations in fishing and allied activities and about thrice this number as indirect employment opportunities including enhancement of their incomes.
Boost to investments in fisheries sector and increase of competitiveness of fish and fisheries products.
Social, physical and economic security for fishers and fish workers.
Reduction of post-harvest losses from the reported 20-25% to about 10%.
Enhancement of the domestic fish consumption from about 5-6 kg to about 12 kg per capita.
Way Forward
Fisheries and aquaculture are an important source of food, nutrition, employment and income in India.
The Gross Value Added (GVA) of fisheries sector in the national economy during 2018-19 stood at Rs 2,12,915 crores (current basic prices) which constituted 1.24% of the total National GVA and 7.28% share of Agricultural GVA. T
The sector has immense potential to double the fishers and fish farmers' incomes as envisioned by government and usher in economic prosperity.
The scheme intends to address issues like low productivity in inland Aquaculture, disease, sustainability of marine fisheries, sanitary and phyto-sanitary matters that impact the competitiveness of India's exports along with global bench marking.
One Nation One Ration Card Scheme
---
On 1st May, 2020, the Central Government included Punjab, Uttar Pradesh, Bihar, Himachal Pradesh and Dadra and Nagar Haveli in 'one nation, one ration card' plan, taking the ration card portability to beneficiaries of the National Food Security Act in 17 states and UTs.
The move comes after the Supreme Court directed the Centre to consider whether it is feasible for it to implement the "one nation-one ration card" at this stage or not and take appropriate decision in this regard keeping in view the hardship caused by the lockdown.
12 States
The scheme was launched in January 2020 in 12 states—Andhra Pradesh, Goa, Gujarat, Haryana, Jharkhand, Kerala, Karnataka, Madhya Pradesh, Maharashtra, Rajasthan, Telangana and Tripura.
The rest of the country will be included in the portability scheme by June, 2020.
Impact
With this, the facility of national/inter-State portability will be available for nearly 60 Crore NFSA beneficiaries of 17 States/UT and they may lift their entitled quota of foodgrains from any Fair Price Shop (FPS) of their choice, anywhere in these 17 States/UT by using their same/existing ration card under 'One Nation One Ration Card' plan.
This is likely to benefit the migrant workers who have not been able to reach their hometown and have been stuck in different states during this period of lockdown.
About One Nation One Ration Card Scheme
Launched in July, 2019, the main objective of the scheme is to introduce nation-wide portability of ration card holders under National Food Security Act, 2013 (NFSA), to lift their entitlement foodgrains from any FPS in the country without the need to obtain a new ration card, by integrating the existing PDS systems/portals of States/UTs with the Central systems/portals, etc.
Key Points
Standard Format: Keeping in mind the various formats used by stats for the ration card, a standard format has been prepared for this purpose.
Bilingual Format: For national portability, the state governments have been asked to issue the ration card in bi-lingual format, wherein besides the local langauge, the other language could be Hindi or English.
Unique Member IDs: In the ration card being made, there will be a 10-digit standard ration card number, wherein the first two digits will be the state code, and the next two digits will be ration card numbers.
Besides this, a set of another two digits will be appended with the ration card number to create unique member IDs for each member of the household in a ration card.
Beneficiaries
Any legal citizen of India can apply for the ration card.
Children below 18 years of age (minors) are included under their parents' ration card. However, a user can apply for a separate ration card once they are above 18 years of age.
All ration cardholders and are currently eligible to get entitled food grains from fair price shops.
Benefits
No poor person or under privileged will be deprived of getting subsidised foodgrains under the food security scheme when they shift from one place to another.
It also card aims to remove the chance of anyone holding more than one ration to avail benefits from different states.
Challenges
Design and Implementation Challenges
The scheme will mostly assist seasonal and circular migrant workers to have better access to PDS, both, at source and destination.
The first hurdles will be to have exact data on the mobility of poor households migrating to work, locating intra- and inter-state destinations and sectors employing the workers. Especially, when a few members of a family that owns a ration card migrates for few months, reconciling the data at both locations would be a critical challenge.
Secondly, the domicile-based legislation for accessing government schemes and social security needs serious rethinking before making 'One Nation, One Ration Card' portable.
Thirdly, the scheme is based on two important guiding principles: Aadhar and digitalisation of ration cards. It is feared that both Aadhar and digital ration card may exclude either a person who migrates alone, or migrates with his family or the left-behind vulnerable family member who stays back in the village.
Infrastructure Challenges
Another challenge is related to the lack of electronic Point of Sale (ePoS).Currently, around 77% of FPSs operating across the country—have installed electronic Point of Sale (ePoS) machines.
But still big states like West Bengal and Bihar—that witness huge labour emigration, have been laggards in this regard, imposing a great barrier to the success of the scheme.
Corruption Issues
Every state has its own rules for Public Distribution System (PDS). If the scheme is implemented, it will further boost corruption in an already corrupted Public Distribution System.
The scheme will increase the woes of the common man and, the middlemen and corrupt PDS shop owners will exploit them.
The other challenge is ending duplication of ration cards, whereby a beneficiary is denied food grain since someone else took away the quota using a fake card.
National Food Security Act, 2013
Also known as the Right to Food Act, is an Act of the Parliament of India which aims to provide subsidized food grains to approximately two thirds of India's 1.2 billion people.
It was signed into law on 12 September 2013, retroactive to 5 July 2013.
It converts into legal entitlements for existing food security programmes of the Government of India. It includes the Midday Meal Scheme, Integrated Child Development Services scheme and the Public Distribution System.
Further, it recognises maternity entitlements.
The eligible person gets Rice @Rs. 3 per Kg, Wheat @Rs. 2 per Kg and Coarse Grains @Rs. 1 Kg per month subject to maximum 5Kg per month.
Modified Electronics Manufacturing Clusters (EMC 2.0) Scheme
---
On 21st March, 2020, the Union Cabinet approved the Modified Electronics Manufacturing Clusters (EMC2.0) Scheme.
Aim
Development of world class infrastructure along with common facilities and amenities through Electronics Manufacturing Clusters (EMCs).
Need
Currently, 85 percent of the global mobile exports is catered to by two countries - China and Vietnam.
Further, only three global ecosystems - Samsung, Apple and the Chinese majors dominate the multi-billion-dollar mobile phone export.
Also, it is well-recognised that India suffers a manufacturing disability vis-a-vis China (19-23 percent) and Vietnam (9-12 percent).
Background
To build and create requisite infrastructure ecosystem for electronics manufacturing; Ministry of Electronics and Information Technology (MeitY) notified Electronics Manufacturing Clusters (EMC) Scheme which was open for receipt of applications upto October, 2017.
A period of 5 years (i.e. upto October, 2022) is available for disbursement of funds for the approved projects.
Under EMC scheme, 20 Greenfield EMCs and 3 Common Facility Centres (CFCs) have been approved in 15 states across the country.
Present Market Status
India's electronics production has increased from Rs. 1,90,366 crore (US$29 billion) in 2014-15 to Rs. 4,58,006 (US$ 70 billion) in 2018-19, at a Compound Annual Growth Rate (CAGR) of about 25%.
India's share in global electronics manufacturing grew from 1.3% (2012) to 3.0% (2018). It accounts for 2.3% of India's GDP at present.
Key Points of EMC 2.0 Scheme
Financial Implications
The total outlay of the propose EMC 2.0 Scheme is Rs. 3,762.25 crore , which includes the financial assistance of Rs. 3,725 crore and administrative and management expense to the tune of Rs. 37.25, over a period of eight (8) years.
It will provide financial assistance up to 50% of the project cost subject to ceiling of ₹70 crore per 100 acres of land for setting up of Electronics Manufacturing Cluster projects.
For CFC, financial assistance of 75% of the project cost subject to a ceiling of ₹75 crore will be provided.
Setting of EMCs and CFCs
EMC 2.0 Scheme would support setting up of both Electronics Manufacturing Clusters (EMCs) and Common Facility Centers (CFCs). </strong>
For the purpose of this Scheme, an Electronics Manufacturing Cluster (EMC) would set up in geographical areas of certain minimum extent, preferably contiguous, where the focus is on development of basic infrastructure, amenities and other common facilities for the ESDM units.
For Common Facility Centre (CFC), there should be a significant number of existing ESDM units located in the area and the focus is on upgrading common technical infrastructure and providing common facilities for the ESDM units in such EMCs, Industrial Areas/Parks/industrial corridors.
Expected Benefits
Creating Robust Infrastructure Base: The Scheme will create a robust infrastructure base for electronic leading to greater employment opportunities.
Development of Entrepreneurial Ecosystem: It would aid the growth of the Electronic System Design and Manufacturing(ESDM) sector, help development of entrepreneurial ecosystem, drive innovation and catalyze the economic growth of the region by attracting investments in the sector and generating tax revenues.
Boost to Make in India: The scheme is in line with the government's vision expressed in the National Policy for Electronics (NPE), 2019 and will further assist in the necessary boost to the 'Make in India' initiative and support India into becoming an electronics manufacturing hub.
National Policy on Electronics - 2019
The National Policy on Electronics- 2019 was released by the Ministry of Electronics and Information Technology (MeitY) on 25th February, 2019.
Objective
The Policy envisions positioning India as a global hub for Electronics System Design and Manufacturing - (ESDM) by encouraging and driving capabilities in the country for developing core components, including chipsets, and creating an enabling environment for the industry to compete globally.
Salient Features
Create eco-system for globally competitive ESDM sector: Promoting domestic manufacturing and export in the entire value-chain of ESDM.
Provide incentives and support for manufacturing of core electronic components.
Provide special package of incentives for mega projects which are extremely high-tech and entail huge investments, such as semiconductor facilities display fabrication, etc.
Formulate suitable schemes and incentive mechanisms to encourage new units and expansion of existing units.
Promote Industry-led R&D and innovation in all sub-sectors of electronics, including grass root level innovations and early stage Start-ups in emerging technology areas such as 5G, loT/ Sensors, Artificial Intelligence (Al), Machine Learning, Virtual Reality (VR), Drones, Robotics, Additive Manufacturing, Photonics, Nano-based devices, etc.
Provide incentives and support for significantly enhancing availability of skilled manpower, including re-skilling.
Special thrust on Fabless Chip Design Industry, Medical Electronic Devices Industry, Automotive Electronics Industry and Power Electronics for Mobility and Strategic Electronics Industry.
Promote trusted electronics value chain initiatives to improve national cyber security profile.
Main Interventions under NPE-2019
Interest Subvention
Here, the government will provide an interest subsidy of 4 percent on loans upto Rs 10000 crores. The loan amount should spend on plant and machineries.
Credit Guarantee Fund Scheme
Another incentive under the NPE is the Credit Guarantee Fund Scheme that will provide default guarantee to banks up to RDs 75% of the loan amount on plant and machinery for loans up to Rs 100 crores.
Electronics Manufacturing Clusters 2.0
The NPE also upgrades the existing Electronics Manufacturing Clusters scheme into Electronics Manufacturing 2.0. Sovereign Patent Fund will be used to upgrade technology and knowledge in this initiative. The objective is to ensure that the chips and components can be made available to Indian firms at low cost.
Sovereign Patent Fund (SPF)
The NPE 2019 aims to create a Sovereign Patent Fund (SPF) to promote the development and acquisition of IPs (Intellectual Property) in ESDM sector.
Implementation Of New 15 Point Programme
---
New 15 point Programme for minorities is a programme launched by Indian government for welfare of religious minorities in furtherance of reports by committees such as the Sachar Committee Report.
About 15 Point Programme
New 15 Point Programme for the Welfare of Minorities is an overarching programme covering various schemes/initiatives of the participating Ministries/Departments, and is implemented throughout the country.
Objective
To ensure maximum reach of benefits of various government sponsored schemes launched for betterment of the minority communities.
The Programme also provides that, wherever possible, 15% of targets and outlays under various schemes should be earmarked for minorities.
Target Group
It enisgaes to cover all the minorities communities i.e. Muslims, Christians, Sikhs, Buddhists, Parsis and Jains.
Key Points
Enhancing opportunities for Education
Equitable availability of ICDS Services
Improving access to School Education through Sarva Shiksha Abhiyan and the Kasturba Gandhi Balika Vidyalaya Scheme, and other similar Government schemes.
Greater resources for teaching Urdu
Modernizing Madarsa Education
Scholarships for meritorious students from minority communities
Improving educational infrastructure through the Maulana Azad Education Foundation.
Equitable Share in Economic Activities and Employment
Self-Employment and Wage Employment for the poor through Swarnjayanti Gram Swarojgar Yojna(SGSY), Swarnjayanti Shahary Rohgar Yojna(SSRY), Sampurna Grameen Rozgar Yojna(SGRY) .
Upgradation of skill through technical training
Enhanced credit support for economic activities by strengthening the National Minorities Development & Finance Corporation (NMDFC).
Recruitment to State and Central Services
Improving the conditions of living of minorities
Equitable share in rural housing scheme: The Indira Awaas Yojna(IAY) provides financial assistance for shelter to the rural poor living below the poverty line.
Improvement in condition of slums inhabited by minority communities: Under the schemes of Integrated Housing & Slum Development Programme(IHSDP) and Jawaharlal Nahru Urban Renewal Mission(JNURM), the Central Government provides assistance to States/UTs for development of urban slums through provision of physical amenities and basic services.
Prevention & Control of Communal Riots
Prevention of communal incidents
Prosecution for communal offences
Rehabilitation of victims of communal riots.
Recent Government Initiatives for Upliftment of Minority Communities
The Ministry of Minority Affairs has adopted a multi-pronged strategy by way of implementation of various schemes which aim at educational empowerment, employment-oriented skill development, infrastructure support, etc. for the upliftment of living standards of the minorities communities.
Educational Empowerment
Scholarship Schemes: Pre-Matric Scholarship, Post-Matric Scholarship and Merit-cum-Means based Scholarship.
Naya Savera : Free Coaching and Allied Scheme with the aim to enhance skills and knowledge of students and candidates from minority communities to get employment in Government Sector/ Public Sector Undertakings, jobs in private sector and admission in reputed institutions in technical and professional courses at under-graduate and post-graduate levels.
Nai Udaan : A scheme for providing support to minority candidates clearing Prelims conducted by Union Public Service Commission, State Public Service Commissions etc., to adequately equip them to compete for appointment to Civil Services in the Union and the States.
Padho Pardes : A scheme for providing interest subsidy on educational loans for overseas studies to enable students from minority communities to pursue higher education.
Maulana Azad National Fellowship Scheme : It provides financial assistance to students from notified minority communities, to pursue higher education such as M. Phil and Ph.D. In addition, the Maulana Azad Education Foundation implements the following two schemes: Begum Hazrat Mahal National Scholarship and Gharib Nawaz Employment Programme.
Economic Empowerment
Seekho aur Kamao (Learn & Earn): It is a skill development initiative for minorities and aims to upgrade the skills of minority youth in various modern/traditional skills depending upon their qualification, present economic trends and market potential, which can earn them suitable employment or make them suitably skilled to go for self-employment.
Upgrading Skill and Training in Traditional Arts/Crafts for Development (USTTAD : The scheme aims at capacity building and upgrading of the traditional skills of master craftsmen and artisans; documentation of identified traditional arts/crafts of minorities; set standards of traditional skills; training of minority youths in various identified traditional arts/crafts through master craftsmen; develop national and international market linkages; and preservation of languishing Arts/Crafts.
Nai Manzil : A scheme to provide education and skill training to the youth from minority communities.
Infrastructure Support
Besides, there is another Scheme namely Pradhan Mantri Jan Vikas Karyakram (PMJVK), which aims at improving the socio-economic conditions of minorities and providing basic amenities so as to improve their quality of life and reduce imbalances in the identified Minority Concentration Areas.
The major projects approved under the Education Sector and for Skill Development, include Residential Schools, School buildings, Hostels, Degree Colleges, ITIs, Polytechnics, Sadbhav Mandaps, Health Centers, Working Women Hostels etc.
National Technical Textiles Mission
---
On 26th February, 2020, the Cabinet Committee on Economic Affairs gave its approval to set up a National Technical Textiles Mission.
The Mission would have a four year implementation period from FY 2020-21 to 2023-24.
Aim
To promote research, export and skill development
Encourage manufacturing facilities and use of Technical Textiles
Reduce Technical Textiles imports of India
Need for the Mission
Low Penetration Level: The penetration level of technical textiles is low in India, varying between 5-10% against the level of 30-70% in developed countries.
Insignificant Share in World Market: Indian technical textiles segment is estimated at $16 billion which is approximately 6% of the $250 billion global technical textiles market.
Salient Features
The Mission will have four components:
Component One
Focus will on Research, Innovation and Development.
This component will promote both (i) fundamental research at fibre level aiming at path breaking technological products in Carbon Fibre, Aramid Fibre, Nylon Fibre, and Composites and (ii) application based research in geo-textiles, agro-textiles, medical textiles, mobile textiles and sports textiles and development of bio­degradable technical textiles.
Component Two
Focus will be on Promotion and Market Development.
It will aim at average growth rate of 15-20% per annum taking the level of domestic market size to 40-50 Billion USD by the year 2024; through market development, market promotion, international technical collaborations, investment promotions and 'Make in India' initiatives.
Component Three
Focus will be on Export Promotion
It aims at export promotion of technical textiles enhancing from the current annual value of approximately Rs.14000 Crore to Rs.20000 Crore by 2021-22 and ensuring 10% average growth in exports per year upto 2023-24.
An Export Promotion Council for Technical Textiles will be set up for effective coordination and promotion activities in the segment.
Component Four
Focus will be on Education, Training and Skill Development
It will promote technical education at higher engineering and technology levels related to technical textiles and its application areas covering engineering, medical, agriculture, aquaculture and dairy segments.
Skill development will be promoted and adequate pool of highly skilled manpower resources will be created for meeting the need of relatively sophisticated technical textiles manufacturing units.
Subcomponent
A sub-component of the research will focus on development of bio degradable technical textiles materials, particularly for agro-textiles, geo-textiles and medical textiles. It will also develop suitable equipment for environmentally sustainable disposal of used technical textiles, with emphasis on safe disposal of medical and hygiene wastes.
There is another important sub-component in the research activity aiming at development of indigenous machineries and process equipment for technical textiles.
Significance
Making Self-Reliant: The step would position the country as a global leader in technical textiles,making self-dependent in technical textile sector and to nullify the burden of technical textiles segment on India's trade deficit within the next one year.
Holistic Growth and Development:The use of technical textiles in agriculture, aquaculture, dairy, poultry, JalJivan Mission, Swachch Bharat Mission, Ayushman Bharat will bring an overall improvement in cost economy, water and soil conservation, better agricultural productivity and higher income to farmers per acre of land holding in addition to promotion of manufacturing and exports activities in India.
Technical Textile
Technical textiles are textiles materials and products manufactured primarily for technical performance and functional properties rather than aesthetic characteristics.
Technical Textiles products are divided into 12 broad categories - Agrotech, Buildtech, Clothtech, Geotech, Hometech, Indutech, Mobiltech, Meditech, Protech, Sportstech, Oekotech and Packtech.
Raw Material for Technical Textile
Natural Fiber: Cotton, Silk, Sisal, Rax, Wool
Man Made Fibers and Polymers: Viscose, PolyarTiide, Polyolefin, Flax, Polyester, Aramid, UMHW Polyethylene, Carbon, Glass
Applications
Technical textiles have specialized applications in diverse areas such as production of fire-resistant vests, bulletproof jackets, high altitude combat gear, as well as space applications. They are also used in automobile and medical industries.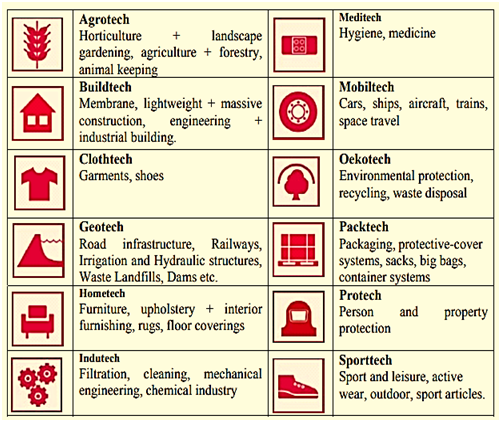 Indian Technical Textile Indusrty
Technical textile industry in India is import dependent. Many products like specialityfibres/yarns, medical implants, sanitary products, protective textiles, webbings for seat belts, etc. are mostly imported.
As per the Baseline Survey of technical textile industry by Ministry of Textiles, Indian technical textile industryis estimated to grow at a CAGR of 20 percent to INR2,00,823 crore by 2020-21 from INR1,16,217 crore in 2017-18.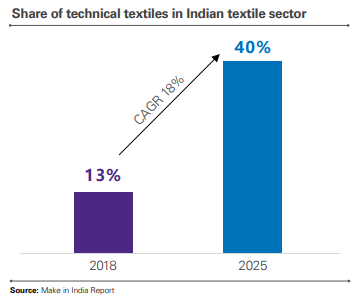 Analysis of Indian Technical Textile Industry
Strengths
Availability of Young and Cheap Manpower: India has one of the largest working-agepopulation (people between 15 and 64 yearsof age) in the world. Based on the country'scurrent demographics, the abundant workforce isexpected to work until 2055. Abundant workforcewith relatively lower average manpower costsprovides India a distinct edge as key globalmanufacturing destination.
Strong Textiles Value Chain: India is the onlycountry in the region, other than China, with entiretextile value chain in both natural and syntheticfibres. Due to availability of raw materials fortechnical textiles sub-segments, India is wellpositioned to capitalize on opportunities presentedby both domestic and international markets.
Active Promotion from Government: Government has been activelyworking towards development of technical textilesin India. For the purpose, Government of Indiahas launched several programs (for investmentpromotion, subsidies, creation of infrastructure,stimulating consumption etc.) such as Schemefor growth and development of technical textiles(SGDTT), Technology mission on technicaltextiles (TMTT), Scheme for promoting usageof Agro-textiles in north east region, Schemefor promoting usage of geotechnical textiles innorth east region, Technology up-gradation fundsscheme (TUFS) and Scheme for integrated textile parks (SITP).
Availability of Manufacturing Infrastructure: India is a rapidly growing industrial economy withavailability of key resources such as land, power,water, manpower and conducive regulatoryframework for industries to thrive and grow.Technical textiles manufacturing set up can beestablished easily with an attractive and growingmarket to spur demand.
Weaknesses
Import Dependence for Machinery Currently,majority of machinery used to manufacturetechnical textiles products is not available in India.In order to attract investments in technical textiles,Government needs to promote manufacturing ofhigh-tech machinery to boost technical textilessector.
Low Awareness about Technical Textile Products in End Users: In India, majority ofintended end users of technical textile productsare still unaware of the benefits of usage of suchproducts, thereby leading to lack of adoption.
Lack of Standardization and Related Regulations: Currently, several technical textile products do nothave Standard Benchmarks, resulting in availabilityof sub-standard cheaper products. Further, safetyand other related regulations need to be enforcedacross industries to propel demand for technicaltextiles products.
Little or No Domestic Manufacturing of Specialty Fibres: Currently, majority of specialtyfibres are imported in India, thus making India globally uncompetitive in high-value technical textiles products.
Suggestive Measures
Raising awareness of end-use applications
Regulatory reforms supporting the usage of standardised technical textile products
Development and implementation of standards
for technical textile products
Incentivisingresearch and development in the field of technical textiles
Dedicated courses on technical textiles for entrepreneurship training
Improving availability of skilled manpower
Promoting indigenous manufacturing of high performance specialty fibres
Promoting institutional buying
Incentivising production of technical textiles machinery
Promotion of exports of technology intensive technical textiles
Way Forward
The future of the technical textile industry in India has a positive outlook and is mirrored by increasingly strong consumption rates in the domestic market as well as the growing demand for exports.
With the appropriate measures, the industry has potential to emerge as a global hub for technical textile manufacturingas well as to contributesignificantly to the government's vision to become a USD 5 trillion economyin the next few years.
Saansad Adarsh Gram Yojana
---
According to the Ministry of Rural Development, only 252 MPs have adopted gram panchayats under Phase-4 of Saansad Adarsh Gram Yojana(SAGY) -208 members of Lok Sabha and 44 members of Rajya Sabha.
Saansad Adarsh Gram Yojana
Also known as the Model Village Programme, it was launched on 11th October, 2014 on the birth anniversary of LokNayak Jai Prakash Narayan, in New Delhi.
The goal was to develop three Adarsh Grams by March 2019, of which one was to be achieved by 2016. There after, five such Adarsh Grams (one per year) will be selected and developed by 2024.
Aim
To translate Gandhi's vision of an ideal Indian village into reality
Main Objectives
To trigger processes which lead to holistic development of the identified Gram Panchayats
To substantially improve the standard of living and quality of life of all sections of the population through

improved basic amenities
enhanced human development
better livelihood opportunities
reduced disparities
access to rights and entitlements
wider social mobilization

To nurture the identified Adarsh Grams as schools of local development to train other Gram Panchayats
Approach
In order to achieve these objectives, SAGY would be guided by the following approach:
Leveraging the leadership, capacity, commitment and energy of the Members of Parliament (MP) to develop model Gram Panchayats (GP).
Engaging with and mobilizing the community for participatory local level development.
Converging different government programmes and private and voluntary initiatives to achieve comprehensive development in tune with people's aspirations and local potential.
Building partnerships with voluntary organisations, co-operatives and academic and research institutions.
Focusing on outcomes and sustainability.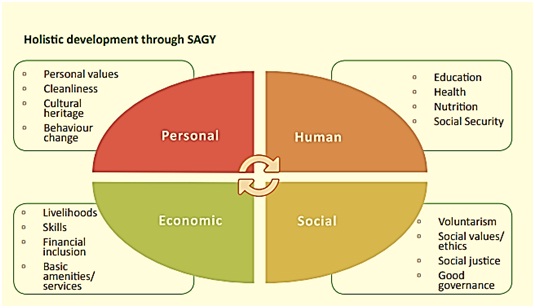 Progress till Date
In Phase-1 of SAGY, 703 MPs had adopted gram panchayats but that number went down to 497 in Phase-2 and 301 in Phase-3, showing a gradual decline in subsequent phases.
The latest data shows that more than six months after the formation of the 17th Lok Sabha, about two-thirds of the members of the Lower House are yet to select a gram panchayat under Phase-4.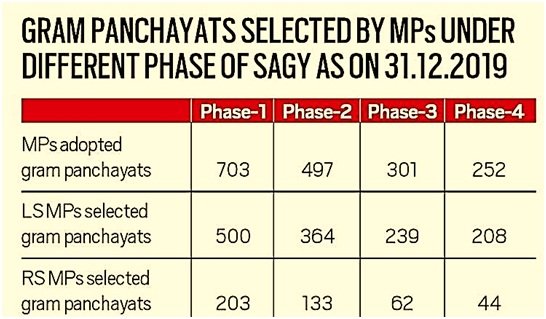 Source:India Express
Issues with SAGY
No Dedicated Fund
A major drawback is that there is no separate fund for this scheme by the government. MPs have to funnel money to adopted villages through the convergence of 21 ongoing schemes such as Indira Awaas Yojana for rural housing, Pradhan Mantri Gram Sadak Yojana, Mahatma Gandhi National Rural Employment Gurantee Act, etc. Lack of funds is the primary reason behind the low interest in the village adoption scheme.
Selection of Village:
According to the guidelines, an MP can select any village except his own village or his spouse's village. This makes very difficult for an MP to select the villages in his constituency and ignore the others.
However, in urban areas, even the selection of villages is a complicated process since most villages identified by MPs don't meet the SAGY guidelines.
Monitoring Issue
It has been difficult for MPs to monitor the on-ground development on a regular basis, in the absence of a platform where they can oversee the progress on different interventions, specified in the Village Development Plan (VDP) as well as irregular meetings of the district level committee.
Implementation Issue
While the SAGY talks about convergence and effective utilisation of available Central and state schemes, most MPs raise the point that it is extremely difficult to know about the provisions under each scheme and the structure and framework for its implementation on the ground.
Also in most cases, the VDP has not been prepared in accordance with the guidelines of the programme.
Lack of Coordination
Lack of coordination among different ministries, departments, schemes of central government, state government and the private sector is one of the major issues, further holding back MPs to adopt villages.
Lack of Participation
SAGY is meant to focus on community participation. In fact, it is plagued by the lack of participation of all sections of society, especially the marginalized and the aged group, limiting the scope of the scheme.
Way Forward
For meaningful change through SAGY, motivation of MP is crucial but proactiveness of the panchayat and villagers is also necessary. The government must work towards resolving the underlying issues with SAGY, in order to make the scheme holistic and achieve its desired goal of making the village of country, a model village.
Mahila Kisan Sashaktikaran Pariyojna – Step Towards Feminization Of Agriculture
---
The Department of Rural Development, Ministry of Rural Development is implementing Mahila Kisan Sashaktikaran Pariyojana (MKSP) to empower women in agriculture by making systematic investments to enhance their participation and productivity.
Need For MKSP
Women in Agriculture are generally not able to access extension services and production assets like seed, water, credit, subsidy etc. As most of them are not recognized as farmers for want of ownership of land, they are not considered as beneficiaries of various government programmes/services.
The wage differentials between men and women being adverse to them, the situation are further aggravated. Some of the tasks performed by the women are not valued adequately and considered less important economically.
Further, due to multiple roles that a woman has to perform within the family and the farm, her access to knowledge and information, is constrained and therefore her opportunities get limited.
Mahila Kisan Sashaktikaran Pariyojna (MKSP)
Launched in 2010-11, MKSP is a sub-component of Deendayal Antyodaya Yojana-National Rural Livelihood Mission (DAY-NRLM).
To improve the present status of women in Agriculture, and to enhance the opportunities for her empowerment, MKSP recognizes the identity of "Mahila" as "Kisan" and strives to build the capacity of women in the domain of agro-ecologically sustainable practices.
Objectives
To create sustainable agricultural livelihoods opportunities for women in agriculture
To enhance the participation of women in agriculture in productive manner
To enhance the managerial capacities of women in agriculture for better management of bio-diversity
To improve the skills and capabilities of women in agriculture to support farm and non-farm-based activities.
To improve the capacities of women in agriculture to access the resources of other institutions and schemes with a convergence framework.
Salient Features
Focus Area
The focus of MKSP is on capacitating smallholders to adopt sustainable climate resilient agro-ecology.
It focuses mainly on two themes: Sustainable agriculture and enhance livelihood of Non-timber forest producers (NTFP).
Sustainable agriculture practices include Community Managed Sustainable Agriculture (CMSA), Non Pesticide Management (NPM), Zero Budget Natural Farming (ZBNF), Pashu-Sakhi model for doorstep animal care services.
Implementation Strategy
MKSP projects implemented by partners- Community based Organisations(CBOs) and NGOs.
Promoting sustainable models on agriculture, Livestock and targeting the Ultra-Poor
Creating social capital (Community Resource Persons/Pashu Sakhis/ Skilled extension workers)
Scaling up successful Ultra-Poor models with the help of the social capital
Funding
Ministry of Rural Development (MoRD) provides funding support of up to 75% (90% for North East and hill states) to the project submitted by the State Governments under MKSP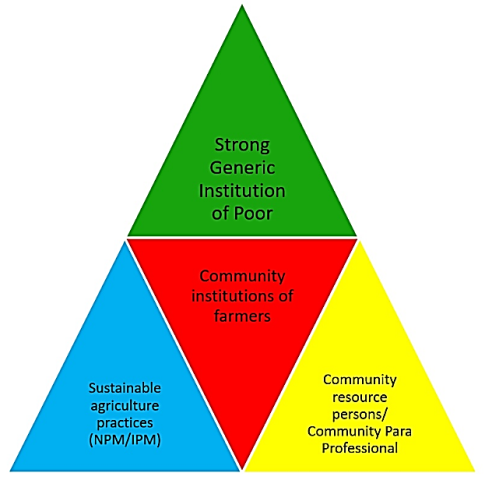 Significance
Skill Enhancement: The MKSP will enhance the skill base of the women in Agriculture to enable them to pursue their livelihoods on a sustainable basis.
Benefits to Vulnerable Women Group: The MKSP will strategize in a manner to target the Poorest of the Poor and most vulnerable women such as SC/ST, minorities, landless and the Primitive Tribal Groups.
Way Forward
Rural women play a significant and crucial role in agricultural development and allied fields including in the main crop production, livestock production, horticulture, post-harvest operations, agro/social forestry, fisheries, etc.
Rural women form the most productive work force in the economy of majority of the developing nations including India.
Maximum participation of women in agriculture will lead to the sustainable development agriculture, rural economy and the country on the whole.
Accessible India Campaign
---
Recently, the Ministry of Social Justice and Empowerment extended the deadline for Accessible India campaign to March 2020 due to slow progress.
The original deadlines under the campaign was July, 2018, for conducting an accessibility audit of 25-50 of the most important government buildings in 50 cities and making them completely accessible.
Reasons
Under the campaign, the target of making 50% of all the government buildings of all the State capitals fully accessible has not been met yet.
Complete accessibility audit of 50% of government buildings and making them fully accessible in 10 most important cities/towns of States is still under development.
Accessible India Campaign (AIC)
Also known as Sugamya Bharat Abhiyan, it was launched by Department of Empowerment of Persons with Disabilities, in December, 2015, as a nation-wide Campaign for achieving universal accessibility for Persons with Disabilities (PwDs)or
Aim
To enable persons with disabilities to gain universal access.
To provide equal opportunity for development, independent living and participation in all aspects of life in an inclusive society.
To create an accessible physical environment that benefits everyone, not just persons with disabilities.
Components of AIC
Built Environment Accessibility
An accessible physical environment benefits everyone, not just persons with disabilities. Measures should be undertaken to eliminate obstacles and barriers to indoor and outdoor facilities including schools, medical facilities, and workplaces.
These include not only buildings, but also footpaths, curb cuts, and obstacles that block the flow of pedestrian traffic.
Transportation System Accessibility
Transportation is a vital component for independent living, and like others in society, PwDs rely on transportation facilities to move from one place to another.
The term transportation covers a number of areas including air travel, buses, taxis, and trains.
Information and Communication Eco-System Accessibility
Access to information creates opportunities for everyone in society and it refers to all information. People use information in many forms to make decisions about their daily lives.
This can range from actions such as being able to read price tags, to physically enter a hall, to participate in an event, to read a pamphlet with healthcare information, to understand a train timetable, or to view webpages.
Significance
With Accessible India Campaign, India has joined the rest of the world, as an inclusive society with universal accessibility, caring for its citizens, accessibility rights and independent living.
Physical accessibility related actions will initiate accessibility to education, employment and livelihood helping built a stronger nation.
Recent Developments towards AIC
Management Information System (MIS)
In September, 2019, Department of Empowerment of Persons with Disabilities (DEPwD) developed a Management Information System (MIS) for stakeholders of AIC.
The MIS portal will bring all the nodal ministries and States/UTs on a single platform for monitoring the progress being made against each target of AIC.
The portal will be useful in maintaining all the function on digital platform and capture data on a real-time basis.
Website Accessibility Project

In January, 2018, DEPwD initiated Website Accessibility Project for State Government/Union Territories under Accessible India Campaign through ERNET India, to make total 917 websites accessible to Divyangjans.
Rights of Persons with Disabilities Act – 2016
Enacted in December 2016, the act facilitates full acceptance of people with disability and ensures full participation and inclusion of such persons in the society.
Aim
To uphold the dignity of every PwD in the society and prevent any form of discrimination.
Salient Features
It defines PwD as any person with long-term physical, mental, intellectual, or sensory impairments which on interacting with barriers hinder effective and equal growth in the society.
The types of disabilities have been increased from existing 7 to 21 and the Central Government will have the power to add more types of disabilities.
Speech and Language Disability and Specific Learning Disability have been added for the first time.
Acid Attack Victims have been included.
Dwarfism, muscular dystrophy have has been indicated as separate class of specified disability.
The New categories of disabilities also included three blood disorders, Thalassemia, Hemophilia and Sickle Cell disease.
Significance
The Act is in line with the United National Convention on the Rights of Persons with Disabilities (UNCRPD), to which India is a signatory, since 2007. This will fulfill the obligations on the part of India in terms of UNCRD.
Further, it not only helps to enhance the Rights and Entitlements of Divyangjan but also provide effective mechanism for ensuring their empowerment and true inclusion into the society in a satisfactory manner.
United National Convention on the Rights of Persons with Disabilities (UNCRPD)
Adopted in December, 2006, UNCRPD is the first international treaty which identifies the rights of disabled people as well as the obligations in order to promote, protect and ensure those rights.
The Convention entered into force on 3rd May, 2008.
It is a benchmark document that works to ensure the enjoyment of human rights and fundamental freedoms by persons with disabilities.
Aim
To ensure that disabled people enjoy the same human rights as everyone else and that they can participate fully in society by receiving the same opportunities as others.
What is an Accessible Building?
An accessible building is one, where persons with disabilities have no barrier in entering it and using all the facilities therein.
This covers the built environment – services, steps and ramps, corridors, entry gates, emergency exits, parking – as well as indoor and outdoor facilities including lighting, signages, alarm systems and toilets.
Criteria
Identifying accessible buildings requires annual accessibility audits that determine if a building meets agreed upon standards.
Once a building is deemed fully accessible, an annual audit is not necessary, but should be required for any proposed changes to the structure or systems contained therein.
A full audit can then be done on a less frequent basis. Standards of accessibility should be as consistent as possible with international standards, such as those of the ISO, taking into account the local context.
In regards to the built environment, ISO 21542:2011, Building Construction –Accessibility and Usability of the Built Environment, delineates a set of requirements and recommendations concerning construction, assembly, components and fittings.
Niti Aayog's Aspirational Districts Programme
---
Despite on a high economic growth trajectory, India still lags behind in terms of Human Development Index as well as reduction in the significant inter-state and inter-district variations in development.
To address both the issues, the Prime Minister launched the 'Transformation of Aspirational Districts Programme (ADP) in January, 2018.
Aspirational Districts Programme (ADP)
It aims to expeditiously improve the socio-economic status of 117 districts from across 28 states.
Driven primarily by the States, this initiative focuses on the strengths of each district, and prioritizes the attainable outcomes for immediate improvement.
NITI Aayog in partnership with the Government of Andhra Pradesh has created a dashboard - Champions of Change-Real-Time Monitoring Dashboard, for monitoring the real-time progress of the districts.
Objectives
Mapping of skill profile of the district
Appraisal of district skill ecosystem
Identifying district specific challenges and potential areas of support required in the district
Development of District Skill Development Plan through consultation process
Implementation support for the work plan to the districts
Core Principles
The three core principles of the programme are –

Convergence (of Central & State Schemes)
Collaboration (among citizens and functionaries of Central & State Governments including district teams)
Competition among districts
Focus Areas
The ADP focuses mainly on following themes- Health & Nutrition, Education, Agriculture & Water Resources, Financial Inclusion, Skill Development and Basic Infrastructure.
49 key performance indicators (KPIs) with 81 data points have been chosen to measure progress of the districts.
Focus Areas
Weight
Data-Points
No. of Indicators
Health & Nutrition
30%
31
13
Education
30%
14
08
Agriculture & Water Resources
20%
12
10
Financial Inclusion
5%
06
11
Skill Development
5%
10
Basic Infrastructure
10%
08
07

Source: NITI Aayog
Health & Nutrition: Main focus on antenatal care, postnatal care, gender parity, health of new-born, growth of children, contagious diseases, and health infrastructure.
Education: Focus on learning outcomes (transition rate from primary to upper primary, and subsequently to secondary schooling, average scores in mathematics and languages etc.), as well as infrastructural (toilet access for girls, drinking water, electricity supply) and institutional indicators (Right to Education, mandated pupil-teacher ratio)
Agriculture & Water Resources: Focus on outputs (yield, price realisation etc.), inputs (quality seed distribution, soil health cards), and institutional support (crop insurance, electronic markets, artificial insemination, animal vaccination).
Financial Inclusion:Focus on schemes such as Atal Pension Yojana, Pradhan Mantri Jeevan Jyoti Bima Yojana etc.), reach of institutional banking (number of accounts opened under Jan DhanYojana), and ease of institutional financing for small businesses (disbursement of Mudra loans).
Skill Development: Focus on skilling of youth, employment, and the skilling of vulnerable/marginalized youth under Pradhan Mantri Kaushal Vikas Yojana (PMKVY).
Basic Infrastructure: Focus on housing for all with drinking water, electricity, road connectivity, internet connected Gram Panchayats, and panchayats with Common Service Centres.
Analysis
The ADP brings together all levels of government, from central and state officers driving operations, to the district collectors implementing innovative measures on the ground. It also tracks progress through real-time data collection.
A critical aspect of the programme's approach is its focus on district-specific strengths and the identification of low-hanging fruit. In addition to tailoring interventions to districts, the programme is novel in four important ways:
The programme shifts the focus away from inputs and draws attention to socio-economic outcomes, such as learning and malnutrition, at the highest echelons of the government.
Through its large-scale efforts to collect, distill and disseminate data, the programme is grounded thoroughly in evidence. The NITI Aayog has created a dashboard to monitor real-time progress in the districts. The availability of the latest district-level statistics in the public domain is not only enhancing transparency and accountability, but it is also ensuring that policy actions are backed by evidence.
The ADP amplifies the government's belief that states and districts should have a greater voice in their development. It truly embodies India's shift toward cooperative federalism. The local, state and central governments work together to design, implement and monitor measures to drive development in the districts.
The programme is a collaborative effort between government, various foundations and civil society. Through partnerships with several voluntary organisations, the programme benefits from different perspectives, technical skills and on-the-ground experience. For example, NITI Aayog is working with Piramal Foundation to strengthen public systems particularly in health and education. Similarly, Tata Trusts, IDinsight, L&T, ITC and the Bill and Melinda Gates Foundation are also playing key roles in the programme. These public-private partnerships will help boost implementation of the programme.
Way Forward
In a diverse country like India, balanced growth is a prerequisite for overall development. ADP is a radical departure from the country's previous development strategies in its scale, scope and ownership. Implicit in the design of the programme is the fact that India's economy cannot sustain growth without improving human development for all its citizens.
ADP is a laboratory of various cutting-edge governance reforms which aims to address governance issues by using a combination of approaches: lifting levels of aspirations through a vision and district plan,adequate institutional arrangements and convergence in all stakeholders' efforts and above all, ranking based public competition among the districts by setting up a real-time monitoring mechanism.
The Government is committed to raising the living standards of its citizens and ensuring inclusive growth for all – "Sabka Saath Sabka Vikas". To enable optimum utilization of their potential, ADP focuses closely on improving people's ability to participate fully in the vibrant economy.
National Rural Sanitation Strategy For 10 Years Launched
---
On 27thSeptember, 2019, the Department of Drinking Water and Sanitation (DDWS) under the Ministry of Jal Shakti, launched the 10 Year Rural Sanitation Strategy (2019-2029),with focus on sustaining the sanitation behavior change that has been achieved under the Swachh Bharat Mission Grameen (SBM-G).
Objective
To guide policy makers, implementers and other relevant stakeholders in their planning for Open Defecation Free (ODF)
To ensure that every village has access to solid and liquid waste management.
Strategy and Focus Point
The 10 year strategy focuses on the following points:

Need for States/UTs to continue their efforts to sustain the gains of the mission through capacity strengthening
Spreading awareness through IEC (Information, education and communication)
Organic waste management
Plastic waste management
Greyand black water management

In addition it lays emphasis on potential collaborations with development partners, civil society and inter-government partnerships.
It also highlights innovative models for sanitation financing.
Swachh Bharat Mission(SBM)
It was launched on 2nd October, 2014, to accelerate the efforts to achieve universal sanitation coverage and to put focus on sanitation.
Aim
The Mission aims to achieve a Swachh Bharat by2nd October, 2019, as a fitting tribute to Mahatma Gandhi on his 150th birth anniversary.
Objectives
To bring about an improvement in the general quality of life in the rural areas, by promoting cleanliness, hygiene and eliminating open defecation.
To accelerate sanitation coverage in rural areas to achieve the vision of Swachh Bharat by 2ndOctober 2019.
To motivate communities to adopt sustainable sanitation practices and facilities through awareness creation and health education.
To encourage cost effective and appropriate technologies for ecologically safe and sustainable sanitation.
To develop, wherever required, community managed sanitation systems focusing on scientific Solid & Liquid Waste Management systems for overall cleanliness in the rural areas.
To create significant positive impact on gender and promote social inclusion by improving sanitation especially in marginalized communities.
It has two Sub-Missions-
Swachh Bharat Mission (Gramin): implemented by Ministry of Jal Shakti
Swachh Bharat Mission (Urban): implemented by Ministry of Housing and Urban Affairs
Achievements
Since the launch of the SBM-G in 2014, over 10 crore toilets have been built in rural areas; over 5.9 lakh villages, 699 districts, and 35 States/UTs have declared themselves Open Defecation Free (ODF).
As of July, 2019, over 2,900 cities in India have declared themselves ODF.
50 lakh individual toilets have been built under SBM urban till now.
Significance
SBM has become a 'Jan Andolan' receiving tremendous support from the people. Citizens too have turned out in large numbers and pledged for a neat and cleaner India. Taking the broom to sweep the streets, cleaning up the garbage, focussing on sanitation and maintaining a hygienic environment have become a practice after the launch of the SBM.
People have started to take part and are helping spread the message of 'Cleanliness is next to Godliness.'
Sustaining the Sanitation Behavior Change
Following steps will ensure sustainability of both the ODF practices and the ODF status of an area-
Involvement of Locals:
ODF success stories are incomplete without local participation. From digging of pits to participation in rallies to voluntarily cleaning public toilets in cities, local participation has been at the heart of ODF success stories.
In addition, rewarding of locals in ODF areas, especially those who have played active parts in the area becoming ODF can also aid in ODF sustainability.
Preparing a List of Dos and Don'ts:
A series of dos and don'ts in this context ensure that residents of an ODF area know what to do and what to avoid to keep the ODF status intact.
Local administrations or urban local bodies can come up with a series of dos and don'ts in consultation with sanitation experts, and promote them among residents.
Identification of Vulnerable Section:
Identification of people who are likely to violate ODF statuses and defecate in the open can help in the sustenance of an area's ODF status. People who have been caught defecating openly in the past should be identified and explained about the ODF status of the area and be encouraged to use toilets.
Fines or penalties can also be implemented on violators to ensure that the sanctity of an ODF village is not broken.
Creating Awareness to Raise ODF Sustainability:
Be it panchayat meetings in villages or municipality meetings in cities, ODF sustainability and its significance must be constantly reiterated in such gatherings. Concerned authorities should discuss cases of open defecation in an ODF village/city regularly; take action to ensure that such incidents are not repeated and plans adopted by the village/city administration to keep the ODF status of the area intact.
If ODF sustainability of an area is raised as a topic with concerned authorities with as much vigour as construction of toilets, then monitoring of ODF sustainability can be improved significantly.
Establishing a Taskforce to Promote ODF Sustainability:
A team of individuals can be put together to work towards ODF sustainability. Officials, motivators, volunteers familiar with the geography of the ODF area are good choices for such a team, which can keep an eye on the activities being undertaken to sustain the ODF status of a village/city.
The taskforce can also meet from time to time and suggest steps to be taken on how to sustain the ODF status of a particular area, and discuss the problems and potential solutions regarding the same.
Way Forward
SBM is more than a toilet building exercise, it is an effort to change traditional habits and behaviours, as well as a much-needed drive to reduce ground and water pollution and improve community health.
It is this combination of technology solutions and out-of-the-box thinking that has been critical to SBM's success in addressing the sanitation challenges faced by India.
Before the launch of SBM, over 500 million people in India did not have access to safe sanitation, and now, the majority do. There is still a long way to go, but the impacts of access to sanitation in India are already being realized. The SBM can serve as a model for other countries around the world that urgently need to improve access to sanitation for the world's poorest.
Pradhan Mantri Kisan Maan Dhan Yojana
---
It is one of the major efforts by the government which aims to secure the lives of the small farmers and marginal farmers in their old age.
Key features
Eligibility Criteria:
Farmers holding up to 2 hectare farmland will be eligible for the PM-KMY scheme.
Farmers between 18 and 40 years of age will get 3,000 monthly pension after reaching 60 years of age.
Contribution:
Depending on their age, farmers need to make a monthly contribution ranging between Rs. 55 and Rs. 200.
The farmers, who are also beneficiaries of PM-Kisan Scheme, will get the option to allow their contribution debited from the benefit of that scheme directly.
Coverage: The scheme is being implemented across the country, including Jammu & Kashmir and Union Territory of Ladakh.
Enrolment through CSCs:The Ministry of Agriculture and Farmer's Welfare has roped in Common Service Centres (CSCs) for enrollment of subscribers.
Voluntary Ext Option: Kisan Maan Dhan yojana beneficiaries will be able to opt voluntarily to exit the Scheme after a minimum period of 5 years of regular contributions. On exit, their entire contribution will be returned by LIC with an interest equivalent to prevailing saving bank rates.
Significance
The yojana will provide a social security to vulnerable small and marginal farmers with an assured supplemental income.
It would pave the way for the farmers to live a respectable living.
Common Service Centres (CSCs)
It is a strategic cornerstone of the National e-Governance Plan (NeGP), approved by the Government in May 2006, as part of its commitment in the National Common Minimum Programme to introduce e-governance on a massive scale.
It is one of the mission mode projects under the Digital India Programme.
CSCs are the access points for delivery of essential public utility services, social welfare schemes, healthcare, financial, education and agriculture services, apart from host of business- to-customer (B2C) services to citizens in rural and remote areas of the country.
Significance
It is a pan-India network catering to regional, geographic, linguistic and cultural diversity of the country, thus enabling the Government's mandate of a socially, financially and digitally inclusive society.
Digital India
Launched in July, 2015, it is a flagship programme of the Government of India with a vision to transform India into a digitally empowered society and knowledge economy.
It encompasses 3key vision areas:

Digital infrastructure as a Core Utility to every citizen
Governance and service on demand
Digital Empowerment of Citizens
Challenges Faced by Small and Marginal Farmers
Unorganisation of Agricultural Sector:
Indian agriculture s4ector is largely an unorganised sector with inadequate organisational planning involved in cultivation, irrigation, harvesting etc. Institutional finances are not adequately available and minimum purchase price fixed by the government do not reach the poorest far.
Small farm Holdings:
According to the 10th Agricultural Census(2015-16), small and marginal holdings (below two hectares) constituted 86.21% of the total land holdings, which makes profitable cultivation impractical making it economically unfeasible.
Credit and Indebtedness Issues:
This is one of the main cause of increasing farmer's suicide across the country.Exorbitant interest rates have to be declared illegal and the government has to take strict measures against greedy money Easy access to institutional credits have to reach the small and marginal farmers, without cumbersome procedure.
Water Problems:
Water is the leading input in agriculture. Small holding agriculture depend more on ground water compared to large farmers who has more access on canal water.Marginal and small farmers are going to face more problems regarding water in future.
Under-Penetration of Government Schemes:
Government has implemented agricultural debt waiver & debt relief scheme. Most of the subsidies & welfare schemes announced by the central &state government do not reach to poor farmers. On the contrary, only big land holders are benefited by these schemes.
The suicides that are being reported from farms across the country clearly indicate that these schemes have not found enough takers. Worse, even in cases where the farmer has signed up for a policy, he may not be eligible to make a claim when he is badly hit on account of loan defaults.
Lack of Awareness
The farmers were not aware of how the insurance schemes worked. Most of them, for instance, did not know that the policy becomes inoperative if they default on payments. The farmers do not know anything about the guidelines. The government has also not made any effort to make them aware. This is why these schemes are not too effective.
Climatic Changes Issues
Climate changes have been a major challenge for food security, agriculture and livelihoods for millions of people including rural farmers and poor people in India. Rural communities, who live in fragile environments, face an immediate and ever-growing risk of loss of livestock, increased crop failure and reduced availability of aquaculture, marine and forest products.
Way Forward
With a view to improve the condition of Small and Marginal farmers and to double the income of farmers by 2022, Government is realigning its interventions from production-centric approach to farmer's income-centric initiatives, with focus on better and new technological solutions.
These include implementation of schemes like PradhanMantriKrishiSinchaiYojana (PMKSY), ParamparagatKrishiVikasYojana (PKVY), Soil Health Card, Neem Coated Urea, Rainfed Area Development under National Mission for Sustainable Agriculture (NMSA), PradhanMantriFasalBimaYojana (PMFBY), National Agriculture Market scheme (e-NAM), National Food Security Mission (NFSM), RashtriyaKrishiVikasYojana (RKVY),
In addition, farmers are provided information through Focused Publicity Campaigns, Kisan Call Centres (KCCs), Agri­-Clinics and Agri-Business Centres (ACABC) of entrepreneurs, Agri Fairs and exhibitions, Kisan SMS Portal etc.
Also, better credit and transportation facilities, warehousing and storage, better access to crop insurance are important for improving the earnings and living conditions of marginal farmers.
Small and marginal holdings agriculture is important for raising agriculture growth, food security and to improve the economy in India and the future of sustainable agriculture growth and food security of the nation depends on the performance of these small and marginal farmers.
Odisha Implements Witness Protection Scheme, 2018
---
On 9th July, 2019, Odisha became the first Indian state to implement the Centre's Witness Protection Scheme, 2018. Endorsing the central scheme on December 5 last year, the Supreme Court had directed all States and UTs to implement it in letter and spirit.
Reasons for Witness Turning Hostile:
Threats to life of witnesses as well as relatives
Inducement by various means
Influence of rich, powerful and corrupt people
Inefficient judiciary system leading to prolonged hearings
The Witness Protection Scheme, 2018
Aim
To ensure that the investigation, prosecution, and trial of criminal offenses is not hindered because witnesses are subdued or frightened to give evidence without protection from violent or other criminal recrimination.
Salient Features
Identifying categories of threat perceptions, preparation of a 'Threat Analysis Report' by the head of the police
Protective measures like ensuring that the witness and accused do not come face to face during probe
Protection of identity
Relocation of witness
Confidentiality and preservation of records, recovery of expenses etc
It comprises 3 categories of witnesses as per the threat perception:

Category A: cases where the threat extends to the life of witness or his family members during an investigation, trial or thereafter.
Category B: cases where the threat perception extends to safety, reputation or property of the witness or his family members during the investigation or trial.
Category C: cases where the threat is moderate and extends to harassment or intimidation of the witness or his family member's reputation or property.
Need for Such Scheme:
Life Threat to Witnesses: In Indian scenario large percentage of acquittals in criminal cases is due to witnesses turning hostile and giving false testimonies, mostly due to lack of protection for them and their families, especially in case of women and children. It is the responsibility of the State to impart adequate protection to the witness. This would encourage more witness to come forward.
To Provide Rule of Law: It is a rule of law that no rights of the witness should be prejudiced by way of threats, intimidation or corruption therefore, to allow him to testify for or against the case which he had been a witness to with full liberty.
Challenges towards Witness Protection:
Maintaining Anonymity of Witness: The most important challenge is with respect to anonymity of witnesses and the balancing of interests of the prosecution to compensate the witness and the rights of the true accused.
High Implementation Cost: When talking about offering bodyguards, security, relocation to another area etc., the costs that are involved are bound to be huge.
Deep-Rooted Corruption: The more pertinent problem is that of corruption in the administration and judiciary at every level, making witnesses more vulnerable.
Inefficient Judiciary System: A witness in Indian situation, who is settled with a job and family, may not want to undergo such major changes in his life for the sake of being a witness in a Court of law considering the snail paced working of Indian judicial system.
Suggestions:
Beneficial witness protection legislation, should ideally count in all the three concerned agencies – police, government and judiciary. The government should exhibit a political will to administer necessary acts, the judiciary can take up the legal aspects and the execution may be delegated to the police.
The police force should be given more freedom to take basic measures to protect witnesses like surveillance, escorting the witness to work and court, assisting with emergency relocation etc.
Rebuilding trust of the people in the formal system of law is the best form of witness protection. The witnesses should be assured that those who want to testify have, on their side, the police and an impartial system.
Way Forward
Witnesses are regarded as one of the most crucial element in the criminal justice system. It is because of them that the trial finds some solidity so as to come to a fair conclusion.
A good witness protection scheme is important for witnesses whose evidence is vital for the successful prosecution of criminal cases and wherein the life of witness and his family members is also exposed to danger.
An effective witness protection scheme will bring in efficiency in the criminal justice system, given the awful rate of convictions in the country.
Chunauti Scheme
---
Why is it in News?
The Delhi High Court on 15th May tried to find the reason behind the segregation of students according to their learning ability under the 'Chunauti-2018 Plan' in Delhi government schools.
Relevance of the news:
The scheme allegedly abrogates the fundamental right to equality and dignity of students which raises questions of constitutionality.
Segregation based on Learning Ability:
'Parents Forum for Meaningful Education' moved the court, alleging that the scheme is contrary to the law enacted to streamline education of children under RTE, the Rights of Persons with Disabilities Act and the National Policy on Education.
Under the scheme, testing and segregation is left to the impulse of the principal of the schools. Based on unreliable results Through unscientific, illegal, ad-hoc tests, Children are segregated and labelled as 'Pratibha' (superior) and 'Nishtha' (inferior) based on unreliable results of an illegal, unscientific and ad-hoc tests. The children are made to sit in separate groups in the same school or in separate section and are left disempowered.
According to the plea, "such discrimination through segregation is creating an irreversible class divide; class hatred; loss of happiness; inferiority and loss of friendship."
The scheme has been claimed antithetical to the core essence of "inclusive education" as per the plea.
Chunauti Scheme:
It is a Delhi Government scheme aimed to improve learning levels in government schools. The scheme divides children into groups on the basis of who can read and write Hindi, English and solve mathematical problems.
The division was done based on a baseline assessment of the students.
The ones who can read are called "Pratibha" and the ones who cannot are "Nishtha". In class 9 there is another group called "Vishwas" which includes those who are out of school and have failed twice in the class.
Atal Pension Yojna (APY)
---
About the Scheme:
It is a pension scheme that has been launched by the Ministry of Finance to provide pensions to all citizens of the country with focus on the unorganized sector.
Subscribers of this scheme would receive the fixed pension of Rs. 1K/2K/3K/4K/5K per month, at the age of 60 years, depending on their contributions.
Eligibility: A person shall be in age group of 18-40 years (i.e. minimum period of contribution by subscriber has to be 20 years)
Administering authority: Pension Fund Regulatory Development Authority (PFRDA)
Where will the Money be invested?
The collected money from this scheme will be invested in government securities, corporate bonds, equity etc.
Is Withdrawal possible in between?
Yes, withdrawal before age of 60 years is possible but only in case of death or terminal illness.
Source: TH
Beti Bachao Beti Padhao
---
About the Scheme (BBBP)
BBBP Scheme is a Central Sector Scheme with 100% financial assistance from the Centre.
BBBP is a comprehensive programme to address the declining Child Sex Ratio (CSR) and related issues of empowerment of women over a life-cycle continuum.
Ministries involved with BBBP:
The scheme is being implemented as a tri-ministerial convergent effort of Ministry of Women and Child Development, Ministry of Health & Family Welfare along with Ministry of Human Resource & Development. Hence, statement 3 is incorrect.
At the Central level, Ministry of Women and Child Development is the nodal ministry for the programme.
Source: PIB
Sovereign Gold Bond (SGB) Scheme
---
Why is it in News?
After launch of SGB Scheme in 2015, India's Gold Imports plummeted from 968 million tonnes in 2015-16 to 780 million tonnes in 2017-18, but again rose to 955 million tonnes in 2019.
What is the SGB Scheme?
The SGB scheme has been launched by the Government of India to provide an alternative to buying the physical gold.
Under the Sovereign Gold Bond Scheme, the Reserve Bank of India issues the bonds on behalf of the Government of India.
Government has notified rate of interest of 2.50% per annum on SGB bonds which is payable on half yearly basis.
The maturity period of the bond is 8 years with an exit option in 5th year.
Minimum Subscription for SGB:
Minimum Subscription for an individual is 1 gram and maximum is 4kgs; for trust and other related entities the maximum subscription is 20kg.
Under SGB Scheme, bonds are denominated in units of one grams of gold and multiples thereof.
From where can the Bonds be purchased?
It is sold from post offices, banks, Bombay Stock Exchange, National Stock Exchange etc.
What was the need to launch the SGB Scheme?
This scheme aims to reduce the demand for physical gold, thereby keeping a tab on gold imports and utilizing resources effectively. Gold imports is one of the major cause of Current Account Deficit (CAD) of India, hence it is intended to plug that gap.
It has been observed that Gold demand rises during the time of uncertainty i.e. during the time of inflation. Therefore, the government intended to curb this demand of physical gold through this Scheme.
Why did the Demand of Physical Gold pick up again in 2019?
SBG can be purchased through Demat Accounts or KYC norms have to be satisfied. To avoid the unnecessary formalities, people resorted to buying physical gold itself.
There is lock in period for five years which is one of the other major drawback due to which people don't prefer gold bonds.
On an average yearly demand of gold is 800 tonnes, with 60% demand is for jewelry during the wedding season. These needs can't be met through SBG scheme, therefore which forms another limitation on the success of SGB Scheme due to our cultural factor.
Due to our cultural factor, common people trust physical gold more than paper adding on to factors why SGB scheme failed to lure the mass.
How can the People be convinced to buy the SGB instead of Physical Gold?
People need to be educated that annual interest on Gold Bond is more than Physcial Gold.
Sellers need to educate people that Gold Bond is safer than the Physical Gold as Physcial Gold suffers the risk of impurity, wear & tear too.
Gold Bonds are more liquid than the Physical Gold, if these features are well explained to the masses, this can change the investment pattern of the people.
Source: TH
Grid Connected Rooftop Solar Programme
---
Why is it in News?
Phase II of the Grid Connected Roof Top Solar Programme was recently approved by the Cabinet Committee on Economic Affairs. The programme will be implemented with a total central financial support of Rs. 11,814 crore.
Aim of the Programme:
It aims to achieve cumulative capacity of 40,000 MW from roof top solar projects by 2022. Phase II provides for central financial assistance (for residential rooftop solar installations) up to 40% for rooftop systems up to 3kW and 20% for those with a capacity of 3-10kW. The second phase will also focus on intensifying the participation of the distribution companies (DISCOM).
Provisions of Central Financial Assistance(CFA):
Up to 40% CFA for rooftop system upto 3KW.
Up to 20% CFA for those with a capacity of 3-10 KW.
Eligible groups for CFA: Residential welfare society, group housing, residential sector etc.
Non Eligible groups for CFA: Commercial buildings, educational institutions, government buildings etc.
Nodal Agency:
Discoms will be the nodal agency for this programme.
Source: TH
Kisan Urja Surksha Utthan Mahaabhiyan (KUSUM)
---
Why is it in News?
The solar pump scheme, KUSUM was given nod by the Cabinet after a year of its announcement.
The KUSUM Scheme:
Aim of the scheme: It aims to promote use of solar power among the farmers; the solar pumps will not only assist the farmers to irrigate, but will also allow each farmer to generate safe energy. The agricultural labors will be able to sell the extra power directly to the government. It will provide them with extra income as well.
Features of Scheme:
Farmers/ Panchayats can set up 10,000 MW of grid connected renewable power plants in their fallow or waste land which can help them in earning extra income.
Farmers will be supported to install stand alone solar powered agricultural pumps (Target- 17.5 lakh pumps)
Solarisation of 10 lakh grid connected solar powered agricultural pumps.
The scheme in totality aims to add 25,750 MW of solar energy capacity by 2022.
The Union Budget 2018-19 has set aside a sum of Rs. 48000 crores for this programme for ten years.
Benefits of this Scheme:
It will help India in meeting its INDC (Intended Nationally Determined Contributions) targets under Paris Summit.
It will support the farmers by providing them extra income.
It has potential to generate skilled and unskilled jobs to the tune of 7 lakhs per year.
It will save diesel to the tune of 1.3 billion litres which will have a soothing impact on Current Account Deficit of India.
---