Ranking Of States On Support To Startup Ecosystems
---
On 11th September, 2020, the Ministry of Commerce & Industry released the second edition of Ranking of States on Support to Startup Ecosystems-2019, conducted by the Department for Promotion of Industry and Internal Trade (DPIIT).
A total of 22 states and 3 Union Territories participated in the exercise, including four states from North East India.
Objectives
To help bring to fore progress made by the States/ UTs for promoting Startup ecosystem
To foster competitiveness & propel the States/ UTs to work proactively
To facilitate States/ UTs to identify, learn and replicate good practices
About States Startup Ranking 2019
Intervention Areas
The framework is spread across 7 areas of intervention with a total of 30 action points, as compared to the 38 action points in previous years' Ranking Framework.
7 Pillar wise Participation of States
It cover parameters such as Institutional Support, Simplifying Regulations, Ease in Public Procurement, Incubation Support, Seed Funding support, Venture Funding support, and Awareness and Outreach.
Categorization
To establish uniformity and ensure standardization in the ranking process, States and UTs have been divided into two groups.

Category X: All other States and UT of Delhi.
Category Y: All UTs except Delhi and all States in North East India except Assam.

For the purposes of Ranking, States are classified into 5 Categories:

Best Performers
Top Performers
Leaders
Aspiring Leaders
Emerging Startup Ecosystems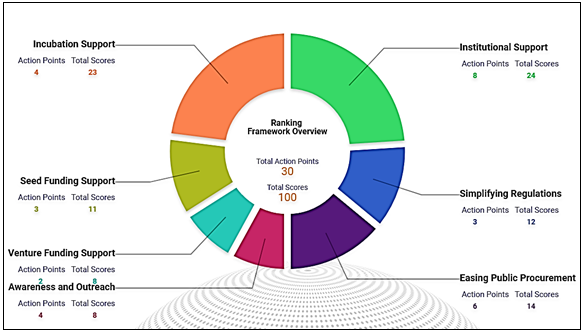 Source: DPIIT
Results
Category X
Best Performer: Gujarat (State), Andaman & Nicobar Islands (UT)
Top Performers: Karnataka and Kerala
Leaders: Bihar, Maharashtra, Odisha, Rajasthan, Chandigarh
Aspiring Leaders: Haryana, Jharkhand, Punjab, Telangana, Uttrakhand
Emerging Startup Ecosystem: Andhra Pradesh, Assam, Chhattisgarh, Delhi, Himachal Pradesh, Madhya Pradesh, Sikkim, Tamil Nadu, Uttar Pradesh
Category Y
Best Performer: Andaman and Nicobar Islands
Leader: Chandigarh
Aspiring Leader: Nagaland
Emerging Startup Ecosystems: Mizoram, Sikkim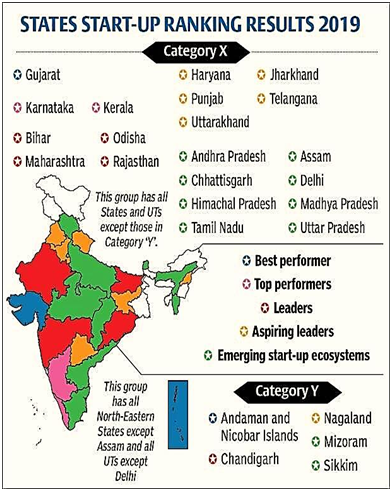 Source: DPIIT
Significance
The ranking will not help the states and UTs, but also the entrepreneurs, and will help in expansion of the startups and launching of new ventures.
Implemented as capacity development exercise, it will help to encourage mutual learning among all states and to provide support in policy formulation and implementation.
Startup
A startup venture could be defined as, a new business that is in the initial stages of operation, beginning to grow and is typically financed by an individual or small group of individuals.
An entity will be considered a startup if it fulfils overarching conditions mentioned below:
Entity Type
Incorporated as a private limited company (as defined in the Companies Act, 2013) or
Registered as a partnership firm (registered under section 59 of the Partnership Act, 1932) or
Registered as a limited liability partnership (under the Limited Liability Partnership Act, 2008) in India.
Age
10 years from date of incorporation.
Turnover
Must not exceed one hundred crore rupees in any fiscal year.
Nature of Activity
Given that the entity is working towards-
Innovation
Development or improvement of products or processes or services
Scalability
Job Creation
Wealth Creation
Opportunities for Startups
Indian markets provide numerous opportunities for startups.
India's Large Population: The population of India is a huge asset for the country. By 2020, it is expected that the working age population would surpass the non-working population. This unique demographic advantage will offer a great opportunity to any startup. Various infrastructure issues and the bottom- of the- pyramid market would provide huge opportunities for the startups.
Change of Mind Set of Working Class: Traditional career paths will be giving way to Indian startup space. Challenging assignments, good compensation packages would attract talented people to startups. Also, it is seen that several high-profile executives are quitting their jobs to start or work for startups.
Huge Investments in Startups: The startup ecosystem is getting substantial support from foreign and Indian investors, who have shown more faith in the industry and have provided funds to help these companies to grow leaps and bounds.
Government Initiatives: Government and semi-governmental initiatives are currently supporting startups through infrastructure, financial and technical assistance and easier compliance norms.
Startup Landscape in India
Some key outcomes of the India's startup growth story as on 31st March 2020 are as follows –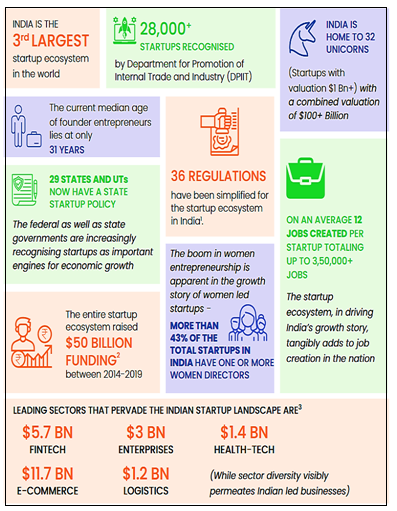 Source: DPIIT
Issues and Challenges of Startups
Dearth of Financial Resources:Availability of finance is critical for the startups and is always a problem to get sufficient amounts.Proper cash management is critical for the success of the startups. A recent report paints a gloomy picture with 85% of new company's reportedly underfunded indicating potential failure
Poor Revenue Generation: Several startups fail due to poor revenue generation as the business grows. As the operations increase, expenses grow with reduced revenues forcing startups to concentrate on the funding aspect. Therefore, the challenge is not to generate enough capital but also to expand and sustain the growth.
Supporting Infrastructure: Various support mechanisms that play asignificant role in the life cycle of startups which include incubators, science and technology parks, business development centers etc. Lack of access to such support mechanisms increases the risk of failure.
Lack of Awareness in Markets: Startups fail due to lack of attention to limitations in the markets. The environment for a startup is usually more difficult than for an established firm due to uniqueness of the product.
Complex Regulatory Environment: Starting a business requires a number of permissions from government agencies. Despite the perceptible change in recent years, it is still a challenge to register a company. Further, regulations pertaining to labor laws, intellectual property rights, dispute resolution etc. are rigorous in India.
Lack of Mentor ship:Lack of proper guidance and mentor ship is one of the biggest problems that exist in the Indian startup ecosystem. Most of startups have brilliant ideas and/or products, but have little or no industry, business and market experience to get the products to the market.
Lack of an Effective Branding Strategy:Absence of an effective branding strategy is another issue that prevents startups from flourishing. Branding is of paramount importance for startups as it gives an identity and occupies a space in the consumers' minds.
Recent Regulatory Reforms towards Startups
Ministry of Corporate Affairs has introduced the Companies Fresh Start Scheme in March 2020 to provide a first of its kind opportunity to Companies to make good any filing related defaults, irrespective of the duration of default, and make a fresh start as a fully compliant entity.
As part of the Government of India's Ease of Doing Business (EODB) initiative, the Ministry of Corporate Affairs has launched a new integrated Web Form christened 'SPICe+' replacing the existing SPICe form. SPICe+ would offer 10 services by 3 Central Govt Ministries & Departments (Ministry of Corporate Affairs, Ministry of Labour & Department of Revenue in the Ministry of Finance) and One State Government(Maharashtra), thereby saving as many procedures, time and cost for Starting a Business in India.
Introduction of Companies (Incorporation) 5th Amendment Rules, 2019, which provides for new regulations on resemblance with an existing company name, new categories of undesirable names of a company and list of words which can beused only after obtaining approval.
The Ministry of Corporate Affairs issued a notification in August 2019 increasing the period in which ESOPs could be granted to promoters and directors(holding more than 10% equity) of startups, from 5 years to 10 years from the date of incorporation and the rebyaligned the provisions of the Companies (Share Capital and Debentures).
Amendment in Section 54GB of Income Tax Act w.e.f 1 April 2020 (August 2019).
Amendment in Section 79 of the Income Tax Act (August 2019).
The investment made by Venture Capital Fund of Category-I Alternate Investment Fund(AIF) in a startup was exempted from the applicability of the provisions of section 56(2)(viib) of the IT Act. This exemption has been extended to all sub-categories of Category-I AIF and Category-II AIF via the introduction of "specified funds" in the said section (August 2019).
The Finance Act 2020 provides for amendment in section 80-IAC to provide for income tax exemption to eligible startups for a period of three consecutive assessment years out of ten years vis-à-vis the earlier norm of seven years such that the turnover does not exceed hundred crore rupees.
The Finance Act 2020 provides for amendment in section 80-IAC to provide for income tax exemption to eligible startups for a period of three consecutive assessment years out of ten years whose turnover does not exceedhundred crore rupees vis-à-vis the earlier norm of twenty-five crore rupees.
Amendment in the definition of a Startup: An entity shall be considered as a Startup upto a period of ten years from the date of incorporation/ registration and turnover of the entity for any of the financial years since incorporation/registration has not exceeded one hundred crore rupees. (February 2019).
Government Initiatives
Aatmanirbhar Bharat ARISE-Atal New India Challenge (ANIC) Program
Launched on 9th September, 2020, the Aatmanirbhar Bharat ARISE-Atal New India Challenge (ANIC) Program, launched by the government, is a national initiative to promote research & innovation and increase competitiveness of Indian startups and Micro, Small and Medium Enterprises (MSMEs).
AIM-iCREST
Launched by Atal Innovation Mission (AIM) in July, 2020, it is an Incubator Capabilities Enhancement program for a Robust Ecosystem focused on creating high performing Startups.
It has been designed to act as a growth support for AIM's Atal and Established Incubators across the country.
National Startup Advisory Council
Startup India
Announced by the government on 15th August 2015, the initiative aims to build a strong eco-system for nurturing innovation and Startups in the country that will drive sustainable economic growth and generate large scale employment opportunities.
To achieve the objectives of the Startup India initiative, an Action Plan for Startup India on 16th January 2016. The Action Plan comprises of 19 action items spanning across areas such as "Simplification and handholding", "Funding support and incentives" and "Industry academia partnership and incubation".
Make in India
Launched in 2014, its ultimate aim is to transform India into a global design and manufacturing hub. This initiative facilitates investments, skill development, encourages innovation, protect intellectual property rights to achieve this objective.
Mudra Yojna
Through this scheme, startups get loans from the banks to set up, grow and stabilize their businesses.
SETU (Self-Employment and Talent Utilization) Fund
Government has allotted Rs 1,000 Cr in order to create opportunities for self-employment and new jobs mainly in technology-driven domains.
E-Biz Portal
Government launched e-biz portal that integrates 14 regulatory permissions and licenses at one source to enable faster clearances and improve the ease of doing business in India.
Way Forward
Startups are currently an important asset that needs to be supported through fast-paced infrastructure growth. Additionally, the government must push banks and other financial institutions to give low-interest loans to innovative startups. These startups must be given free training so that they can survive the competitive market.
India has a huge demographic base. The lack of necessary skills and education are preventing India from realising the human capital's potential. Reforms in these aspects is a need of the hour.
As part collective initiative, the Centre and States would need to work together and build required infrastructure, dedicated system, pool of intellect and financial resources for all age groups.
Reforms must be made to the current restrictive legislative structure and regulatory norms in a way that allows the startups to flourish and develop across the country.
Market Study On E-commerce In India
---
On 8th January, 2020, the Competition Commission of India (CCI) released a Report under the title-Market Study on E-commerce in India.
The study was initiated by the CCI in April 2019 with a view to better understand the functioning of e-commerce in India and its implications for markets and competition.
The study covered the three broad categories of e-commerce in consumer goods (mobiles, lifestyle, electrical & electronic appliances, and grocery), accommodation services and food services.
Objective
To study market trends with a particular focus on emerging distribution methods and strategies in response to ecommerce
To understand business practices and contractual provisions in ecommerce, their underlying rationale and implications for competition
To identify impediments to competition, if any, relating to ecommerce
To ascertain enforcement and advocacy priorities for the Commission in e-commerce
Key Findings
Growing E-commerce Sector
India is the fastest growing market for the e-commerce sector growing at an annual rate of 51 percent, the highest in the world.
E-commerce in India has attracted investors from across the world.
Increasing Price Competition
The study points to an increased intensity of price competition across the categories studied.
On the one hand, consumers enjoy increased price transparency and the consequent ease of price-comparison, on the other hand it enables sellers to monitor competitor's prices on a real-time basis and use the same as an input in setting their own prices.
Strategic Response to e-Commerce
Businesses across sectors and at the various levels of supply chains were found to be gearing up to avail the opportunities of e-commerce while also equipping themselves to address the attendant challenges.
Role of Online Marketplace Platforms
The study reveals that third-party online marketplaces play a central role in e-commerce in India. An estimated 64% of digital retail trade in India is through online platforms.
While large brands/retailers own and manage popular stand alone websites, online commerce in India is driven largely bythird party platforms.
Competition Issues
Deep Discounts
Discounts can harm competition when used as an exclusionary device by enterprises with market power.
The concern raised by sellers/service providers with respect to discounts offered on/by marketplace platforms is threefold - i) discounts are discriminatory ii) discounts imposed by platforms in exercise of their superior bargaining power adversely affects the business models of the service providers iii) discounts push prices to below-cost levels in certain product categories and impair the offline small retailer's ability to compete.
Exclusive Agreements
Exclusive agreements raise potential competition concern when used as an exclusionary tactic to foreclose competition torivals or to impede entry.
Exclusive agreements may make rival platforms incur significant additional cost to induce the brands/service providers to give up the exclusive contract with the major platform.
Platform Parity Restrictions
Platform parity clauses imposed by incumbent platforms may serve as a barrier to entry by such low-cost platforms.
A review of the anti-trust literature on price parity clauses show that these restrictions can give rise to competition concerns.
Lack of Platform Neutrality
Lack of transparency in the platform's functioning and practices can on the one hand allow for possible distortion of competition on the platforms and on the other hand, consumer choice may not reflect consumer preference with perfect information.
The three elements, which according to the business users of the platforms are susceptible to manipulation/exploitation by platforms, are search results,seller's/service provider's data and user review/rating mechanisms.
Unfair Platform-to-Business Contract Terms
The study has also found that online platforms exercised superior bargaining position by imposing unfair contract terms on sellers, which led to growing unease and tensionin platform-business relations.
Recommended Transparency Measures
Search Ranking
Set out in the platforms terms and conditions, a general description of the main search ranking parameters, drafted in plain and intelligible language and keep that description up to date.
Collection, Use and Sharing of Data
Set out a clear and transparent policy on data that is collected on the platform, the use of such data by the platform and also the potential and actual sharing of such data with third parties or related entities.
User Review and Rating Mechanism
Adequate transparency over user review and rating mechanisms is necessary for ensuring information symmetry, which is a prerequisite for fair competition.
Adequate transparency to be maintained in publishing and sharing user reviews and ratings with the business users. Reviews for only verified purchases to be published and mechanisms to be devised to prevent fraudulent reviews/ratings.
Revision in Contract Terms
Notify the business users concerned of any proposed changes in terms and conditions. The proposed changes not to be implemented before the expiry of a notice period, which is reasonable and proportionate to the nature and extent of the envisaged changes and to their consequences for the business user concerned.
Discount Policy
Bring out clear and transparent policies on discounts, including inter alia the basis of discount rates funded by platforms for different products/suppliers and the implications of participation/non-participation in discount schemes.
Significance
The study has helped gather useful insights and information on the key features of e-commerce in India, the different business models of e-commerce players, and the various aspects of commercial arrangements between market participants involved in e-commerce.
In addition, it also provides an opportunity to learn from business enterprises on how they are responding to the advent of digital trade and has helped gauge the key parameters of competition in digital commerce.
Competition Commission of India (CCI)
CCI was established on 14 October, 2003, under the Competition Act, 2002 for the administration, implementation and enforcement of the Act, and was duly constituted in March 2009.
Objectives
To prevent practices having adverse effect on competition.
To promote and sustain competition in markets.
To protect the interests of consumers.
To ensure freedom of trade.
State Energy Efficiency Index -2019
---
Recently, the Union Power Ministry released the State Energy Efficiency Index 2019, which tracks the progress of Energy Efficiency (EE) initiatives in 36 states and union territories based on 97 significant indicators.
Objectives
Help drive EE policies and program implementation at state and local level.
Highlight best practices and encourage healthy competition among states.
Tracking progress in managing the state's and India's energy footprint.
Institutionalizing data capture and monitoring of energy efficiency activities by states.
Set a baseline for Efforts and provide a foundation to set state specific EE targets.
About the Index
The index is developed by Bureau of Energy Efficiency (BEE) in association with Alliance for an Energy Efficient Economy (AEEE).
The first such Index, the "State Energy Efficiency Preparedness Index 2018", was launched on 1st August, 2018.
The 2019 index incorporates qualitative, quantitative and outcome-based indicators to assess energy efficiency initiatives, programs and outcomes in five distinct sectors-buildings, industry, municipalities, transport, agriculture, and DISCOMs.
New indicators for this year include adoption of Energy Conservation Building Code (ECBC) 2017, energy efficiency in MSME clusters, etc.
The index also examines state's policies and regulations, financing mechanisms, institutional capacity, adoption of energy efficiency measures and energy savings achieved.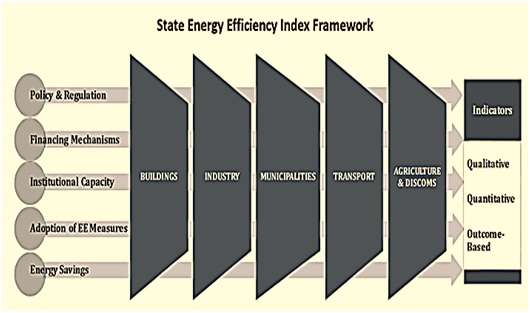 Key Highlights
Based on their efforts and achievements, states have been classified as 'Front Runner', 'Achiever', 'Contender' and 'Aspirant'.
The top performing states for 2019 Index- Haryana, Kerala and Karnataka, are in the 'Achiever' category.
Manipur, Jammu & Kashmir, Jharkhand and Rajasthan performed the worst in the Aspirant groups.
Since there isn't any 'Front Runner' state, it can be inferred that a lot more can be done at state level to realise energy savings from energy efficiency.
For a rational comparison, the States or Union Territories are grouped into four groups based on the aggregated Total Primary Energy Supply (TPES) required to meet the state's actual energy demand (electricity, coal, oil, gas, among others) across sectors.
Under four categories based on TPES, Haryana, Kerala, Karnataka, Maharashtra, Himachal Pradesh, Uttarakhand, Puducherry and Chandigarh have been evaluated as progressive states/UTs in the State Energy Efficiency Index 2019.
Three-Point Agenda for States
Based on the analysis of responses submitted by states this year, a three-point agenda is suggested for consideration by state agencies:
Proactive Role by States in Policy Formulation and Implementation
States must take an active authority to exercise powers under the Energy Conservation (EC) Act and start formulating supporting policies and implementation rules to shift the focus from "policies in place" to "policies successfully implemented".
Strengthening the Mechanism for Data Capture, Management and Public Availability of Data
State Designated Agencies (SDAs) should significantly enhance their engagement with state departments,DISCOMs and private sector organisations beyond one-time data collection. Doing so will enable effective implementation of EE programmes, enable SDAs to measure and monitor progress, and most importantly provide a feedback mechanism for modifications in EE programs and policies and setting of realistic targets.
Building a robust system for demand side energy consumption data collection and analysis at local and state level will also contribute significantly towards a national Energy Data Management System.
Enhancing the Credibility of EE Schemes
Ensuring the integrity of programs that have direct or indirect linkages with common consumers is significant to energy efficiency market transformation. States must demonstrate an approach which includes enforcement and compliance checks as well as independent monitoring and verification of savings, which is integral to all EE policies and programs.
Significance
The Index will help states to contribute towards national goals on energy security and climate action by helping drive Energy Efficiency policies and programmme implementation at the state and local level.
It will help in identification of potentially successful programmes (based upon best practices), and increase awareness amongst SDAs and other state entities. This would eventually lead to more budget allocation and monitoring of programmes at the state level, there by fostering development of the entire ecosystem, including increased staff dedicated to energy efficiency in the states.
Finally, the Index will help determine India's progress in managing energy footprint, whose criticality can not be overstated especially against the backdrop of India's commitment to the Paris Agreement.
National Strategy For Financial Inclusion
---
On 10th January, 2020, the Reserve Bank of India (RBI) released the five year (2019-24) National Strategy for Financial Inclusion (NSFI) with an objective to include all under formal access to finance - a key goal of the government.
The NSFI sets forth the vision and key objectives of the financial inclusion policies in India to help expand and sustain the financial inclusion process at the national level through a broad convergence of action involving all the stakeholders in the financial sector.
Aim
To provide access to formal financial services in an affordable manner.
To broaden the financial inclusion and promoting financial literacy and consumer protection.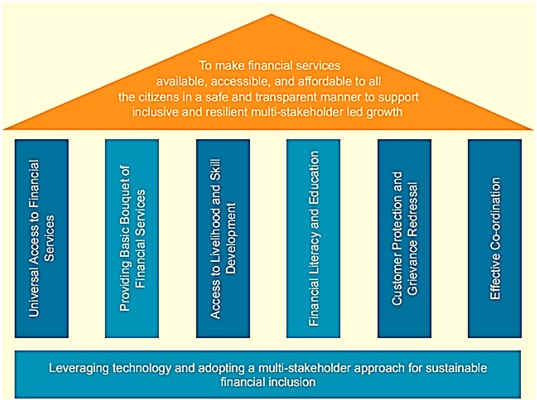 Strategic Pillars of National Strategy for Financial Inclusion
Recommendations
Universal Access to Financial Services
The digital infrastructure in the country needs to be expanded through better networking of bank branches, BC outlets, Micro ATM, PoS terminals and stable connectivity, etc. coupled with electricity. Efforts are needed to be undertaken through co-ordination with various stake holders to ensure creation of the requisite infrastructure for moving towards completely digital on-boarding of customers.
Encourage adoption and acceptance for digital payments and bringing people into the fold of formal financial system.
Some of the issues such as remuneration to the Business Correspondents (BCs), need for furnishing cash-based collaterals, cash management issues and lack of insurance for cash in transit which act as deterrents in smooth functioning of the BC network, need to be redressed by banks in a timely manner.
Providing Basic Bouquet of Financial Services
The banks may undertake periodic review of their existing products and adopt a customer centric approach while designing and developing financial products.
Ensure efficient delivery by leveraging on Fin-tech and BC network.
Initiate measures for capacity building of the BCs by encouraging and incentivizing them to acquire requisite certifications and enabling them to deliver a wide range of financial products.
Make the Public Credit Registry (PCR) fully operational so that authorised financial entities can leverage on the same for assessing credit proposals from all citizens.
Access to Livelihood and Skill Development
There should be convergence of objectives of the National Rural Livelihood and Urban Livelihood Missions to deepen financial inclusion through an integrated approach.
Inter-linkages may be developed between banks and other financial service providers with ongoing skill development, and livelihood generation programmes through RSETIs, NRLM, SRLM, Pradhan Mantri Kaushal Vikas Yojana, etc.
Financial Literacy and Education
Concerted efforts are needed to ensure coordination among the ground level functionaries Lead District Manager (LDM), District Development Manager (DDM) of NABARD, Lead District Officer (LDO) of RBI, District and Local administration, Block level officials, NGOs, SHGs, BCs, Farmers' Clubs, Panchayats, PACS, village level functionaries, etc. while conducting financial literacy programmes.
Customer Protection and Grievance Redressal
A robust customer grievance redressal mechanism at different levels helps banks in timely redressal of grievances.
Develop a portal to facilitate inter-regulatory co-ordination for redressal of customer grievance.
Effective Co-ordination
Strengthen the various fora under Lead Bank Scheme to ensure the achievement of the vision of the strategy at the ground level.
Leverage on the emerging developments in technology to promote effective stakeholder co-ordination by having in place a digital dashboard/ MIS monitoring.
Encourage decentralized approach to planning and development by creating a forum to actively involve Gram Panchayats/ Civil Society/ NGOs to accelerate financial inclusion using various tools like social audit.
What is Financial Inclusion?
Financial inclusion is defined as the process of ensuring access to financial services, timely and adequate credit for vulnerable groups such as weaker sections and low-income groups at an affordable cost.
It is also noteworthy to state that, seven of the seventeen United Nations Sustainable Development Goals (SDG) of 2030 view financial inclusion as a key enabler for achieving sustainable development world wide by improving the quality of lives of poor and marginalized sections of the society.
Causes of Financial Exclusion in India
Lack of surplus income
Not suitable to customer's requirements
Lack of requisite documents
Lack of awareness about the product
Lack of trust in the system
High transaction costs
Remoteness of service provider
Poor quality of services rendered
Challenges to Financial Inclusion
Despite the various measures that have been undertaken by various stakeholders in strengthening financial inclusion in the country, there are still critical gaps existing in the usage of financial services that require attention of policy makers through necessary co-ordination and effective monitoring.
Inadequate Infrastructure: Limited physical infrastructure, limited transport facility,inadequately trained staff, etc., in parts of rural hinterland and far-flung areas of the Himalayan and North-East regions create a barrier to the customer while accessing financial services.
Poor Connectivity: Still many regions in the country have poor connectivity tend to be left behind in ensuring access to financial services there by creating a digital divide. Certain communities are likely to be excluded where electricity is not available, hardware is in short supply or networks are limited.
Socio-Cultural Barriers: Prevalence of certain value system and beliefs in some sections of the population results in lack of favourable attitude towards formal financial services. There are still certain groups (especially women) who do not have the freedom and choice to access financial services because of cultural barriers.
Monopoly in Payment Infrastructure: Currently, majority of the retail payment products viz., CTS, UPI, IMPS, etc. are operated by National Payments Council of India (NPCI), a Section (8) Company promoted by a group of public, private and foreign banks. There is a need to have more market players to promote innovation and competition and to minimize concentration risk in the retail payment system from a financial stability perspective.
Security Concerns: Given the increasing reliance on technology to deliver banking services to customers, it is essential that adequate attention is paid to security, especially IT security. Security related issues resulting in frauds potentially undermine public confidence in the use of electronic payment products. Further, they could also lead to reputation risks.
Low Levels of Financial Literacy: A low level of financial literacy is often a hidden hurdle to bringing financial inclusion to the unbanked. Poor knowledge of how products work and their likely costs also reduce the likelihood of inclusion. The same issues may also prevent individuals from making full use of their existing products.
Way Forward
Financial inclusion is increasingly being recognized as a key driver of economic growth and poverty alleviation the world over. Access to formal finance can boost job creation,reduce vulnerability to economic shocks and increase investments in human capital.
Without adequate access to formal financial services, individuals and firms need to rely on their own limited resources or rely on costly informal sources of finance to meet their financial needs and pursue growth opportunities. At a macro level, greater financial inclusion can support sustainable and inclusive socio-economic growth for all.
India State Of Forest Report –2019
---
Recently, the ministry for Environment, Forest and Climate Change released the biennial "India State of Forest Report (ISFR)-2019, providing an assessment of the country's forest resources.
The report provides information on forest cover, tree cover, mangrove cover, growing stock inside and outside the forest areas, carbon stock in India's forests, Forest Types and Biodiversity, Forest Fire monitoring and forest cover in different slopes & altitudes.
Objectives
To monitor forest cover and changes therein at the National, State and District levels
To generate information on forest cover in different density classes and changes therein
To produce forest cover and other thematic maps derived from it for the whole country
To provide primary base layer for assessment of different parameters including growing stock, forest carbon
To provide information for international reporting
About the India State of Forest Report (ISFR)
The report is published by the Forest Survey of India (FSI) which has been mandated to assess the forest and tree resources of the country including wall-to-wall forest cover mapping in a biennial cycle.
Starting from1987, 15 assessments have been completed so far. ISFR 2019 is the 16th report in the series.
Major Findings
Total Forest Cover
The total forest cover of the country is 7,12,249sq km which is 21.67% of the geographical area of the country. The tree cover of the country is estimated as 95,027 sq km which is 2.89% of the geographical area.
The total Forest and Tree cover of the country is 8,07,276sq km which is 24.56% of the geographical area of the country.
It shows an increase of 3,976 sq km (0.56%) of forest cover, 1,212 sq km (1.29%) of tree cover and 5,188 sq km (0.65%) of forest and tree cover put together, at the national level as compared to the ISFR 2017.
Forest Cover in States
Area-wise Madhya Pradesh has the largest forest cover in the country followed by Arunachal Pradesh, Chhattisgarh, Odisha and Maharashtra.
The top five States in terms of increase in forest cover are Karnataka (1,025 sq km), Andhra Pradesh (990 sq km), Kerala (823 sq km), Jammu & Kashmir (371 sq km) and Himachal Pradesh (334 sq km).
In terms of forest cover as percentage of total geographical area, the top five States are Mizoram (85.41%), Arunachal Pradesh (79.63%), Meghalaya (76.33%), Manipur (75.46%) and Nagaland (75.31%).
Forest Cover in North East Region
Total forest cover in the North Eastern region is 1,70,541sq km, which is 65.05% of its geographical area. The current assessment shows a decrease of forest cover to the extent of 765 sq km (0.45%) in the region. Except Assam and Tripura, all the States in the region show decrease in forest cover.
Forest Cover in Hill and Tribal Districts
It shows an increase of 544 sq km (0.19%) in 140 hill districts of the country.
The current assessment shows a decrease of 741 sq km of forest cover within the RFA/GW in the tribal districts and an increase of 1,922 sq km outside.
Mangrove
Mangrove cover in the country has increased by 54 sq km (1.10%) as compared to the previous assessment.
Top three states showing mangrove cover increase are Gujarat (37 sq km) followed by Maharashtra (16 sq km) and Odisha (8 sq km).
Total Carbon Stock
The total carbon stock in country's forest is estimated 7,124.6 million tonnes and there an increase of 42.6 million tonnes in the carbon stock of country as compared to the last assessment of 2017. The annual increase in the carbon stock is 21.3 million tonnes, which is 78.2 million tonnes CO2 eq.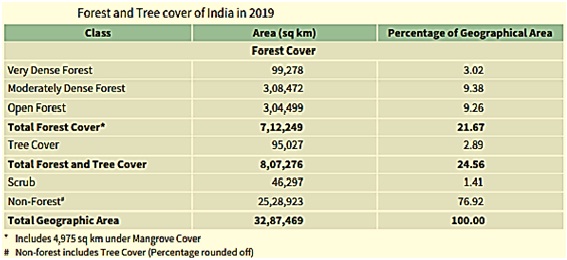 Wetlands
There are 62,466 wetlands covering 3.83% of the area within the Recorded Forest Area/Green Wash(RFA/GW) of the country.
The total number of wetlands located within the RFA/GW is 8.13%. Amongst the States, Gujarat has largest area of wetlands within RFA in the country followed by West Bengal.
Fire Prone Areas
Fire prone forest areas of different severity classes have been mapped in the grids of 5km x 5km based on the frequency of forest fires. The analysis reveals that 21.40% of the forest cover of the country is highly to extremely fire prone.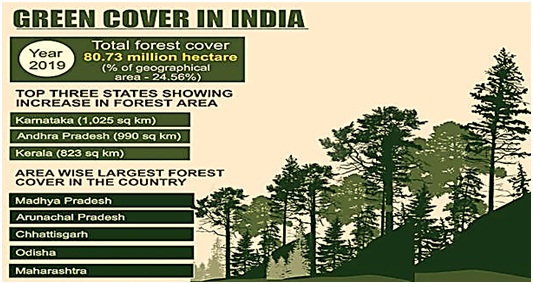 Forest Cover
Forest cover includes all tree patches which have canopy density more than 10% and area of 1 ha or more in size, irrespective of their legal status and species composition.
Recorded Forest Area
Recorded Forest Area is used for all such lands which have been notified as forest under any Government Act or Rules or recorded as 'forest' in the Government records. Recorded forest area mayor may not have forest cover.
Green Wash
The extent of wooded areas generally shown in light green colour on the Survey. The green wash has been used as substitute to RFA in respect of those States and UTs from where the usable digitized boundaries of recorded forest areas could not be made available to FSI.
Significance
It provides relevant information pertaining to each State such as biodiversity assessment, slope and altitude wise forest cover which would be very useful in formulating policies and strategies for conservation, management and enhancement of their forest and tree resources.
The report contains dedicated chapters on Bamboo Resources, Forest Fires, Carbon Stock, People and Forests and Forest Types and Bio-diversity. It will be of great relevance to the entire spectrum of stake holders from the policy makers, academicians, administrators, forest managers, and community based organizations to the citizens of the country at large.
In tune with the Government of India's vision of Digital India, FSI's assessment is largely based on digital data whether it is satellite data, vector boundaries of districts or data processing of field measurements.
Forest Survey of India (FSI)
Headquarters: Dehradun, Uttarakhand
Established in 1981, it is a premier national organization responsible for assessment and monitoring of the forest resources of the country on regular basis.
FSI succeeded the "Pre-investment Survey of Forest Resources" (PISFR), a project initiated in 1965 by Government of India with the sponsorship of FAO and UNDP.
The National Commission on Agriculture(1976), in its report recommended for the creation of a National Forest Survey Organization for a regular, periodic and comprehensive forest resources survey of the country leading to creation of FSI.
Niti Aayog's Sustainable Development Goals Index
---
On 30th December, 2019, NITI Aayog launched the second edition of the Sustainable Development Goals (SDG) India Index, which comprehensively documents the progress made by India's States and Union Territories towards achieving the 2030 SDG targets.
Objectives
Promote healthy competition and emulation among States & UTs within the framework of cooperative federalism.
About the SDG Index
The SDG India Index, first developed in 2018, was an attempt to present the achievements on the SDGs across the sub-national entities.
The SDG India Index has been developed in collaboration with the Ministry of Statistics and Programme Implementation (MoSPI), United Nations in India, and Global Green Growth Institute.
While the SDG Index- 2018 was based on 13 Goals, the SDG Index-2019 is based on 16 goals across 54 targets spread among 100 indicators based on national identified indicators and is also better aligned with the SDG National Indicator Framework.
A composite score was computed in the range of 0–100 for each State/UT based on its aggregate performance across 16 SDGs, indicating the average performance of every State/UT towards achieving 16 SDGs and their respective targets. If a State/UT achieves a score of 100, it signifies it has achieved the 2030 national targets. The higher the score of a State/UT, the closer it is towards achieving the targets.
Classification criteria based on SDG India Index score is as follows:

Aspirant: 0–49
Performer: 50–64
Front Runner: 65–99
Achiever: 100
Major Highlights
Overall India's Performance towards SDGs
India's composite score improved from 57 in 2018 to 60 in 2019-20 with major success in water and sanitation, power and industry.
India's ranking in terms of poverty has fallen from 54 points in 2018 to 50 points in 2019.
The maximum gains been made in Goals 6 (clean water and sanitation), 9 (industry, innovation, and infrastructure) and 7 (affordable and clean energy).
On two goals in particular — gender equality and zero hunger — far greater attention is required as the country's score on both is less than 50.
Further, India has slipped a point down, from 65 to 64 as far as economic growth goes.
State and UT's Performance
Kerala(70), Himachal Pradesh, Andhra Pradesh, Tamil Nadu and Telangana are the better performing States.
Bihar(50), Jharkhand, Arunachal Pradesh, Meghalaya and Uttar Pradesh are the bottom most States.
Chandigarh maintained its top spot among the UTs with a score of 70.
Uttar Pradesh, Odisha and Sikkim have shown maximum improvement, but states like Gujarat have not shown any progress vis-a-vis 2018 rankings.
In 2019 Index, five more states were included in the Front Runner category - Andhra Pradesh, Telangana, Karnataka, Sikkim and Goa.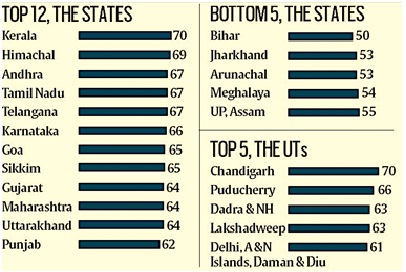 Source: IE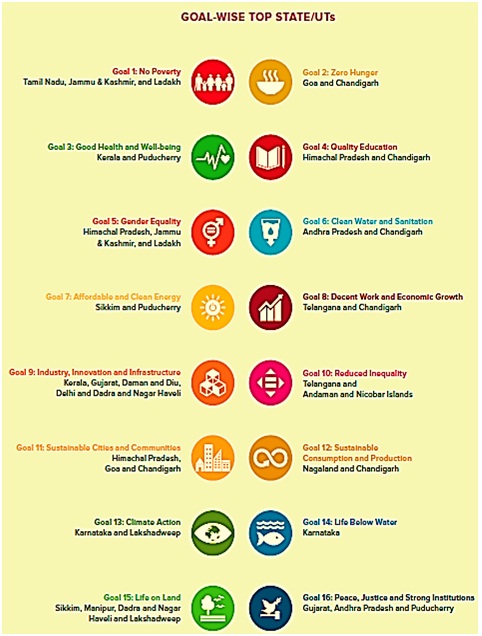 Source: NITI Aayog
Significance
Tool of Assessment: The Index serves as a useful instrument to judge the progress of the States/UTs in adopting and implementing the SDG agenda, where each State and Union Territory stands with regard to achieving the Sustainable Development Goals.
Help to Identify Priority Areas: It presents a more robust framework for measuring the progress on SDGs at the sub-national level and supports States and UTs to identify priority are as in which they need to invest and improve by enabling them to measure incremental progress.
Devising Better Strategy: It will help the states to sort out the reasons for differential performance and devise better strategies to achieve the SDGs by 2030.
In Alignment with Government's Mission: The Index acts as a bridge, aligning the SDGs with the Government's clarion call of Sabka Saath, Sabka Vikas, Sabka Vishwas, which embodies the five Ps of the global SDG movement - people, planet, prosperity, partnership and peace.
Limitations of the Index
The Index does not measure indicators of SDG 17 owing to the unavailability of suitable data at the State/UT level. However, a qualitative assessment of the progress under SDG 17 has been included.
Full set of the National Indicator Framework (NIF) could not be included due to the unavailability of data at State/ UT level.
The indicators and data from State/UT statistical systems and non-government sources have not been included, to ensure data comparability and uniformity across them.
While the latest values of the indicators have beenused, most of them are from between 2015 and 2018.
The indicator set for SDG India Index 2019-20 is larger (100 indicators) compared to SDG India Index 2018 (62 indicators), there fore the two indices arestrictly not comparable.
Way Forward
India, with the world's 17 percent of the population, faces multiple challenges in several sectors of development, be it health, nutrition, education, sanitation and infrastructure. However, these challenges also make India conducive for developing innovative solutions to address them and also provide a useful lens for solving similar problems in other parts of the world.
India is fully committed to achieving the Global Goals within the specified timelines. The country is well aware of the prospect that if India does not meet the SDGs, the world will be far from achieving them.
In this direction, the SDG Index is a powerful tool which offers excellent possibilities for the States/UTs to identify priority areas which demand action, facilitate peer learning, highlight data gaps, steering the country towards the achievement of SDGs.
Good Governance Index
---
On 25th December, 2019, on the occasion of Good Governance Day, the government launched Good Governance Index (GGI) to assess the state of governance in the country.
Objective
To provide quantifiable data to compare the state of governance in all States and Union territories.
To enable states and UTs to formulate and implement suitable strategies for improving governance and shift to result oriented approaches and administration.
Need for GGI
Till now, there was no uniform index to objectively assess the state of good governance in the states.
Background
In recent year, India has seen a resurgence in the spirit co­operative federalism. In the interest of furthering this spirit, the Government of India constituted a Group of Secretaries (GoS) on Governance who recommended developing of an index to gauge the performance of the states of India.
The Department of Administration Reform and Public Grievances (DARPG), Government of India partnered Centre for Good Governance (CGG), Hyderabad as its technical partner in its endeavor to prepare the Good Governance Index (GGI).
Draft GGI report was finalised by DARPG and circulated in November, 2018 to all Ministries/Departments and States and UTs for feedback/input.
About the GGI
The GGI consists of ten broad sectors and 50 indicators. These indicators are given different weightage under one governance sector to calculate the value.
The ten sectors are-agriculture and allied sectors, commerce and industries, human resource development, public health, public infrastructure and utilities, economic governance, social welfare & development, judicial and public security, environment and citizen-centric governance.
While identifying the governance sectors, a zero­based approach was adopted and guidance from existing frameworks was taken. Schedule VII (List II and III) of Indian Constitution (Article 246) and Sustainable Development Goals (SDGs) of United Nations were also considered.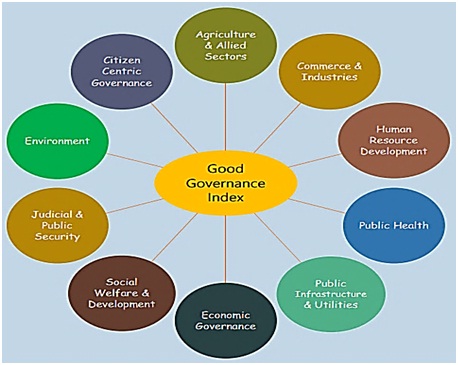 Major Findings
The states and union territories have been divided into three groups - big states, north-east and hill states, and union territories, for the rankings based on certain indicators separately.
Big States
Tamil Nadu (1st) bagged the top position in the composite ranking for good governance index (GGI), followed by Maharashtra (2nd) and Karnataka (3rd).
While Orissa (14th), Bihar (15th), Goa (16th), Uttar Pradesh (17th) and Jharkhand (18th) were categorised as poor performers.
North-East and Hill States
Himachal Pradesh topped the list followed by Uttrakhand and Tripura.
Meghalaya, Arunachal Pradesh and Nagaland are the least performing states.
Union Territories
In this category, Pondicherry, Chandigarh, and Delhi lead the ranking, with Lakshwadeep at the bottom of the Index.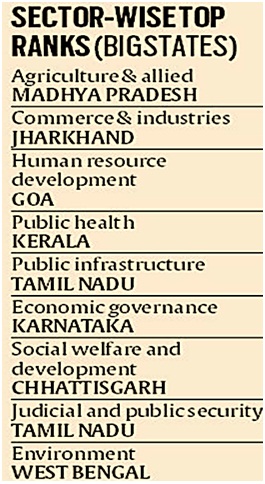 Source: IE
Significance
Tool of Assessment: The good governance index is a uniform tool across states to assess the status of governance and impact of various interventions taken up by the state government and union territories.
Providing Information: The intent of the index is to provide information, so that State Governments can act and improve upon for the well-being and overall development of the State. In addition, it would also provide some insights to Central Ministries and Departments to act in accordance.
Good Governance Day
Good Governance Day (GGD) is observed annually on 25th December to create awareness of accountability in government among the Indians.
National Good governance day was established in 2014 to honor former Prime Minister Atal Bihari Vajpayee by fostering awareness among the people of accountability in government.
Consumer Expenditure Survey
---
Recently, the Ministry of Statistics and Programme Implementation (MoSPI) decided not to release the results of the all-India Household Consumer Expenditure Survey conducted by the National Statistical Office (NSO) during 2017-2018.
It asserted that any findings from the survey that had been referred to in media reports were essentially "draft in nature".
Reason for withholding Data
A media leak has revealed that the 2017-18 Consumer Expenditure Survey the results had been withheld due to the adverse findings in the survey which showed consumer spending was falling.
There was a significant increase in the divergence in not only the levels in the consumption pattern but also the direction of the change when compared to the other administrative data sources like the actual production of goods and services.
Survey lacks ability to capture consumption of social services by households, especially on health and education.
According to the leaked version of the 2017-18 survey, the data revealed a decline in the Per Capita Consumer Expenditure(MPCE), making it the first such drop since 1972-73. In real terms (adjusted for inflation) the MPCE slid by 7% from Rs 1,501 in 2011-2012 to Rs 1,446 in 2017-2018.
Government's Response
MoSPI stated that there is a rigorous procedure for vetting of data and reports, which are produced through surveys. All such submissions, which come to the ministry, are draft in nature and cannot be deemed to be the final report.
Further, the government referred the matter to a Committee of experts which noted the discrepancies and came out with several recommendations including a refinement in the survey methodology and improving the data quality aspects on a concurrent basis. The recommendations of the Committee are being examined for implementation in future surveys.
Consumer Expenditure Survey
The CES is aquinquennial (recurring every five years) survey conducted by the government's National Sample Survey Office (NSSO) that is designed to collect information on the consumption spending patterns of households across the country, both urban and rural.
The last survey on consumer expenditure was conducted in the 68th round (July 2011 to June 2012).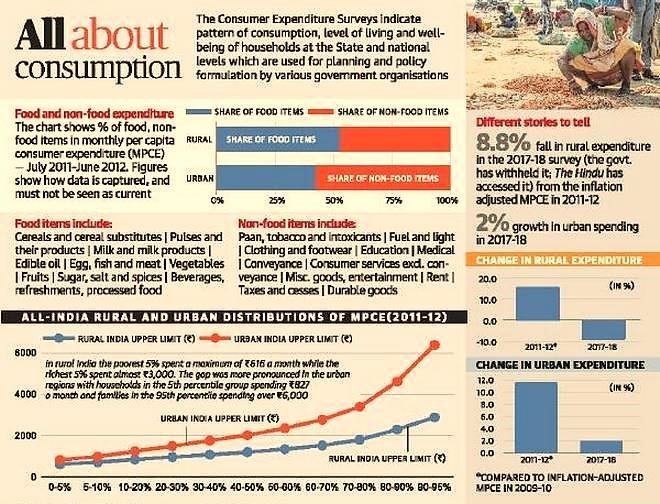 Source: The Hindu
Significance of CES
Estimation of Monthly Per Capita Consumer Expenditure: The data gathered in this survey reveals the average expenditure on goods (food and non-food) and services and helps generate estimates of household Monthly Per Capita Consumer Expenditure (MPCE) as well as the distribution of households and persons over the MPCE classes.
Assessing Living Standards and Growth: The estimates of monthly per capita consumption spending are vital in gauging the demand dynamics of the economy as well as for understanding the shifting priorities in terms of baskets of goods and services, and in assessing living standards and growth trends across multiple strata.
Important Analytical and Forecasting Tool: It is an invaluable analytical as well as forecasting tool for the policymakers to spot and address possible structural anomalies that may cause demand to shift in a particular manner in a specific socio-economic or regional cohort of the population. It is, in fact, used by the government in rebasing the GDP and other macro-economic indicators.
National Statistical Office (NSO)
The NSO is responsible for conduct of large scale sample surveys in diverse fields on All India basis. Primarily data are collected through nation-wide household surveys on various socio-economic subjects, Annual Survey of Industries (ASI), etc.
It also collects data on rural and urban prices and plays a significant role in the improvement of crop statistics through supervision of the area enumeration and crop estimation surveys of the State agencies. It also maintains a frame of urban area units for use in sample surveys in urban areas.
Final Word
If there were data quality issues, it would have been discovered long before the report was drafted. Even assuming severe inconsistencies in the data collected, the right course would have been to publish a report with the findings and the perceived limitations, which could have been of use to researchers.
There is still legitimate concern that the draft report must be published because the government has spent millions of rupees collecting the data and hence is obliged to publish it. The government's decision to with hold the survey's findings deprives policymakers of invaluable contemporary consumption data that would have helped drive their intervention strategies.
The next survey's findings,depending on when the Ministry decides to actually undertake it, 2020-21 or 2021-22 — would end up coming after 9 or 10 years after the 2011-12 round.
Further, India, as a subscriber to the International Monetary Fund's Special Data Dissemination Standard (SDDS), is obliged to follow good practices in four areas in disseminating macroeconomic statistics to the public- 1) the coverage, periodicity, and timeliness of data, 2) public access to those data, 3) data integrity, 4) data quality.
With the IMF's 'Annual Observance Report' for 2018 already having flagged concerns about India's delays in releasing economic data, India risks violating its SDDS obligations.
This suppression of essential data is terrible for accountability and for ensuring that citizens have the benefit of official data collection that is paid for with their taxes. It is also counterproductive for the government, which may be kept in the dark about actual trends in the economy and therefore not be able to devise appropriate policies. Undermining the objectivity and credibility of an independent statistical system is fundamentally against the national interest.
Annual Report On Road Accidents In India – 2018
---
On 19th November, 2019, the Ministry of Road Transport and Highway released the Road Accidents in India- 2018.
It is an annual publication brought out by the Transport Research Wing of the Ministry of Road Transport and Highways which reports on accidents, related deaths and injuries, calendar year-wise, based on information supplied by the Police Departments of States and UTs.
Major Findings
Increase in Road Accidents
Road accidents in the country have increased marginally by 0.46 % during 2018.
More than 1.5 lakh people lost their lives in road crashes in the country in 2018, registering an increase of 2.4% as compared to the year before, when there were 1.47 lakh fatalities.
Decrease Compound Annual Growth Rate of Accidents
The Compound annual growth rate of accidents as well as accident related deaths in the period 2010-2018 dropped drastically and was the least when compared with the previous decades, despite the very high rate of growth of automobiles.
National and State Highways Accidents
National Highways accounted for 2 percent of total road accidents and 35.7 per cent of deaths in 2018.
State Highways accounted for 2 percent and 26.8 percent of accidents and deaths respectively.
Type of Road Users Accident
In terms of accident related killings by type of road user, the number of Pedestrians killed accounted for 15%, the share of cyclists was 2.4% and that of two wheelers was 36.5%.
Together these categories explain 9% of the accident related killings and are the most vulnerable category quite in line with global trends.
Age-Group Related Accidents
During 2018, young adults in the age group of 18 - 45 years accounted for nearly 69.6 percent of road accident victims.
The working age group of 18 – 60 accounted for a share of 84.7 percent in the total road accident deaths.
Male More Prone to Accident
The share of males in number of total accident deaths was 86% while the share of females hovered around 14% in 2018.
State Scenario
The State of Tamil Nadu recorded the highest number of road accidentsin 2018 while the highest numbers reported as killed in 2018 were in the State of Uttar Pradesh.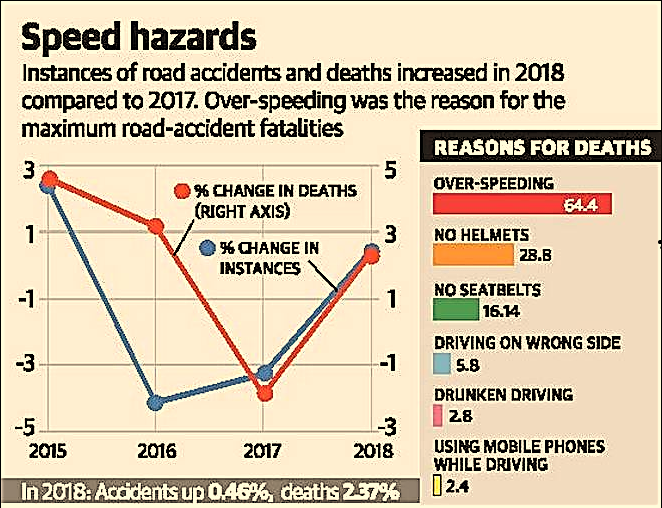 Source: The Hindu
Major Causes of Road Accidents
Overspeeding
It is the most common cause of deaths on roads in India, accounting for 64 percent of road deaths.
Drink Driving
Another common cause of road accidents in India. However, there has been a decline in drink driving cases by 14 percent between 2017 and 2018.
Non-uasge of Safety Gears
Non usage of safety devices such as helmets and seatbelts do not cause accidents but are critical for averting fatal and grievous injuries in an event road accident occurs.
Poor Enforcement Of Traffic Laws
India's traffic laws are stricter than those of other countries but these laws are not enforced.
India's enforcement of laws on speeding and drink driving are rated 3 and 4 out of 10, respectively, compared to 8 and 9 in China by the Global Road Safety Report 2018.
Poor Road Infrastructure
The problem of poorly constructed roads is long engraved in India, both in the rural as well rural areas.Potholes, roads under construction, poorly concreted speed breakers and down-and-out drainage system on the roads, improper warning signs are a cause of increasing accidents, deaths and health problems in the country.
Overloading
Vehicle overloading is another major cause of accidents in Indiawhich poses serioustraffic hazard, risking itself and other road users.
Weather
Adverse weather conditions such as heavy rain, thick fog and hail storm saffects both the road surface condition and the visibility of the motorist, thereby increasing the chances of accidents.
Government Initiatives towards Road Safety
Motor Vehicles Amendment Act- 2019
Motor Vehicles (Amendment) Act-2019 which amends the Motor Vehicles Act, 1988,came into force from 1st September, 2019.
The act is intended to bring reforms in the area of road safety, bring citizen facilitation, transparency, and reduce corruption with the help of information technology and removing intermediaries.
The Act will help strengthening the public transport, safeguard and protect Good Samaritan and bring in reforms in the insurance and compensation regime.
National Road Safety Policy-2017
It outlines various policy measures such as promoting awareness, encouraging safer road infrastructure including application of intelligent transport, enforcement of safety laws trauma care etc.
Mitigation Measures
Education and Awareness Measures
It relies on dissemination of road safety awareness and regulation through media and non-governmental organizations (NGOs).
The Ministry has been making various efforts to make road safety a social Movement. The Government has been undertaking various publicity measures in the form of telecasting on T.V, Radio, Cinema, printing calendars with road safety messages as also by conducting seminars &exhibitions on road safety with messages for various segments of road users viz. Pedestrians, cyclists, school children, heavy vehicle drivers, etc.
Engineering (both of roads and vehicles) Measures
High Priority has been accorded for identification and rectification of black spots (accidents prone spots on National Highways). Concerted efforts towards improvement of road safety through engineering measures on National Highways have been made.
Road Safety Audits
Detailed guidelines for taking up road safety audits on National Highways have been notified. Road Safety Audits at different stages have been made part and parcel of all road development projects on Engineering, Procurement and Construction (EPC) and Build, Operate, Transfer (BOT) modes.
Proper Enforcement of Road Safety Laws
Through Motor Vehicle Amendment act, 2019, government is avid regarding the enforcement of traffic rules, which are extremely important components of road safety and accident mitigation measures.
Way Forward
Expansion in road network, motorization and urbanization in the country has been accompanied by a rise in road accidents leading to road traffic injuries and fatalities as a majordevelopmental issue and a public health concernin India.
While India has less than 3 percent of the world's vehicles, it accounts for about 12 percent of the world's road deaths.
Containing road accidents needs to be a multi-sectoral effort that involves law enforcement, governance, (the issue of driving licenses and vehicle registration), engineering (appropriate road design) awareness raising and post-accident trauma care and management.
Working Group On Core Investment Companies
---
On 6th November, 2019, Working Group (WG) on Core Investment Companies (CICs) submitted its final report to the Reserve bank of India (RBI).
The working Group was constituted by RBI under the chairmanship of former corporate affairs secretary Tapan Ray, to review the regulatory and supervisory framework applicable to
Objective
To strengthen the corporate governance framework of CICs.
Background
In August 2010, the Reserve Bank introduced a separate framework for the regulation of systemically important CICsrecognizing the difference in the business model of a holding company relative to other non-banking financial companies.
Over the years, corporate group structures have become more complex involving multiple layering and leveraging, which has led to greater inter-connectedness with the financial system through their access to public funds.
In September 2018, Infrastructure Leasing and Financial Company (IL&FS), a CIC with over 300 subsidiaries, defaulted on its payment following, was declared as non-performing or bad asset in the subsequent months.
In other few cases, it was found that the CIC had lent funds to group companies at zero percent rate of interest with bullet repayment of 3-5 years and without any credit appraisal.
Accordingly, as part of the Statement on Developmental and Regulatory Policies issued for the year 2019-20 on June 6, 2019, Reserve Bank announced to form a WG regarding the CICs. Finally, the WG was constituted in July, 2019.
Term of Reference
To examine the current regulatory framework for CICs in terms of adequacy, efficacy and effectiveness of every component.
To assess the appropriateness of and suggest changes to the current approach of the RBI towards registration of CICs including the practice of multiple CICs being allowed within a group.
To suggest measures to strengthen corporate governance and disclosure requirements for CICs.
To assess the adequacy of supervisory returns submitted by CICs and suggest changes therein.
To suggest appropriate measures to enhance RBI's off-site surveillance and on-site supervision over CICs.
Issues Identified by WG
Complex Group Structure: The Section 186 (1) of Companies Act, 2013 (which restricts the Group Structure to a maximum of two layers) is not applicable to NBFCs, which renders opacity to the groups in terms of ownership, controls and Related Party Transactions.
Multiple Gearing and Excessive Leveraging: A CIC can borrow (upto 5 times of its Adjusted Net Worth) to invest in the capital of other CICs in the group. The absence of restriction on the number of CICs that can exist in a group and non-deduction of capital of CICs for their exposures in group companies (including in step down CICs), creates scope for excessive leveraging.
Build-up of high leverage and other risks at group level: It deliberated on the issues pertaining to the aggregate leveragee. amount of borrowings raised by both financial and non-financial entities. It was observed that the standalone leverage of IL&FS was within the regulatory limit.However, when calculated at consolidated level it was considerably high as on March 2018.
Corporate Governance: Currently, Corporate Governance guidelines are not explicitly made applicable to CICs.
Review of Exempt Category and Registration: Currently, CICs with assets below the qualifying threshold (Rs. 100 crore asset size) or CICs without public funds do not requireRBI registration and hence are called "exempted" CICs.This nomenclature occasionally provided unintended credibility to such CICs, as 'exempted' by the RBI, and created scope for misrepresentation.
Off-site surveillance and on-site supervision over CICs: Currently, no off-site reporting requirement is prescribed for CICs. Also, submission of Statutory Auditors Certificate is not mandated in respect of CICs, unlike other NBFCs. Till recently on-site inspection of CICs was also not being conducted.
Major Recommendations
Restriction on Numbers of Layers
The number of layers of CICs in a group should be restricted to two. As such, any CIC within a group should not make investment through more than a total of two layers of CICs, including itself.
Adjusted Net Worth (ANW)
For ANW calculation, any capital contribution of the CIC to another step-down CIC (directly or indirectly) shall be deducted over and above the 10% of owned funds as applicable to other NBFCs. Further, step-down CICs may not be permitted to invest in any other CIC.
Constitution of Group Risk Management Committee (GRMC)
Every group having a CIC should have a GRMC, entrusted with the responsibilities of identifying, monitoring and mitigating risks at the group level, periodically reviewing the risk management frameworks within the group and articulating the leverage of the Group and monitoring the same.
Strengthening Governance
In order to strengthen governance, WG advocated the need for inducting independent directors,conducting internal audit and preparing consolidated financial statements and ring fencing boards of CICs by excluding employees/executive directors of group firms from its board.
Retention of Registration Criteria
It recommended retaining the current threshold of Rs 100crore asset size for registration as CIC.
But, the nomenclature of 'exempted' CIC should be discontinued by the RBI in all future communications.
RBI to Monitor Offsite Return and Onsite Inspection
It recommended that Offsite returns may be designed by the RBI and prescribed for the CICs on the lines of other NBFCs. Annual submission of Statutory Auditors Certificates may also be mandated along with Onsite inspection of the CICs conducted periodically.
Core Investment Companies (CICs)
These are Non-Banking Financial Company (NBFC) which carries on the business of acquisition of shares and securities and holds not less than 90% of its net assets in the form of investment in equity shares, preference shares, bonds, debentures, debt or loans in group companies.
Further investments in equity shares in group companies constitute not less than 60% of its net assets.
CIC with an asset size of less than Rs100 crore will be exempted from the requirementsof registration with RBI.
Due to systemic implications on account of access to public funds (such as funds raised through Commercial Paper, debentures, inter-corporate deposits and borrowings from banks/FIs), CICs having asset size of 100 crore or above are categorised as Systemically Important Core Investment Companies (CICs-ND-SI) and are required to obtain Certificate of Registration (CoR) from the RBI.
Crime In India Report: NCRB
---
Recently, The National Crime Records Bureau (NCRB) released its annual on crime incidents across the country under the title 'Crime in India-2017'.
The new report has largely followed the pattern of the 2016 edition, barring additions in the category of cyber-crimes and offences against the state.
Major Findings
Crime Registration and Rate
The number of cognisable crimes registered across the country increased by 3.6 percent between 2016 and 2017.
Delhi witnessed the highest crime rate in the country with 1,050 Indian Penal Code (IPC) crime incidents per lakh of the city's population.
Uttar Pradesh topped the crime list with over three lakh FIRs registered in 2017, followed by Maharashtra and Madhya Pradesh.
Offences against State
There has been a 30% rise in incidents of offences against the state as compared to 2016. This category includes offences such as sedition, waging war against the country and damage to public property among others.
The maximum number of such offences were reported from Haryana followed by UP.
Offences Affecting Human Body
A total of 9.89 lakh cases of offences affecting the human body were registered, which accounted for 3% of total IPC crimes in 2017.
Crimes against Women
Majority of cases under crimes against women out of total IPC crimes against women were registered under 'Cruelty by Husband or His Relatives' (33.2%) followed by 'Assault on Women with Intent to Outrage her Modesty' (27.3%), 'Kidnapping & Abduction of Women' (21.0%) and 'Rape' (10.3%).
The maximum cases were registered in Uttar Pradesh followed by Maharashtra and West Bengal.
Crime against Children
In percentage terms, major crime during 2017 were kidnapping & abduction (42.0%) and cases under the Protection of Children from Sexual Offences Act, 2012 (25.3%) including child rape.
Crime against SC/STs
The incidents registered under the Scheduled Caste Prevention of Atrocities Act saw an increase from 5,082 incidents reported in 2016 to 5,775 in 2017.
Incidents of crime related to Scheduled Tribes dipped in 2017 in comparison to 2016.
Economic Offences
Out of three specified category of economic offences (viz. criminal breach of trust, forgery, cheating and fraud and counterfeiting), forgery, cheating and fraud accounted for maximum cases.
Sedition Cases
The maximum number of sedition cases were reported from Assam (19) followed by Haryana (13). Jammu and Kashmir recorded just one case of sedition while Chhattisgarh and all North East states, barring Assam, recorded zero incident.
Riots Cases
Maximum incidents of riots were reported from Bihar, followed by Uttar Pradesh and Maharashtra.
Cyber Crimes
Around 56% of the cybercrimes registered during 2017 were for the motive of fraud (12,213 out of 21,796 cases) followed by sexual exploitation with 6.7% (1,460 cases) and causing disrepute with 4.6%
Most of these cases were reported from Uttar Pradesh followed by Maharashtra and Karnataka with fraud and sexual exploitation as the prime motive behind the crime.

Source: ET
Significance
The newly published report will be of paramount importance as it would enable policy makers and law enforcement authorities to plan crime prevention strategies and appropriate interventions and measures against the crime.
Being the principal reference document for crime statistics in India, it will facilitate evidence based policy making and also provide thinking platform to social scientists, criminologists and officials of criminal justice system in the country.
The report is of immense importance to the police, government, and civil society for tracing the crime map of the country, studying its implications, and charting out the future course of action.
National Crime Records Bureau(NCRB)
It was set-up in 1986 to function as a repository of information on crime and criminals so as to assist the investigators in linking crime to the perpetrators.
It was set up based on the recommendation of the Task force and National Police Commission by merging the Directorate of Coordination and Police Computer (DCPC), Statistical Branch of BPR&D, Inter State Criminals Data Branch and Central Finger Print Bureau of CBI.
Mission
To empower Indian Policewith Information Technology and Criminal Intelligence to enable them to uphold law and protect people.
To provide leadership and excellence in crime analysis particularly for serious and organized crime.
Objectives
Create and maintain secure sharable National Databases on crimes and criminals for law enforcement agencies and promote their use for public service delivery
Collect and process crime statistics at the national level and create clearing house of information on crime and criminals both at National and International levels
Criticism of Report
The report is being criticized for not publishing the data collected under the new sub-heads of death due to mob lynching, murder by influential people, killing ordered by khap panchayat and murder committed for religious reasons.
Data on farmer suicides after 2015 are also not published in the report.
The NCRB data on crime hide significant variances in case registration of serious crimes such as rapes and violence against women across States, which make it difficult to draw State-wise comparisons.
Way Forward
Democracy demands honest communication and transparency. Considerable delay in providing key information to the public can make a dent in the credibility of thegovernment. People deserve to be informed about crucial data that etches the blueprint of their future. It is even more urgent to place facts and figures, when harsh and unflattering, in the public domain.
India, in coming future, will play a proactive role in the emerging world order as a key player. This makes it more incumbent on the country to cope with the increasing demand of transparency pertaining to well-researched data. This will serve as the North Star in charting out its growth.
Hence, timely publication of crime statistics will end the uncertainty and mistrust that comes with information gap in a democracy. With delay, on the other hand, the rot will start running deep and go metastatic.
Global Tuberculosis Report-2019
---
Recently, the World Health Organization (WHO) released the Global Tuberculosis (TB) Report, 2019.
The report is based primarily on data gathered by WHO in annual rounds of data collection, and databases maintained by other multilateral agencies.
WHO has published a global TB report every year since 1997.
Objective
To provide a comprehensive and up-to-date assessment of the TB epidemic, and of progress in the response to the epidemic, at global, regional and country levels, in the context of global commitments and strategies.
Key Findings
India Specific findings
9 percent of the global TB burden of 10 million in 2018 was from India. In 2017, the figure was 27 percent.
The total TB incidence rate in India has decreased by almost 50,000 patients over the past one year, even though it accounted for more than a quarter of the global burden of tuberculosis in 2018
Incidence per 1 lakh population decreased from 204 in 2017 to 199 in 2018.
The number of patients being diagnosed for resistance to rifampicin increased from 32 percent in 2017 to 46 percent in 2018 due to mandatory testing for resistance.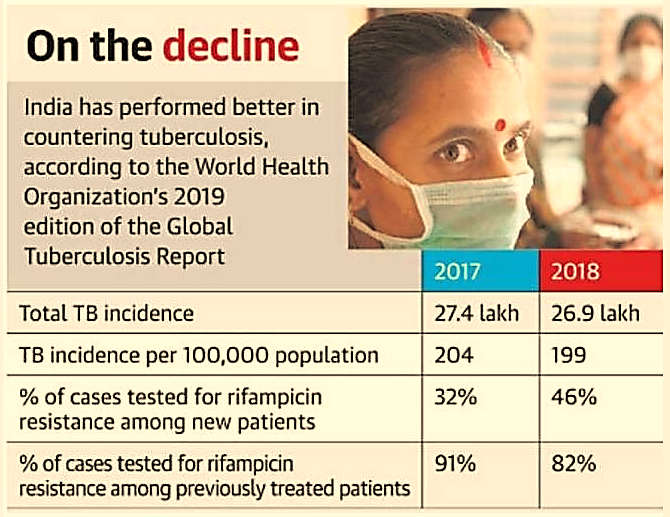 Source: The Hindu
Global Specific Findings
Around 66 per cent of that burden came from eight countries: India (27%), China (9%), Indonesia (8%), the Philippines (6%), Pakistan (6%), Nigeria (4%), Bangladesh (4%), and South Africa (3%).
Geographically, most TB cases in 2018 were in the WHO regions of South-East Asia (44%), Africa (24%) and the Western Pacific (18%), with smaller percentages in the Eastern Mediterranean (8%), the Americas (3%) and Europe (3%).
Drug-resistant TB continues to be a public health threat. In 2018, there were about half a million new cases of rifampicin-resistant TB (of which 78% had multidrug-resistant TB).
Major Concerns
2020 End TB Strategy Still Far:
Currently, the world as a whole, most WHO regions and many high TB burden countries are not on track to reach the 2020 milestones of the End TB Strategy. The cumulative reduction between 2015 and 2018 was only 6.3%, considerably short of the End TB Strategy milestone of a 20% reduction between 2015 and 2020.
Finance Issues:
Financing for TB prevention, diagnosis and treatment Funding for the provision of TB prevention, diagnostic and treatment services has doubled since 2006 but still falls far short of what is needed.
The amount in 2019 is US$ 3.3 billion less than the US$ 10.1 billion estimated to be required in the Stop TB Partnership's Global Plan to End TB 2018–2022, and only just over half of the global target of at least US$ 13 billion per year by 2022 that was agreed at the UN high-level meeting on TB.
Discrepancy in TB Diagnosis:
Despite increases in TB notifications, there is still a large gap between the number of new cases reported (7.0 million) and the estimated 10.0 million (range, 9.0– 11.1 million) incident cases in 2018.
This gap is due to a combination of underreporting of detected cases and underdiagnosed (i.e. people with TB do not access health care or are not being diagnosed at right time).
India's Initiative towards TB Eradication
National Strategic Plan (NSP) 2017 – 2025
The NSP, 2017–2025 is a framework to guide the activities of all stakeholders including the national and state governments, development partners, civil society organizations, international agencies, research institutions, private sector, and many others whose work is relevant to TB elimination in India, which sets out what the government believes is needed to eliminate TB in India.
Vision:
TB-Free India with zero deaths, disease and poverty due to tuberculosis
Goal:
To achieve a rapid decline in burden of TB, morbidity and mortality while working towards elimination of TB in India by 2025.
Nikshay Poshan Yojana (NPY)
Launched in April, 2018, it is a direct benefit transfer (DBT) scheme for nutritional support to Tuberculosis (TB) patients.The scheme is a centrally sponsored scheme under National Health Mission (NHM). Financial norms of NHM in terms of cost sharing are applicable to the scheme.
Under the scheme, TB patients receive Rs. 500 per month for the entire duration of treatment.
International Initiative
WHO End TB Strategy
In May 2014, at the World Health Assembly, governments agreed on ambitious new 20-year (2016-2035) strategy to end the global TB epidemic.
It sets targets and outlines actions for governments and partners to provide patient-centered care, pursue policies and systems that enable prevention and care, and drive research and innovations needed to end the epidemic and eliminate TB.
Vision
A world free of TB. Zero deaths, disease and suffering due to TB.
Goal
End the global tuberculosis epidemic.
Indicators
95% reduction by 2035 in number of TB deaths compared with 2015
90% reduction by 2035 in TB incidence rate compared with 2015
Zero TB-affected families facing catastrophic costs due to TB by 2035
Way Forward
Achieving the global milestones and targets for reductions in TB cases and deaths set in the End TB Strategy and the Sustainable Development Goals (SDGs Target 3.8) requires provision of TB care and prevention within the broader context of Universal Health Coverage (UHC), multi-sectoral action to address the social and economic determinants and consequences of TB, and technological breakthroughs by 2025.
The End TB Strategy milestones can only be achieved if TB diagnosis, treatment and prevention services are provided within the context of progress towards UHC, and if there is multisectoral action to address the broader determinants that influence TB epidemics and their socioeconomic impact.
In coming years, annual financing for TB prevention and care and for TB research needs to approximately double, access to TB care and preventive treatment needs to expand, substantial costs faced by TB patients and their households must be mitigated.
The best investment that countries can make to ensure faster progress towards ending TB is to ensure that TB services are designed and delivered as part of an overall commitment to universal health coverage, built on the foundation of strong primary health care.
India Innovation Index - 2019
---
Recently, the NITI Aayog in collaboration with the Institute for Competitiveness as the knowledge partner released the first ever India Innovation Index (III) 2019.
The Index is developed on the lines of Global Innovation Index (GII) and looks into the innovation ecosystem of Indian states and union territories to help policymakers design policies to drive innovation across regions.
Aims
To provide stakeholders with an effective tool to track the progress of innovation both at national and state level
To create an extensive framework for the continual evaluation of the innovation environment
About the India Innovation Index
It is an outcome of extensive research and analysis, which looked holistically at the innovation landscape in the country by examining the innovation capabilities and performance of the States and UTs.
The index is based on seven pillars which include five enablers and two performance indicators:
Enablers Parameters: human capital, investment, knowledge workers, business environment, safety and legal environment
Performance Parameters: knowledge output and knowledge diffusion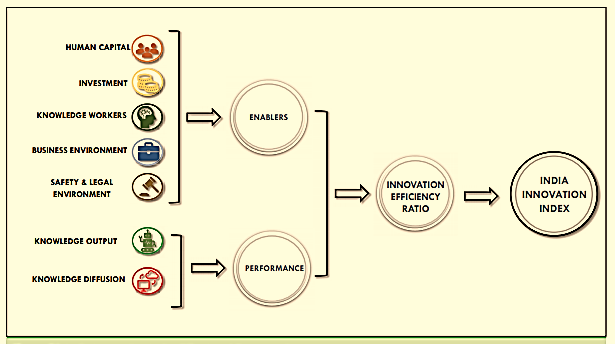 Source: NITI Aayog
Need for Index
As India is passing through a phase of demographic transition, so India can reap immense benefits if it maintains focus on developing human capital and encouraging innovation.
Also, the demographic dividend is not available in all states at the same time. Southern states, for instance, are experiencing a decline in their fertility earlier than the rest of the states across India. The demographic dividend in states like Kerala and Tamil Nadu is expected to close in the next five years. Thus, the capacity to innovate varies spatially across India and so does the area of focus.
India is shifting its policy focus on building innovation capacities like other countries in order to gain a greater market share around the world.
Key Highlights of Index
The states have been categorized into three categories:
Major states
North-east and hill states
Union territories/Small states
Karnataka is the most innovative major state in India. Tamil Nadu, Maharashtra, Telangana, Haryana, Kerala, Uttar Pradesh, West Bengal, Gujarat, and Andhra Pradesh form the remaining top ten major states respectively.
Sikkim and Delhi take the top spots among the north- eastern & hill states, and union territories/city states/small states respectively.
Delhi, Karnataka, Maharashtra, Tamil Nadu, Telangana, and Uttar Pradesh are the most efficient states in translating inputs into output.
Karnataka topped the index among major states in terms of attracting investment, followed by Maharashtra, Haryana, Kerala, Tamil Nadu, Gujarat, Telangana, Rajasthan, and Uttar Pradesh.
Bihar, Jharkhand, and Punjab were the least attractive states for investment.
Among North East and the Hill States, Manipur, Arunachal Pradesh, and Tripura were the top three states; while among the UTs, Lakshadweep, Delhi and Goa were the top three regions.
The average score of Enablers stand at 18.3 while that of Performance comes out to be 12.8. Since the Enablers outperform Performance, it is evident that the country has not been able to utilise the available drivers of innovation to their maximum potential.
Even though India performs relatively well on enablers of innovation, that there is a vast disparity among its pillars. The country performs the best with respect to human capital, while it faces a challenge of investing towards building innovative capacities.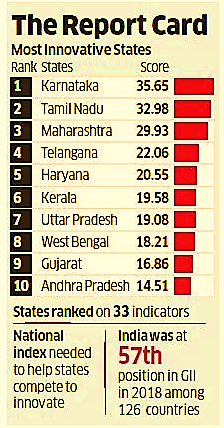 Source: ToI
Significance of the Report
Unlocking Innovative Capacities: This report attempts to decipher the innovative capacities for India at the state level. It has been formulated with the intent of better understanding the innovation landscape across India and drawing regional insights to drive data-based decision making.
Help to create Conducive Innovative Ecosystem: It will help create a conducive ecosystem for innovation to flourish across the country. Such an index will not only help to devise their own strategy for fostering an innovation climate, it will also enable them to benchmark their performance with other states.
Benchmarking Instrument: It is expected that the report will come to be recognized as a benchmarking instrument and an invaluable tool for facilitating public-private dialogue, whereby policymakers, business leaders, and other stakeholders can evaluate progress on a continual basis.
Tool for Economic Growth: It can be used by the government to identify the challenges to be addressed and strengths to build on when designing the economic growth policies for the country.
Global Approaches for Measuring Innovation
Bloomberg Innovation Index
The Bloomberg Innovation Index analyses each country in a range of areas including education, research and development, and manufacturing.
The countries are ranked on the basis of their overall ability to innovate considering seven-equal weighted metrics such as research & development intensity, manufacturing value-added, productivity, high-tech density, tertiary efficiency, researcher concentration, patent activity.
The Global Innovation Index
It is published by the Cornell University, INSEAD, and the World Intellectual Property Organization (WIPO) as co-publishers, and their Knowledge Partners.
It consist of two sub-indices-the Innovation Input and the Innovation Outputs.
Five input pillars capture elements of the national economy that enable innovative activities: (1) Institutions, (2) Human capital and research. (3) Infrastructure. (4) Market sophistication, and (5) Business sophistication. Two output pillars capture actual evidence of innovation outputs: (6) Knowledge and technology outputs and (7) Creative outputs.
Dubai Innovation Index
The Dubai Innovation Index was conceptualized in 2015 as an effort to baseline Dubai's position compared to with 28 leading global innovative cities and to measure the innovation maturity of Dubai's private sector to achieve sustainable economic growth and identify areas of improvement.
The Index takes into account both enablers (as the input) and performance (as the output) as equal contributors towards innovation.
Massachusetts Innovation Economy
The Index has been published by the Innovation Institute at the Mass Tech Collaborative annually since 1997.It analyses 22 indicators that covers the following categories:

- Economic Impact

- Research

- Technology

- business Development

- Capital

- Talent
Way Forward
The India Innovation Index, 2019 comes at a time when innovation has become a subject of significant concern for policymakers in the country. With India among the fastest growing economies in the world, the next big challenge is to sustain that level of growth for a longer period of time.
Understanding the state of innovation at the regional level is also important for policy-making. For a country the size of India, a policy just at national level is not enough. Each state needs to formulate its own policy which caters to its needs and resources. Therefore, for understanding the opportunities and challenges in every state and union territory, there is a need for a robust framework which can be regularly updated to incorporate the progress made by regions.
The challenges faced by India due to its pluralistic society and a rapidly growing population are vastly different from the West. With a population of over 1.3 billion, growing at 1.1% a year — India faces scarcity on a large scale across the board: from water and food to oil and gas, to challenges in primary education and basic health care. To overcome these challenges Ina must transform itself from a factor-driven to an innovation-driven economy by efficiently using its existing resources to become a global innovation hub. To be successful in this endeavor, the country must bring about the right institutional, industrial, and policy reforms.
Recognizing the role of innovation as a key driver of growth and prosperity for India Therefore, innovation needs to be the focus, if the Indian economy is to make a successful transition from being factor-driven to an innovation-driven economy.
Assam Tea Labour Rights Violation
---
On 10th October, Oxfam India released a report titled - Addressing the Human Cost of Assam Tea, highlighting the issues of violation of labour rights in the tea estates of Assam.
The report was published along with the Tata Institute of Social Sciences (TISS).
Key Highlights of the Report
Low Wages
Labours of Assam tea estate regularly clock up 13 hours of backbreaking work a day receiving between Rs 110 and Rs 130 a day. This wage is so low that most labours receive 'Below Poverty Line' ration cards from the government;
Unavailability of Basic Facilities
Indian tea estates are legally obliged under the Plantation Labour Act (1951)to provide decent working conditions, housing, healthcare and education.
But the existing condition of housing and sanitation is very poor with dilapidated or non-existent facilities.
Absence of basic facilities gave rise to various other problems like water-borne diseases such as diarrhoea, typhoid and jaundice.
Awful Condition of Women Labours
It is predominantly women who carry out the labour-intensive job of harvesting tea and end up being concentrated in these low-paid jobs. Despite their large numbers, they remain under-represented in trade unions.
Inaccessible toilets, inadequate maternal and childcare facilities, inadequate maternity benefits and domestic violence are other major issues being faced by women labours.
Exploitation by Supermarket Brands
The report attributed the condition of plantation workers to the relentless squeeze by supermarkets and brands on the share of the end-consumer price for tea. They typically capture over two thirds of the price paid by consumers for Assam tea in India – with just 7% remaining for workers on tea estates.
For ex. A 200 gms. packet of branded Assam tea is sold in India for Rs. 68. Of this, less than Rs. 5 is left for workers (using plucking costs as a proxy indicator) while tea brands and supermarkets retain around Rs. 40.
Plantation Labor Act (PLA), 1951
It provides for the welfare of plantation labour and regulates the conditions of work in plantations.
It applies to all the plantation workers whose monthly wages does not exceed Rs. 750/- per month.
It provides that no adult worker and adolescent or child shall be employed for more than 48 hours and 27 hours respectively a week, and every worker is entitled for a day of rest in every period of 7 days.
However, the Government of India is planning to subsume the PLA in the Labour Code on Occupational Safety, Health and Working Conditions Bill, 2019.
Constitutional Provisions
Labour is a subject in the Concurrent List where both the Central and State Governments are competent to enact legislation subject to certain matters being reserved for the Centre.
Article 39 specifically requires the State to direct its policy towards securing equal right of men and women to adequate means of livelihood as well as equal pay for equal work for both men and women.
Article 43 refers to a living wage and not minimum wage. The concept of living wage includes in addition to the bare necessities of life, such as food, shelter and clothing, provisions for education of children and insurance etc.
Assam
Capital: Dispur
It is bounded to the north by the kingdom of Bhutan and the state of Arunachal Pradesh, to the east by the states of Nagaland and Manipur, to the south by the states of Mizoram and Tripura, and to the west by Bangladesh and the states of Meghalaya and West Bengal.
It get full statehood on 26 January 1950.
Assam has conserved the one-horned Indian rhinoceros from near extinction, along with the wild water buffalo, pygmy hog, tiger and various species of Asiatic birds, and provides one of the last wild habitats for the Asian elephant.
Significance
Highlighting Government's Effort: The report is significant in highlighting the Assam government's commitment to increasing the minimum wages of tea plantation workers to Rs 351 met with hurdles of financial viability in the sector.
Economic Crisis: The over exploitation by tea brands and supermarkets, combined with rising costs and the impacts of the climate crisis, is contributing to a severe economic crisis for the entire Indian tea industry.
Issues in Assam Tea Industry
Shutdowns of Tea Plantations
A considerable number of tea gardens has gone sick due to lack of infrastructure, modernization and efficient management.
Less Production of Tea
There are multiple problems being faced by the tea industry such as finance crisis, power problems, labour problems, poor labour schemes, increased revenue tax for tea gardens, increased pollution fee, less transport subsidy etc., have altogether put the tea industry in Assam in a hopeless situation, resulting in low production of tea leaves and tea.
Decline in Tea price
Due to various causes, the auction price of the tea has seen a steady decline over the years.All the profits from the tea gardens were siphoned off and there was no real or proper reinvestment in improving quality of tea.
Less Availability of Labours
Due to low wages and hardship of work, it is tough to find labours, beside the natives and tea tribes who are solely dependent on the tea industry for their daily income and livelihood.
Lack Proper Storage
The problem of storing premium quality tea has always been there. Due to delay in transportation and lack of storage facilities, the processed tea gains moisture from the atmosphere and deteriorates in quality.
Climatic Factors
Unfavourable climatic conditions for tea plantations owing to scanty or very heavy rainfall have badly affected the tea industry.
Pest Problem
Pest problem is another major issue. Bacterial black spotdisease hasbadly affected many plantations in Assam tea estates.
Others Issues
Lack of proper communication for export, limited use of scientific tool or mechanisms, insufficient capital to invest, decline the interest on the agricultural field among the youth, growth of industries, etc. are also seen as the major obstacles to the growth of tea industry.
Suggestive Measures
Increasing global demand for Assam tea has raised the hopes of the industry.
Venturing into new markets in the global market to regain its demand.
Creating favorable export condition and domestic market promotion can also benefit the industry.
Improved supply chain and storage management will enhance shelf life.
Various management programs should be initiated by the industry as well as by the government to develop the capabilities of the tea executives.
Way Forward
The upcoming Occupational Health and Safety Bill, which would help the struggling Assam tea industry be viable and at the same time ensure fair living wages and decent working and living conditions for tea plantation workers and their families.
Supermarkets, brands and consumer come together to support the Assam government's move to provide living wages to workers and to ensuring more of the price paid by the consumers trickle down to them.
Tea brands need to improve their transparency and accountability, in line with India's National Guidelines on Responsible Business Conduct framework. They must inform consumers about where their tea comes from and how much is paid for it at each stage of the supply chain. It is also important that Indian consumers continue enjoying their cup of tea and at the same time demand fair living wages for workers.
Niti Aayog Releases School Education Quality Index
---
On 30th September, 2019, NITI Aayog along with the Ministry of Human Resource Development and the World Bank released a report titled 'The Success of Our Schools-School Education Quality Index' (SEQI) which evaluates the performance of states and union territories in the school education sector.
SEQI used 2016-17 as the reference year and 2015-16 as the base year.
Aim
To drive policy reforms that will improve the quality of school education.
To institutionalise a focus on enhancing education outcomes by driving improvements in learning levels, access, equity, infrastructure and governance processes.
About the Index
Developed through a collaborative process including key stakeholders such as MHRD, the World Bank and sector experts, the index consists of 30 critical indicators that assess the delivery of quality education.
The index is largely based on the data from the National Achievement Survey(NAS) of 2017-18 and the Unified District Information on School Education(2016-17).
West Bengal did not participated in the evaluation process, therefore has not been included in the index.
The indicators are categorized as follows:
Category 1: Outcomes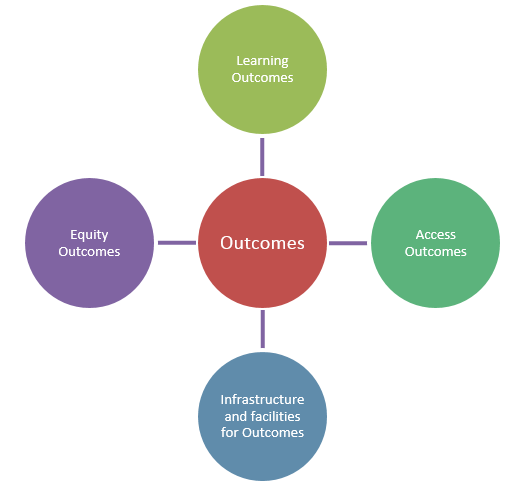 Category 2: Governance Processes Aiding Outcomes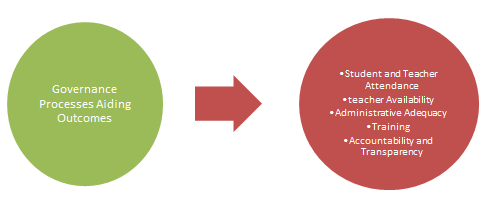 Key Findings of the Report
Large States
The overall performance score for Large States ranged from 6 percent for Kerala to 36.4 percent for Uttar Pradesh.
Small States
Among the eight Small States, five showed an improvement in their overall performance score between 2015-16 and 2016-17, of which three stood out (Meghalaya, Nagaland and Goa), with gains of 14.1, 13.5 and 8.2 percentage points respectively.
Union Territories
All seven UTs showed an improvement in their overall performance score between 2015-16 and 2016-17. Three of them (Daman & Diu, Dadra & Nagar Haveli and Puducherry) stood out for the size of the increase, with gains of 16.5, 15.0 and 14.3 percentage points, respectively
Outcomes Category Performance
Karnataka leads the Large States on the Outcomes category, with a score of 81.9 percent. Uttar Pradesh scores the lowest at 34.1 percent.
Tamil Nadu was the top performer in access and equity outcomes.
Haryana had the best infrastructure and facilities.
Manipur ranks first among the Small States on the Outcomes category, with a score of 82.1 percent. Arunachal Pradesh has the lowest score at 27.2 percent.
Chandigarh is the best performing UT on the Outcomes category, with a score of 88.4 percent, while Lakshadweep received the lowest score (28.9 percent)
Governance Processes Aiding Category Outcomes Performance
Kerala leads the Large States in this category, with a score of 79.0 percent, while Jharkhand has the lowest score of 21.0 percent.
Mizoram ranks first among Small States, with a score of 47.5 percent, while Arunachal Pradesh ranks last with a score of 18.3 percent.
Chandigarh is the best-performing UT, with a score of 69.5 percent, while Dadra & Nagar Haveli received the lowest score of 33.5 percent.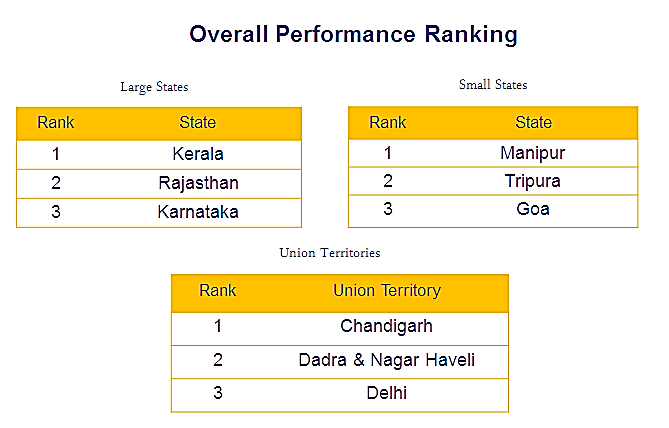 Source: NITI Aayog
Significance
The rankings present incredible insights on the status of school education across States/UTs and their relative progress over time SEQI assigns almost half its weight to learning outcomes. This sends a strong signal across the nation to ensure the focus remains centred on learning.
It focuses on indicators that drive improvements in the quality of education rather than on inputs or specific processes. The index thus seeks to institutionalise a focus on improving education outcomes with respect to learning, access, equity and governance in India.
It put emphasis to bring an 'outcomes' focus to education policy by providing States and UTs with a platform to identify their strengths and weaknesses and undertake requisite course corrections or policy interventions.
It present a vision to ensure that our school education system reorients its priorities on enhancing learning outcomes, along with strengthening governance processes.
Challenges to Education Sector
Dearth of Finance: Funds are the major reasons for the education problem in India. Shrinking allocation to education in government budgets have led to a funding crunch in public higher education in India. The demand for financial resources far exceeds the supply. Very small amount is available for innovative programs and ideas.
Low Enrolment: Enrolment rates are obviously higher in urban areas. Hence, this implies that rural enrolment is poor. The problem of students dropping out, and absenteeism, is particularly acute in BIMARU states—Bihar, Rajasthan, Uttar Pradesh and Madhya Pradesh —that together have over 51 million children, or 46% of India's total child population between the ages of 11 and 16 years.
Low Quality: The quality of education provided to children in India is on a downward spiral, especially in rural areas and government run school. In addition, the mushrooming of private institutions has led to a situation where degrees are awarded by poorly regulated entities
Lack of Adequate Infrastructure: Despite the government's best efforts to bring our education sector on par with the international standards, it's the inadequate infrastructure that holds it back. The schools in rural India have really poor infrastructure. There is a huge lack of teachers, especially well-trained ones which disturbs the student-teacher ratio extensively. This leads to very poor quality of education being imparted, hardly fulfilling the need of education.
Way Forward
Education is the backbone of our nation. It is an instrument to national human resource Listed among the fastest growing economies in the world, India stands way behind in the line, when it comes to education.Howevder, in the recent years , government has tried its best to strengthen the education system in the country.
In July, 2019, the government came out with the National Education Policy, 2019 , which envisions an India-centred education system that contributes directly to transforming our nation sustainably into an equitable and vibrant knowledge society, by providing high quality education to all.
In December 2018, the Government of India published that 3.43 million candidates had enrolled in the Pradhan Mantri Kaushal Vikas Yojana (PMKVY) 2016-20 scheme. Up to January 24, 2019 as many as 2.53 million candidates were trained under under the scheme's Short Term Training (STT).
In August 2018, Innovation Cell and Atal Ranking of Institutions on Innovation Achievements (ARIIA) were launched to assess innovation efforts and encourage a healthy competition among higher educational institutions in the country.
In August 2018, Government of India launched the second phase of 'Unnat Bharat Abhiyan' which aims to link higher educational institutions in the country with at least five villages.
The Ek Bharat Shreshtha Bharat (EBSB) campaign is undertaken by Ministry of Human Resource Development to increase engagement between states, union territories, central ministries, educational institutions and general public.
A high-quality Education system is a pre-requisite for our country to achieve global excellence. For addressing India's Education crisis, it require resolute political leadership with a clear vision for education that is able to unite the forces of government, corporate houses and civil society organisations towards building the nation of our dream.
India has a positive demographic opportunity, with half of its population in the working-age group. Needless to say, education is tool required to realise this demographic potential.
Child Well-Being Index
---
On 27th August, 2019, the Child Well-Being Index was released by NGOs World Vision India and IFMR LEAD.
The index is a tool designed to measure and track children's well-being through three dimensions of healthy individual development, positive relationships and protective contexts.
It captures the performance of each state and union territory on a composite child well-being score.
Key Findings
Among states, Kerala (0.76), Tamil Nadu (0.67) and Himachal Pradesh (0.67) bagged the top three slots in the index.
Kerala bagged the top spot due to its exceptional performance in health, nutrition and education facilities.
Kerala also performed better in addressing malnutrition and ensuring child survival and access to a healthy environment in terms of clean drinking water and sanitation facilities.
Meghalaya (0.53), Jharkhand (0.50) and Madhya Pradesh (0.44) featured at the bottom.
For Jharkhand, child survival, nutrition and access to water and sanitation are the key areas that need to be focused on, to improve its score.
Low performance in the areas of child survival, nutrition, crimes against children and juvenile crimes, brought the scores down for Madhya Pradesh.
Among the union territories, Puducherry led the way with a score of 0.77 and Dadra andNagar Haveli featured at the other end with a score of 0.52
Significance
The report highlights the multi-dimensional approach towards measuring child well-being- going beyond mere income poverty
According to the NITI Aayog, theindex is a crucial that can be mined both by the Government and civil organisations to achieve the goal of child well-being in the country.
Challenges towards Child Well-Being
Malnutrition
India has the maximum number of malnourished children in the world – 1 in every 3 children is malnourished. According to the National Family Health Survey(NFHS), India has unacceptably high levels of stunting, despite marginal improvement over the years. In 2015-16, 38.4% of children below five years were stunted and 35.8% were underweight. Despite increase in food production, the rate of malnutrition in India remains very high.
Health Issues
The NFHS results show that over 58% of children below five years of age are anaemic, that is, they suffer from insufficient haemoglobin in the blood, leaving them exhausted, vulnerable to infections, and possibly affecting their brain development.According to the UNICEF, water-borne diseases such as diarrhoea and respiratory infections are the number one cause for child deaths in India. Further, poor sanitation system especially in rural areas impairs the health leading to high rates of malnutrition and productivity losses.
Child Labour
As per the National Census 2011, there are close to 10.1 million child labourers in India, in the age group of 5 to 14 years.According to UNICEF, child labour in India has merely shifted from factories to employee homes and children are still engaged in harmful industries such as bidi, fireworks, brick kilnsproduction.
Child Trafficking
Child trafficking is a serious problem that is prevalent not only India but round the world.The majority of India's trafficking problem is internal, and those from the most disadvantaged social strata. Girls from excluded groups are most vulnerable.These children are trafficked for various reasons such as labour, begging, and sexual exploitation.According to the national Crime Record Bureau(NCRB), three in five persons trafficked in 2016 were children (below 18 years).Of these, 4,911 (54%) were girls and the rest were boys.
Child Abuse
One of the biggest social stigmas attached to a society is that of child abuse. A child can be abused physically, sexually or mentally. It can be in the form of injury, neglect or negligent treatment, blaming, forced sexual stimulation and activity, incest exploitation and sexual abuse.
Child Poverty
Poverty in India has been cited as one of the main reasons why millions of children do not get access to the rights they are entitled to. India consists of 30.3 per cent of extremely poor children living across the world.Close to 9.97 crore children in India live in poverty-stricken conditions.
Child marriage
Despite having a law against child marriages for the last 90 years, child marriages are a reality in our country. As per statistics, child marriages account for 27 per cent of marriages in India, The incidences of child marriages, especially of minor girls, are higher amongst the socially, economically and educationally backward sections.Child marriage is a violation of child rights, and has a negative impact on physical growth, health, mental and emotional development, and education opportunities.
Way Forward
Children are the assets for tomorrow's productivity up on which depends the growth and development of country.The well-being of children is a critical component of human development.
The government along with the stakeholders involved must work in the right direction to ensure that children have access to adequate nutrition, good health, and education, sanitation and clean water in order to provide them with a quality life and the rights,which they are entitled to under the constitution of India.
Composite Water Management Index 2.0
---
On 23rd August, 2019, the National Institute for Transforming India (NITI) Aayog released the 2nd edition of Composite Water Management Index (CWMI) 2.0.
This index has been prepared by NITI Aayog in partnership with Ministry of Jal Shakti, Ministry of Rural Development and all the States/ Union Territories.
Objectives
To keep tab on the momentum on management of water.
To supplement the efforts of Jal Shakti Ministry towards Jal Sanchay, Jal Sanrakshan and Jal Sinchan across the country.
About the CWMI 2.0
The CWMI-2019 measures the performance of States on a comprehensive set of water indicators and reports relative performance in 2017-18 as well as trends from previous years (2015-16 & 2016-17).
The Index comprises of 9 themes, and covers 25 states and 2 UTs.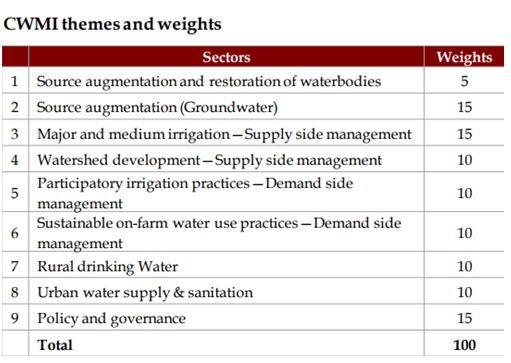 The nine themes are further sub-divided into 28 indicators which account for equal weightages within respective themes.
Critical areas such as source augmentation; major and medium irrigation; watershed development; participatory irrigation practices; sustainable on-farm water use practices; rural drinking water; urban water supply and sanitation; and policy & governance have been accorded high priority.
Composite Water Management Index (CWMI)
In 2018, NITI Aayog developed the Composite Water Management Index (CWMI) to enable effective water management in Indian states in the face of extreme water stress.
Objectives
To establish a clear baseline and benchmark for state-level performance on key water indicators.
To uncover and explain how states have progressed on water issues over time, including identifying high-performers and under-performers, thereby inculcating a culture of constructive competition among states.
To identify areas for deeper engagement and investment on the part of the states.
Key Findings of the Report
Gujarat hold on to its rank one in the reference year (2017-18), followed byAndhra Pradesh, Madhya Pradesh, Goa, Karnataka and Tamil Nadu.
In North Eastern and Himalayan States, Himachal Pradesh has been adjudged number 1 in 2017-18 followed by Uttarakhand, Tripura and Assam.
The Union Territories have first time submitted their data and Puducherry has been declared as the top ranker.
In terms of incremental change in index (over 2016-17 level), Haryana holds number one position in general States and Uttarakhand ranks at first position amongst North Eastern and Himalayan States.
On an average, 80% of the states assessed on the Index over the last three years have improved their water management scores, with an average improvement of +5.2 points.
Jharkhand, Uttar Pradesh, Odisha, Bihar, Nagaland, and Meghalaya still scoreless than 40 points.
Uttar Pradesh, Rajasthan, Kerala, and Delhi, 4 of the top 10 contributors to India'seconomic output, have scores ranging from 20 points to 47 points.
None of the top 10 agricultural producers in India, except Gujarat and Madhya Pradesh, score more than 60 points on the CWMI.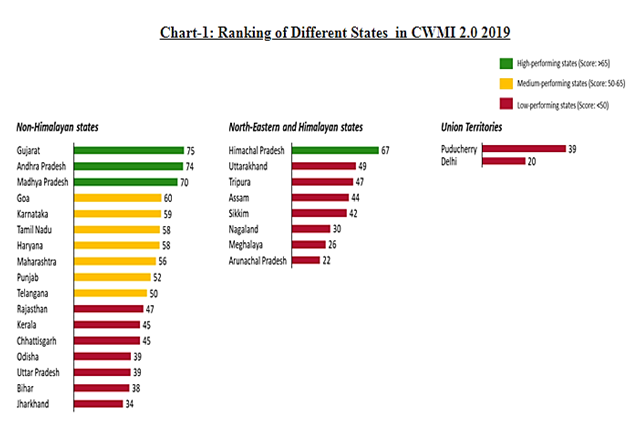 Significance
Tool of Assessment:It is an important tool to track performance in the water sector and take corrective measures timely for achieving better outcomes thereby meeting the citizens' expectations satisfactorily.
Helps in Better Water Management:It would provide useful information for the States and also for the concerned Central Ministries/Departments enabling them to formulate and implement suitable strategies for better management of water resources. This benchmarking exercise can go a long way in creating a common frame for progress for water in India and also highlight the need for specific improvements.
Encouraging Cooperative Federalism: It represents a major step towards creating a culture of data-based decision-making for water in India, which can encourage competitive and cooperative federalism in the country's water governance and management.
State Water Conservation Models
Mukhya Mantri Jal Swavlambhan Abhiyan , Rajasthan
Launched in 2016, it is a multi-stakeholder programme which aims to make villages self-sufficient in water through a participatory water management approach.
It focuses on converging various schemes to ensure effective implementation of improved water harvesting and conservation initiatives.
Use of advanced technologies such as drones to identify water bodies for restoration is one unique feature of the programme.
Neeru-Chettu Programme, Andhra Pradesh
Launched in 2015, the programme has a strong emphasis on improving irrigationand focuses on ensuring water supply in drought-prone areas and reducing the ayacut10 gap through scaled-up adoption of scientific water management practices.
Repair, renovation, and maintenance of irrigation assets are key activities and completing such activities before monsoons is a priority under the programme.
Jalyukt Shivar Abhiyan, Maharashtra
It was launched in 2015-16 with the mission to make Maharashtra drought-free by 2019, and an aim of making 5000 villages water scarcity free, every year.
Focus areas under the programme include deepening and widening of streams, construction of cement and earthen stop dams, work on nullahs and digging of farm ponds.
The programme also involves geotagging of water bodies and use of a mobile application to enable web-based monitoring.
Mission Kakatiya, Telangana
Launched in 2014, it aims to restore over 46,000 tanks across the state18 and bring over 20 lakh acres land under cultivation.
The programme objectivesinclude enhancing the development of minor irrigation structures, promoting community-basedirrigation management, and restoration of water tanks.
Sujalam Sufalam Yojana, Gujarat
It focuses on deepening of water bodies before monsoons and increasing water storage for rainwater collection.
Its inaugural run was from 1stMay, 2018 – 31st May, 2018. The programme involved desilting of water bodies across the state and encouraged a participative approach.
Pani Bachao Paise Kamao, Punjab
Launched in 2018, it is aimed at checking depletion of underground water.
Under this, the farmers are being provided with a fixed electricity quota and receiving INR 4 per kilowatt hour for every unit of electricity saved through direct benefit transfers (DBTs).
Way Forward
Scientific management of water is increasingly recognized as being vital to India's growth and ecosystem sustainability. From policy perspective, water management has four major dimensions: Access, Quality, Sustainability and Efficiency. In order to get better outcomes, each dimension can be developed as a simple index reflecting the performance of the states.
The Index and its annual reporting are one step in a long journey towards improved water management, and focus on setting the necessary foundation of a high-quality data culture within federal and state water institutions.
Importantly, Government along with states must supplement urgent top-down water legislations with a grassroots management approach that involves local community organizations, NGOs, farmer groups, and industry bodies in ideation and implementation of water related policies and projects and make sure that the index should not just restrict itself to becoming a common platform for water data.
National Institute Ranking Framework (NIRF)
---
Why is it in News?
In NIRF 2019, IIT-Madras has topped the list followed by IISC-Bangalore.
About NIRF:
The National Institutional Ranking Framework (NIRF) is a methodology adopted by the Ministry of Human Resource Development (MHRD), Government of India, to rank institutions of higher education in India.
It was launched by MHRD in 2015.
There are separate rankings for different types of institutions depending on their areas of operation like universities and colleges, engineering institutions, management institutions, pharmacy institutions and architecture institutions.
Methodology Adopted to Rank Institutions:
Every institution is broadly rated on five parameters:-
1. Teaching Learning & Resources
This parameter is related to the core activities of any place of learning.
Example:-Faculty Student ratio, number of faculties with PHD etc.
2. Research and Professional Practice
It includes number of papers filed by faculty & students in International Journals, Patents, IPR etc.
3. Graduation Outcome
This parameter forms the ultimate test of the effectiveness of the core teaching/learning in institution. It includes number of placements, average salary to students placed, students opting for higher studies etc.
4. Outreach & Inclusivity
The Ranking framework lays special emphasis on representation of women in institutions, students from different states, students from physically handicapped domain etc.
5. Perception
The ranking methodology gives a significant importance to the perception of the institution by its students, public & alumni etc.
Weightage Alloted to Different Parameters:
For ranking of Universities, 30% weightage is given to Teaching & Learning; Methodologies & Research; Professional Practice, while 20% weightage is given to Graduation Outcome; 10% weightage is given to Outreach; Inclusivity and Perception.
Source: nirfindia.org
---