International Day Of Older Persons
---
On 1st October, 2019, the International Day of Older Persons was observed by United Nations under the theme- The Journey to Age Equality.
Aim
To draw attention to the existence of old age inequalities and highlight intergenerational risk of increased old age inequalities.
To bring awareness to the urgency of coping with existing and preventing future old age inequalities.
To explore societal and structural changes in view of life course policies
To reflect on best practices, lessons and progress on the journey to ending older age inequalities and changing negative narratives and stereotypes involving old age.
Background
On December 14, 1990, the UN General Assembly made October 1 as the International Day of Older Persons. The International Day of Older Persons was observed for the first time on October 1, 1991.
The day is celebrated annually to recognize the contributions of older persons and to examine issues that affect their lives. This day provides anopportunity to acknowledge the contribution, wisdom, dignity and needs of our senior citizens and to rededicate our efforts to ensure their well-being.
Old Age Population Scenario
India has nearly 10 crore elderly people, constituting nearly 8.6% of the total population.
In the next couple of decades, their population is expected to increase manifold.A whopping 1.5 crore elderly Indians live alone, and 75% of them are women.
Between 2017 and 2030, the number of persons aged 60 years or over is projected to grow by 46 percent (from 962 million to 1.4 billion) globally.
Moreover, this increase will be the greatest and most rapid in the developing world.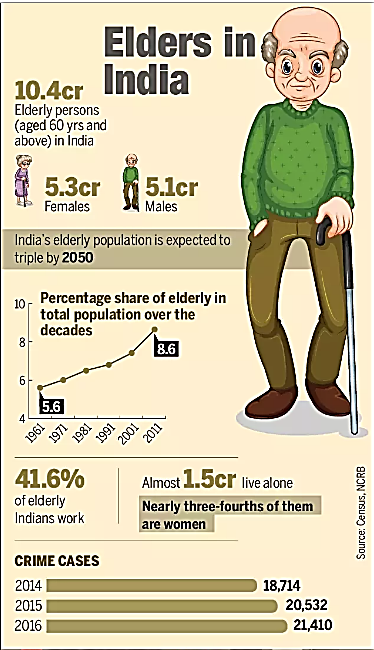 Source: ToI
Significance
Increasing Awareness:The International Day of Older Persons is an opportunity to highlight the important contributions that older people make to society and raise awareness of the opportunities and challenges of ageing in today's world
In align with Sustainable Development Goal:The 2019 theme is aligned with Sustainable Development Goal 10 (SDG 10) and focuses on pathways of coping with existing and preventing future old age inequalities.
Challenges Posed By Ageing Population
Economic Problems
A great anxiety in old age relates to financial insecurity. Economic factors definitely play a major role in generating care for elderly people. As many as 70% aged depend on othersfor their day-to-day maintenance. Thesituation is worse for elderly femaleswhere 85 – 87% are dependent either partially or fully.
Health Problems
Health problems are supposed to be the major concern of a society as older people are more prone to suffer from ill health than younger age groups. It is often claimed that ageing is accompanied by multiple illness and physical ailments.
The existing health care systems are not sufficient to meet the physical and health needs of the ageing population such as old age security, establishing old age homes, expanding geriatric services and liberalizing the welfare policy for older persons.
Lack of Social Support
The elderly in India are much more vulnerable because of the less government spending on social security system. The elderly in urban area rely primarily on hired domestic help to meet their basic needs in an increasingly-chaotic and crowded city. Social isolation and loneliness has increased aggravating the problems of old age people.
Crime against Senior People
The crime against elderly people is increasing day by day in our society, which has emerged as one the major problems faced by these people.
Prevalence of Abuse
Around 60% elders confirmed that elder abuse is prevalent in our society. Of those, who reported prevalence, 88% of them believed its existence is high. Nearly one-fourth (25%) elders have confirmedthey have been victim of abuse ever with no gender variation. The most common form of abusethey experienced was disrespect (56%), verbal abuse (49%) and neglect (33%).
Government Initiatives for Old Age Population
Pradhan Mantri Vaya Vandana Yojana (PMVVY)
Launched in 2017,it is a pension scheme for senior citizens which has been introduced by the government The aim of the scheme is to give senior citizens regular pension.
Rashtriya Vayoshri Yojana (RVY)
Launched in 2017 by the Ministry of Social Justice & Empowerment, the scheme is only available to those senior citizens who are below poverty line(BPL) category who suffer from age-related disabilities such as low vision, hearing impairment, loss of teeth and loco-motor disabilities.
Varishtha Pension Bima Yojana (VPBY)
VPBY was first launched in 2003 and then relaunched in 2014. Both are social security schemes for senior citizens intended to give an assured minimum pension on a guaranteed minimum return on the subscription amount.
Senior Citizens Savings Scheme (SCSS)
It is a deposit scheme introduced by the Government of India to provide guaranteed returns to senior citizens.
Integrated Programme for Senior Citizens (IPSC)
The main objective of the scheme is to improve the quality of life of the Senior Citizens by providing basic amenities like shelter, food, medical care and entertainment opportunities and by encouraging productive and active ageing through providing support for capacity building of State/ UT Governments/Non-Governmental Organizations (NGOs)/Panchayati Raj Institutions (PRIs) / local bodies and the community at large.
Maintenance and Welfare of Parents and Senior Citizens Act, 2007
It was enacted to ensure need based maintenance for parents and senior citizens and theirMaintenance of Parents/ senior citizens by children/ relatives made obligatory and justiciable through Tribunals, penal provision for abandonment of senior citizen, establishment of old age homes and adequate medical facilities and security for senior citizens.
Way Forward
Population ageing is poised to become one of the most significant social transformations of the 21st century.Older people have always played a significant role in society as leaders, caretakers and custodians of tradition. Yet they are also highly vulnerable, with many falling into poverty, becoming disabled or facing discrimination.
Empowering older persons in all dimensions of development, including promoting their active participation in social, economic and political life, is one way to ensure their inclusiveness and reduce inequalities.
National Conference On Criminal Activities And Radicalization In Jails
---
The Bureau of Police Research and Development(BPR&D) is organizing a two-day National Conference on 'Criminal Activities and Radicalization in Jails: Vulnerability of Inmates and Jail Staff and their Protection' on 12th and 13th September.
The conference was inaugurated at BPR&D Headquarters at Mahipalpur, New Delhi.
Key Issues Proposed
To understand various criminal activities at individual and gang levels and consider safety measures for vulnerable inmates and jail staff.
To analyze and formulate the security and protection standards for prison Staffs
To provide an inter-disciplinary platform for correctional personnel and experts to exchange and share their experiences on prison reforms.
Major Issues in Indian Prison
Overcrowding
Congestion in jails has been always a major source of concern. According to statistics available with the National Crime Record Bureau (NCRB) for 2016, over 19 lakh prisoners are lodged at the prisons — indicating that the prisons are overpopulated by around 50,000 inmates.
In some jails in Maharashtra, the occupancy rate is 276%. In Chhattisgarh, it is 233% while in Delhi, it is 226%.
Overcrowding strains prison infrastructure, hampers correctional services, spreads contagious diseases and leads to multiple problems for prison administration including larger incidence of indiscipline and violence, and diversion of prison staff for routine duties such as distribution food, security and guarding
Large Number of Undertrials
Undertrials prisoners are the main reason for overcrowded prisons. It is a reflection of the unduly long process that an accused goes through before being acquitted or convicted. According to NCRB, 2016, there were close to 4,33,000 people in prison at the end of 2016.Of these, 68% were Undertrials , or people who are yet to be found guilty of the crimes they are accused of.
Poor and Unhygienic Living Conditions
The overcrowding in the prisons leads itself to unsatisfactory living conditions. Although the several jails have reformed outlined earlier have focused on issues like diet, clothing and cleanliness, unsatisfactory living conditions continue in many prisons around the country.
The poor sanitary facilities, lack of decent health care increases the likelihood of health problems in prisons.
Staff Shortage
Lack of sufficient staff, especially medical staff is another issue in Indian prisons. An analysis of the sanctioned and actual posted staff strength in jails shows that the actual strength of the jail staff posted against the sanctioned strength in Jharkhand (29.7%), Uttarakhand (32.1%) and Bihar (34.8%) are much below the national average percentage (65.4%).
At all India level, there were 8 inmates for each jail staff in all jails in the country.
Corruption
Corruption by prison staff is common in prisons around the world. Given that the substantial power, for guards exercised over inmates, these problems are predictable, but the low salaries that guards are generally paid severely aggravate them. In exchange for special treatment, inmates supplement guards' salaries with bribes.
Deaths in Jails
Death of an inmate is a matter of serious concern for prison administration. According to the NCRB, the number of "unnatural" deaths in prisons, doubled between 2015 and 2016, from 115 to 231.
Torture and Sexual abuse
Custodial violence and torture continue to be major issues in Indian prisons. Third degree tortures within four walls of prison occur frequently and many times they remain unnoticed. These tortures makes victim to suffer mentally and physically and sometimes it gets long time for them to recover from that trauma.
Physical and sexual violence is a common scenario in prisons especially for women inmates, faced by inmates at the hands of authorities and other prisoners.
Inadequate security measures
Poor security measures and prison management often leads to violent clashes among inmates and resultant injury, death of the inmates. Also in such cases the prison infrastructure gets damaged further adding woes to prison conditions.
Insufficient Legal Aid
The absence of legal aid until the point of trial reduces greatly the value of the country's system of legal representation to the poor. The lawyers are not available at the point when many of them need such assistance.
Steps by Government
Model Prison Manual, 2016
It aims at bringing in basic uniformity in laws, rules and regulations governing the administration of prisons and the management of prisoners all over the country.
Key revisions in the new Manual include-
Access to free legal services
Additional provisions for women prisoners
Rights of prisoners sentenced to death
Modernisation& Prison computerization
Focus on after-care services
Organisational uniformity and increased focus on prison correctional staff
Inspection of Prisons
E-Prison Project, 2018
The Ministry of Home Affairs is supporting the States/UTs in implementing the E-Prisons project that aims to introduce efficiency in prison management through digitization.
The E-prisons project supplements the Prisoner Information Management system (PIMS), developed by National Informatics Centre, which provides a centralized approach for recording and managing prisoner information and generating different kinds of reports.
Important Committees for Prison Reforms
Mulla Committee: All India Committee on Jail Reforms (1980)
The basic objective of the Committee was to review the laws, rules and regulations keeping in view the overall objective of protecting society and rehabilitating offenders.
It recommended a total ban on the heinous practice of clubbing together juvenile offenders with hardened criminals in prisons.
Malimath Committee(2000)
It recommended admissibility of confessions made before a police officer as evidence in a court of law.
It also suggested constituting a National Judicial Commission and amending Article 124 to make impeachment of judges less difficult.
The panel had made 158 recommendations but these were never implemented.
Justice Amitava Roy Committee(2018)
In September, 2018, the Supreme Court formed a Committee on Prison Reforms chaired by former apex court judge, Justice Amitava Roy, to examine the various problems plaguing prisons in the country, from overcrowding to lack of legal advice to convicts to issues of remission and parole, with special focus on various issues concerning women prisoners.
Way Forward
Prison administration is an important element of criminal justice system in India. Though the prison falls under the state list under the constitution of India, yet the Central Government has been taking various steps from time to time in prison reforms and assisting the state in better prison administration.
The government should ensure public participation in correctional services which might prove critical for strengthening the efforts towards reformation of prisoners.
Bombay HC Approves Reservations For Marathas
---
The Bombay High Court on 27 June, 2019 upheld reservation for Marathas in the State on the basis of the recommendations of Maharashtra State Backward Class Commission (MSBCC).
Relevance of the News: The news highlights the backwardness of the Maratha community and also the various aspects of the reservation law India.
Details of the Verdict:
The Bombay HC upheld the reservations for Maratha community in admissions in educational institutions and jobs in the State.
The court announced that the State legislature is adept to enact the Maharashtra State Reservation for Seats for Admission in Educational Institutions in the State and for appointments in the public services and posts under the State (for Socially and Educationally Backward Classes) SEBC Act, 2018, and the State legislative's competence is not in any way affected by the Constitution.
However, the court quashed the 16% quota set aside by the Act for Maratha community and revised it to 12% for education and 13% for jobs as proposed by MSBCC.
As per the court, the classification of Maratha community as backward by the Gaikwad Commission in November 2018 is justified under the test of reasonable classification permissible under Article 14 (equality before the law).
With this judgment the reservation in Maharashtra now stands at 70%, including 10% for economically weaker sections thus breaching the 50% quota limit set by the SC in the post-Mandal era.
The ruling will ignite similar demands in other states for example Jat reservations in Haryana etc.
High Court Justifies the 50% Breach in Limit:
The HC observed that in the Indira Sawhney case the SC laid certain conditions on the basis on which 50% limit can be breached. These conditions have been justified by the Gaikwad Commission in its report. Therefore, the breach of limit is valid in this case.
In the Indira Sawhney case the SC laid that the 50% limit of reservation can be crossed subject to availability of quantifiable and contemporaneous data reflecting backwardness, inadequacy of representation and without affecting the efficiency in administration.
Gaikwad Commission:
The commission was set up to recommend if Maratha community can be declared as socially and educationally backward.
It consisted of 11 members and was constituted in June 2018 and it submitted its report in November 2018.
The Commission in its recommendations declared the Maratha community as socially and educationally backward class of citizens (SEBC) and stated that the community has inadequate representation in the services under the State.
---