National Authority For Recycling Of Ships
---
On 15th October, 2020, the Central Government notified the Directorate General (DG) of Shipping as National Authority for Recycling of Ships under the section 3 of the Recycling of Ships Act, 2019.
About National Authority for Recycling of Ships(NARS)
NARS will be set up in Gandhinagar, Gujarat.
The location of the office will benefit the Ship Recycling yard owners situated in Alang, Gujarat which is home to Asia's largest ship breaking and ship recycling industry in the world.
Functions
As an apex body, DG Shipping is authorized to administer, supervise and monitor all activities relating to Ship Recycling.
It will look after the sustainable development of the Ship Recycling industry, monitoring the compliance to environment-friendly norms and safety and health measures for the stakeholders working in the ship recycling industry.
It will be the final authority for the various approvals required by the Ship-Recycling yard owners and State Governments.
The Recycling of Ships Act, 2019
On 13th December, 2019, the Recycling of Ships Bill, 2019 received the President's assent and became an Act.
Key Features
It restricts and prohibits the use or installation of hazardous materials, which applies irrespective of whether a ships meant for recycling or not.
Restriction or prohibition on use of hazardous materials would not be applied to warships and non-commercial ships operated by the Government.
Ship recycling facilities are required to be authorized and ships shall be recycled only in such authorized ship recycling facilities.
The Act also provides that ships shall be recycled in accordance with a ship-specific recycling plan.
It imposes a statutory duty on ship recyclers to ensure safe and environmentally sound removal and management of hazardous wastes from ships.
Hong Kong Convention for Ship Recycling
Also known as the Hong Kong Convention (HKC), it was adopted at a Diplomatic Conference held in Hong Kong, in May 2009.
Under Ship Recycling Act, 2019, India has acceded to Hong Kong Convention for Ship Recycling under International Maritime Organization (IMO).
DG Shipping is India's representative in IMO and all the conventions of IMO are being enforced by DG Shipping.
Status of Recycling of Ships Industry in India
India is home to one of the largest ship breaking facilities in the world with over 150 yards along its coast.
On an average, close to 6.2 Million GT is scrapped in India every year, which accounts for 33% of the total scrapped tonnage in the world.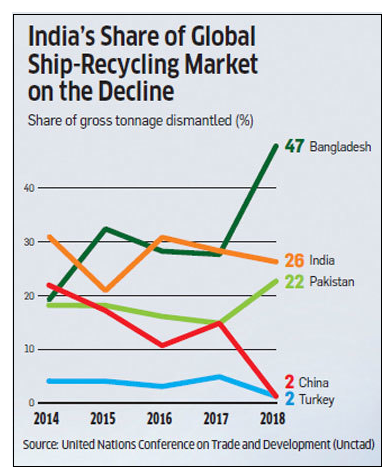 Issues with Ship Recycling Industry in India
Safety Issues
Inadequate safety controls, badly monitored work operations and high risk of explosions create very dangerous work situations.
Lack of coordination for work procedures, basic risk-reducing or eliminating measures are often ignored and ultimately accidents occur.
Health Related Issues
Exposure to other heavy metals found in many parts of ships such as in paints, coatings, anodes and electrical equipment can result serious health issues such as cancers.
Workers have very limited access to health services and inadequate housing, welfare and sanitary facilities which further exacerbate the plight of the workers.
Waste Management Issues
Management of solid wastes generated in ship breaking is a major concern in India.
Although these wastes constitute only around 1% of dead weight of a ship, the total amount in millions of tonne, make these wastes difficult to handle, posing a major risk both to health and environment.
Water Pollution
Water body, primarily the marine environment gets polluted in terms of suspended solids, nitrates, phosphate, heavy metals, oil and grease from bilge water.
Air Pollution
Various air pollutants like furans and polycyclic aromatic hydrocarbons (PAHs), fine particulates are released during the breaking process of ship.
It further contributes to air pollution from various ship breaking processes.
Way Forward
Given the current high human and environmental costs, it seems likely that ship owners and breakers, state mechanisms and international legislation will each need to continue to evolve and increase their cooperation to fill the gaps.
Ship owners from their side need to incorporate a sustainable social and ecological responsibility as well when it comes to the recycling of their vessels.
A well balanced global list of compliant facilities can only remain when the facilities on it receive a good and constant flow of end-of-life vessels.
With the back drop of sustainability issues, this industry has the potential to be the prime economic activity in India.
Central Consumer Protection Authority
---
Recently, the government announced to establish a Central Consumer Protection Authority (CCPA)by the first week of April, 2020.
About Central Consumer Protection Authority
The authority is being constituted under Section 10(1) of The Consumer Protection Act,2019. The Act replaced The Consumer Protection Act, 1986, and seeks to widen its scope in addressing consumer concerns.
The CCPAaims to protect the rights of the consumer by cracking down on unfair trade practices, and false and misleading advertisements that are detrimental to the interests of the public and consumers.
The new Act recognizes offences such as providing false information regarding the quality or quantity of a good or service, and misleading advertisements.
It also specifies action to be taken if goods and services are found "dangerous, hazardous or unsafe".
Possible Structure of CCPA
The proposed authority will be a lean body with a Chief Commissioner as head, and only two other commissioners as members — one of whom will deal with matters relating to goods while the other will look into cases relating to services.
It will be headquartered in the National Capital Region of Delhi but the central government may set up regional offices in other parts of the country.
The CCPA will have an Investigation Wing,headed by a Director General. District Collectors.
Powers
The CCPA will have following powers to inquire or investigate into matters relating to violations of consumer rights or unfair trade practices suomotu, or on a complaint received, or on a direction from the central government.
Power to Recall the Goods
Under Section 20 of the Consumer Protection Act, the proposed authority will have powers to recall goods or withdrawal of services that are "dangerous, hazardous or unsafe; pass an order for refund the prices of goods or services so recalled to purchasers of such goods or services; and discontinuation of practices which are unfair and prejudicial to consumer's interest".
Power to Issue Directions
Section 21 of the new Act defines the powers given to the CCPA to crack down on false or misleading advertisements.
If the CCPA is satisfied after investigation that any advertisement is false or misleading and is harmful to the interest of any consumer, the CCPA may issue directions to the trader, manufacturer, endorser, advertiser, or publisher to discontinue such an advertisement, or modify it in a manner specified by the authority, within a given time.
Further, it can file complaints of violation of consumer rights or unfair trade practices before the Consumer Disputes Redressal Commission at district, state and national level.
It will issue safety notices to alert consumers against dangerous or hazardous or unsafe goods or services.
Power to Impose Penalties
It may also impose a penalty up to Rs 10 lakh, with imprisonment up to two years, on the manufacturer or endorser of false and misleading advertisements.
The penalty may go up to Rs 50 lakh, with imprisonment up to five years, for every subsequent offence committed by the same manufacturer or endorser.
CCPA may ban the endorser of a false or misleading advertisement from making endorsement of any products or services in the future, for a period that may extend to one year. The ban may extend up to three years in every subsequent violation of the Act.
For manufacture, selling, storage, distribution, or import of adulterated products, the penalties are:
If injury is not caused to a consumer, fine up to Rs 1 lakh with imprisonment up to six months
If injury is caused, fine up to Rs 3 lakh with imprisonment up to one year
If grievous hurt is caused, fine up to Rs 5 lakh with imprisonment up to 7 years
In case of death, fine of Rs 10 lakh or more with a minimum imprisonment of 7 years, extendable to imprisonment for life.
Power to Search and Seizure Power
While conducting an investigation after preliminary inquiry, CCPA's Investigation Wing will have the powers to enter any premise and search for any document or article, and to seize these.
For search and seizure, the CCPA will have similar powers given under the provisions of the Code of Criminal Procedure, 1973.
Significance
Protecting the interest of consumers is paramount for the government and the establishment of a central authority and initiating action as a class comes as an additional mode of relief which can be exercised along with individual consumers filing complaints to address their grievances.
Task Force To Prepare National Action Plan On Human Rights
---
Recently, the government decided to constitute a task force to prepare a National Action Plan on Human Rights (NAPHR) as mandated under the UN Human Rights Council's (UNHRC) Universal Periodic Review (UPR).
Aim
The move is aimed to improve India's human rights records.
Background
In UPR-1 and UPR-3, UN recommended that India should have NAPHR covering issues such as the rights to health, education, food security, and housing; aspects related to custodial justice; and measures against the trafficking of women and children
In the third UPR of UN in 2017, India accepted 152 out of 250 recommendations on human rights pertaining to sustainable development goals related to eliminating poverty, access to safe drinking water, sanitation and improving protection for women and
India refused to accept some recommendations, including those related to the Armed Forces Special Powers Act and the Foreign Contribution Regulation Act.
About Task Force
The task force will have 10-20 members and it will examine the plans of other countries before preparing its final draft.
It will include the Union Home Ministry and the National Human Rights Commission (NHRC), with representations from other Ministries, including Social Justice and Health.
Apart from these, civil society organisations will also be consulted at a later stage.
Impact
Strengthening Social Justice System: Once implemented, NAPHR will help mitigate the criticism India faces at international level when it comes to its human rights record as well as strengthen the social justice system.
Strengthening of Human Rights Institutions: The move will help to establish a stronger administration of justice, strengthening of human rights institutions, and linking of rights with development.
National Human Rights Commission (NHRC)
Headquarters: New Delhi
It was established on 12 October, 1993, under the Protection of Human Rights Act (PHRA), statute, 1993.
It is in conformity with the Paris Principles, adopted at the first international workshop on national institutions for the promotion and protection of human rights held in Paris in October 1991.
The NHRC is an embodiment of India's concern for the promotion and protection of human rights.
United Nations Human Rights Council (UNHRC)
Headquarters: Geneva, Switzerland
Created by the United Nations General Assembly on 15 March 2006, it is an inter-governmental body within the United Nations system made up of 47 States responsible for the promotion and protection of all human rights around the globe.
It replaced the former United Nations Commission on Human Rights.
It holds regular sessions three times a year, in March, June, and September.
Institution-Building Package of UNHRC
In 2007, the Council adopted its Institution-building package to guide its work and set up its procedures and mechanisms. It includes-

Universal Periodic Review (UPR) Mechanism: It serves to assess the human rights situations in all United Nations Member States.
Advisory Committee: This serves as the Council's think tank providing it with expertise and advice on thematic human rights issues.
Complaint Procedure: It allows individuals and organizations to bring human rights violations to the attention of the Council.
Universal Periodic Review (UPR)
The UPR is a unique process which involves a periodic review of the human rights records of all 193 UN Member States.
It is a state-driven process which provides an opportunity for all States to declare what actions they have taken to improve the human rights situations in their countries and to overcome challenges to the enjoyment of human rights.
It is designed to prompt, support, and expand the promotion and protection of human rights on the ground.
Goal
Improvement of the human rights situation in every country with significant consequences for people around the globe.
To provide technical assistance to States and enhance their capacity to deal effectively with human rights challenges and to share best practices in the field of human rights among States and other stakeholders.
Review Mechanism
The reviews are conducted by the UPR Working Group which consists of the 47 members of the Council; however any UN Member State can take part in the discussion/dialogue with the reviewed States.
Each State review is assisted by groups of three States, known as "troikas", who serve as rapporteurs.
The documents on which the reviews are based are:

Information provided by the State under review, which can take the form of a "national report".
Information contained in the reports of independent human rights experts and groups, known as the Special Procedures, human rights treaty bodies, and other UN entities.
Information from other stakeholders including national human rights institutions and non-governmental organizations.
Cycles of the UPR: A review cycle is a four-and-half year period within which all UN Member states' human rights records are reviewed. The working group convenes three two-weeks sessions per year, or 14 sessions over the course of an entire cycle.

First Cycle: 2008-2011
Second Cycle: 2012-2016
Third Cycle: 2017-2021
Significance
Addressing Human Rights Concern: It is designed to ensure equal treatment for every country when human rights situations are assessed with the ultimate aim of improving them and addressing violations.
Equal Treatment for All: It is a significant innovation which is based on equal treatment for all countries which also includes a sharing of best human rights practices around the globe.
National Green Tribunal (NGT)
---
Why is it in News?
The National Green Tribunal (NGT) has sought report on waste tyres used in factories.
About NGT:
The NGT was established on October 18, 2010 under the National Green Tribunal Act, 2010, passed by the Central Government.
It draws inspiration from the India's constitutional provision of Article 21, which assures the citizens of India the right to a healthy environment.
The stated objective of the Central Government was to provide a specialized forum for effective and speedy disposal of cases pertaining to environment protection, conservation of forests and for seeking compensation for damages caused to people or property due to violation of environmental laws or conditions specified while granting permissions.
Principal Bench of the NGT has been established in the National Capital - New Delhi, with regional benches in Pune (Western Zone Bench), Bhopal (Central Zone Bench), Chennai (Southern Bench) and Kolkata (Eastern Bench).
Who can become a Member of NGT?
The Chairperson of the NGT is a retired Judge of the Supreme Court; other judicial members are retired judges of High Courts.
Each bench of the NGT will comprise of at least one Judicial Member and one Expert Member. Expert members should have a professional qualification and a minimum of 15 years experience in the field of environment/forest conservation and related subjects.
Powers of NGT:
The NGT has the power to hear all civil cases relating to environmental issues and questions that are linked to the implementation of laws listed in Schedule I of the NGT Act. These include the following:
1.The Water (Prevention and Control of Pollution) Act, 1974,
2.The Water (Prevention and Control of Pollution) Cess Act, 1977,
3.The Forest (Conservation) Act, 1980,
4.The Air (Prevention and Control of Pollution) Act, 1981,
5.The Environment (Protection) Act, 1986,
6.The Public Liability Insurance Act, 1991,
7.The Biological Diversity Act, 2002
The NGT has not been vested with powers to hear any matter relating to the Wildlife (Protection) Act, 1972, the Indian Forest Act, 1927 and various laws enacted by States relating to forests, tree preservation etc.
Review and Appeal:
Under Rule 22 of the NGT Rules, there is a provision for seeking a review of a decision or order of the NGT. If this fails, an NGT order can be challenged before the Supreme Court within 90 days.
Is there a bar on Civil Courts to hear/take up cases under the 7 Specified Laws in Schedule I of the NGT Act?
Yes. With the enactment of the NGT Act, Civil courts cannot hear matters related to environmental issues under the 7 laws which the NGT is empowered to deal with.
Environmental Pollution (Prevention and Control) Authority (EPCA):
EPCA is apex court (Supreme Court) mandated body tasked with taking various measures to tackle air pollution in the National Capital Region.
It was notified in 1998 by Environment Ministry under Environment Protection Act, 1986.
The EPCA also assists the apex court in various environment-related matters in the region.
Graded Response Action Plan (GRAP):
A graded response lays down stratified actions that are required to be taken as and when the concentration of pollutant increase beyond the threshold decided by the Authority.
The plan was prepared by the Supreme Court-mandated Environment Pollution Control Authority (EPCA).
E.g.- Ifthe level of PM 2.5 or PM 10 crosses 100 micrograms per cubic metre (µg/m³) then the environmental authorities shall go for a mechanized sweeping, water-sprinkling, ban on old diesel vehicles etc. to bring the pollutant level back to normal.
Source: moef.gov.in, TH, conservationindia.org
Central Drug Standard Control Organization
---
Why is it in News?
CDSCO has asked the manufacturers to inform the general public about the ill effects of popular antibiotics.
About CDSCO:
The Central Drugs Standard Control Organization (CDSCO) is the Central Drug Authority for discharging functions assigned to the Central Government under the Drugs and Cosmetics Act.
It comes under the Directorate General of Health Services, Ministry of Health & Family Welfare.
It is a national regulating authority of India.
Major Functions of CDSCO:
CDSCO looks into the regulatory control over the import of drugs, approval of new drugs and clinical trials, meetings of Drugs Consultative Committee (DCC) and Drugs Technical Advisory Board (DTAB) etc.
Source: TH, cdsco.gov.in
World Bank
---
Why is it in News?
David Robert Malpass, an American economic analyst and former government official has been appointed as the World Bank President. He was nominated by the President of USA, Donald Trump.
About the World Bank:
The World Bank is an international financial institution that provides loans to countries of the world for capital projects.
It is the outcome of Bretton Woods Conference (1944). Even International Monetary Fund (IMF) is the outcome of Bretton Woods Conference; hence World Bank & IMF are commonly referred to as the 'Bretton Woods Twin'.
As of November 2018, the largest recipients of the World Bank loans were India ($859 million in 2018) and China ($370 million in 2018).
There is a tacit agreement between US & the European countries that President of the World Bank will be an American and the President of IMF will be a European.
Structure of the World Bank:
1. Board of Governors- All the 189 member countries are represented by their Finance Ministers and it meets once in a year. The broad policy decisions of the World Bank are taken by the Board of Governors.
2. Executive Directors- There are 25 Executive Directors, out of which five executive directors are appointed by five largest share holders of the World Bank (US, Japan, China, Germany & UK) and remaining 20 executive directors are elected by other member countries.
It looks into the day to day affairs of the World Bank.
3. President of World Bank- He is selected by the executive directors. He has tenure of 5 years and is responsible for the overall working of World Bank.
What is the Difference between the World Bank Group and the World Bank?
World Bank group consists of the following organizations:
International Bank for Reconstruction and Development (IBRD) - It gives loans to middle income countries and poor countries.
International Development Association (IDA) - It assists the poorest countries of the world.
International Finance Corporation (IFC) - It supports private enterprise in developing countries by giving them loans.
Multilateral Investment Guarantee Agency (MIGA) - It encourages investment in developing countries by assuring them that their investment will not go bad due to political issues or crisis.
International Centre for the Settlement of Investment Disputes (ICSID) - It handles the dispute related to investment in foreign territory.
The IBRD & IDA are collectively called as the World Bank, while all the five organizations are called as the World Bank Group.
Note: India is a member of all the above institutions of the World Bank Group except ICSID.
Why is India not a member of ICSID?
The Indian Government believes that companies/organizations shall exhaust all the options available in the territory of India to deal with the matters of dispute.
Involvement of other organizations will amount to breach of the sovereignty of India.
Source: TH

Forex Swap
---
Why is it in News?
RBI, for the 1st time, has resorted to forex swap mechanism to adjust the liquidity in the market.
What is Foreign Exchange (forex) Swap?
Under this mechanism, RBI will buy $ 5 billion from the banks in lieu of rupees and after 3 years banks will have to again buy that $ 5 billion from the RBI.
Example- Say RBI buys $ 1 billion from Bank X, then after 3 years Bank X will have to buy $ 1 Billion from RBI.
But why does RBI want to pump Liquidity in the System?
Whenever Lok sabha electios are arriving, the demand for money increases which may lead to liquidity crunch in the market.
Various corporates will start paying Advance Tax in this fiscal year which is another factor that will demand liquidity in the economy.
Due to the recent IL&FS crisis, there is negative sentiment in the market; by forex swap, RBI wants to make the money easily available to businessman and corporates.
Once RBI buys the dollar to the tune of $5 billion, it will lead to sudden boost in the forex reserves of RBI which can have positive impact in the exchange market.
In recent times, Indian economy has seen the surge in Foreign Portfolio Investments (FIIs) which has led to appreciation of the currency, so by buying dollars, RBI wants to counter the appreciation of currency.
What happens when Currency Appreciates?
The moment currency appreciates, the exports will become costlier and this will have a direct impact on our Current Account Deficit & Forex reserves.
Thumb Rule- Depreciated currency favours Exporters and Appreciated currency deters exporters.
Why did RBI not resort to tools like Open Market Operations & Repo Rate Reduction to adjust the Liquidity?
RBI has already used the tool of Repo Rate Reduction but it has not led to significant monetary transmissions.
So far as Open Market Operations (OMO) is concerned, RBI has pumped Rs. 2.8 lakh crore through OMO. Therefore, RBI has already exhausted its tools available in the kitty and has now resorted to Forex swap.
Will this move have any Negative Impact on the Economy?
Yes. Once the Government pumps liquidity in the system, it means money is easily available to the people i.e. the demand for the items will increase, leading to inflation.
Some related Terminology:
Open Market Operation (OMO)
It is a tool of RBI, by which it adjusts the liquidity in the system through the purchase & sale of government securities.
Repo Rate
It is also called as the 'Policy Rate', which is the rate levied upon the commercial banks when they take money from RBI for a short duration of time. If RBI takes the loans from the banks the rate at which it gets is called as the 'Reverse Repo Rate'. Usually Reverse Repo is at 1% lower than the Repo Rate.
Source: TH, Financial Express
Small Farmer's Agribusiness Consortium (SFAC)
---
Why is it in News?
The Government has stated that the SFAC has a predominant role to play in achieving the target of doubling of farmers' income by 2022.
About SFAC:
SFAC was established as an autonomous society by the Government of India (Ministry of Agriculture & Farmers' Welfare) in 1994. It is also registered as a Non Banking Financial Company (NBFC) which is regulated by the RBI.
SFAC is an exclusive society focused on increasing incomes of small and marginal farmers through aggregation and development of agribusiness.
How does SFAC help the Farmers in Increasing their Income?
It helps the farmers' by linking them to the global and domestic value chains. It also provides training, credit, technology to the farmers and promotes investment.
SFAC also offers schemes like the Equity Grant and Credit Guarantee Fund Scheme to Farmer Producer Organization (FPO) to improve availability of working capital and development of business activities.
Point to Remember for Prelims:
e-NAM is a platform that provides for a single unified market for agricultural products with much higher price discovery for farmers. It is SFAC that is entrusted upon to implement this e-NAM facility.
Source:
TH, PIB
Lokpal & Lokayuktas
---
Why is it in News?
P. C. Ghose was recently chosen as the 1st Lokpal of India.
About Lokpal:
The term 'Lokpal' was first coined by Laxmi Mall Singhvi in 1968.
A Lokpal is a statutory body and an anti-corruption authority or ombudsman who represents public interest. The idea of an ombudsman is borrowed from Sweden.
Lokpal & Lokayukta Act 2013 lays the guidelines about the Jurisdiction of Lokpal in India.
Why was Lokpal the need of Hour in India?
On Corruption Perception Index, India was ranked at 78 among 180 countries in 2018. Thus it is quite evident that corruption has become endemic to India and an independent agency was needed to weed out that malaise.
Appointment of Lokpal:
Lokpal is appointed by the President on the recommendation of a committee headed by Prime Minister which includes the Chief Justice of India, Speaker, Lok Sabha and Leader of Opposition, Lok Sabha and an eminent Jurist as its member.
At present Mukul Rohatgi is occupying the place of the eminent Jurist in the committee.
Lokpal at the centre will consist of a Chairperson along with 8 other members. Out of 9 members, 50% have to be judicial members and 50% of the members shall be from SC, ST, women, OBC, minorities.
Salaries & Allowances of Lokpal:
Salaries, allowances and service conditions of the Lokpal chairperson will be the same as that for the Chief Justice of India.
For other members, these will be the same as that for a Judge of the Supreme Court.
All expenses of Lokpal will be charged on the Consolidated Fund of India.
Tenure:
Tenure of Lokpal and its member is 5 years or 70 years of age, whichever is earlier.
Who all does the Act cover?
Lokpal will have Jurisdiction from the Prime Minister, ministers and MPs, to group A, B, C and D employees of the central government.
Also covered are chairpersons, members, officers and directors of any board, corporation, society, trust or autonomous body either established by an Act of Parliament or wholly or partly funded by the Centre.
It also covers any society or trust or body that receives foreign contribution above Rs. 10 lakh.
What happens when a Charge is made against the Prime Minister?
The Act does not allow a Lokpal inquiry if the allegation against the Prime Minister relates to international relations, external and internal security, public order, atomic energy and space.
Complaints against the Prime Minister are not to be probed unless the full Lokpal bench considers the initiation of an inquiry and at least two-thirds of the members approve it.
Such an inquiry against the Prime Minister (if conducted) is to be held in camera and if the Lokpal comes to the conclusion that the complaint deserves to be dismissed, the records of the inquiry are not to be published or made available to anyone.
How is the Inquiry done by Lokpal?
The Lokpal may, after receiving a complaint against any public servant, order a preliminary inquiry (to be completed within 90 days) or investigation by any agency.
After receiving the report of the preliminary inquiry, the Lokpal may order an investigation by any agency or departmental proceedings or any other appropriate action against the concerned public servants by the competent authority, or it can order closure of the proceedings.
Removal of Lokpal:
For the removal of Lokpal, a petition signed by 100 MPs shall be moved to the President and if after the enquiry of Supreme Court, Lokpal is found guilty, he can then be removed by the President on the grounds of misbehaviour.
Reappointment:
Lokpal is not eligible for reappointment, but Lokpal members can become the Chairperson if the tenure is left (If they have age less than 70 years).
Critical Analysis:
Lokpal & Lokayukta Act states that states shall have Lokayuktas within 1 year; this dictate itself is an encroachment in the legislative domain of states.
Under the ambit of Lokpal, there is a narrow niche of officers who will come under its domain, maximum officers will be under the ambit of Lokayuktas and most of the states have no lokayuktas. Hence, the only way out is to take States on board and then only it can be effectively implemented.
Source:
TH, IE
Insurance Regulatory And Development Authority (IRDA) Of India
---
Why is it in News?
IRDAI and National Health Agency has joined hands for the Ayushman Bharat Scheme.
About IRDAI:
The Insurance Regulatory and Development Authority of India (IRDAI) is an autonomous, statutory body tasked with regulating and promoting the insurance and re-insurance industries in India.
It was created on the recommendations of the Malhotra Committee and is headquartered at Hyderabad.
IRDAI was constituted by an Act of Parliament i.e. The Insurance Regulatory and Development Authority Act, 1999
Insurance is listed in Union List in the 7th schedule of the Indian Constitution.
Source: TH
Island Development Agency (IDA)
---
Why is it in News?
Recently, four islands in Andaman and three islands in Lakshadweep have been identified for seaplane operations. Also, private sector participation has been invited for tourism-based projects.
The Island Development Agency (IDA):
The IDA was constituted in 2017 under the aegis of Ministry of Home Affairs to look into the holistic development of islands.
Home Minister of India is its chairman and CEO of NITI Aayog (Amitabh Kant at present) acts as its convener.
Other members of IDA include Secretary- Tourism, Tribal affairs, Home secretary, Secretary Ministry of Environment and Cabinet secretary.
NITI Aayog has been mandated with the task to steer the holistic development of the islands in sustainable manner.
Which of the Islands have been selected for Seaplane operations?
Islands of Andaman: Swaraj dweep, Shaheed Dweep, Hutbay and Long Island
Islands of Lakshdweep: Kavaratti, Agatti and Minicoy
Some Renamed Islands of Andaman:
As a tribute to Subhash Chandra Bose, the government had renamed three islands of A&N in December 2018- Ross Island was renamed as 'Netaji Subhash Chandra Bose Dweep'. The Neil Island was renamed as Shaheed Dweep and the Havelock Island as Swaraj Dweep.
Source: TH
---