Ambedkar Social Innovation And Incubation Mission
---
On 30th September, 2020, Ministry of Social Justice and Empowerment launched the Ambedkar Social Innovation and Incubation Mission (ASIIM) in order to promote innovation and enterprise in Schedule Caste (SC) students studying in higher educational institutions.
Objectives
To promote entrepreneurship among the SC Youth with special preference to Divyangs.
To support innovative ideas till 2024 through a synergetic work with the Technology Business Incubators (TBIs).
To support and promote the start-up ideas till they reach commercial stage by providing liberal equity support.
Need
There is a need to identify innovative ideas and provide focussed support to young entrepreneurs who are engaged in working on innovative and technology-oriented business ideas.
Key Points
Implementation
The ASIIM initiative will be implemented by the Venture Capital Fund for SCs (VCF-SCs).
Eligibility
Youth who have been identified by the TBIs.
Students who have been awarded under the Smart India Hackathon or Smart India Hardware Hackathon being conducted by Ministry of Education.
Innovative ideas focusing on the socio-economic development of the society identified in the TBIs.
Start-ups nominated and supported by corporates through Corporate Social Responsibility (CSR) funds.
Benefits
1,000 SC youth would be identified in the next 4 years with start-up ideas through the TBIs in various higher educational institutions.
Successful ventures would further qualify for venture capital funding of up to Rs. 5 Crore from the VCF-SCs.
This initiative will help promote innovation in the SC youth and would help them to become job-givers from job-seekers.
The mission would further give fillip to the 'Stand Up India' initiative of the government.
Venture Capital Fund For Scheduled Castes
It was launched in 2015 with an initial capital of Rs. 200 crore to encourage budding and existing entrepreneurs from Scheduled Castes (SCs).
Objectives
To promote entrepreneurship amongst the SCs
To provide concessional finance to the SC entrepreneurs
To increase financial inclusion for SC entrepreneurs and to motivate them for further growth of SC communities.
Garib Kalyan Rojgar Abhiyaan
---
On 20th June, 2020, the government launched a massive employment -cum- rural public works Campaign named Garib Kalyan Rojgar Abhiyaan in order to boost employment and livelihood opportunities for migrant workers returning to villages, in the wake of COVID-19 outbreak.
The Abhiyaan was flagged off from village Telihar, Block Beldaur, district Khagaria, Bihar through Video-Conference.
Need
Due to the coronavirus outbreak, businesses across sectors were affected which led to the temporary shutdown of the industries, leaving migrants with no jobs.
As lakhs of migrants returned back, the government is obliged to provide employment to them closer to home.
Salient Features
Coverage
A total of 116 districts across six states, namely Bihar, Uttar Pradesh, Madhya Pradesh, Rajasthan, Jharkhand and Odisha have been chosen for the campaign.
These districts are estimated to cover about 2/3 of such migrant work
The chosen districts include 27 Aspirational Districts under Aspirational Districts Programme.
Duration and Outlay
This campaign will work in mission mode for 125 days with an outlay of Rs. 50,000 crore.
Ministries Involved
The Ministry of Rural Development is the nodal Ministry for this campaign and the campaign will be implemented in close coordination with the State Governments.
Twelve different ministries or departments—rural development, panchayati raj, transport, mines, drinking water, environment, railways, petroleum, new and renewable energy, border roads, telecom and agriculture—will participate in the programme.
Implementation Strategy
A total 25 work areas have been identified for employment in villages, for development of various works.
These 25 works or projects are related to meet the needs of the villages like rural housing for the poor, Plantations, provision of drinking water through Jal Jeevan mission, Panchayat Bhavans, community toilets, rural mandis, rural roads, other infrastructure like Cattle Sheds, Anganwadi Bhavans etc.
The Krishi Vigyan Kendras in villages will also help in imparting skills to the workers.
The workers will be paid according to the stipulated minimum wage in the respective schemes of the government.
Special Focus
Abhiyaan focuses on durable rural infrastructure and providing modern facilities like internet in the villages.
Saturate villages with public infrastructure and create livelihood opportunities viz. Roads, Housing, Anganwadis, Panchayat Bhavans, various livelihood assets and Community Complexes among others
Significance
The Abhiyaan will prepare for expansion and development of livelihoods over a longer-term.
With ith the release of money to villages such as allocation to rural local bodies as recommended by the 15th finance commission, It will provide work and enable asset creation in rural areas, powering rural development.
The basket of a wide variety of works will ensure that each migrant worker is able to get an opportunity of employment according to his skill, in the coming 125 days.
Aspirational Districts Programme
Launched in January, 2018, the 'Transformation of Aspirational Districts' programme aims to quickly and effectively transform the selected districts.
NITI Aayog in partnership with the Government of Andhra Pradesh has created a dashboard for monitoring the real-time progress of the districts.
Core Principles
The three core principles of the programme are - Convergence (of Central & State Schemes), Collaboration (among citizens and functionaries of Central & State Governments including district teams), and Competition among districts.
Driven primarily by the States, this initiative focuses on the strengths of each district, and prioritizes the attainable outcomes for immediate improvement.
Themes
The programme focusses on 5 main themes - Health & Nutrition, Education, Agriculture & Water Resources, Financial Inclusion & Skill Development, and Basic Infrastructure, which have direct bearing on the quality of life and economic productivity of citizens.
Pradhan Mantri Garib Kalyan Yojana
---
On 26th March, 2020, the government announced Rs 1.70 Lakh Crore relief package under Pradhan Mantri Garib Kalyan Yojana (PMGKY) for the poor to help them fight the battle against Coronavirus.
The relief measures are intended at reaching out to the poorest of the poor, with food and money in hands, so that they do not face difficulties in buying essential supplies and meeting essential needs.
Key Components of PMGKY
Health Related Interventions
Insurance scheme for health workers fighting COVID-19 in Government Hospitals and Health Care Centres
Safai karamcharis, ward-boys, nurses, ASHA workers, paramedics, technicians, doctors and specialists and other health workers would be covered by a Special insurance Scheme.
Any health professional, who while treating Covid-19 patients, meet with some accident, then he/she would be compensated with an amount of Rs. 50 lakh under the scheme.
All government health centres, wellness centres and hospitals of Centre as well as States would be covered under this scheme approximately 22 lakh health workers would be provided insurance cover to fight this pandemic.
Food Related Relief Measures
PM Garib Kalyan Ann (अन्न) Yojana
800 million poor people in the country to get 5 kg of rice/wheat per month free of cost, in addition to the 5 kg they already get.
Additionally, each household to get 1 kg of preferred dal for free for the next three months These pulses would be provided free of cost by the Government of India.
Direct Benefit Transfer
Farmers: To provide a benefit to 8.69 crore farmers, Rs 2,000 (on top of Rs 6,000) will be given as a front-load under the Kisan Samman Nidhi programme. The amount will be credited to the farmer's bank account by the 1st week of April, 2020.
Women with Jan Dhan Yojana Accounts: A total of 20.40 crores PMJDY women account-holders would be given an ex-gratia of Rs. 500 per month for next three months.
Beneficiaries of Ujjwala Scheme: 80 million households benefitted from the gas cylinders provided under the scheme. These beneficiaries will get free cylinders for three months in view of the disruption the coronavirus lockdown will cause.
Organised Sector Workers: Under PMGKY, the Government will pay the EPF contribution for both employer and employee (12% each totalling to 24%) for the next three months. Around 80 lakh employees and 4 lakh establishments will benefit from this move. This benefit is available for all those establishments with up to 100 employees and where 90% of those employees draw a salary of less than Rs 15,000 per month.
The EPFO scheme regulations will also be amended to allow the non-refundable advance of 75% of the fund or three months' salary, whichever is lower. Around 4.8 crores registered EPFO workers will benefit from this amendment.
Support for Senior Citizens , Widows and Divyang: Ex-gratia of Rs 1,000 for the next three months, in two instalments. 30 million people to benefit. transfers to be done through direct benefits transfer (DBT)
MNREGA Workers: MNREGA wages would be increased by Rs 20 with effect from 1 April, 2020. Wage increase under MNREGA will provide an additional Rs 2,000 benefit annually to a worker. This will benefit approximately 13.62 crore families.
Self-Help Groups:3 million SHGs get up to Rs 10 lakh collateral-free loans under the Deen Dayal Upadhyaya National Rural Mission scheme. The cap has been doubled to Rs 20 lakh. The move will benefit 70 million households
Construction Workers Welfare Fund: Welfare Fund for Building and Other Constructions Workers has been created under a Central Government Act. State Governments will be given directions to utilise this fund to provide assistance and support to these workers to protect them against economic disruptions.
District Mineral Fund: The State Government will be asked to utilise the funds available under District Mineral Fund (DMF) for supplementing and augmenting facilities of medical testing, screening and other requirements in connection with preventing the spread of CVID-19 pandemic as well as treating the patients affected with this pandemic.

Source: Times of India
Impact
Financial package will go long way in ensuring food, livelihood security of poor and vulnerable sections of the society.
Further, it will address the concerns of the poor and all those medical and paramedical staff who are in the frontline of the coronavirus crisis tackling the pandemic.
Concerns and Challenges
The main problem for poor and vulnerable households today is liquidity stress. Every day's loss of work for them means cutting down even basic consumption and going deeper into debt. Free grain can help, but does not address the real crisis, which is of liquidity. They need cash to buy essential things other than just food — and most of them had it till the other day.
The effectiveness of the relief measures will be more in states with well-functioning PDS. That is, Kerala, Tamil Nadu, Chhattisgarh and Odisha — but not Uttar Pradesh or Bihar, dealing with issues like corruptions and wide prevalence of pilferage/ leakage of rations into the open market.
As for MNREGA workers, the onus for paying that under the Act is, however, on the state governments. It is unlikely they would make the necessary budgetary provision.
A crucial element missing in the package is support for any immediate and urgent provision to provide cooked food in a manner that maintains the objective of physical distancing while at the same time reaching food to the most needy.
The government's announcement also lacked details on how the programmes would be implemented given the lockdown and need for social distancing.
Pradhan Mantri Matru Vandana Yojana
---
Recently, concerns have been raised over the Pradhan Mantri Matru Vandana Yojana (PMMVY) for its exclusionary nature. The scheme suffers from critical drawbacks in both design and implementation.
Underlying Issues with PMMVY
Lengthy Documentation
The lengthy documentation work includes filling up six documents totaling 32 pages - an application form to be filled for each of the three installments, an application for linking the Aadhaar card with bank account, another one for linking the Aadhaar card with post office account and a feedback form.
This tedious process led to exclusion of single women and young brides out of its purview.
Further, the documentation work is likely to result in many women living on the margins, such as sex workers, women in custody, migrant and those living in post-conflict situations unable to claim benefits even though they are most in need of monetary compensation.
First Child Criteria
The gaping loophole in the eligibility criteria is that benefits are only provided for the birth of the first child.
In a country with a Total Fertility Rate (TFR) of 2.33, the policy of restricting the scheme to just the first child is impractical to say the least and exclusionary when seen in totality.
Moreover, it makes no attempt to accommodate miscarriage or infant mortality. If an eight-month pregnant woman, who has already accessed the scheme, loses her child, she is not eligible for the second or third instalment for her next pregnancy.
Issues with Single Women
Registration for the scheme requires the beneficiary to provide her husband's Aadhaar details along with her own, affecting single women which include unwed mothers, deserted wives and widows.
Newly Wed Women
A newly wed woman expecting a child generally resides in her maternal home but to avail the benefits of PMMVY, she needs to provide proof of address of her marital home, whichagain proves a major challenge for her.
Younger Brides
The scheme require that the applicant has to be at least 19 years old also leaves out younger brides, who hesitate in getting their marriages registered as the legal age of marriage is 18 years.
30-35% first-time mothers are under the age of 18 years.
Corruption Issues
The scheme is infested with corruption issues, limiting its scope of proper implementation. The applicant women have to pay a hefty bribe during the application process at every level, which goes up to Rs. 500, with each of the three forms.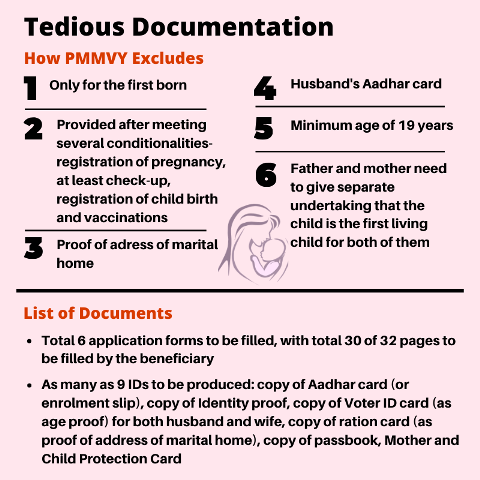 Pradhan Mantri Matru Vandana Yojana (PMMVY)
Launched in 2016, PMMVY is a maternity benefit program, which replaced the Indira Gandhi Matritva Sahyog Yojana (IGMSY).
It is a direct benefit transfer (DBT) scheme under which a cash incentive of Rs. 5000 would be provided directly in the account of Pregnant Women Lactating Mothers (PW&LM) for firstliving child of the family subject to their fulfilling specific conditions.
The eligible beneficiaries also receive cash incentive under Janani Suraksha Yojana (JSY). Thus, on an average, a woman gets Rs. 6,000.
Objective
Promoting appropriate practice, care and institutional service utilization during pregnancy, delivery and lactation.
Encouraging the women to follow (optimal) nutrition and feeding practices, including early and Exclusive breastfeeding for the first six months.
Providing cash incentives for improved health and nutrition to pregnant and lactating mother.
Target Beneficiaries
All Pregnant Women and Lactating Mothers, excluding PW&LM who are in regular employment with the Central Government or the State Governments or PSUs or those who are in receipt of similar benefits under any law for the time being in force.
All eligible Pregnant Women and Lactating Mothers who have their pregnancy on or after 01.01.2017 for first child in family.
The date and stage of pregnancy for a beneficiary would be counted with respect to her LMP date as mentioned in the MCP card.
Implementation
PMMVY is implemented using the platform of Anganwadi Services scheme of Umbrella Integrated Child Development Services (ICDS) under Ministry of Women and Child Development.
It is closely monitored by the central and state governments through PMMVY-CAS, a web based software application.
Inclusive Measures
Firstly, activists and grassroot workers involved must make a formal representation to the government, highlighting their concerns in order to make the scheme both inclusive and supportive.
Secondly, the government needs to review the scheme in order to make it universal by removing restrictions on the number of children as well as including all women, whether they are in the formal or informal sector, engaged in paid or unpaid wor
Thirdly, the sum promised should also be at least on par with minimum wages for women in self-employment, unpaid work, or working for less than minimum wages.
States Maternity Scheme
Two states- Tamil Nadu and Odisha, have not implemented the centrally sponsored scheme and has launched their own maternity schemes.
Dr. Muthulakshmi Reddy Maternity Benefit Scheme- Tamil Nadu
The scheme was launched in 1987, which aims to provide optimal nutrition for pregnant and lactating women and compensates the wage loss during pregnancy.
The first-of-its-kind scheme in the country initially provided an amount of Rs 300 to every woman below the poverty line to help cover the expenses incurred during childbirth.
As of now, the government has enhanced the financial support, providing a sum of Rs.14,000 in cash and a nutritional kit worth Rs 4,000 for the first two pregnancies.
Mamta Scheme- Odisha
It was launched by the state government in September, 2011 with an aim to reduce maternal and infant mortality by improving the health and nutrition of pregnant and lactating women.
Under this, a sum of Rs. 5,000 is being provided for the first two pregnancies of all women.
For vulnerable groups, like tribals, the money is given for even the third birth.
Transgender Persons (Protection Of Rights) Bill, 2019
---
On 26th November, 2019, the Rajya Sabha passed the Transgender Persons (Protection of Rights) Bill. The bill was passed by Lok Sabha on 5th August, 2019, following which it was moved for consideration in Rajya Sabha.
Aim
It seeks to provide a mechanism for social, economic and educational empowerment of transgender.
It aims at empowering the community by defining and protecting their rights, which is one of the priorities of the Social Justice and Empowerment Ministry in the first 100 days agenda of the second term of the current government.
Salient Features of the Bill
Defining the Term Transgender: A transgender is a person whose gender does not match with the gender assigned to that person at birth and includes trans-man or trans-woman (whether or not such person has undergone sex reassignment surgery or hormone therapy or laser therapy or such other therapy), person with inter-sex variations, gender-queer and person having such socio-cultural identities as 'kinner', 'hijra', 'aravani' and 'jogta'.
Right to Choose Identity: A person would have the right to choose to be identified as a man, woman or transgender, irrespective of sex reassignment surgery and hormonal therapy. It requires transgender persons to go through a district magistrate and district screening committee to get certified as a trans person and a revised certificate may be obtained only if the individual undergoes surgery to change their gender either as a male or a female.
Prohibition against Discrimination:The bill prohibits discrimination against a transgender person in areas such as education, employment, and healthcare. It directs the central and state governments to provide welfare schemes in these areas.
National Council for Transgender persons (NCT): It provides for the establishment of NCT with Union Minister for Social Justice as its Chairperson. The Council will advise the central government as well as monitor the impact of policies, legislation and projects with respect to transgender persons. It will also redress the grievances of transgender persons.
Key Changes Made
The 2018 Bill was resisted for outlawing begging, which made the trans community particularly vulnerable; this is because most of the trans population in India are compelled to take up begging owing to the lack of employment opportunities available to them.
This provision has been removed from the Bill, which now specifies the following offences:

compelling transgender persons to do forced or bonded labour (excluding compulsory government service for public purposes)
denial of use of a public place
removal from household, village or other place of residence
physical, sexual, verbal, emotional or economic abuse.
Impact of the Bill
Will Promote Inclusiveness: The Bill will benefit a large number of transgender persons, mitigate the stigma, discrimination and abuse against this marginalized section and bring them into the mainstream of society. This will lead to inclusiveness and will make the transgender persons productive members of the society.
Will Make Government Accountable: It will bring greater accountability on the part of the Central Government and State Governments/Union Territory Administrations for issues concerning Transgender persons. Also, it will make all the stakeholders also responsive and accountable for upholding the principles underlying the bill.
Challenges faced by Transgender
Social Exclusion and Discrimination:
Transgenders are often ousted by their own biological family or run away at an early age due to harassment. They are looked down by the society as a social misfitwith serious problems. Community humiliates the family for having a transgender child thereby preventing the social contact of the families with the community.
Gender identity often makes transgender a victim of stigmatization and exclusion by the society.
Illiteracy:
These are unable to access equal educational opportunities because of harassment, discrimination and even violence. They are forced to drop out of schools as Indian schools remain unequipped to handle children with alternative sexual identities
Poverty and Unemployment:
They end up begging on roads as they lack educational qualificationsand are unable to get jobs most often. Even if they are qualified, the job market is not ready to employ them due to the stigma attached with them.
The community is also forced into sex work. The one reason for being forced into sex work is because unavailability of livelihood resources. As a result of this they are pushed to lead their life in poverty or end up taking refuge in beggary and sex work.
Prone to Violence:
They are subjected to violence and mistreatment. These people, particularly transgender women face staggering levels of violence, high rates of murder and incarceration.
Health Issues:
Discrimination in India's healthcare system against transgender people remains widespread even though the new laws introduced earlier this year directed at providing them equal treatment. Anxiety due to the fear of being treated unfairly, worries about abuse and administrative hurdles are hindering many of the country's millions transgender people from seeking medical care.
Medical professionals themselves are responsible for causing "transphobia" to many; they remain largely unaware about gender identity issues.
According to India's National Aids Control Organisation (NACO), sex work makes this community a high-risk group for HIV.
Way Forward
Central as well as state governments both have adopted various measures from time to time which have helped to bring them on an equal footing with others. However, the need is to reorient the outlook of the society; no laws or measures adopted by the government can be effectively implemented until and unless the mindset is not changed and people are not willing to accept them as a part of the society.
The government should take steps for better education and employment of transgender which is important to ensure social justice to the community because every individual in this country has equal rights and privileges guaranteed by the constitution of India.
PM Kisan Maan Dhan Yojana Opens For Registration
---
On 8th August, 2019, the government opened registration for the PM Kisan Maan Dhan Yojana (PM-KMY) scheme.
The Life Insurance Corporation of India (LIC) shall be the Pension Fund Manager and responsible for Pension pay out.
PM Kisan Maan Dhan Yojana
This scheme which was announced in the Union Budget 2019-20 comprises of provision of a monthly pension of Rs. 3,000 to eligible farmers on attaining the age of 60.
The farmers are supposed to contribute Rs.55 to Rs.200 on a monthly basis, basis their age of entry in the Pension Fund till up to the age of 60 years.
The Scheme is effective from the 9th August, 2019.
The scheme is planned to be implemented across the nation and will also include Jammu and Kashmir and Ladakh.
It aims to help farmers live a healthy and happy life after they reach their old age.
Eligibility:
Farmers who hold up to 2 hectare farm land are eligible for the scheme. This pension scheme is on voluntary and contribution-based for farmers in the age group of 18 to 40 years.
Key Features:
Farmers, who have attained 18 years, will have to contribute Rs. 55 per month while the Centre will also contribute a similar amount. Farmers aged 29 years will have to contribute Rs. 100 per month farmers aged 40 will have to contribute Rs. 200 per month.
30 has to be paid by farmers to common service centre for enrolment in the scheme.

Special Provisions for Spouse:

A separate pension of Rs 3,000 upon making separate contribution to the fund is also made available to the spouse of the farmer enrolled.
The spouse may continue with the scheme, in case of death of the enrolled farmer before the retirement date.
If the spouse does not wish to contribute, the total contribution made by the farmer along with interest will be paid to the spouse.
The total contribution along with interest will be paid to the nominee, in case of absence of any spouse.
The spouse will is eligible to receive 50 per cent of the pension as family pension, in case the farmer dies after the retirement date.
In case of death of both the farmer and spouse, the accumulated corpus will be credited back to the pension fund.

Voluntary Exit Option:

The beneficiaries may opt to exit the scheme after a minimum period of five years of regular contributions.
The entire contribution will be returned by pension fund manager LIC with an interest equivalent to prevailing saving bank rates on exit.

The farmers, who are also beneficiaries of Pradhan Mantri Kisan Samman Nidhi (PM-Kisan) scheme, will have the option to allow their contribution debited from the benefit of that Scheme directly.
Significance of the Scheme:
Ensuring Social Security:Farming requires hard work in fields which becomes difficult at an advanced age. Despite working hard, the farmer does not earn enough.Pm-KMY will help to ensure better income, providing social security to farmer's familyacross the country.
Doubling Farmer's Income: It is one of the several schemes introduced by the government which aims to the double the income of the farmers by 2022.
Challenges Faced by Small farmers
Small Land Holdings:
Nearly 80% of the farming families hold less than 2 acres of land. As land holdings are small, more people invariably work on the farms in the rural areas and coupled with the obsolete technology, farm incomes come down.
In addition, many land owners do not disclose their land record due to fear of losing it. It results in underutilization of land and loss of agricultural output.
Lack of Education:
Illiteracy, lack of awareness about recent developments in the field of agriculturaland poor socio-economic background of the farmers is some of the fundamental reasons for continuously decreasing agricultural productivity.
The NSS farmers' Survey clearly shows that awareness about biofertilizers, minimum support prices and WTO is associated with education levels which are lower for marginal and small farmers.
Finance and Indebtedness:
Agriculture like all other industries requires capital too. As the farmers don't get access to institutional credit, they move towards informal moneylenders who demand exorbitant interest rate and farmers gets trapped in huge debt, ultimately forcing him to end his life. This is also one of the main reasons behind farmer's suicide in India.
Lack of Modernised Infrastructure:
India lacks modernized infrastructure for promoting the agriculture sector. Rudimentary policies and old fashioned equipment's and practices used by farmers in India are not sustainable, resulting in low yield for many agricultural commodities.
Low level investment coupled with the use of obsolete technologies results in declined production, inefficiency and higher costs that in turn becomes one of the causes for food inflation.
Monsoon Dependency and Inadequate Irrigational Facilities:
A major portion of the country's farmers are completely dependent on Monsoon rains as they're not equipped with modern irrigation facilities.
Weak or failure of monsoon result in crop giving rise to various rural distress such as low productivity, low market price, farmer's suicide, etc.
Impact of Climate Change:
Climate change is a major challenge for agriculture, food security and rural livelihoods for millions of people with more adverse impact on small holding farmers.
It is expected to have adverse impact on the living conditions of farmers, who are already vulnerable and food insecure.
Way Forward:
Agriculture sector is considered the back bone of the Indian economic system. Besides providing employment opportunities to millions of Indians, it delivers necessary inputs for high industrial growth.
Therefore, much attention is required in the form of realistic policy measures such as timely availability of formal credit and other inputs to the farmers, creating the awareness about policies and programs of the government meant for educating the farmers through different media platforms is the need of hour in order to improve the socio economic conditions of farmers across the country.
Houses Sanctioned Under Pradhan Mantri Awas Yojana(Urban)
---
On 25th July, 2019, the Ministry of Housing & Urban Affairs approved the construction of around 1, 40,134 more affordable houses for the benefit of urban poor under Pradhan Mantri Awas Yojana (PMAY-Urban).
The approval was given in the 45th meeting of the Central Sanctioning and Monitoring Committee(CSMC). The cumulative number of houses sanctioned under PMAY(U) now is 85,11,574.
States Sanctioned under PMAY-URABN
CSMC considered proposals from 8 States-
Uttar Pradesh (54,277)
West Bengal (26,585)
Gujarat (26,183)
Maharashtra (8,499)
Assam (9,328)
Chhattisgarh (6,507)
Rajasthan (4,947)
Haryana (3,808)
PradhanMantriAwasYojana(PMAY)
It was launched in June 2015 with an objective to provide affordable housing to urban and rural poor.
Aim:
It aims to achieve its objective of "Housing for All" by 31 March 2022",by constructing 20 million houses across the nation, when the nation completes 75 years of its Independence
This Yojana has two parts –
PradhanMantriAwasYojana Urban (PMAY-U)
PradhanMantriAwasYojanaGramin (PMAY-G)
Components of PMAY-
There are four primary components of this scheme:
Credit Linked Subsidy Scheme (CLSS): It provides subsidies on home loan interest rates to those eligible for this scheme.Home loans under the CLSS have a maximum tenor of 20 years.
In-situ Slum Redevelopment using the Land as a Resource: It aims to rehabilitate slums with the land as a resource, with association with private organisations to provide houses to families living in such areas.
Affordable Housing in Partnership (AHP):It provides financial assistance to the tune of Rs. 1.5 Lakh on behalf of the Central Government to EWS families for the purchase of houses. State and UTs can partner with their agencies or private sector to develop such housing projects.
Individual House Construction or Enhancement led by beneficiaries:It targets economically weaker sections(EWS) families who cannot avail the benefits of the previous three components. Such beneficiaries will avail financial assistance from the Central Government of up to Rs. 1.5 Lakh that can be used to fund the construction of a house or enhancing an existing one.
Groups Eligible for PMAY
The following individuals and families are eligible for this scheme:
Economically Weaker Section (EWS):Families with an annual income up to Rs. 3 Lakh.
Low Income Group (LIG):Families with an annual income between Rs. 3 Lakh and Rs. 6 Lakh.
Middle Income Group I (MIG I): Families within an annual income between Rs. 6 Lakh and Rs. 12 Lakh.
Middle Income Group II (MIG II): Families with an annual income between Rs. 6 Lakh and Rs. 12 Lakh.
Women belonging to EWS and LIG categories.
Scheduled Caste (SC), Scheduled Tribe (ST), and Other Backward Class (OBC)
Challenges in PMAY Implementation
Scarcity of Land

Urban land mass is under severe constraint to meet the housing necessity of the country's population which is expanding rapidly. This is amongst the foremost reasons for slow progress of this initiative. In addition, a large portion of the city land is locked under slums and other congested areas.

Unmaintained Property Records

Land and property records are currently not digitized and remain in poor condition. This continues to be a major hindrance in the execution of the scheme laid out by PMAY. With most of the people dwelling in ancestral homes and the ownership in the name of their deceased parents or the slum dwellers with no property rights, such subsidies could not be availed.

To complicate things further, land records are governed by the State's revenue department. Citizensare unable to obtain their property documents easily, ending up being deprived of the scheme's benefits.

Delayed Project Approvals

Lengthy and cloudy approval process has often been cited as a major barrier towards curbing the cost of realty projects. In exorbitant cities like Mumbai and Delhi, the unnecessary delay is known to escalate the project cost by almost 30 percent.

Lack of Clear Communication & Co-ordination

In a project of this magnitude it is important for all the parties concerned to communicate effectively so that there is no confusion. This is a major issue in implementation because times experts from various fields do not interact with each other. For instance, it is not possible to conceive a project or plan transportation without understanding the commute patterns in a city. So, co-ordination amongst the implementing agencies will be extremely important for a project of this magnitude.

Lack of Infrastructure

City fringes lack infrastructure, modes of transport and even employment opportunities. In the absence of work and means to commute, the purpose of developing low-cost homes is defeated as homebuyers, who are mostly dependent on public infrastructure.
Suggestions to Overcome Challenges
Ease of Land Availability: The government needs to regularly release land parcels for affordable housing projects, identified within municipal limits and bring more peripheral lands into developable limits of the city authorities.
Updating Property Records: States need to simplify the process of updating property records. This will allow all citizens to obtain legal documents to their land and property in order to fully embrace the subsidy features of PMAY and access credit, which will enable them to upgrade their housing.
Investing in Infrastructure: Focus also needs to be on providing the necessary connectivity and social infrastructure, to allow these projects to develop as habitable and vibrant communities.
Dedicated Approval Window for Affordable Housing: Building approval process needs to be streamlined; a separate fast-track process needs to be put in place for affordable housing projects. For affordable housing to work, accelerating the building approval processes is critical, in order to limit the gestation period and the associated costs.
Synchronizing Central and State Policies: There is an urgent need for alignment of state level affordable housing policies with the central government policies to remove ambiguities around availing central incentives, while ensuring compliance with the state policies.
Strengthening Micro-Finances: The government needs to improve the institutional environment for the lower income categories to access housing microfinance and other financial tools.
Use of Advanced Technologies: There is a need for developers to invest in innovative construction technologies to promote mass housing developments at subsidized construction costs. Portable modular housing units and prefabricated construction technology are some techniques that could be looked at to address affordable housing needs.
Global Housing Technology Challenge-India(GTHC-India)
To make constructing affordable houses in India cost-effective, speedier and of high quality, the Ministry of Housing and Urban Affairs launched the GHTC-India in January, 2019, in New Delhi.
The aim of the initiative is to fast-track the construction of affordable housing and meets the target of constructing 10 million urban homes by 2022.
It has three components:
Conduct of Grand Expo-cum-Conference
Identifying Proven Demonstrable Technologies from across the world
Promoting Potential Technologies through setting up incubation centers at selected IITs and organizing accelerator workshops under the Affordable Sustainable Housing Accelerators- India (ASHA-India) Program.
Way Forward
There is no doubt that the Government has taken strides in the right direction to make housing for all a reality. However, the scale of the problem requires more radical thinking on the part of the government in its bid to include the private sector and provide an enabling ecosystem to give the much needed impetus to affordable housing development in the country.
Although affordable housing for all in India still has a great distance to cover; an integrated and holistic approach from the concerned stakeholders would help the country in realising the daunting challenges and fulfilling the government's aim of Housing for All by 202
Forest Right Act (FRA), 2006
---
Why is it in News?
SC has ordered the eviction of nearly 10 lakh forest dwellers whose claims as forest dwellers have been rejected under the Forest Rights Act of 2006.
The Need of Forest Right Act:
During colonial time, forests have all been declared to be owned by the government, and people living in forest for years were considered as trespassers. After independence, the government realized the injustice done to these tribal people and came up with an act in 2006.
The Forest Right Act, 2006:
The FRA was passed in 2006 by the Parliament which recognizes the rights of Tribals & other forest dwelling communities on forest resources, forest produce and the land.
What are Rights under the FRA, 2006?
1. Title Rights: Ownership to land that is being cultivated by tribals or forest dwellers subject to a maximum of 4 hectares; ownership is only for land that is actually being cultivated by the concerned family, meaning that no new lands are granted.
2. Use Rights for Forest Produce: Tribals & forest dwellers are given rights to minor forest produce (also including ownership), to grazing areas, to pastoralist routes, etc. Major forest produce like Timber etc. is still controlled by the government.
3. Relief and Development Rights: Rehabilitation in case of illegal eviction or forced displacement; and to basic amenities, subject to restrictions for forest protection.
4. Forest Management Rights: To protect forests and wildlife.
Eligibility Criterion under FRA:
Claimant must be residing in that forest area for at least 75 years or shall belong to the Scheduled Tribe category.
Who is the Deciding Authority?
Gram Sabha is the nodal agency under the FRA; it recommends whose rights shall be recognized. These recommendations are screened by a six member committee (3 Government+3 local member's body) and finally claims are settled.
Source: TH
---