Technology Vision For Cyber Security For Urban Co-operative Banks – 2020-2023
---
On 24th September, 2020, the Reserve Bank of India(RBI) released Cyber Security Vision Framework for Urban Cooperative Banks (UCBs).
Need
In recent time, the number, frequency and impact of cyber incidents/attacks have increased manifold in the financial sector including Urban Co-operative Banks (UCBs).
Therefore, it has, become essential to enhance the security posture of UCBs so as to prevent, detect, respond to and recover from cyber-attacks.
Mission
The framework aims at enhancing the cyber security posture of the UCB sector through a five-pillared strategic approach –GUARD
Governance Oversight
Utile Technology Investment
Appropriate Regulation and Supervision
Robust Collaboration
Developing IT and Cyber Security Skills Set
Mission – Specific Action Points
Governance Oversight
Focus on Board Oversight
The Board of Directors shall be ultimately responsible for the information security of the UCBs and shall play a proactive role in ensuring an effective IT (Information Technology) and IS (Information Security) governance.
IT Vision Document
UCBs could play a crucial role in strengthening financial inclusion.
Therefore, UCBs need to develop their own technology vision document outlining their plans to incorporate IT solutions into their business in a secure manner.
Utile Technology Investment
Creation of Fund for Implementation of Cyber Security Projects
Fund for cyber security projects may be created out of UCBs' annual net profits over a period of time.
Management of Business IT Assets
In order to have proper monitoring of life cycle of its IT assets, both hardware and software, UCBs shall venture to invest and upgrade their IT infrastructure.
Furthermore, a comprehensive process for Software License Management (SLM) shall be implemented by the UCBs.
Banking Services Availability
In order to avoid major operational disruptions, UCBs shall have a Business Continuity Plan (BCP).
The focus may be on prioritizing systems and processes in order to keep business operating smoothly and safely.
Appropriate Regulation and Supervision
Supervisory Reporting Framework
Considering the large number of UCBs, an effective supervision of UCBs will be setup to monitor compliance of UCBs with respect to cyber security guidelines.
Appropriate Guidance in Implementing Secure Practices
A uniform Cyber Security Hygiene document for all the cooperative banks shall be issued.
It shall cover various best practices such as Privilege access management, network segmentation,secure configuration and security incident.
Robust Collaboration
Forum to Share Best Practices
UCBs may explore the possibility of setting up a forum at State/regional level with stakeholders from various banks.
Adoption of Cloud Services
Cost effective technologies such as cloud based services may be used for implementing IT solutions and cyber security controls after taking appropriate risk assessment.
Developing IT and Cyber Security Skills Set
Imparting Technical Skills to manage IT and Cyber Security
Targeted skill-oriented training and certification programmes would be designed to impart technical skills to personnel for managing the risk of cyber security.
Steps would be taken to tap expertise available in various institutes/ universities across the country to provide such training in regional languages.
Providing Training for all UCBs on Cyber Security
Awareness training programmes would be imparted to all UCBs through various training institutes of the RBI and other such institutes approved by RBI.
The main objective is to communicate the cyber security challenges and regulatory expectations to the UCBs in local language for better understanding of the cyber security.
Significance
The implementation of the approach outlined in Technology Vision document will strengthen the cyber resilience ecosystem of the Urban Co-operative Banks.
K V Kamath Committee Report On 'Resolution Framework For Covid-19 Related Stress'
---
On 7th September, 2020,the Reserve Bank of India (RBI) released a report by the K V Kamath Committee which was formed to make recommendations on the required financial parameters to be factored in the resolution plans under the 'Resolution Framework for Covid-related Stress', along with sector specific benchmark ranges for such parameters.
Key Highlights
The Committee recognizes that:

The Covid-19 pandemic has affected the best of companies.
These businesses were otherwise viable under pre-Covid-19 scenario.
Impact is pervasive across several sectors but with varying severity – mild, moderate and severe.

The committee has recommended financial parameters including aspects related to leverage, liquidity and debt serviceability.
It selected five parameters based on their relevance while considering the resolution plan(RP).These ratios would provide the requisite assessment framework for the RP. These include:

Total Outside Liability/Adjusted Tangible Net Worth (TOL/Adjusted TNW)
Total Debt/EBIDTA
Current Ratio
Debt Service Coverage Ratio (DSCR)
Average Debt Service Coverage Ratio (ADSCR)

It suggested financial ratios for 26 sectors which could be factored by lending institutions while finalising a resolution plan for a borrower. These sectors include aviation, hospitality, real estate which are some of the most stressed sectors in the economy due to the impact of Covid-19 pandemic.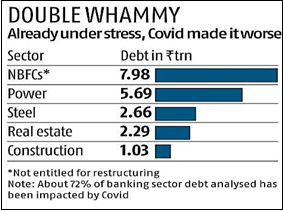 Source: Business Standard
Considering the large volume and the fact that only Standard assets are eligible under the proposed scheme, a segmented approach of bucketing these accounts under mild, moderate and severe stress, may ensure quick turnaround.
To complete this task simplified restructuring for mild and moderate stress may be prescribed. Severe stress cases would require comprehensive restructuring.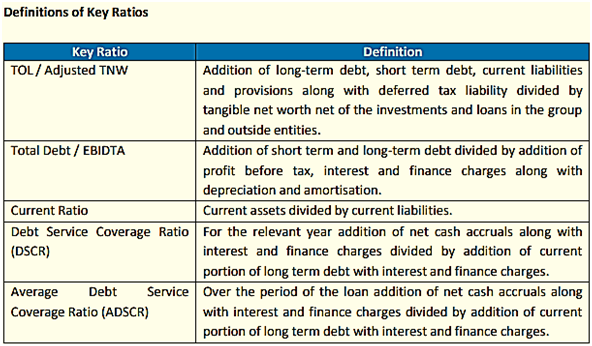 Key Recommendations on Sector Specific Parameters
The sector specific parameters may be considered as guidance for preparation of RP for a borrower in the specified sector.
The RP may be prepared based on the pre-Covid-19 operating and financial performance of the borrower and impact of Covid-19 on its operating and financial performance in Q1 and Q2FY21, to assess the cash-flows for FY21 / FY22 and subsequent years. In these financial projections, the threshold TOL/Adjusted TNW and Debt/ EBIDTA ratios should be metby FY23.
The other three threshold ratios should be met for each year of the projections starting from FY22. The base case financial projections need to be prepared as part of RP.
In respect of those sectors where the threshold parameters have not been specified by the Committee, lenders can make their own internal assessments for the solvency ratios i.e. TOL/Adjusted TNW and Total Debt/EBIDTA. However, the current ratio and DSCR shall be 1.0 and above, and ADSCR shall be 1.2 and above.
The Committee has uniformly proposed thresholds for current ratio, DSCR and ADSCR in most of the sectors.
The borrowers eligible under the current Framework are Standard Accounts and as such, they may require some time to restore their position to pre-Covid-19 levels.
As per the recommendations, the resolution process should be treated as invoked once lenders representing 75 percent by value and 60 percent of lenders agree to do so.
Analysis
According to the experts, the K V Kamath panel's loan recast recommendations are better than the erstwhile corporate debt restructuring (CDR) mechanism, but these may result in banks postponing recognition of stress through short-term relief.
The CDR was extensively used to suppress non-performing assets and had a success rate of as low as 15 percent.
The framework is for a limited time-period and stresses upon upfront heavy provisioning, stringent financial thresholds for eligibility and supervisory mechanism.
In the absence of an economic revival and sector-specific packages to be introduced by the government, the new mechanism will be "challenging" and may also end up induce uncertainty in the credit markets as banks focus on working out the recast plans in the limited window.
Stressed borrowers in real estate, traders, hotels/restaurants segments will be helped, but resolving stress in lumpy power and infrastructure sectors through this mechanism will be challenging without economic revival and sector-specific packages or initiatives by the government.
It is feared a "good portion" of the accounts which will be restructured will eventually turn non-performing and added that it gives a ""short-term relief" alone.
The framework is much broader than anticipated but leaves some scope for subjectivity as thresholds are to be met 2021-22 onwards based on base-case financial projections.
Force Majeure Clause
---
A glimpse of the magnitude of the economic destruction wreaked was revealed at the 41st meeting of the Goods and Services Tax(GST) Council, where the shortfall in compensation cess for this year was estimated at around Rs 2.35 lakh crore.
The Finance Ministry revealed that the Centre would not be able to make good the shortfall.
Now, the businesses are looking towards a legal provision -the Force Majeure or "Act of God" clause that has its origins in the Napoleonic Code - to cut losses.
Back in February, 2020, the Ministry had issued an official memorandum clarifying that the pandemic "should be considered a case of natural calamity and FMC may be invoked, wherever considered appropriate".
About Force Majeure Clause
The term 'force majeure' has been defined in Black's Law Dictionary, as 'an event or effect that can be neither anticipated nor controlled'.
It is a contractual provision allocating the risk of loss if performance becomes impossible or impracticable, especially as a result of an event that the parties could not have anticipated or controlled.
Indian Jurisprudence on the Concept of Force Majeure
The concept has neither been defined nor specifically dealt with under the Indian statutes.
However, some reference can be found in Section 32 of the Indian Contract Act, 1872 (the "Contract Act")
It isalso mentioned in the 2017 Manual for Procurement of Goods issued by the Department of Expenditure.
Difference between an "Act of God" and "Force Majeure"
Generally, an "Act of God" is understood to include only natural unforeseen circumstances, whereas force majeure is wider in its ambit and includes both naturally occurring events and events that occur due to human intervention.
Situations Legally Qualify for Use of Force Majeure
War, riots, natural disasters or acts of God, strikes, introduction of new government policy imposing an embargo, boycotts, outbreak of epidemics and such situations are generally listed.
If an event is not described, then it is interpreted in a way that it falls in the same category of events that are described.
Incase Force Majeure Clause is Triggered
When the clause is triggered, parties can decide to break from their obligations temporarily or permanently without necessarily breaching the contract.
Companies in such situations use the clause as a safe exit route, sometimes in opportunistic ways, without having to incur the penalty of breaching the contract.
If a party to a contract believes that the other party has invoked the FMC in an unjustified situation, it can move court seeking performance of the contract.
Incase of Absence of FMC in Contract
In case a contract does not have a force majeure clause, there are some protections in common law that can be invoked by parties.
For example, the Indian Contract Act, 1872 provides that a contract becomes void if it becomes impossible due to an event after the contract was signed that the party could not prevent.
Court's View on FMC
Court rulings have established that force majeure cannot be invoked when performance of the contract has become difficult, but only when it has become impossible.
It looks into whether the party arguing impossibility of performance has tried all other avenues to fulfil its liabilities before invoking force majeure.
The court would look into specifics like whether a lockdown imposed to contain the pandemic locally prevented performance of the contract.
The court would also look into how unforeseen the cited circumstance really is when catalogued in the contract specifically.
In April, 2020, the Bombay High Court did not accept the force majeure argument in a case where the petitioner argued that Covid-19-related lockdowns had frustrated a contract for supply of steel.
Importance of FMC for Businesses
It can usually be found in various contracts such as power purchase agreements, supply contracts, manufacturing contracts, distribution agreements, project finance agreements, agreements between real estate developers and home buyers, etc.
This provision is important for businesses as it relieves the parties from performing their respective obligations and which are to be undertaken under the contract and consequential liabilities, during the period that force majeure events continue provided that the conditions for clause to become applicable (which have been discussed above) are met.
Global Examples of Invoking FMC
In China, where the Covid-19 outbreak originated, the Council for Promotion of International Trade is issuing force majeure certificates to businesses.
Also, it had recognised the 2002 SARS outbreak as a force majeure event.
Singapore enacted the Covid-19 (Temporary Measures) Act in April, 2020, to provide relief to businesses that could not perform their contractual obligations due to the pandemic.
TheParis Commercial Court in July, 2020, ruled that the pandemic could be equated to a force majeure event.
Model Code on FMC
The International Chamber of Commerce has developed a Model Code on the force majeure clause reflecting current international practice.
It says that the impediment triggering the operation of the force majeure clause must be beyond the party's reasonable control; and that it could not reasonably have been foreseen at the time of the conclusion of the contract; and that the effects of the impediment could not reasonably have been avoided or overcome by the affected party.
National Strategy For Financial Education
---
On 20th August, 2020, the Reserve Bank of India (RBI) released the National Strategy for Financial Education(NSFE): 2020-2025 document in order achieve the vision of creating a financially aware and empowered India.
This is the second national strategy; the first NSFE was launched in 2013.
Background and Rationale of NSFE
India has a large population of adults.This demographic advantage can beleveraged to ensure that India becomes one of the fastest growing economies, with emphasis on inclusive growth through a vibrant and stable financial system.
Over the last few years, there has been rapid progress towards digitalization which has brought newer opportunities to the forefront like never before.
There is a paradigm shift in digital transactions and Payment Infrastructure in the country (Goal of Less Cash Economy). Due to all these developments, it has become imperative to revise the existing National Strategy for Financial Education (NSFE) and to adopt innovative measures to implement the same.
Towards this objective, the National Centre for Financial Education (NCFE) has been set up by all the Financial Sector Regulators as a Section (8) company under Companies Act, 2013 to undertake basic financial education and to develop suitable content for increasing financial literacy among the masses in the country.
Strategic Objectives of NFSE
Inculcate financial literacy concepts among the various sections of the population through financial education to make it an important life skill.
Encourage participation in financial markets to meet financial goals and objectives.
Develop credit discipline and encourage availing credit from formal financial institutions as per requirement.
Improve usage of digital financial services in a safe and secure manner.
Manage risk at various life stages through relevant and suitable insurance cover.
Knowledge about rights, duties and avenues for grievance redressal.
Major Highlights
This NSFE has been prepared by the National Centre for Financial Education (NCFE) in consultation with all the Financial Sector Regulators viz. RBI, Securities and Exchange Board of India (SEBI), Insurance Regulatory and Development Authority of India (IRDAI), Pension Fund Regulatory and Development Authority (PFRDA), etc. under the aegis of the Technical Group on Financial Inclusion and Financial Literacy (TGFIFL).
To prepare a comprehensive Strategy based on people's needs and the country'savailable resources, the following process has been adopted in the Indian context:
Assessing and evaluating gaps in financial literacy.
Comparison of NSFE with the OECD International Network on Financial Education(OECD-INFE) Policy Handbook on National Strategies for Financial Education.
It focuses on advancement of skills of financial service providers and other intermediaries involved in dissemination of financial literacy.
It intends to support the vision of the Government of India and the Financial Sector Regulators by empowering various sections of the population to develop adequate knowledge, skills, attitudes and behaviour which are needed to manage their money better and to plan for the future.
The Strategic Objectives are envisaged to be achieved through the following dimensions-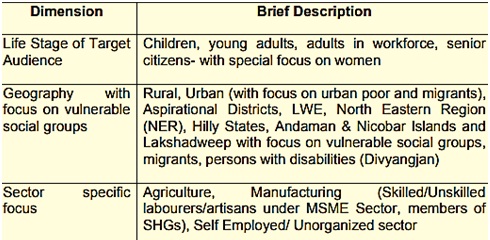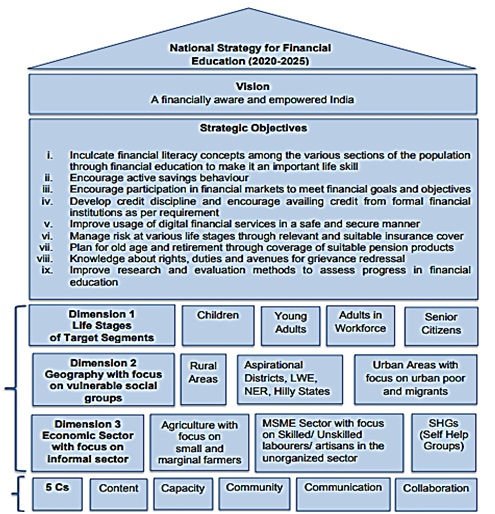 Key Recommendations
In order to achieve the Strategic Objectives laid down, the document recommends adoption of a '5 C' approach-
Content
Financial Literacy content for school children (including curriculum and co-scholastic), teachers, young adults, women, new entrants at workplace/ entrepreneurs (MSMEs), senior citizens, persons with disabilities, illiteratepeople, etc.
Capacity
Develop the capacity of various intermediaries who can be involved in providing financial literacy.
Develop a 'Code of Conduct' for financial education providers.
Community
Evolve community led approaches for disseminating financial literacy in asustainable manner.
Communication
Use technology, mass media channels and innovative ways of communicationfor dissemination of financial education messages.
Identify a specific period in the year to disseminate financial literacy messageson a large/ focused scale.
Leverage on Public Places with greater visibility (e.g. Bus Stands, RailwayStations, etc.) for meaningful dissemination of financial literacy messages.
Collaboration
Preparation of an Information Dashboard.
Streamline efforts of other stakeholders for financial literacy.
The Strategy also suggests adoption of a robust 'Monitoring and Evaluation Framework' to assess the progress made under the Strategy.
Expected Impact
The strategy will develop credit discipline and encourage availing credit from formal financial institutions as per requirement. It will improve usage of digital financial services in a safe and secure manner.
Besides encouraging active savings behavior, it will encourage participation in financial markets to meet financial goals and objectives.
It will help improve research and evaluation methods to assess progress in financial education.
OECD/INFE Policy Handbook on National Strategies for Financial Education
It support policy makers and public authorities to design and implement national strategies for financial education and individual financial education programmes, while also proposing innovative methods for enhancing financial literacy among the populations of partner countries.
The Policy Handbook was developed at the OECD/INFE technical meeting in Istanbul, Turkey, in May 2014.
Four Key Policy Areas Related to Financial Education
Standard setting, implementation and evaluation
Financial education and the impact of digitalisation
Financial Education in the workplace
The impact of ageing populations and the needs of older consumers
About Financial Education
Financial Education is defined as the process by which financial consumers/investors improve their understanding of financial products, concepts and risks and through information, instruction and/or objective advice, develop the skills and confidence to become more aware of financial risks and opportunities, to make informed choices, to know where to go for help and to take other effective actions to improve their financial well-being.
While, Financial Literacy is defined as a combination of financial awareness, knowledge, skills, attitude and behaviour necessary to make sound financial decisions and ultimately achieve individual financial well-being.

OECD-INFE Definition of Components of Financial Literacy
Financial literacy encompasses aspects of knowledge, attitude and behaviour coveringthe range of context such as money management, planning for short and long termfinancial goals and awareness and choice of financial products.Financial Knowledge involves understanding of key financial concepts and ability toevaluate benefit in real life financial situations. The concept of simple interest, compoundinterest, time value of money, inflation, diversification, division, risk-return and interestpaid on loan are tested to determine the financial knowledge of an individual.
Financial Behaviour involves study of day-to-day money management, financialplanning, spending, savings, investment, reliance on credit to meet daily requirement andbuilding a safety net for future well-being.
Financial Attitude aims at studying people's response towards savings, prioritization ofshort-term wants over long-term security, inclination towards risk for future wellbeing.
Components of Financial Education
Basic Financial Education
The basic financial education consists of fundamental tenets of financial well-being.With the introduction of Government's Pradhan Mantri Jan DhanYojana (PMJDY) scheme along with APY, PMJJBY &PMSBY besides MUDRA Yojana, many people have already been included. They alsorequire financial education so that they can take full benefits from these schemes.
These basic concepts need to be communicated to everyone by adopting different modes ofdelivery, suitable to the target audience.
Special emphasis shall be laid on the financially excluded and those newly included but not operating their accounts.
The basic financialeducation acts as a foundation for sector-specific and process education.
Sector Specific Financial Education
Sector specific financial education is being imparted by the Financial Sector Regulators and focuses on "What" of the financial services and the contents cover awareness on 'Do's & Don'ts', 'Rights & Responsibilities', 'Safe usage of digital financial services' and approaching 'Grievance Redressal' Authority.
Process Education
Process education is crucial to ensure that the knowledge translates into behavior.
Way Forward
Financial education plays a vital role in creating demand side response to the initiatives of the supply side interventions.
Incidentally, financial education also supports achievement of Sustainable Development Goal (SDG) No. 4 on Education which aims to ensure inclusive and equitable quality education and promote life-long learning opportunities for all (SDG Target 4.6 on Literacy and SDG Target 4.4 on Life Skills under SDG 4 on Education).
Financial education initiatives by concerned stakeholders will help people achieve financial well-being by accessing appropriate financial products and services through regulated entities.
There is a need to increase the size of banking as well as other financial sectors to ensure that the benefits of these developments reach the common masses.
Keeping in view the vast and rapid changes taking place in the financial sector, all the stakeholders need to appreciate the dynamic nature of evolution of financial services and the concomitant changes that are required towards financial literacy.
Arobust and scientific assessment method would go a long way in helping Policy makers identify priorities and assess the impact of their interventions.
Some of the broad issues that need to be considered in this regard are as under:
National Strategy evaluation to include an assessment of the governance, co-ordination and monitoring mechanisms of the implementation methods, the role of stakeholders and the effects of any communication or publicity plans/ initiatives.
Each stakeholder needs to clearly plan and articulate their role in the design, development and implementation of the Strategy which shall be monitored through qualitative and quantitative indicators.
A scientifically designed template for gathering feedback through various channels, from both the beneficiaries of financial literacy programmes and the intermediaries involved in disseminating the same, needs to be prepared and periodically reviewed keeping in view the vast changes in the financial sector.
Selection of appropriate evaluation methods need to be finalized in view of the challenges involved in evaluation.
RBI's New Loan Recast Scheme
---
On 6th August, 2020, the Reserve Bankof India(RBI) gave the green signal to a loan restructuring scheme for stressed borrowers.
The so called 'Resolution Framework for Covid19-related Stress', has been announced as a special window under the Prudential Framework on Resolution of Stressed Assets issued on June 7, 2019.
Beneficiaries
Only those companies and individuals whose loans accounts are in default for not more than 30 days as on March 1, 2020, are eligible for one-time restructuring.
For corporate borrowers, banks can invoke a resolution plan till December 31, 2020 and implement it till June 30, 2021.
For personal loans, the resolution plan can be invoked till December 31, 2020 and will be implemented within 90 days thereafter.
Implementation
The RBI has set up a five-member expert committee headed by K V Kamath, former Chairman of ICICI Bank, which will make recommendations on the financial parameters required.
How it is Differentfrom Previous Recast Schemes
Entry Barriers:The earlier restructuring schemes did not have any entry barrier, unlike the current scheme that is available only for companies facing Covid-related stress, as identified by the cut-off date of March 1, 2020.
Defined Timeline:Strict timelines for invocation of resolution plan and its implementation have been defined in the scheme, unlike in the past when this was largely open-ended.
ICA Signing Mandatory:The structuring of the scheme makes signing of theInter-Creditor Agreements (ICA) largely mandatory for all lenders once the resolution plans has been majority-voted for, otherwise they face twice the amount of provisioning required.
Independent Validation:Loans above Rs 100 crore will require only one credit agency's validation.Large loans above Rs 1,500 crore will also require to be vetted by Kamath committee.
Penalties for Delays: Earlier schemes had no disincentives for lenders delaying an agreement for restructuring. The present scheme provides a for a 20% penal provision for lenders not signing the ICA.
Post-Monitoring Performance: In this scheme a default with any of the lenders will automatically lead to a 30-day review period. Loans will be classified as NPAs if 10% repayment is not done during this period.
Impact
Key sectors, such as micro, small and medium enterprises (MSMEs), hospitality, aviation, retail, real estate and auto, which are facing liquidity crunch, will benefit from the move.
This restructuring plan will also enable lenders to implement a resolution plan in respect of eligible corporate debtors without a change in ownership, while classifying such exposures as standard, if they meet certain conditions.
The central bank's move will also incentivise banks to lend more to corporates through bonds, something that had stalled in the wake of covid-19.
The biggest impact will be that banks will be able to check the rise in non-performing assets (NPAs) to a great extent.
However, it will not bring down the NPAs from the present levels; legacy bad loans of close to Rs 9 lakh crore will remain within the system.
Banks will have to maintain additional 10% provisions against post-resolution debt, and lenders that do not sign the ICA within 30 days of invocation of the plan will have to create a 20% provision.
Misuse of Earlier Restructuring Scheme by Banks and Corporates
Corporate Debt Restructuring (CDR)
The RBI discontinued the CDR scheme from April 1, 2015.
For several years, corporates were misusing the debt recast plans with the regulator turning a blind eye to manipulations by shady promoters in connivance with some banks.
The promoters of many big corporates siphoned off bank funds while their units suffered. They approached the CDR Cell and to get their loans recast, some of them more than once.
These promoters managed to get fresh loans and they used liberal loan recasts to evergreen their accounts and keep out of the NPA books.
Strategic Debt Restructuring (SDR)
Under the SDR scheme, banks were given an opportunity to convert the loan amount into 51% of equity which was to be sold to the highest bidder, once the firm became viable.
This was unable to help banks resolve their bad loan problem as only two sales have taken place through this measure due to viability issues.
Sustainable Structuring of Stressed Assets (S4A) Scheme
Under this, banks were unwilling to grant write-downs as there were no incentives to do so, and write-downs of large debtors could exhaust banks' capital cushions.
5/25
The 5/25 scheme was derailed because refinancing was done at a higher rate of interest so that banks could preserve the net present value of the loan amount.
There was a perception that this was one of the tools deployed to cover NPAs by banks.
Asset Reconstruction Scheme(ARC)
In the ARC, the major problem was that asset reconstruction companies (ARCs) were finding it difficult to resolve assets they had bought from banks. Therefore, they wanted to purchase the loans only on low prices.
Consequently, banks were reluctant to sell them loans on a large scale.
Provisions against Misuse
The RBI has built in safeguards in the resolution framework to ensure it does not lead to ever-greening of bad loans as in the past.
Restructuring of large exposures will require independent credit evaluation done by rating agencies and a process validation by the Kamath-led expert committee.
Unlike in the case of restructuring of larger corporate exposures, for personal loans there will be no requirement for third party validation by the expert committee, or by credit rating agencies.
The RBI has said that the term of loans under resolution cannot be extended by more than two years.
To mitigate the impact of expected loan losses, banks need to make a 10% provision against such accounts under resolution.
KV Kamath Committee
On 7th August, 2020, the RBI constituted an expert panel headed by K V Kamath, to give recommendations on the required financial parameters, along with the sector specific benchmark ranges which need to be factored into the resolution plans.
Other Members:Diwakar Gupta (effective September 1, 2020, after the completion of his term as Vice President, ADB);T.N. Manoharan (effective August 14, 2020, after the completion of his term as Chairman, Canara Bank);Ashvin Parekh, Strategy AdvisorCEO, Indian Banks' Association, as the Member Secretary.
The expert committee shall undertake the process validation for the resolution plans to be implemented under this framework, without going into the commercial aspects, in respect of all accounts with aggregate exposure of Rs1,500 crore and above at the time of invocation.
The Indian Banks' Association (IBA) will function as the secretariat to the committee and the committee will be fully empowered to consult or invite any person it deems fit.
The Committee shall submit its recommendations on the financial parameters to the Reserve Bank which, in turn, shall notify the same along with modifications, if any, in 30 days.
Pre-Packaged Deals In Insolvency And Bankruptcy Code
---
The Ministry of Corporate Affairs (MCA) has set up a committee to look into the possibility of including what are called "pre-packs" to offer faster insolvency resolution under the Insolvency and Bankruptcy Code (IBC).
Background
Since the start of the year 2019, the Government has been planning to introduce the concept of Pre-Package Insolvency Schemes in the Indian Insolvency & Bankruptcy Code (IBC).
Now due to COVID-19, the businesses all over the country are worst hit since the global economic slowdown of 2008-2009 and it is imperative that the Government would chalk out a more concrete plan for the implementation of this system.
Need
Slow progress in the resolution of distressed companies has been one of the key issues raised by creditors regarding the Corporate Insolvency Resolution Process (CIRP) under the IBC.
Under the IBC, stakeholders are required to complete the CIRP within 330 days of the initiation of insolvency proceedings.
About 'Pre-Packs'
It is an agreement for the resolution of the debt of a distressed company through an agreement between secured creditors and investors instead of a public bidding process.
A pre-pack process is carried out by the debtors who try to keep their entity afloat and try to negotiate with the creditors for a resolution of the debt. Therefore, if such a process fails, it can always lead to a creditor filing an application under Section 7 or 9 of the IBC and triggering insolvency.
The objectives are -
To obtain a better return to creditors than would be possible if the company were to be sold through an insolvency process (through the preservation of value that could otherwise be eroded because of a formal insolvency process);
To reduce professional costs associated with an insolvency process by streamlining the process;
To provide certainty of outcome to stakeholders (including creditors and the purchaser).
These objectives are aligned to the objectives of the corporate insolvency resolution process (CIRP).
Benefits
Retaining Business in the Hands of Existing Management: It can incentivise the existing management and promoters of the company to initiate the pre-pack proceedings before the occurrence of a default or at an earlier stage of default. It can help the business to retain its current management and would be agreed by the creditors as they generally agree to hold on to the existing management.
Better Return: In most cases it would provide a better return to the creditors. In a pre-pack scheme, the value would be determined beforehand which would yield better returns to the creditors.
Speedy & Cheaper Resolution: Pre-packs are usually a cheaper and less time-consuming method than the proper insolvency and bankruptcy proceedings. It reduces the legal cost involved in the formal procedure and also the insolvency professional cost.
Certainty of Outcomes: There is a surety of the outcome since the resolution plan has been discussed and finalized beforehand.This gives a lot of confidence to the creditors since they are assured of their money and helps put more faith in the Corporation Insolvency Resolution Process (CIRP).
Reducing Burden: If implemented in India, the pre-pack schemes will reduce the already burdened NCLT's as already there will exist a resolution plan.
Issues with Pre-pack
Reduced Transparency:The key issue of a pre-packaged insolvency resolution is the reduced transparency compared to the CIRP as financial creditors would reach an agreement with a potential investor privately and not through an open bidding process. This could lead to stakeholders such as operational creditors raising issues of fair treatment when financial creditors reach agreements to reduce the liabilities of the distressed company.
No Shield of Moratorium: Another major concern that may arise during the pre-pack scheme implementation is that it would not have the shield of moratorium like it is there when a case is admitted under Section 7 or 9 of IBC.
Biased towards Secured Creditors:One major criticism of pre-pack schemes is that it is more in the favour of secured creditors and neither do the operational creditors have much say in the negotiation nor they are given a fair share. This challenge has to be overcome if pre-pack schemes are to be implemented in India.
Way Forward
With the current Pandemic creating havoc in almost every industry, it is almost certain that a lot of companies would be pushed into insolvency in the coming times and there this scheme of pre-packaged deals, if introduced, may act as a catalyst in helping those companies survive.
It is expected and emphasized that if the pre-pack system is implemented well, it would lead to smoother implementation of resolution plans, would promote growth and keep the company as a going concern while retaining jobs and ensuring creditors receive the funds due to them.
Especially during these difficult financial times, it is imperative that such a system would only yield fruitful results and would have more pros than cons.
Merger Of Banks
---
The merger of 10 public sector undertaking banks into four came into effect from 1st April, 2020.
Background
In the biggest consolidation exercise in the banking space, the government in August 2019 had announced mergers of public sector banks, a move aimed at making state-owned lenders global sized banks.
The Cabinet Committee on Economic Affairs (CCEA) approved consolidation of 10 state-run banks into four on 4th march, 2020.
It is to be noted that in 2019, Dena Bank and Vijaya Bank were merged with Bank of Baroda.
Prior to this, the government had merged five associate banks of SBI and Bharatiya Mahila Bank with the State Bank of India.
Key Points
The banks are being amalgamated with a larger bank, referred to as the anchor bank.
Account holders of merging banks will now be treated as customers of the anchor banks
Oriental Bank of Commerce (OBC) and United Bank of India will be merged into Punjab National Bank (PNB). After the merger, these together will form the second-largest public sector bank (PSB) in the country, after State Bank of India (SBI).
Syndicate Bank will be merged into Canara Bank, which will make it the fourth-largest public sector lender.
Indian Bank will be merged with Allahabad Bank.
Union Bank of India will be merged with Andhra Bank and Corporation Bank.
Customers, including depositors of merging banks will be treated as customers of the banks in which these banks have been merged with effect from 1st April, 2020.
For multiple bank accounts with both merging as well as anchor banks, there might be a single customer ID now
There will be no change in the existing interest rates and fixed deposits after the merger. It will just be transferred to the anchor bank.
New cheque books will be issued by the anchor banks and the existing ones will no longer be effective.
After the merger, there will be 12 PSUs - six merged banks and six independent public sector banks.
Six Merged Banks
SBI, Bank of Baroda, Punjab National Bank, Canara Bank, Union Bank of India, Indian Bank.
Six Independent Banks
Indian Overseas Bank, Uco Bank, Bank of Maharashtra, Punjab and Sind Bank, Bank of India, Central Bank of India.
Impact
Smooth Functioning & Better Delivery of Services
The mega consolidation would help create banks with scale comparable to global banks and capable of competing effectively in India and globally.
Greater scale and synergy through consolidation would lead to cost benefits which should enable the PSBs enhance their competitiveness and positively impact the Indian banking system.
In addition, consolidation would also provide impetus to amalgamated entities by increasing their ability to support larger ticket-size lending and have competitive operations by virtue of greater financial capacity.
Boost to Financial Inclusion
The adoption of best practices across amalgamating entities would enable the banks improve their cost efficiency and risk management, and also boost the goal of financial inclusion through wider reach.
Competitive Advantage
Further, with the adoption of technologies across the amalgamating banks, access to a wider talent pool, and a larger database, PSBs would be in a position to gain competitive advantage by leveraging analytics in a rapidly digitalising banking landscape.
Associated Challenges
Integration Challenge
The main hurdle will be to the smooth process of integration. All banks have their own importance in terms of origin, growth, expansion and geographical , and have been contributing to economic development in their own way.
Merger of banks will take away their identity and customers will find it difficult to deal with the new bank.
It might create a lot of problems for employees in inter-se seniority, transfers to their place of choice, etc. This will pose a challenge to the unions dealing with these problems.
Loss of Job
Branch rationalisation and branch closures are bound to happen on account of mergers, which would lead to job losses and back room operations may reduce face to face interaction of the service providers with the customers.
Better Service Delivery Challenge
By merging branches in a certain locality, the number of customers to be taken care of by the merged branch will double or treble. Hence, customer attention and quality of customer service are bound to be affected adversely. When every customer wants better service, the branch will face a big hurdle in this regard.
Further, there are many welfare schemes, fringe benefits and other schemes that vary from bank to bank. Mergers will impact these benefits and schemes and unionists have to address these issues to harmonise these benefits.
Mergers will totally divert the attention of the banks from loan recovery and it is bound to take a back sea
High-Cost Model
The merged entity would not get any benefit of efficiencies. The PSBs have a very high-cost structure. The biggest challenge in PSB merger is to cut costs, bring efficiencies, improve profit per branch and profit per employee.
High Cost of Funds
The cost of funds plays a very important role in the competitive banking landscape. The weak entities that are merging tend to have a higher cost of funds.
While the private banks are using the digitisation and also digital modes to raise deposits and target new customers, the PSBs have this challenge of reducing the cost of the deposit.
At the same time, they have to deploy their resources to high yielding assets to earn high interest.
Way Forward
With the introduction of financial service convergence and competitions from outside and within, it is quite justifiable that to bring a sound transparent, efficient, and effective and culture friendly banking practices should be on the anvil of the government as well as policy makers.
The legal implications combined with the ethical and governance issues need to be redefined very soon so that the positive impact of mergers may be ensured.
Mergers strategies should be designed to improve the financial and operational soundness of existing small and capital needy banks and these should not be focused merely to gut the beautiful entities.
AT-1 Bonds
---
Recently, the private lender YES Bank additional tier 1 (AT1) bonds worth Rs. 8,415 crore have been written down to zero by the Reserve Bank of India(RBI) under the scheme of reconstruction of Yes Bank.
About AT-1 Bonds
AT-1 bonds are unsecured perpetual bonds — with no maturity — issued by banks to shore up their capital base to meet Basel III requirements.The RBI is the regulator for these bonds.
The concept of Additional Tier-1 (AT1) Bonds was introduced by Basel III post the 2008 financial crisis, to protect depositors of a bank on a going concern basis. These bonds are also commonly known as Contingent convertible capital instruments (CoCos).
Under the Based III framework, bank's regulatory capital is divided into Tier 1 and Tier 2 capital. Tier 1 capital is subdivided into Common Equity (CET) and Additional Capital (AT1).
In simple terms, equity and preference capital is classified as CET and perpetual bonds are classified as AT1. Together, CET and AT1 are called Common Equity.
Difference between Tier 1 and Tier 2 Capital
Tier 1 capital is a bank's core capital and includes disclosed reserves—that appears on the bank's financial statements—and equity capital. This money is the funds a bank uses to function on a regular basis and forms the basis of a financial institution's strength.
Tier 2 capital is a bank's supplementary capital. Undisclosed reserves, subordinated term debts, hybrid financial products, and other items make up these funds.
In India, banks are required to maintain capital at a minimum ratio of 11.5 per cent of their risk-weighted loans.
Of this, 9.5 percent needs to be in Tier-1 capital and 2 percent in Tier-2.
Features of AT-1 Bonds
AT1 are a special category of debt designed to absorb losses in case the bank's equity capital dips below a certain threshold.
These are quasi-equity instruments. These are meant to be like equity, but are structured as bonds.
These bonds are listed and traded on the exchanges.So, if an AT1 bondholder needs money, he can sell it in the market.
Banks cannot use conversion or write down of AT1 instruments to support expansion of balance sheet.
Risk Involved
As these bonds are perpetual and carry no maturity date, they carry call options that allow banks to redeem them after five or 10 years.
Banks can stop paying interest on them and also write off their value.
In case, if the RBI feels that a bank is tottering on the brink and needs a rescue, it can simply ask the bank to cancel its outstanding AT-1 bonds without consulting its investors. This is what has happened to YES Bank's AT-1 bond-holders.
RBI Guidelines Regarding AT-1 Bonds
According to the RBI's Basel III capital regulations, if the relevant authorities decide to reconstitute a bank or amalgamate it with any other lender under Section 45 of Banking Regulation Act, 1949, the bank will be deemed as non-viable or approaching approaching non-viability.
The RBI has also added an additional trigger in Indian regulations, called the 'Point of Non-Viability Trigger' (PONV), which gives power to the RBI to decide if the bank has reached a situation wherein it is no longer viable.
The RBI can then activate a PONV trigger and assume executive powers and can do whatever is required to get the bank on track, including superseding the existing management, forcing the bank to raise additional capital and so on.
The PoNV condition requires all AT1 and Tier 2 instruments to be capable of being converted into common equity or written off.
Basel III
It is an international regulatory accord that introduced a set of reforms designed to improve the regulation, supervision and risk management within the banking sector.
It was published in 2009, largely in response to the credit crisis associated with the Great Recession.
Objectives
Improve the banking sector's ability to absorb ups and downs arising from financial and economic instability
Improve risk management ability and governance of banking sector
Strengthen banks' transparency and disclosures
Impact of Write Down
Impact on Investors
RBI's write-down of Yes Bank AT1 bonds will not only be detrimental to the financial interests and may cause panic redemptions in situations where it is not warranted, it will severely affect investor's confidence in debt markets and financial institutions.
This could also result in the contraction of the investor base in these bonds, as many would seek to avoid these bonds in future.
Impact on Banking and Financial System
Any write-down on existing AT1 bonds will set a wrong precedence as it may lead to drying up of the AT-1 market in India completely for all issuers, especially in light of the fact that the banking system seems to be under stress.
Any negative impact on these bonds could also increase the credit spreads across the assets classes and would have a detrimental impact on RBI's objective of transmission of rate cuts to the larger economy.
Curbs On Cryptocurrency Trades Lifted
---
In a significant judgment, the Supreme Court on 4th March, 2020, lifted the curbs imposed by the Reserve Bank of India(RBI) on regulated entities such as banks and NBFCs from dealing with virtual currencies (VC) and from providing services to crypto businesses.
The court held that the ban did not pass the "proportionality" test.
The test of proportionality of any action by the government must pass the test of Article 19(1)(g), which states that all citizens of the country will have the right to practise any profession, or carry on any occupation or trade and business.
Background
The circular issued on April 6, 2018 directed the entities regulated by RBI:
Not to deal in virtual currencies nor to provide services for facilitating any person or entity in dealing with or settling virtual currencies.
To exit the relationship with such persons or entities, if they were already providing such services to them.
While striking down the circular, the Court took note of three factors:
RBI, in the past 5 years or more, has not found any of the activities of Virtual Currency exchanges to have actually impacted adversely, the way the entities regulated by RBI function.
In its reply, dated 04-09-2019, RBI said that it has not prohibited Virtual Currencies in the country.
Even the Inter-Ministerial Committee constituted on 02-11-2017 was of the opinion that a ban might be an extreme tool and that the same objectives can be achieved through regulatory measures.
Reasons to Ban Virtual Currencies
Owing to the lack of any underlying fiat, episodes of excessive volatility in their value, and their anonymous nature which goes against global money-laundering rules, the RBI initially flagged its concerns on trade and use of the currency.
Risks and concerns about data security and consumer protection on the one hand, and far-reaching potential impact on the effectiveness of monetary policy itself on the other hand, forced RBI to impose the ban on trading of virtual currencies.
Further, owing to a significant spurt in the valuation of many virtual currencies and rapid growth in initial coin offerings, virtual currencies were not safe for use.
Petitioner's Argument
The petitioner, Internet and Mobile Association of India (IMAI), had argued in the top court that the RBI had banned cryptocurrencies on "moral grounds" as no prior studies were conducted to analyse their effect on the economy.
It was also argued that cryptocurrencies were not "currency" in the strict sense, and that they could be termed as a medium of exchange or a store of value.
The RBI should have adopted a wait-and-watch approach, as taken by other regulators such as the Directorate of Enforcement or the Securities and Exchange Board of India.
Impact of SC Judgment
The order is likely to come as a big relief to VC proponents in the country.
It could lead RBI to reconsider its approach to cryptocurrency and come up with a new calibrated framework or regulation that deals with the reality of these technological advancements.
Digital Currencies
Digital currency is the blanket term used to describe all electronic money; that includes both virtual currency and cryptocurrency. It can be regulated or unregulated.
Digital currencies, which can only be owned and spent using electronic wallets or designated connected networks, are also commonly called digital money, or cyber cash.
Forms of Digital Currencies
Virtual Currencies
Virtual currencies are a type of digital currency, typically controlled by its creators and used and accepted among the members of a specific virtual community.
Cryptocurrencies such as Bitcoin and Ethereum are considered to be virtual currencies.
Satoshi Nakamoto, widely regarded as the founder of the modern virtual currency -Bitcoin
Cryptocurrencies
Cryptocurrencies are digital currencies because they exist online, but they are also virtual currencies created with cryptographic algorithms.
Most cryptocurrencies now operate on the blockchain or distributed ledger technology, which allows everyone on the network to keep track of the transactions occurring globally.
Risks Associated with Cryptocurrencies
Business Risk
Cryptocurrencies are not backed by a central bank, a national or international organization, or assets or other credit, and their value is strictly determined by the value that market participants place on them through their transactions, which means that loss of confidence may bring about a collapse of trading activities and an abrupt drop in value.
Cyber/Fraud Risk
Even with encryption to protect cryptocurrency transactions, there have been hacks resulting in substantial losses.
Passwords can be stolen or hacked. Hardware can be corrupted or taken.
Regulatory/Compliance Risk
Some countries may prevent the use of the currency or may state that transactions break anti-money laundering(AML) regulations, notwithstanding the global implications.
Due to the complexity and decentralized nature of the Bitcoin and the significant number of participants — senders, receivers (possibly launderers), processors (mining and trading platforms), currency exchanges, a single AML approach does not exist.
Market Risks
The market risks are idiosyncratic as the currency trades only on demand. There is a finite amount of the currency which means that it can suffer from liquidity concerns and limited ownership may make it susceptible to market manipulation.
Further more, given its limited acceptance and lack of alternatives, the currency can appear more volatile than other physical currencies, fueled by speculative demand and exacerbated by hoarding.
Share Swap Ratio
---
Recently, seven of the 10 public sector banks slated for merger have invited independent experts to determine their share swap ratios.
The valuer will adopt all market prevalent practices/principles for arriving at the valuation (including principles specified by the Reserve Bank of India and the Ministry of Finance).
Seven Banks
Allahabad Bank, United Bank of India, Oriental Bank of Commerce, Punjab National Bank, Union Bank of India, Canara Bank and Syndicate Bank.
Objective
Improving Investor Sentiment: The share swap ratio that the government would hammer out for the merger of the three public sector banks would go a long way in improving investor sentiment.
Share Swap Ratio
When a company pays for an acquisition by issuing its own shares to the shareholders of the target company, this is known as a share Swap.
The number of shares to be issued in lieu of their existing holdings in the target company is known as Swap Ratio.
Basis of Calculation
To calculate the swap ratio, companies analyze financial ratios such as book value, earnings per share, profits after tax as well as other factors, such as size of company, long-term debts and strategic reasons for the merger or acquisition.
If the target company is listed, the market value of its shares is often a key consideration to arrive at the right price to be paid.
How it Works?
Suppose, if company A is acquiring company B and offers a swap ratio of 1:5, it will issue one share of its own company (company A) for every 5 shares of the company B being acquired.
In other words, if company B has 10 crore outstanding equity shares and 100% of it is being acquired by company A, then company A will issue 2 crore new equity shares of company A to the shareholders of company B, proportionately.
Benefits of Share Swap
Risk Sharing Benefit:
As shareholders of the target company will also be shareholders of the merged entity, the risks and benefits of the expected synergy from the merger will be shared by both the parties.
In a cash deal, if the acquirer has paid a premium and the synergies don't materialise, shareholders of the acquiring company alone bear the fallout.
Benefits would also flow as a result of wider reach and distribution network, and reduction in distribution costs for the products and services through sub-sidiaries.
Saving of Borrowing Costs:
In a share swap, there is no cash outgo involved for the acquirer, saving the acquirer borrowing costs.
The acquirer companies, in turn, can put their cash to use for investments in the business or for other buyouts.
No Capital Gains Tax:
In case of a share swap, when shareholders of the acquired company are given shares of the acquirer company as part of the deal, this is not considered a transfer of shares.
Hence, capital gains tax will not arise in the hands of the shareholders (including minority shareholders) of the acquired company. The tax liability will arise only when the shares of the merged entity are sold.
Way Forward
Share Swap is not always beneficial to shareholders. For ex- In the recently concluded merger of Bank of Baroda (BoB) with Dena Bank and Vijaya Bank, shareholders of Vijaya Bank and Dena Bank got 402 and 110 equity shares, respectively, of BoB for every 1,000 shares they held, hurting both the shareholders of Vijaya and Dena bank.
The share swap regime also entails certain practical challenges involving shareholders' rights and governance issues concerning the incoming shareholders. Since both acquirer and target tend to have investors at different stages of lifecycle, friction may arise if incoming shareholders secure the same terms as are available to existing shareholders. Thus, balancing rights of various investors and finding the right leverage becomes crucial.
However, the share swap framework is becoming common as it facilitates acquisitions even when the transaction is unviable due to cash crunch.
A swap ratio also brings to lights many aspects of the Merger and Acquisition (M&A) transaction between two companies. Firstly, it shows the relative size and strength of both companies. In general, if more shares of the target company are exchanged for one share in the acquiring company, then the latter is likely to be bigger and stronger.
Secondly, it determines the control that each set of shareholders has on the combined company. For example, the acquiring company may have greater control over the firm if the swap ratio is high and, therefore, its Board of Directors could have a larger share in the new Board.
Sashakt Panel On Bad Loans
---
Why is it in News?
Sashakt committee has praised the mandatory norm of Inter Creditor Agreement (ICA) for its effectiveness in tackling bad loans.
Relevance of the News: It highlights the committee formed for addressing bad loans crisis and its observations.
More about the News:
Sashakt Committee has observed that the mandatory norm of ICA allows banks to decide resolution strategy outside the Insolvency and Bankruptcy Code (IBC) which will accelerate the resolution process.
The committee has recommended that the existing ICA, which is executed by 35 banks/ FI's, must be adopted to incorporate the revised voting threshold and other changes in decision making that are stipulated by the RBI recently.
RBI has recently changed norms which state that if 75% of lenders by value of the loans or 60% by number agree to a resolution plan then the plan can be adopted.
Sashakt Committee:
Sashakt committee is a group consisting of chiefs of 5 Indian public sector banks pioneered by PNB chairman Sunil Mehta. This committee had forwarded 'Project Sashakt' last year, a five-pronged strategy to resolve bad loans, which has been accepted by the government, which aims at
Project Sashakt:
The five-pronged resolution route includes:
oOutlining an SME resolution approach
oBank-led resolution approach
AMC/AIF led resolution approach
oNCLT/IBC approach
oAsset-trading platform
This 5 pronged approach will be applicable to smaller assets with exposure up to Rs 50 crore, mid-size assets between Rs. 50 crore and Rs. 500 crore, and large assets with exposure of Rs 500 crore and more which have a potential for turnaround.
Bad loans of up to Rs. 50 crore will be managed at the bank level, with a deadline of 90 days.
For bad loans of Rs. 50-500 crore, banks will enter an inter-creditor agreement, authorizing the lead bank to implement a resolution plan in 180 days, or refer the asset to National Company Law Tribunal.
For loans above Rs. 500 crore, the panel recom­mended an independent asset management company (AMC), supported by institutional funding through the alternative investment fund (AIF). The idea is to help consolidate stressed assets.
Inter Creditor Agreement (ICA):
ICA is an agreement hashed out by public and private banks in July 2018 to deal with the bad loans crisis in Indian banking sector. It is a part of Project Sashakt.
ICA framework envisages effective communication among lenders and lays down some ground rules for multiple-banking arrangements and consortium lending.
Some large borrowers often take loans from multiple banks for a single project and in case of failure of the project all creditors face loss from that one common project's failure. ICA allows all creditor banks to communicate with each other and commonly arrive at a resolution plan for the project.
ICA makes sure that there is effective, good communication amongst banks and if any bank has a difference with another bank, then they will resolve it among themselves.
ICA was earlier voluntary for banks but recent RBI guidelines have made ICA mandatory for banks.
New NPA Norms Of RBI
---
Why is it in News?
RBI released new norms on NPA management for banks on 7 June 2019.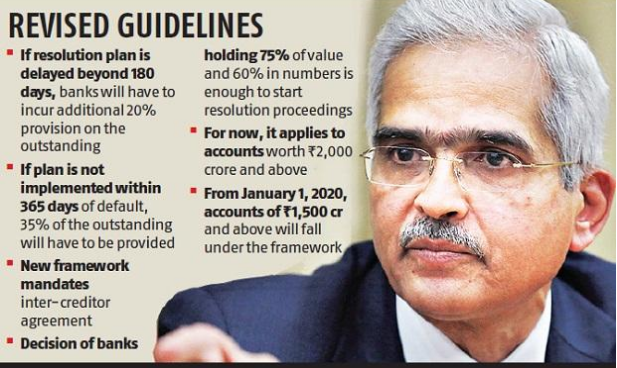 Relevance of the News: It lists the changes made in the NPA norms by the RBI which would help in curbing the menace of bad loans in Indian banking sector.
Some Changes made by the RBI include:
Balanced between tight timelines and extreme delays:
oIn the earlier circular even a single day's default in debt servicing would have required reporting to the RBI and implementation of Resolution Plan (RP). If RP is not completed in 180 days the company would be subject to IBC mandatorily.
oIn the changed rules lenders have been given 30 days (in place of one day earlier) to decide upon a strategy. If RP is not implemented in 180 days banks will have to pay penalty rather than mandatory IBC referral.
Improved realizations to banks:
oDoing away with the mandatory referral to the IBC after 180 days can lead to improved realizations as intrinsic value of assets can be preserved.
oIn case of mandatory referral RBI has placed penalties on banks if they fail to deliver within 180 days.
oIf RP is not implemented in 180 days from the start of the review period, banks will have to make additional provision of 20% and another 15% if the plan is not implemented within 365 days.
Accelerated provisioning by RBI: The central bank would issue directions to banks for initiation of insolvency proceedings against borrowers for specific defaults. This will force lenders to refer some specific cases to IBC.
ICA has been made more practical: The Inter Creditor Agreement has been made more practical as approval percentage has been reduced from 100% to 75% by value of total outstanding credit facilities and 60% of lenders by number which is mandatory now.
---