Cyber Surakshit Bharat Initiative
---
Recently, Ministry of Electronics and Information Technology (MeitY) organized 25th Chief Information Security Officers (CISOs) Deep Dive Training program under Cyber Surakshit Bharat initiative.
It aims to strengthen the cyber security ecosystem in Government organizations in the country.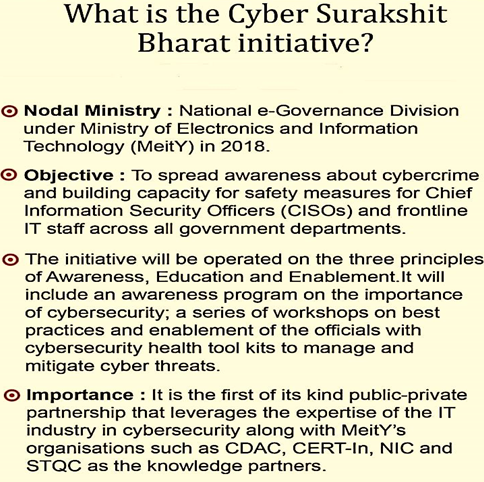 Need
Cyber fraudsters are using the COVID-19 pandemic as a cyber-attack vector for their own notorious gains.
During the COVID-19 time, there has been a surge in cyber incidences.
The primary set of attacks has been phishing attacks to steal information and drop malware.The attackers devise new strategies to target victims with scams or malware campaigns.
Impact
It is expected that the training will provide necessary exposure to latest tools and technologies in the cyber security and requirement for legal compliance.
The knowledge gained during training can help you to prepare cyber security policies and Cyber Crisis Management Plan for respective organizations.
About Cyber Surakshit Bharat Initiative
Launched in 2018, it aims to ensure awareness about cybercrime and adequate safety measures for Chief Information Security Officers (CISOs) and frontline IT staff across all government departments.
It includes an awareness program on the importance of cybersecurity; a series of workshops on best practices and enablement of the officials with cybersecurity health tool kits to manage and mitigate cyber threats.
It is operated on the three principles of Awareness, Education and Enablement.
Union Home Ministry enhanced BSF's Power
---
On 11th October, the Union Home Ministry allowed the Border Security Force (BSF) to "arrest, search and seize" within 50 km from the international boundary in Assam, West Bengal and Punjab, Union Territories of Jammu and Kashmir and Ladakh.
Earlier, the BSF's limit was fixed up to 80 km from the International Boundary in Gujarat and 15 km in Rajasthan, Punjab, West Bengal and Assam.
The new order replaces a 2014 order under the BSF Act, 1968, which also covered the States of Manipur, Mizoram, Tripura, Nagaland and Meghalaya.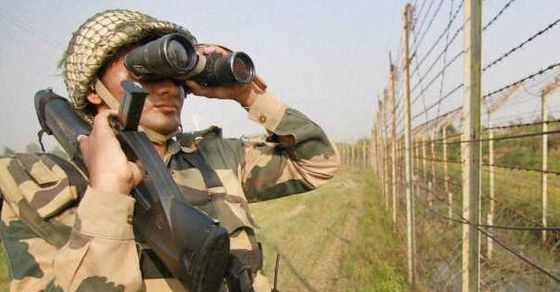 (Image Source: DD News)

C-295MW to replace ageing Avro Aircrafts
---
On 8th September 2021, the Cabinet Committee on Security approved the procurement of fifty six C-295MW transport aircraft from M/s Airbus Defence and Space S.A., Spain for the Indian Air Force.
C-295MW aircraft is a transport aircraft of 5-10 Tonne capacity with contemporary technology that will replace the ageing Avro aircraft of IAF.
The aircraft has a rear ramp door for quick reaction and para dropping of troops and cargo.
Sixteen aircraft will be delivered in flyaway condition from Spain within 48 months of signing of the contract and forty aircraft will be manufactured in India by TATA Consortium within ten years of signing of the contract.
This is the first project of its kind in which a military aircraft will be manufactured in India by a private company.
All fifty six aircraft will be installed with indigenous Electronic Warfare Suite.
NH for Emergency Landing
---
On 9th September, 2021 an Emergency Landing Field (ELF) was inaugurated on NH-925 at Gandhav Bhakasar Section (NH-925) South of Barmer (Rajasthan).
Also, the event was marked with touchdown exercises by various fighter aircrafts.
This is the first time that National Highway will be used for emergency landing of aircrafts of IAF.
NHAI had developed a 3.0 Km section of Satta-Gandhav stretch of NH-925A from Km. 41/430 to Km. 44/430 as an Emergency Landing Facility (ELF) for Indian Air Force, which is part of newly developed Two lane paved shoulder of Gagariya-Bakhasar & Satta-Gandhav Section having total length of 196.97 Km. under Bharatmala Pariyojana.
This project will improve connectivity between villages of Barmer & Jalore districts located on international border. The stretch being located in the western border area will facilitate the vigilance of the Indian Army as well as strengthen the basic infrastructure of the country.
Apart from this Emergency Landing Strip, 3 helipads (size 100 x 30 metres each) have been constructed in Kundanpura, Singhania & Bakhasar villages in this project according to the requirements of the Air Force/Indian Army, which will be the basis for strengthening the Indian Army and security network on the western international border of the country.
During normal time the ELF will be used for smooth flow of road traffic. But during the operations of ELF for Indian Air Force order, the service road will be used for smooth flow of road traffic. It has been constructed in 3.5 Km length. This Landing Strip will be able to facilitate landing of all types of Aircrafts of Indian Airforce.
Karbi Anglong Agreement: A Step towards "Insurgency free prosperous North East"
---
On 4th September 2021, a historic tripartite Karbi Anglong Agreement was signed by the Union Govt., the Assam government and five insurgency groups from the state to bring peace to the Northeastern state's Karbi-Anglong district.
Karbis are a major ethnic community of Assam dotted by many factions, and marked by ethnic violence, killings, abductions, taxation since the late 1980s.
The five groups concerned are: Karbi Longri North Cachar Hills Liberation Front (KLNLF), People's Democratic Council of Karbi Longri (PDCK), United People's Liberation Army (UPLA), Karbi People's Liberation Tigers (KPLT) and the Kuki Liberation Front (KLF).
With this historic agreement, over 1000 armed cadres have abjured violence and joined the mainstream of society. A Special Development Package of Rs. 1000 crores over five years will be given by the Union Government and Assam Government to undertake specific projects for the development of Karbi areas.
Salient Features of the Agreement
This Memorandum of Settlement will ensure greater devolution of autonomy to the Karbi Anglong Autonomous Council (KAAC), protection of identity, language, culture, etc. of Karbi people and focussed development of the Council area, without affecting the territorial and administrative integrity of Assam.
The Karbi armed groups have agreed to abjure violence and join the peaceful democratic process as established by law of the land. The Agreement also provides for rehabilitation of cadres of the armed groups.
The Government of Assam shall set up a Karbi Welfare Council for focussed development of Karbi people living outside KAAC area.
The Consolidated Fund of the State will be augmented to supplement the resources of KAAC.
Overall, the present settlement proposes to give more legislative, executive, administrative and financial powers to KAAC.
ITBP inducts First Women Officers on Combat Service
---
The Indo-Tibetan Border Police (ITBP) force, which guards the Line of Actual Control (LAC) along the India-China border, has commissioned its first two women officers in combat after they completed their training.
A total of 53 officers passed out from the ITBP officers' training academy located in Mussoorie.
The rank of Assistant Commandant, an entry-level officer rank in the paramilitary were put on the shoulders of two women officers — Prakriti and Diksha — after the passing out parade and an attestation ceremony where they took their oaths to serve the country.
Before this, ITBP had combat women only in the constabulary ranks.
Out of the 53 officers, 42 officers are in the general duty combat cadre, while 11 are in the engineering cadre of the force.
These officers will now be posted across ITBP formations in the country, including along the LAC with China and the anti-Naxal operations theatre in Chhattisgarh.
Project 75 (I): RFP issued for Six Conventional Submarines
---
On July 20, 2021, the Ministry of Defence (MoD) has issued Request of Proposal (RFP) for the first acquisition programme under the Strategic Partnership Model for construction of six AIP fitted Conventional Submarines named Project 75(India) [P-75(I)] for the Indian Navy, on July 20, 2021.
Strategic Partners: The RFP was issued to shortlisted Strategic Partners (SPs) or Indian Applicant Companies for the project viz, M/s Mazagaon Dock Shipbuilders Limited (MDL) and M/s Larsen & Tubro (L&T). The shortlisted SPs to whom the RFP has been issued would be collaborating with any of the shortlisted Foreign OEMs.
Foreign OEMs: M/s Naval Group-France, M/s TKMS-Germany, M/s JSC ROE-Russia, M/s Daewoo Shipbuilding and Marine Engineering Co Ltd-South Korea and M/s Navantia-Spain.

Role of Foreign OEMs: The foreign OEMs will be the technology partner in the SP Model. They will enable SP for construction of submarines, achieving high levels of indigenization, and ToT (Transfer of Technology). These OEMs would enable setting up of dedicated manufacturing lines for these submarines in India by providing ToT for submarine design and other technologies and make India the global hub for submarine design and production.
About Project-75(I)
Project-75(I) envisages indigenous construction of six modern conventional submarines (including associated shore support, Engineering Support Package, training and spares package) with contemporary equipment, weapons & sensors including Fuel-Cell based AIP (Air Independent Propulsion Plant), advanced torpedoes, modern missiles and state of the art countermeasure systems.
Navy gets Stabilized Remote Controlled Gun (SRCG)
---
Ordnance Factory Tiruchirappalli has handed over indigenously manufactured weapon named Stabilized Re-mote Controlled Gun (SRCG) fitted with 12.7mm M2 NATO standard machine gun to Indian Navy and Indian Coast Guard.
They are manufactured with transfer of technology agreement from Elbit Systems, Israel.
Primarily designed for marine applications, the weapon is equipped with sensors and has an automatic target tracking capacity. It will be mounted on warships and patrol boats and can remotely engage small boats, skiff and other small crafts with high accuracy both during day and night.
'Indrajaal': India's First Drone Defence Dome
---
'Indrajaal' is India's 1st indigenous drone defence dome developed by Hyderabad-based Grene Robotics.
'Indrajaal' is capable of autonomously protecting an area of 1000-2000 sq km against aerial threats.
It protects the area by assessing and acting on aerial threats such as Unmanned Aerial Vehicles (UAVs) and Low- Radar Cross Section (RCS) targets.
7th Indian Ocean Naval Symposium (IONS)
---
The 7th edition of Indian Ocean Naval Symposium (IONS), a biennial event, was hosted by the French Navy at La Réunion from 28 June to 01 July 2021.
Admiral Karambir Singh, Chief of the Naval Staff, Indian Navy, participated virtually in the inaugural session.
About IONS
IONS, conceived by the Indian Navy in 2008, seeks to enhance maritime cooperation among Navies of the littoral states of the IOR by providing an open and inclusive forum for discussion of regionally relevant maritime issues that would lead to common understanding on the way ahead.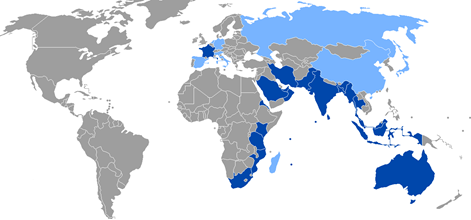 Dark Blue = Member States
Light Blue = Observers
The chairmanship of IONS has been held by India (2008-10), UAE (2010-12), South Africa (2012-14), Australia (2014-16), Bangladesh (2016-18) and Islamic Republic of Iran (2018-21). France has assumed the Chairmanship on 29 Jun 21 for a two-year tenure.
IONS Conclave of Chiefs (CoC) is the decision-making body at the level of Chiefs of Navies, which meets biennially. The CoC 2021 will be hosted by French Navy later this year.
DRDO successfully flight tests New Generation 'Agni P'
---
Defence Research and Development Organisation (DRDO) successfully flight tested a New Generation Nuclear Capable Ballistic Missile Agni P from Dr APJ Abdul Kalam island off the coast of Odisha, Balasore on June 28, 2021.
Agni P is a new generation advanced variant of Agni class of missiles. It is a canisterised missile with range capability between 1,000 and 2,000 kms.
Agni P is the first of the new class of Agni missile to be launched by DRDO. The ballistic missile weighs 50% less than Agni 3 and has new guidance and a new generation of propulsion.
Since the missile is canisterised, it can be launched from rail and road and stored for a longer period and transported all across the country as per operational requirements.
'INS Tabar' deployed for Naval Exercises in Africa, Europe
---
Indian Naval Ship Tabar will visit a number of ports in Africa and Europe till the end of September.
It will also participate in a number of joint exercises with friendly navies.
The ship will transit across the Gulf of Aden, Red Sea, Suez Canal, Mediterranean Sea, North Sea and Baltic Sea while making port calls at Djibouti, Egypt, Italy, France, UK, Russia, Netherlands, Morocco, and Arctic Council countries like Sweden and Norway.
The deployment will also see participation by the ship in the Russian Navy Day celebrations from July 22 to 27.
During port visits, the ship is scheduled to participate in bilateral exercises with three countries to strengthen military relations, develop interoperability and project long-range sustenance.
Name of Exercises and Country
Ex Konkan with UK Royal Navy
Ex Varuna with French Navy
Ex Indra with Russian Federation Navy
DRDO Successfully Test-Fires Enhanced Pinaka and 122mm Caliber Rockets
---
Defence Research and Development Organisation (DRDO) successfully test fired extended range version of indigenously developed Pinaka and 122mm Caliber Rockets from Multi-Barrel Rocket Launcher at Integrated Test Range, Chandipur off the coast of Odisha.
Pinaka: Twenty-five Enhanced Pinaka Rockets were launched in quick succession against targets at different ranges. All the mission objectives were met during the launches. The enhanced range version of Pinaka Rocket System can destroy targets at distances up to 45 kilometer.
122mm Caliber Rocket: Four enhanced range version of 122mm rockets were test fired with full instrumentation and they met the complete mission objectives. These rockets have been developed for Army applications and can destroy targets up to 40 km.
Indo-US Passex
---
Indian Naval Ships Kochi and Teg along with P8I and MiG 29K aircraft are participating in a Passage Exercise with US Navy Carrier Strike Group Ronald Reagan during its transit through Indian Ocean Region from 23-24 June 2021.
The Indian Naval warships along with aircraft from Indian Navy and Indian Air Force will be engaged in joint multi-domain operations with the Carrier Strike Group.
The Passage Exercises (PASSEXs) are conducted on a regular basis by the Indian Navy with the friendly foreign navies. It takes place while visiting each other's ports or during a rendezvous at sea.
ARDE, Pune Develops Canopy Severance System for Fighter Aircraft
---
Armament Research and Development Establishment (ARDE), Pune in association with High Energy Material Research Laboratory (HEMRL), Pune, has developed Canopy Severance System (CSS), which is an escape path clearance system for the pilot in case of emergencies occurring on the aircraft.
It will be used for the indigenously developed LCA Tejas and Trainer Aircraft, HJT-36 Aircraft and HTT-40 Aircraft.
CSS has two independent sub-systems. The first one is the In-flight Egress System (IES) for in-flight emergencies, which is integrated with the seat ejection operation and the second one is the Ground Egress System (GES) for on-ground emergencies, which is independent of seat ejection.
CSS works on the principle of controlled propagation of detonation using explosive mechanical energy. It consists of critical mechanical and explosive components qualified to military-grade requirements and demonstrating high reliability.
CSS for LCA Tejas were tested successfully in seat ejection trials at M/s Martin Baker Co., London, UK and for trainer aircraft at M/s. Zvezda, Moscow, Russia. The CSS design has been cleared by Certifying Agency RCMA (AA), Pune and CEMILAC, Bangalore has issued Type Approval.
The technology was transferred to M/s GOCL Corporation Ltd. for production of CSS for the indigenously developed aircraft.
ARDE, Pune Develops Canopy Severance System for Fighter Aircraft
---
Armament Research and Development Establishment (ARDE), Pune in association with High Energy Material Research Laboratory (HEMRL), Pune, has developed Canopy Severance System (CSS), which is an escape path clearance system for the pilot in case of emergencies occurring on the aircraft.
It will be used for the indigenously developed LCA Tejas and Trainer Aircraft, HJT-36 Aircraft and HTT-40 Aircraft.
CSS has two independent sub-systems. The first one is the In-flight Egress System (IES) for in-flight emergencies, which is integrated with the seat ejection operation and the second one is the Ground Egress System (GES) for on-ground emergencies, which is independent of seat ejection.
CSS works on the principle of controlled propagation of detonation using explosive mechanical energy. It consists of critical mechanical and explosive components qualified to military-grade requirements and demonstrating high reliability.
CSS for LCA Tejas were tested successfully in seat ejection trials at M/s Martin Baker Co., London, UK and for trainer aircraft at M/s. Zvezda, Moscow, Russia. The CSS design has been cleared by Certifying Agency RCMA (AA), Pune and CEMILAC, Bangalore has issued Type Approval.
The technology was transferred to M/s GOCL Corporation Ltd. for production of CSS for the indigenously developed aircraft.
Keel laid for second 'Krivak' Class Frigate
---
The keel of the second frigate of the Krivak class stealth ships was laid on 18th June 2021.
The keel for the first ship was laid on January 29, 2021.
In October 2016, India and Russia signed an Inter-Governmental Agreement (IGA) for four Krivak or Talwar stealth frigates — two to be procured directly from Russia and two to be built by the GSL.
They are being built with technology transfer from Russia by Goa Shipyard Ltd. (GSL).
Keel laying is a major milestone activity in the construction of any ship symbolising formal commencement of the construction process.
IN–EUNAVFOR Joint Naval Exercise
---
For the first time, the Indian Navy participated in joint drills with the European Union Naval Force (EUNAVFOR) from 18 June 2021 to 19 June 2021, comprising warships from the French, Spanish and Italian navies in the Gulf of Aden.
The Indian Naval Ship Trikand, a mission deployed for anti-piracy operations, participated in the IN- EUNAVFOR joint naval exercise.
EUNAVFOR and the Indian Navy converge on multiple issues including counter piracy operations and protection of vessels deployed under the charter of World Food Programme (UN WFP).
Indian Navy and EUNAVFOR also have regular interaction through SHADE (Shared Awareness and De-confliction) meetings held annually at Bahrain.
About Gulf of Aden
The Gulf of Aden is located in the Middle East with Yemen to the north, Somalia to the south and the Arabian Sea to the east. It is connected to the Red Sea by the Bab el Mandab strait.
Somali pirates operate in the Gulf of Aden, one of the world's busiest shipping routes connecting Europe to Asia and the Middle East.
ICG OPV 'Sajag' Commissioned
---
Indian Coast Guard (ICG) Offshore Patrol Vessel (OPV) Sajag has been commissioned on May 29, 2021.
OPV Sajag is constructed by M/s Goa Shipyard Limited.
The concept of forming ICG came into being post 1971 war, when it was assessed that maritime borders are equally vital as land borders. The blueprint for a multi-dimension Coast Guard was conceived by the visionary Rustamji Committee.
The ICG was created through an Act of Parliament in 1978.
ICG is the 4th largest in the world.
INS Rajput Decommissioned
---
The Indian Navy's first destroyer INS Rajput was decommissioned at Naval Dockyard, Visakhapatnam after serving the nation for 41 glorious years.
INS Rajput was also the first ship to be fitted out to fire the supersonic cruise and long-range BrahMos missile.
She was also the first Indian Naval ship to get affiliated with an Indian Army Regiment 'the Rajput Regiment'.
Apart from participating in various naval operations like Op Pawan, Operation Aman, Operation Cactus, and various multinational exercises, the ship was a flag bearer of the Indian Navy's benign role by participating in various relief operations.
DRDO Develops Advanced Chaff Technology
---
Defence Research and Development Organisation (DRDO) has developed an Advanced Chaff Technology to safeguard the naval ships against enemy missile attack.
Defence Laboratory Jodhpur (DLJ), a DRDO laboratory, has indigenously developed three variants of this critical technology namely Short Range Chaff Rocket (SRCR), Medium Range Chaff Rocket (MRCR) and Long Range Chaff Rocket (LRCR) meeting Indian Navy's qualitative requirements.
Recently, Indian Navy conducted trials of all three variants in the Arabian Sea on Indian Naval Ship and found the performance satisfactory.
Chaff is a passive expendable electronic countermeasure technology used worldwide to protect naval ships from enemy's radar and Radio Frequency (RF) missile seekers. The importance of this development lies in the fact that very less quantity of chaff material deployed in the air acts as decoy to deflect enemy's missiles for safety of the ships.
The DRDO has gained the expertise to meet the futuristic threats from adversaries. The technology is being given to the industry for production in large quantities.
Exercise 'Shantir Ogroshena -2021'
---
Indian Army is participating in Multinational Military Exercise namely SHANTIR OGROSHENA -2021 in Bangladesh.
The nine days exercise started on the 4th April 2021 to commemorate the birth centenary of Bangladesh Father of the Nation, Bangabandhu Sheikh Mujibur Rahman and mark glorious 50 years of liberation.
Indian Army contingent comprising 30 personnel from the Dogra Regiment is participating in the exercise along with contingents of Bhutan, Sri Lankan and Bangladesh Armies.
The theme of the exercise is Robust Peace Keeping Operations.
India To Participate In 'La Perouse' Exercise
---
Indian Navy will take part in French Naval Exercise in Bay of Bengal along with other QUAD member Countries
India will participate in France-led naval drill 'La Perouse' for the first time in the Bay of Bengal that is scheduled from 5 April-7 April-2021.
Other QUAD countries -Australia, Japan and the US - will also participate in La Perouse.
UAE To Participate Varuna Exercise
---
After La Perouse exercise among India, France, Australia, Japan and the US another important naval exercise, the India-French Varuna exercise, will also take place in April 2021.
This will be the first time that the UAE will join India and France in a trilateral naval exercise in the strategically important Persian Gulf and the Gulf of Oman. The drills, called Varuna, will be held between April 25 and April 27.
Vajra Prahar 2021 Concludes
---
The 11th edition of Indo-US Joint Special Forces Exercise – Vajra Prahar 2021 was conducted at Special Forces Training School located at Bakloh, HP in March 2021.
The joint exercise by the Special Forces of both the countries is conducted alternatively between India and the United States to share the best practices and experiences in areas such as joint mission planning and operational tactics as also to improve interoperability between the Special Forces of both nations.
BDL To Supply 'Milan-2T' Anti-Tank Guided Missiles To Indian Army
---
Defence Public Sector Undertaking (DPSU) Bharat Dynamics Limited (BDL) will supply 4,960 MILAN-2T Anti-Tank Guided Missiles (ATGMs) to Indian Army.
The Milan-2T is a Tandem Warhead ATGM with the range of 1,850 metres, produced by BDL under license from MBDA Missile Systems, France.
These missiles can be fired from ground as well as vehicle-based launchers and can be deployed in Anti-Tank Role for both offensive and defensive tasks.
Indian-Bahrain PASSEX Under 'Operation Sankalp'
---
The Indian Navy and the Royal Bahrain Naval Force carried out the Passage Exercise (PASSEX) in the Persian Gulf as part of 'Operation Sankalp' on 17th March 2021.
A passage exercise refers to a drill held by two navies to ensure that both are able to communicate and cooperate in times of war or humanitarian relief.
The Indian Navy carries out such exercises at regular intervals with units of friendly foreign navies.
They are undertaken at the time when the two navies are either visiting each other's ports or during a rendezvous at sea.
The exercise between the navies of the two nations has been conducted under the Maritime Security Operations, which has been code-named 'Op Sankalp'.
Operation Sankalp was first initiated in the Gulf region on June 19, 2019, in the aftermath of the attacks on merchant ships in the Gulf of Oman.
INS Dhruv: India's Missile Tracking Ship - To Join Navy Soon
---
India is set to commission INS Dhruv to track satellites, strategic missiles and map the Indian Ocean bed later this year.
It will act as an early warning system for adversary missiles headed towards Indian cities and military establishments.
INS Dhruv has been developed with the help of the Defence Research and Development Organisation (DRDO) and Indian Navy with India's Strategic Force Command and National Technical Research Organisation (NTRO) as main intelligence consumers.
The indigenously-developed surveillance ship has been built by Hindustan Shipyard Ltd at its Visakhapatnam facility under the Atma Nirbhar Bharat Abhiyan initiative.
INS Dhruv is equipped with the active electronically scanned array radars, or AESA, considered a game-changer in radar technology, and can scan various spectrums to monitor satellites of adversaries that are watching over India. It can also understand the range and true missile capability of adversary nations that it finds in the Indo-Pacific.
Once the vessel is commissioned, India will be the only country outside the P-5 - the US, the UK, China, Russia and France - to have this capability.
AsterX: France's First Military Exercises In Space
---
France has launched its first military exercise in space to evaluate its ability to defend its satellites and other defense equipment from an attack.
The exercise, codenamed "AsterX" in memory of the first French satellite from 1965, will be based on 18 simulated events in an operations room.
During the drill, the French military will monitor a potentially dangerous space object as well as a threat to its own satellite from another foreign power possessing a considerable space force.
The new US Space Force and German space agencies are taking part in the French exercise.
Michel Friedling is the head of France's newly created Space Command.
INS Karanj: Indian Navy Gets Third Scorpene Submarine
---
The Indian Navy got its third Scorpene submarine, which will be commissioned as INS Karanj, of Project P-75.
Earlier, Mazagon Dock Shipbuilders Limited, MDL, has delivered two Scorpene submarines named Khanderi, Kalvari.
The fourth submarine, Vela, launched on May 6 2019, has commenced sea trials, the fifth submarine Vagir, was launched on November 12, 2020 and has commenced harbour sea trials whilst the sixth submarine is presently in an advanced stage of outfitting.
All the six submarines are being constructed under Project 75. The number 75 in Project 75 refers to a unique identifier which was assigned to a programme for series production of submarines.
India-US Joint Military Exercise 'Yudh Abhyas 20'
---
The India-US joint military exercise "Yudh Abhyas 20" commenced in Mahajan Field Firing Range of Bikaner district in Rajasthan.
This is the 16th edition of annual bilateral joint exercise of both the armies. It will continue till the 21st of this month.
The previous version of the joint exercise was held at Seattle in the United States.
HAL To Develop CATS Warrior
---
The Hindustan Aeronautics Limited (HAL) is developing a futuristic high altitude pseudo satellite - CATS Warrior - with a start-up company, a first of its kind in the world.
The technology is named Combined Air Teaming System (CATS).
The satellite will be solar energised and become a big asset flying unmanned around 70,000 ft for 2-3 months and taking information.
It will have a manned aircraft (will be known as mother ship), operating from far away, and four autonomous unmanned aerial vehicles known as CATS Warrior.
In this project where the manned aircraft will operate within the boundary and the unmanned aircraft will enter the enemy zone and can carry out strikes deep inside the enemy territory.
It will be able to stealthily enter 700 kilometres inside enemy territory.
Capable of autonomous functions, these unmanned aerial vehicles will also have all the manoeuvring capabilities.
It can straightway hit the target at a distance of 700 kilometres or can go to 350 kilometres and come back. It can carry ammunition, missiles if needed.
Defence Modernisation: Army To Get Indigenous SWITCH Drones
---
Towards modernization of Indian Defence forces, the Indian Army has struck a deal for SWITCH UAV from ideaForge Technology — especially for surveillance along LAC in Eastern Ladakh.
This is the biggest such order in terms of the contract value, for any Indian equipment manufacturer for drones.
ideaForge was incubated in 2007 at the Society for Innovation and Entrepreneurship (SINE) at IIT-B by four alumni members.
Based in Mumbai, currently, the company offers seven UAVs that are used in a range of applications including mapping, traffic management, surveillance, crowd management and security. Some of these drones are already in use by the armed forces.
About Switch UAV
The Switch UAV is a fixed-wing vertical take-off and landing UAV that can be deployed at high altitude and harsh environments for day and night surveillance in Intelligence, Surveillance and Reconnaissance (ISR) missions.
It is man-portable and has the highest time on target compared to any other UAV in its class.
Its features include:
Advanced flight time with a range of 15 km
Around 2.6m long and 1.8m wide and weighs less than 6.5 kg
Higher safety and simple operation with additional fail-safe redundancies
Used for long-duration operations harsh environments for day and night surveillance in Intelligence, Surveillance and Reconnaissance (ISR) missions
IAF To Get 83 'Tejas' From HAL
---
The Union Cabinet has approved procurement of 73 LCA Tejas Mk-1A fighter aircrafts and 10 LCA Tejas Mk-1 Trainer aircrafts from Hindustan Aeronautics Limited (HAL).
Light Combat Aircraft Mk-1A
It is an indigenously designed, developed and manufactured state-of-the-art modern 4+ generation fighter aircraft.
This aircraft is equipped with critical operational capabilities of Active Electronically Scanned Array (AESA) Radar, Beyond Visual Range (BVR) Missile, Electronic Warfare (EW) Suite and Air to Air Refuelling (AAR).
It is the first "Buy (Indian-Indigenously Designed, Developed and Manufactured)" category procurement of combat aircrafts with an indigenous content of 50% which will progressively reach 60% by the end of the programme.
BEL To Supply Laser Dazzlers To Indian Navy
---
Bharat Electronics Limited (BEL) will supply Light Amplification by Stimulated Emission of Radiation Dazlers (Laser Dazzlers). These would be manufactured by BEL, Pune plant.
The Laser Dazzler is used as a non-lethal method for warning and stopping suspicious vehicles/boats/aircrafts/UAVs/pirates etc. from approaching secured areas during both day and night. It is capable of dazzle and thereby suppresses the person's/optical sensors' action with disability glare in case of non-compliance to orders. It disorient/ confuse/blind a person temporarily. It also dazzles and distracts aircraft/UAVs.
Laser dazzler technology was developed by Defence Research and Development Organisation (DRDO).
BEL to supply Lynx U2 Fire Control Systems for Indian Navy
Bharat Electronics Limited (BEL) will provide Lynx U2 Fire Control systems, designed and developed indigenously, for frontline warships of Indian Navy.
The LYNX U2 GFCS is a Naval Gun Fire Control System designed to acquire, track and engage targets amidst sea clutter. It is capable of accurately tracking air/surface targets, generating required target data for predicting weapon aiming points and engaging target. The target engagement is carried out with the medium/short range gun mounts like Russian AK176, A190 and AK630 and the SRGM available onboard ships.
'Himgiri': 1st Ship Of Project 17A By GSRE Kolkata Launched
---
Himgiri, which is the first of the three Project 17A ships being built at Garden Reach Shipbuilders and Engineers Limited (GRSE), Kolkata has been launched at Hoogly River.
Project 17A

Under the Project 17A program, a total of seven ships, four at Mazagon Dock Shipbuilders Limited (MDL) and three ships at GRSE are being built with enhanced stealth features, advanced indigenous weapon and sensor fit along with several other improvements.
P17A ships are the first gas turbine propulsion and largest combat platforms ever built at GRSE.
Defence Acquisition Procedure- 2020
---
On 28th September, 2020, the Defence Ministry unveiled the Defence Acquisition Procedure (DAP) – 2020.
The first Defence Procurement Procedure (DPP) was promulgated in the year 2002.
It has since been revised periodically to provide impetus to the growing domestic industry and achieve enhanced self-reliance in defence manufacturing.
The Defence Ministry had approved constitution of Main Review Committee under Chairmanship of DG (Acquisition) Shri Apurva Chandra in August, 2019 for preparation of DAP-2020.
Salient features of DAP -2020
Reservation in Categories for Indian Vendors
The policy reserves several procurement categories for indigenous firms.
DAP 2020 defines an "Indian vendor" as a company that is owned and controlled by resident Indian citizens, with foreign direct investment (FDI) not more than 49 per cent.
Enhancement of Indigenous Content
It promotes greater indigenous content in arms and equipment of the military procures, including equipment manufactured in India under licence.
In most acquisition categories, DAP-2020 stipulates 10 percent higher indigenisation than DPP 2016.
New Buy (Global–Manufacture in India) Category
This stipulates indigenisation of at least 50 percent of the overall contract value of a foreign purchase bought with the intention of subsequently building it in India with technology transfer.
Ease of Doing Business
One of the key focus areas of the review was to implement 'Ease of Doing Business' with emphasis on simplification, delegation and making the process industry friendly.
Design & Development
A separate dedicated chapter has been incorporated for acquisition of systems Designed and Developed by Defence Research and Development Organisation(DRDO), Defence Public Sector Undertakings (DPSUs) and Ordnance Factory Board (OFB).
Import Embargo List
The import embargo list of 101 items that the government promulgated last month has been specifically incorporated into DAP 2020. (An embargo is a government order that restricts commerce with a specified country or the exchange of specific goods.)
Offset Liability
The government has decided to remove the offset clause if the deal is done through inter-government agreement (IGA), government-to-government or an ab initio single vendor.
The offset clause requires a foreign vendor to invest a part of the contract value in India.
Significance
Boost to Atmanirbhar Bharat & Maker in India Initiative: Abhiy DAP 2020 has been aligned with the government's vision of the Atmanirbhar Bharat and empowering Indian domestic industry through Make in India initiative with the ultimate aim of turning India into a global manufacturing hub.
Official Secrets Act
---
On 14th September, 2020, a Delhi based journalist was arrested under Official Secrets Act for passing on information such as the deployment of Indian troops on the border to Chinese intelligence officers.
About Official Secrets Act (OSA)
The first Indian official secrets act was enacted in 1889 to suppress the voice of nationalist publications, which were opposing the British Government's policies.
It was amended during the time of Lord Curzon(1899-1904) in 1904.
Finally, 1904 act was replaced by The Indian Official Secrets Act of 1923 which brought within its ambit all matters of secrecy and confidentiality in governance in the country.
Scope of OSA
It broadly deals with two aspects:
Spying or espionage, covered under Section 3.
Disclosure of other secret information of the government, under Section 5.(The information could be any reference to a place belonging to or occupied by the government, documents, photographs, sketches, maps, plans, models, official codes or passwords).
Prosecution and Penalties
If found guilty, a person may get up to 14 years' imprisonment, a fine, or both.
A person prosecuted under this Act can be charged with the crime even if the action was unintentional and not intended to endanger the security of the state.
Significance
The law, applicable to government servants and citizens, provides the framework for dealing with espionage, sedition, and other potential threats to the integrity of the nation.
Criticism of OSA
In Contravention with Right to Information Act (2005)
For classifying a document, a government Ministry or Department follows the Manual of Departmental Security Instructions, 1994, not under OSA.
Also, OSA itself does not say what a "secret" document is. It is the government's discretion to decide what falls under the ambit of a "secret" document to be charged under OSA.
It has often been argued that the law is in direct conflict with the Right to Information Act, 2005.
Misuse by Authorities
Due to its unclear definition of "secret" documents or information, government authorities can misuse the Act by branding certain information or documents as official secrets as they deem fit.
Suggestions for Amending OSA
In 2006, the Second Administrative Reforms Commission (ARC) recommended that OSA be repealed, and replaced with a chapter in the National Security Act containing provisions relating to official secrets.
Further, in 2015, the government had set up a committee to look into provisions of the OSA in light of the RTI Act.
It submitted its report to the Cabinet Secretariat on June 16, 2017, recommending that OSA be made more transparent and in line with the RTI Act.
Recent Cases where OSA has been invoked
The most recent conviction under the Act came in 2018, when a Delhi court held former diplomat Madhuri Gupta, who had served at the Indian High Commission in Islamabad, guilty under the OSA. She was sentenced to jail for passing on sensitive information to Pakistan's intelligence.
Draft Defence Production And Export Promotion Policy – 2020
---
On 3rd August, 2020, the Ministry of Defence (MoD) released a draft Defence Production and Export Promotion Policy 2020 (DPEPP 2020).
Goals and Objectives
To achieve a turnover of Rs 1,75,000 Crores (US$ 25Bn) including export of Rs 35,000 Crore (US$ 5 Billion) in Aerospace and Defence goods and services by 2025.
To develop a dynamic, robust and competitive Defence industry, including Aerospace and Naval Shipbuilding industry to cater to the needs of Armed forces with quality products.
To reduce dependence on imports and take forward "Make in India" initiatives through domestic design and development.
To promote export of defence products and become part of the global defence value chains.
To create an environment that encourages R&D, rewards innovation, creates Indian IP ownership and promotes a robust and self-reliant defence industry.
Major Highlights
Procurement Reforms
A negative list of weapons/platforms would be notified with year-wise timelines for placing an embargo on import of such items from those dates.
A Project Management Unit (PMU), with representation from the Services, would be set up to support the acquisition process and facilitate management of the contracts. This setup would bring in expertise to the process of acquisition as well as create focus and synergy in building military
In addition, with the aim to move away from licensed production to design, develop and produce indigenously and own the design rights and Intellectual Property (IP) of the systems projected in Long Term Integrated Perspective Plan (LTIPP) of the Services, a Technology Assessment Cell (TAC) would be created.
The TAC would also assess the industrial capability for design, development and production including re-engineering for production of various major systems like Armoured Vehicles, Submarines, Fighter Aircraft, Helicopters, Radars with the major industries in the country
Indigenization and Support to Msmes/Start-ups
The indigenisation policy aims to create an industry ecosystem to indigenise the imported components (including alloys and special materials) and sub-assemblies for defence equipment and platforms manufactured in India. 5,000 such items are proposed to be indigenised by 2025.
Optimize Resource Allocation
The share of domestic procurement in overall Defence procurement is about 60 percent.
In order to enhance procurement from domestic industry, it is incumbent that procurement is doubled from the current Rs 70,000 crore to Rs 1,40,000 crore by 2025.
Investment Promotion, FDI and Ease of Doing Business
India is emerging as an attractive investment destination.
The improvement in market size, demographic dividend and availability of diverse skill sets are evident from India's ranking in the World Bank's 'Ease of Doing Business' (EoDB) report.
Defence being a monopsony, investments in this sector is incumbent on regular supply of orders.
India is already a large aerospace market with rising passenger traffic and increasing military expenditure, as a result of which the demand for aircrafts (fixed and rotary wings) is increasing.
Innovation and R&D
By harnessing the nationwide R&D capabilities, future requirements of the services could be met and critical gaps in related technologies would get addressed.
Innovations for Defence Excellence (iDEX) has been operationalized to provide necessary incubation and infrastructure support to the start-ups in defence area.
Mission RakshaGyan Shakti was launched to promote greater culture of innovation and technology development and to file greater number of patents in Defence PSUs and Ordnance Factory Board (OFB).
Quality Assurance and Testing Infrastructure
The entire process of quality assurance and its time bound delivery would be rationalized and monitored by developing an IT platform withan industry interface.
For the MSMEs to be more quality conscious, 'Zero Defect Zero Effect'is being encouraged. This would help industry to adopt Self Certification and Green Channel route through a process facilitated by DGQA/DGAQA.
Efforts would be made to create testing infrastructure through DefenceTesting Infrastructure Scheme (DTIS) by providing assistance to industry to set up common testing facilities.
Export Promotion
Defence Attachés have been mandated and are supported to promote export of indigenous defence equipment abroad.
Export Promotion Cell set up to promote Defence exports through coordinated action to support the Industry would be further strengthened and professionalized.
The end-to-end export clearance process in the Department of Defence Production would be further upgraded to make the process seamless and time-bound.
Open General Export License (OGEL) regime would be utilized to encourage export of selected defence equipment/items to identified friendly countries.
Way Forward
The DPEPP-2020 is envisaged as overarching guiding document of MoD to provide a focused, structured and significant thrust to defence production capabilities of the country for self-reliance and exports under 'Atmanirbhar Bharat Package'.
Defence Testing Infrastructure Scheme
---
In order to give a boost to domestic defence and aerospace manufacturing, the government on 15th May, 2020, approved the launch of Defence Testing Infrastructure Scheme (DTIS) with an outlay of Rs 400 crore for creating state of the art testing infrastructure for this sector.
Objective
To promote indigenous defence production, with special focus on participation of MSMEs and Start Ups by bridging gaps in defence testing infrastructure in the country.
Background
The scheme, announced in August, 2019 under "Make in India", accorded high priority to development of manufacturing base of Defence and Aerospace sectors in the country to reduce dependence on imports.
Towards this, Government announced establishment of Defence Industrial Corridors (DICs) in Uttar Pradesh and Tamil Nadu.
Need
One of the main impediments for domestic defence production is lack of easily accessible state-of-the-art testing infrastructure.
Defence Testing Infrastructure is often capital intensive requiring continuous upgradation and it is not economically viable for individual defence industrial units to set up in-house testing facilities.
Key Points
The Scheme would run for the duration of five years and envisages setup six to eight new test facilities in partnership with private industry.
The projects under the Scheme will be provided with up to 75 percent government funding in the form of 'Grant-in-Aid'.
The remaining 25 percent of the project cost will have to be borne by the Special Purpose Vehicle (SPV) whose constituents will be Indian private entities and State Governments.
The SPVs under the Scheme will be registered under Companies Act 2013 and shall also operate and maintain all assets under the Scheme, in a self-sustainable manner by collecting user charges.
While majority of test facilities are expected to come up in the two DICs (one in Tamil Nadu and the other in Uttar Pradesh), the Scheme is not limited to setting up Test Facilities in the DICs only.
The guidelines specify the establishment of testing facilities for drones and Unmanned Aerial Vehicles (UAVs), radar, electronics/telecom equipment, rubber testing, noise and shock testing, specialised driving tracks, ship motion testing, ballistics and blast testing, and environmental test facilities.
Impact
The scheme is directed towards promoting indigenous defence capability, specifically amongst micro, small and medium enterprises (MSMEs) and start-ups.
Setting up of Defence Testing Infrastructure will provide easy access and thus meet the testing needs of the domestic defence industry.
This will help to reduce imports of military equipment and help make the country self-reliant.
India To Get MK 54 Torpedoes And AGM-84L Harpoon Missiles
---
On 13th April, 2020, , the US Department of State approved a possible Foreign Military Sale to India of 16 MK 54 all round up lightweight torpedoes and ten AGM-84L Harpoon Block II air-launched missiles.
India intends to use the equipment on the Indian Navy's Boeing P-8I maritime aircraft.
MK 54 Lightweight Torpedos
Previously, known as the Lightweight Hybrid Torpedo (LHT), it weighs around 608 pounds, while its warhead weighs around 96.8 pounds and is highly explosive.
These torpedoes are used by US surface ships, fixed-wing aircraft and helicopters and are their primary anti-submarine warfare weapon.
The primary use of this equipment is for offensive purposes when deployed by anti-submarine warfare aircraft and helicopters, and for defensive purposes when deployed by ships and against fast, deep-diving nuclear submarines and slow-moving, quiet, diesel-electric submarines.
AGM-84L Harpoon Block II Air-Launched Missiles
The Harpoon missile system will be integrated into the P-8I aircraft to conduct anti-surface warfare missions in defense of critical sea lanes.
It uses GPS-aided inertial navigation to hit the designated target.
Its warhead weighs over 500 pounds and is capable of delivering lethal firepower against targets, including land-based targets, coastal defence sites, surface-to-air missile sites, exposed aircraft and industrial or port facilities.
P-8I Aircraft
Boeing's P-8s are designed for long-range anti-submarine warfare, anti-surface warfare and intelligence, surveillance and reconnaissance missions.
The P-8s India version is called the P-8I, and helps the Indian Navy carry out important maritime operations.
India currently has eight of these aircraft and is scheduled to receive four more by 2022. One of these is expected to be delivered this year.
Impact
Improving Bilateral Relation
The proposed sale will support the foreign policy and national security of the United States by helping to strengthen the U.S.-Indian strategic relationship.
It will further help to improve the security of a major defensive partner, which continues to be an important force for political stability, peace, and economic progress in the Indo-Pacific and South Asia region.
Enhancing India's Strategic Capabilities
It will help improve India's capability to meet existing and future threats from enemy weapon systems.
The Harpoon missile system can perform anti-surface warfare missions to defend critical sea lanes when integrated into the P-8I aircraft.
The MK 54 lightweight torpedo will provide the capability to conduct anti-submarine warfare missions.
The enhanced capability will be used by India as a deterrent to regional threats and to strengthen its homeland security.
Defence Procurement Procedure – 2020
---
On 20th March, 2020, Defence Ministry unveiled the draft Defence Procurement Procedure (DPP) 2020 that aims at further increasing indigenous manufacturing and reducing timelines for procurement of defence equipment.
DPP will come into effect from April 01, 2020 and would remain in force till 31 March 2025.
Background
Dpp-2020, along with several other such innovative measures were part the Draft finalized by a high-level committee headed by DG Acquisition, Ministry of Defence that was set up in August 2019.
It is to be noted that the first DPP was promulgated in 2002 and has been revised a number of times with last revision in the year 29016.
Major Changes Proposed in New DPP
Higher Indigenous Content
It proposes increasing the Indigenous Content (IC) stipulated in various categories of procurement by about 10% to support the 'Make in India' initiative.
A simple and realistic methodology has been incorporated for verification of indigenous content for the first time.
Introduction of New Category Buy (Global- Manufacture in India)
It has been introduced with minimum 50% indigenous content on cost basis of total contract value.
Only the minimum necessary will be bought from abroad while the balance quantities will be manufactured in India.
Foreign vendors' products that have a minimum of 50 per cent indigenous content will come under this new category.
This would be in preference to the 'Buy Global' category as manufacturing will happen in India and jobs will be created in the country.
Leasing Introduced as a New Category
Leasing has been introduced for the first time as a new category for acquisition in addition to existing 'Buy' & 'Make' categories to substitute huge initial capital outlays with periodical rental payments.
Leasing is permitted under two categories i.e, Lease (Indian) where Lessor is an Indian entity and is the owner of the assets and Lease (Global) where Lessor is a Global entity.
This will be useful for military equipment not used in actual warfare like transport fleets, trainers, simulators, etc.
Product Support
The scope and options for Product Support have been widened to include contemporary concepts in vogue, namely Performance Based Logistics (PBL), Life Cycle Support Contract (LCSC), Comprehensive Maintenance Contract (CMC), etc to optimise life cycle support for equipment.
The capital acquisition contract would normally also include support for five years beyond the warranty period.
Other Changes
Raw Material: Use of raw materials, special alloys and software incentivised as use of indigenous raw material is a very important aspect of 'Make in India' and Indian Companies are world leaders in software.
Single Vendor: Assurance of procurement on a single vendor basis from Aero Engine manufacturing unit and chips from FAB manufacturing units established in the country.
Procurement of Software and Systems: A new Chapter is introduced for procurement of software and systems related projects as in such projects, obsolescence is very fast due to rapid changes in technology and flexibility in the procurement process is required to keep up with the technology.
Post Contract Management: It has been introduced to facilitate and provide clear guidelines for issues arising during the contract period as typically Defence contracts last for a long period.
Reduced Procurement Time: Timelines for procurement reduced by reducing the process for accord of Acceptance of Necessity which would be single stage of projects less than Rs.500 crore and in case of repeat orders.
Impact
Removing Bottlenecks: It will help to remove procedural bottlenecks and hasten acquisition; align and standardise the provisions to optimise life cycle support for equipment and simplify policy and procedures to facilitate greater participation of the industry and develop robust Defence industrial base.
Boost to Make in India Initiative: The DPP-2020 is aligned with the vision of the government to empower the private industry through the 'Make in India' initiative, with the ultimate aim of turning India into a global manufacturing hub.
Way Forward
The defence industry of India is a strategically important sector having huge potential for growth and development.
The government is constantly striving to formulate policies to empower the private industry including MSMEs in order to develop the eco-system for indigenous defence production and DPP-2020 is a huge step in order to provide a catalyst for India's economic growth and realisation of India's global ambitions.
Third Bodo Accord
---
On 27th January, 2020, the Union Home Ministry , the Assam government and Bodo groups — including all factions of the militant National Democratic Front of Bodoland (NDFB) and All Bodo Student's Union (ABSU)— signed the third Bodo accord,an agreement for peace and development paving the way for political and economic benefits for the Bodo community.
Bodo Issue
Bodo dissatisfaction started due to the resettlement of other communities on their land in Assam and the increasing pressure on the land.The Bodos wanted supremacy over the politics, economy and natural resources of their region.
The first organised demand for a Bodo state came in 1967-68 under the banner of the political party Plains Tribals Council of Assam.
The Bodo movement for a separate state became violent after the 1980s and was divided into three factions.
The first faction was led by the National Democratic Front of Bodoland (NDFB), which wanted a separate state for itself.
The second group is the Bodoland Tigers Force (BTF), which called for greater autonomy.
The third faction is the All BodoStudent's Union (ABSU), which sought a political solution while looking for a middle path.
In 1985, when the Assam Movement culminated in the Assam Accord, many Bodos saw it as essentially focusing on the interests of the Assamese-speaking community.
In 1987, the ABSU revived the Bodo statehood demand.
Bodo Community
The Bodo are a part of the greater Bodo-Kachari family of ethno linguistic groups spread across northeastern India and clustered strongly in Assam, along the eastern Duars.
Bodos are the single largest community among the notified Scheduled Tribes in Assam.
Traditionally, Bodos practiced Bathouism, which is the worshiping of forefathers, known as Obonglaoree.
In ancient Sanskrit literatures, Bodos were called as Kiratas and Mlecchas. Bodos were also formerly known as Rangtsa or Ramsa.
Important Clans of Bodos
Swarg-Aroi
Basumati-Aroi
Ramsa-Aroi
Previous Bodo Accords(Memorandum of Settlement)
The ABSU-led movement from 1987 culminated in first Bodo Accord in 1993, which paved the way for a Bodoland Autonomous Council (BAC), but ABSU withdrew its agreement and renewed its demand for a separate state.
The second Bodo Accord was signed in 2003 by the extremist group Bodo Liberation Tiger Force (BLTF), the Centre and the state. This led to the formation of Bodoland Territorial Council (BTC).
Bodoland Territorial Council (BTC)
The Bodoland Territorial Council was constituted under the Sixth Schedule to the Constitution of India in the year 2003.
The BTC has 46 executive members each looking after a specific area of control called Somisthi. The area under the BTC jurisdiction is officially called the Bodoland Territorial Area Districts (BTAD).
The BTAD consists of four contiguous districts - Kokrajhar, Baksa, Udalguri and Chirang(total 35% of Assam) — carved out of seven existing districts — Kokrajhar, Bongaigaon, Barpeta, Nalbari, Kamrup, Darrang and Sonitpu.
The BTAD and other areas mentioned under the Sixth Schedule of the Constitution have been exempted from the Citizenship (Amendment) Act, 2019.
Communities Residing in BTC Area
Bodos , Assamese , Bengalis, Koch-Rajbongshis, Rabhas, Garos , Adivasis, Muslims and Nepalies, etc.
Key Points of New Accord
The area under the jurisdiction of BTC, formed under the 2003 Accord, was called the Bodo Territorial Autonomous District (BTAD). From now, the BTAD will be known as Bodoland Territorial Region (BTR).
The government will set up a Bodo-Kachari Welfare Council for focused development of Bodo villages outside BTAD — which opens up a way to potentially address the needs of Bodos outside BTAD.
Source: Indian Express
As per the agreement, villages dominated by Bodos that were presently outside the BTAD would be included and those with non-Bodo population would be excluded.
Bodos living in the hills would be conferred a Scheduled Hill Tribe status.
It provides for more legislative, executive, administrative and financial powers to BTC; and amendments to the Sixth Schedule of the Constitution to "improve the financial resources and administrative powers of BTC".
Acoording to the 2020 agreement, the Government of Assam will notify Bodo language in Devanagri script as the associate official language in the state.
The accord does not have any provisions for a separate state. Instead, it seeks to "augment area and powers" of the existing Bodoland Territorial Council and "streamline its functioning".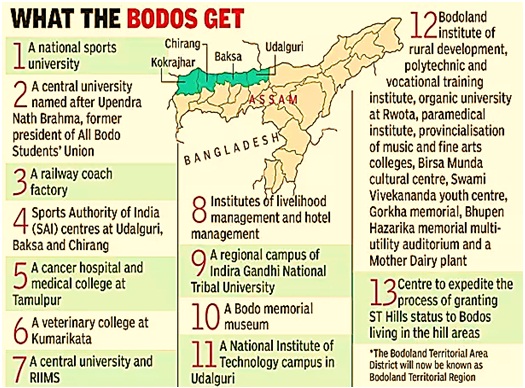 Source: ToI
Impact
End of Bodo Crisis: The signing of the agreement would end the 50-year-old Bodo crisis and help in ensuring lasting peace in the BTAD that had been torn apart by decades of violence and ethnic conflicts.
Protecting Bodo Culture: It would further protect and popularise the unique culture of the Bodo people. They will get access to a wide range of development-oriented initiatives.
Reaffirming Territorial Integrity: The accord will lead to transformative results for Bodosas it successfully brings together the leading stakeholders under one framework, reaffirming the territorial integrity of Assam.
Fulfilling Sab ka Saath, Sab ka Vikas, Sab ka Vishwas: The Accord is line with the Prime Minister's vision of 'Sab ka Saath, Sab ka Vikas, Sab ka Vishwas'.Those who were previously associated with armed resistance groups will now be entering the mainstream ushering in a new dawn of peace, harmony and togetherness contributingboth to state and nation's progress.
Way Forward
The latest accord brings an end to the Bodo politics. However,there are concerns that the latest settlement repeats a mistake of the previous twoaccords: it does not take on board the non-Bodo population of the area, who, in fact, form a majority in the area may lead to fresh power struggle in the area.
The lack of non-Bodo representation in these peace arrangements has meant that ethnic conflicts have continued despite them. In 2008, clashes between Bodos and Muslims of Bengali origin left more than 100 dead and displaced a lakh and a half.
The success of this new Accord will solely depend upon proper implementation of its changes and the cooperation between the Bodo and nonBodo communities.
Jammu & Kashmir Public Safety Act
---
Recently, the Former Jammu & Kashmir Chief Minister Dr. Farooq Abdullah was detained under the State's Public Safety Act.
The law was introduced by Sheikh Abdullah (Farooq Abdullah's father) in 1978 to prevent timber smuggling, and keep the smugglers in prison.
About Public Safety Act (PSA)
Definition: The Jammu & Kashmir Public Safety Actempowers the government to detain a person up to two years without a trial in order to prevent him or her from acting in any manner that is prejudicial to the security of the state or the maintenance of the public order.
Way of Enforcement:It comes into force by an administrative order passed either by Divisional Commissioner or the District Magistrate or not by any detention order by police based on specific allegations or for specific violation of laws.
Scope of Detention:It can be slapped on a person already in police custody; on someone immediately after being granted bail by a court; or even on a person acquitted by the court.
Limitations: A person who is detained under the PSA need not be produced before a magistrate within 24 hours of the detention and the detained person does not have the right to move a bail application before a criminal court, and cannot engage any lawyer to represent him or her before the detaining authority.
Challenge against Detention
It can be challenged is through a habeas corpus petition filed by relatives of the detained person
The Supreme Court and the High Court have the jurisdiction to hear such petitions and pass a final order seeking quashing of the PSA.
In case, if the order is quashed, the government can pass another detention order under the PSA and detain the person again.
Habeas Corpus
It is issued under the Article 32(2) by the Supreme Court for the enforcement of any of the rights conferred by Part III of the Constitution.
It is the most valuable writ for personal liberty which means, "Let us have the body".
It is an order by a Court to the detaining authority to produce the arrested person before it so that it may examine whether the person has been detained lawfully or otherwise.
If the Court is convinced that the person is illegally detained, it can issue orders for his release.
The writ can be issued against both the State and private individual or organizations.
Purpose
The writ has only one purpose, to set at liberty a person who is confined without legal justification.
Constitutional Provisions against Preventive Detention
Article 22 of the constitution provides safeguard against preventive detention.
The first part of Article 22 confers the following rights on a person who is arrested or detained under an ordinary law:

Right to be informed of the grounds of arrest
Right to consult and be defended by a legal practitioner
Right to be produced before a magistrate within 24 hours, excluding the journey time
Right to be released after 24 hours unless the magistrate authorizes further detention

The second part of Article 22 grants protection to persons who are arrested or detained under a preventive detention law. This protection is available to both citizens as well as aliens and includes:

The detention of a person cannot exceed three months unless an advisory board reports sufficient cause for extended detention. The board is to consist of judges of a High Court.
The grounds of detention should be communicated to the detenu. However, the facts considered to be against the public interest need not be disclosed.
Preventive detention laws made by the Parliament:
Preventive Detention Act, 1950. Expired in 1969.
Maintenance of Internal Security Act (MISA), 1971. Repealed in 1978.
Conservation of Foreign Exchange and Prevention of Smuggling Activities Act (COFEPOSA), 1974.
National Security Act (NASA), 1980.
Prevention of Black marketing and Maintenance of Supplies of Essential Commodities Act (PBMSECA), 1980.
Terrorist and Disruptive Activities (Prevention) Act (TADA), 1985. Repealed in 1995.
Prevention of Illicit Traffic in Narcotic Drugs and Psychotropic Substances Act (PITNDPSA), 1988.
Prevention of Terrorism Act (POTA), 2002. Repealed in 2004.
Way Forward
India is one of the few countries in the world whose Constitution allows for preventive detention during peacetime without safeguards that elsewhere are understood to be basic requirements for protecting fundamental human rights.
Preventive detention as enshrined under Article 22 strikes a devastating blow to personal liberties. It also runs afoul of international standards. Article 4 of the International Covenant on Civil and Political Rights (ICCPR) - which India has ratified admittedly permits derogation from guaranteeing certain personal liberties during a state of emergency.
New Agency DSRO For Developing Space Weapons
---
Why is it in News?
The government has given approval to set up a new agency, Defence Space Research Agency (DSRO) that will develop sophisticated space weapons and technologies.
Relevance of the News: It gives an overview of the efforts being undertaken by the government in developing space technologies and securing the space.
Defence Space Research Agency (DSRO):
The Cabinet Committee on Security headed by the Prime Minister has cleared the setting up of the DSRO which will be geared towards creating space warfare weapon systems and technologies.
The agency has started taking shape under a Joint Secretary level scientist.
DSRO would be provided with a team of scientists which would be working in tandem with the tri-services integrated Defence staff officers.
The DSRA would provide R&D support to Defence Space Agency (DSA).
Defence Space Agency (DSA):
DSA is an agency which will help India in fighting wars in space. It consists of members of the three services.
The DSA, being set up in Bengaluru, will gradually take over the space-related work of the three forces.
DSA is an important institutional initiative that combines two key functions performed by the Defence Imagery Processing and Analysis Centre (DIPAC) and the Defence Satellite Control Centre, representing the growing integration of India's space capabilities.
India recently demonstrated India's anti-satellite (ASAT) capability by conducting successful satellite destruction tests in outer space.
Liberation Tigers Of Tamil Eelam (LTTE)
---
Why is it in News?
The Union government on 14th May renewed its 2014 notification for another 5 years to declare the Liberation Tigers of Tamil Eelam (LTTE) as an "unlawful association" for violent and disruptive activities that are detrimental to the integrity and sovereignty of the nation.
About the Organisation:
LTTE continues to escalate the anti-India feeling amongst the Sri Lankan Tamils by blaming the Government of India for the defeat of the LTTE which is likely to affect VVIP security negatively in India, through articles in the internet portals,
In May 1991, former Prime Minister Rajiv Gandhi was assassinated by an LTTE suicide bomber during an election rally in Sriperumbudur in Tamil Nadu.
In May 2009, after its military defeat in Sri Lanka, the LTTE had not renounced the concept of 'Eelam' (separate land for Tamils) and had been secretly and illicitly working towards it by undertaking fund-raising and propaganda activities.
The LTTE's objective for a separate homeland (Tamil Eelam) for all Tamils threatened the sovereignty and territorial integrity of India and amounted to cession and secession of a part of the territory of India from the Union and thus fell within the bounds of unlawful activities.
Sampriti-2019
---
Why is it in News?
A joint military exercise between India and Bangladesh - 'Sampriti 2019' was conducted recently in Bangladesh.
About Sampriti:
It is a bilateral defence cooperation exercise between India and Bangladesh. This was the 8th edition of the military exercise which is held alternately by both the countries.
Objective of Exercise:
It aims to exchange the best practices while dealing with Insurgency & Counter Terrorism Operation.
Source: PIB
National Reports On Arms Export/ Imports
---
Why is it in News?
India is the world's 2nd largest arms importer as per the reports of SIPRI.
About the Report:
During 2009-13, India was the world's largest arms importer, but in a recent report released by SIPRI (Stockholm International Peace Research Institute), India is at the 2nd position and Saudi Arabia has become the largest importer of arms in the world.
A total of 155 countries imported major arms in 2014–18. The top five arms importers - Saudi Arabia, India, Egypt, Australia and Algeria - accounted for 35% of total arms imports in 2014–18.
67 countries exported major arms in 2014–18. The top five - the US, Russia, France, Germany and China - accounted for 75% of all arms exports. The top five in 2014–18 were the same as in 2009–13 but their combined total exports of major arms were 10% higher.
About SIPRI
SIPRI is an international institute based in Sweden, dedicated to research into conflict, armaments, arms control and disarmament.
It was established in 1966 and is based in Stockholm, Sweden.
SIPRI provides data, analysis and recommendations, based on open sources, to policymakers, researchers, media and the interested public.
Source: TH
Quick Reaction Surface To Air Missile System (QRSAM)
---
Why is it in News?
QRSAM was successfully test fired at Chandipur in Odisha's Balasore district in February 2019.
About QRSAM:
QRSAM is an indigenously built missile system that uses solid-fuel propellant and has a stated range of strike range of 25-30 km.
It is an all weather weapon system that is capable of tracking and firing with precision.
It is capable of engaging multiple targets.
Why was there a need to develop QRSAM in the existence of the Akash Aerial Defence System?
India is placed at a geographical location where it has hostile neighbors like Pakistan and China. Hence, it becomes relevant to develop another missile system rather than relying on a single Air Defense System like Akash.
How QRSAM has an edge over the Akash Missile System:
QRSAM units are 3 times lighter than the Akash missile unit, which makes it logistically convenient- reloading it and carrying extra units will be easier.
Shorter second reaction time
360 Degree Coverage
National Security Act
---
Why is it in News?
The National Security Act was invoked by the State Government of MP, not very long back in February 2018 against three men accused of killing a cow.
Origin of NSA:
Preventive detention laws in India date back to early days of the colonial era when the Bengal Regulation III of 1818 was enacted to empower the government to arrest anyone for defense or maintenance of public order without giving the person recourse to judicial proceedings. A century later, the British government enacted the Rowlatt Acts of 1919 that allowed confinement of a suspect without trial.
Post-independence India got its first preventive detention rule when the Government of Prime Minister Jawaharlal Nehru enacted the Preventive Detention Act of 1950.
Provisions of NSA:
The NSA empowers the Centre or a State government to detain a person to prevent him from acting in any manner prejudicial to national security.
The government can also detain a person to prevent him from disrupting public order or for maintenance of supplies and services essential to the community.
The maximum period for which one may be detained is 12 months but the term can be extended if the government finds fresh evidence.
Under the provisions of NSA, no legal representation is allowed through lawyers and the person can be detained without communicating the grounds for detention till 10 days.
---