India Designates 5 New Ramsar Sites
---
India has designated five (5) new wetlands of International importance making a total of 54 Ramsar sites in the country.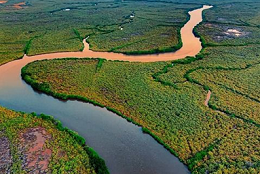 The recently added sites are in three states:
Tamil Nadu

Karikili Bird Sanctuary
Pallikaranai Marsh Reserve Forest
Pichavaram Mangrove

Mizoram

1. Pala Wetland

Madhya Pradesh

1. Sakhya Sagar
A Brief on the Newly Recognised Sites
Karikili Bird Sanctuary
The Karikili Bird Sanctuary is located partly in Maduranthagam Taluk, Chengalpattu District & partly in Kancheepuram District of Tamil Nadu.
It provides habitat for a variety of resident and migratory birds, most of them waterbirds, as well as a few species of scavengers.
The near-threatened oriental darter (Anhinga melanogaster) and spot-billed pelican (Pelecanus philippensis) breed here.
The wetland also supports several mammal, reptile and amphibian species such as the jungle cat, bonnet macaque, jackal, python, sand boa and frogs.
The Site was declared a Birds Sanctuary in 1972.
Pallikaranai Marsh Reserve Forest
This freshwater marsh and partly saline wetland situated about 20 kilometres south of the city of Chennai serves as an aquatic buffer of the flood-prone Chennai and Chengalpattu districts.
The diverse ecosystem of the marshland supports some 115 bird species, ten mammals, 21 reptiles, ten amphibians, 46 fish, nine molluscs, five crustaceans, and seven butterfly species. These include notable species such as Russell's viper (Daboia siamensis) and birds such as the glossy ibis (Plegadis falcinellus), grey-headed lapwings (Vanellus cinereus) and Pheasant-tailed jacana (Hydrophasianus chirurgus).
Apart from its biodiversity value, the wetland also plays a vital role in the prevention of flooding for the city of Chennai, soaking up water during wet periods and releasing it during dry spells.
Inhabitants of seven surrounding villages partially depend on the wetland for their subsistence.
Threat: The Site is threatened by invasive and non-native species, household sewage, urban wastewater and droughts.
Pichavaram Mangrove
It is one of the largest mangrove ecosystems in India, located between the prominent estuaries of the Vellar and Coleroon Rivers in Cuddalore district of Tamil Nadu.
Pichavaram Mangrove supports several threatened species such as the critically endangered great white-bellied heron (Ardea insignis) and spoon-billed sandpiper (Eurynorhynchus pygmeus), the endangered spotted greenshank (Tringa guttifer) and the vulnerable olive ridley turtle (Lepidochelys olivacea).
The Site also provides spawning and nursing ground for commercially important prawns, mainly white prawn (Penaeus indicus) and tiger prawn (P. monodon), crabs and fish.
In addition to this exceptional biodiversity, the Site supports the livelihoods of over 1,000 families through artisanal fishing, firewood collection, non-timber forest product harvesting, and grazing lands for livestock.
The mangroves are revered by the local communities due to the significant spiritual value associated with Excoecaria agallocha, a mangrove with toxic properties commonly known as "Tillai".
Pala Wetland
Pala Wetland is the largest natural wetland in the state of Mizoram.
The wetland supports a rich diversity of animal species, including at least seven mammals, 222 birds, 11 amphibians and 21 reptiles.
The low-lying marshy areas within the wetland provide excellent habitat for many herbivores such as sambar deer (Cervus unicolor), wild pig (Sus scrofa) and barking deer (Muntiacus muntjak). Various species of primate also inhabit the wetland, such as the endangered Hoolock gibbon (Hoolock hoolock) and Phayre's leaf monkey (Trachypithecus phayrei).
Pala Wetland is revered by the local Mara people and has a deep connection with their history.
Threat: Although classified as a Wetland Reserve by the national authorities, the Site is threatened by the construction of roads and railroads, hunting and collecting of land animals, illegal logging and wood harvesting.
Sakhya Sagar
Sakhya Sagar is a human-made reservoir on the outskirts of Shivpuri town of Madhya Pradesh within the Madhav National Park.
This wetland provides a permanent source of water for wildlife, and habitat for animals including thousands of migratory waterfowl and also mugger crocodile (Crocodylus palustris).
In total, the wetland supports 19 species of fish, nine reptiles and 19 mammals, and is an important staging ground for 73 bird species.
The wetland also plays a vital role in nutrient cycling, groundwater recharge, and regulating the micro-climate of the area.
Sela Macaque: A New Species of Primate
---
Scientists from the Zoological Survey of India have discovered a new species of primate in Arunachal Pradesh.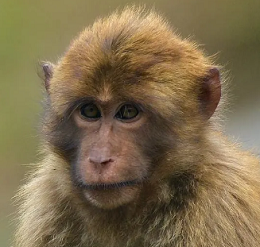 The species is called Sela Macaque, named after the Sela pass situated between Dirang and Tawang towns in western Arunachal Pradesh.
Sela macaque (Macaca selai) is a new macaque species genetically different from the other species of monkeys reported from this region.
The pass acted as a barrier by restricting the migration of individuals of these two species for approximately two million years.
This primate has evolved from the Arunachal macaque (Macaca munzala), an endangered and recently discovered species from the same region.
About Arunachal macaque
Arunachal macaque (Macaca munzala) is an endangered and recently discovered cercopithecine (a subfamily of the Old World monkeys, which comprises roughly 71 species, including the baboons, the macaques, and the vervet monkeys) primate from Western Arunachal Pradesh.
Arunachal macaque evolved into two phylogenetic species. Phylogenetics relates to the evolutionary development and diversification of a species or group of organisms.
Sela macaque vs. Arunachal macaque
Colour & Facial Feature: Although, Sela macaque shares certain similar physical characteristics to Arunachal macaque like heavy-build shape and long dorsal body hair, they are different in terms of color, and facial features. While the Sela macaque has a pale face and brown coat, the Arunachal macaque has a dark face and dark brown coat.
Longer Tail: Sela macaque has a longer tail compared to Tibetan macaque, Assamese macaque, Arunachal macaque and the white-cheeked macaque but shorter than the bonnet macaque and toque macaque. Other features of the species include brown collar hair and muzzle, thick brown hair around the neck, and the absence of chin whiskers.
Other Recently Found Species from Arunachal
In February 2022, researchers and scientists discovered the existence of the White-Cheeked Macaque (Macaca leucogenys) in Arunachal Pradesh's West Siang district.
White-Cheeked Macaque Cited in Arunachal Pradesh
---
Recently, in an important discovery, scientists recorded presence of White-Cheeked Macaque (Macaca leucogenys) from central Arunachal Pradesh in India.
The species has not been sighted or reported from India after a single incidence of photographic capture from Anjaw district, Arunachal Pradesh in 2015, which raises controversy about its existence in India among the primatologists.
White- Cheeked Macaques are distinct from other macaques found in the region by displaying white cheeks, long and thick hairs on the neck area, and a longer tail.
Along with White-Cheeked Macaques and Arunachal Macaque the other species of Macaques are Assamese Macaque (Macaca assamensis) and Rhesus Macaque (Macaca mulatta) reported from the same landscape.
White Cheeked Macaque has not yet been included in the Wildlife (Protection) Act, 1972 of India and therefore, the present study laid the foundation to promote field studies in Central Arunachal Pradesh to delineate distribution boundary and population size of White Cheeked Macaque in Arunachal Pradesh.
The number of mammalian species reported from India stands at 434. The significance of the discovery is that it marks a new addition to mammals of India.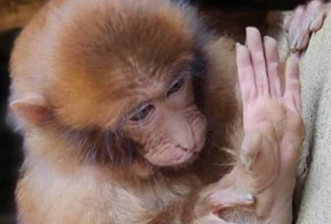 Sathyamangalam Tiger Reserve gets TX2 Award
---
Sathyamangalam Tiger Reserve (STR) in Erode district of Tamil Nadu has won the TX2 award for doubling its tiger population to 80 since 2010.
Bardia National Park in Nepal has also won this year's TX2 award.
In 2020, Uttar Pradesh's Pilibhit Tiger Reserve was awarded the first TX2 Award for having doubled its tiger population before the stipulated time frame.
The TX2 awards are presented by the Conservation Assured Tiger Standards (CA|TS), Fauna and Flora International (FFI), Global Tiger Forum (GTF), IUCN's Integrated Tiger Habitat Conservation Programme (ITHCP), Panthera, UNDP, The Lion's Share, Wildlife Conservation Society (WCS) and WWF.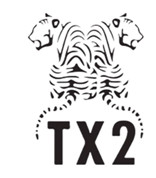 Sathyamangalam Tiger Reserve
The Sathyamangalam Tiger Reserve is located in Erode district of tamil Nadu, and houses 80 tigers. Its area is contiguous with the Mudumalai Tiger Reserve, Bandipur Tiger Reserve (Karnataka) and BR Tiger Reserve and Wildlife Sanctuary (Karnataka). Together, these reserves — forming the Nilgiris biosphere landscape — have the biggest tiger population in the world, at over 280 tigers.
Second Global Tiger Summit
Vladivostok, Russia will host the second Global Tiger Summit, in September 2022 of tiger range countries to assess progress towards the ambitious TX2 goal, i.e. double the number of tigers in the wild, and identify tiger conservation priorities for the next 12 years.
Buxa Tiger Reserve
---
Recently, a Royal Bengal tiger was sighted at the Buxa reserve - a first such sighting in 23 years.
Buxa Tiger Rserve (BRT)
Location
It is situated in the Alipurduar Sub-division of Jalpaiguri District, West Bengal.
Its northern boundary runs along the international border with Bhutan.
The Sinchula hill range lies all along the northern side of BTR and the eastern boundary touches that of the Assam state.
It is the easternmost extension of extreme bio-diverse North-East India and represents highly endemic Indo-Malayan region.
The fragile "Terai Eco-System" constitutes a part of this reserve.
The Phibsoo Wildlife Sanctuary of Bhutan is contiguous to the north of BTR. Manas National Park lies on east of BTR. BTR, thus, serves as international corridor for Asian elephant migration between India and Bhutan.
Flora
The forests of the reserve can be broadly classified as the 'Moist Tropical Forest'.
Fauna
Some important species found in the reserve are Indian Tiger (Panthera tigris tigris), Leopard (Panthera pardus), Clouded Leopard (Neofelis nebulosa), Hog badger (Arctonyx collaris), Jungle Cat (Felis chaus) etc.
Tribe
Dukpa(people from the land of thunderstorm) are the ancient ethnic group among the other inhabitants of Buxa Tiger Reserve.
Dukpas used live in the hamlets of Buxa Hills from east to west.
Rivers
The main rivers flowing across the Tiger Reserve are Sankosh, Raidak, Jayanti, Churnia, Turturi, Phashkhawa, Dima and Nonani.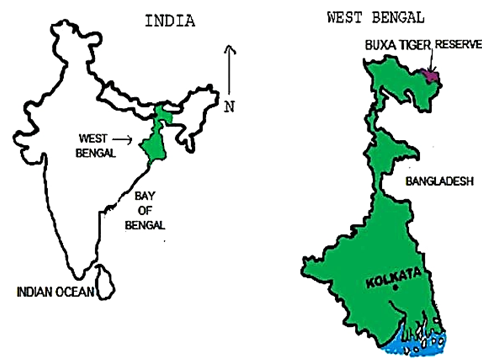 Tiger
Conservation Status
Indian Wildlife (Protection) Act, 1972: Schedule I
International Union for Conservation of Nature (IUCN) Red List: Endangered
Convention on International Trade in Endangered Species of Wild Fauna and Flora (CITES): Appendix I
Plant Discoveries 2020: Western Ghats gives More New Species
---
Recently, the Botanical Survey of India released its new publication 'Plant Discoveries 2020'. It has added 267 new taxa/ species to the country's flora.
The 267 new discoveries include 119 angiosperms; 3 pteridophytes; 5 bryophytes, 44 lichens; 57 fungi, 21 algae and 18 microbes.
In 2020, 202 new plant species were discovered across the country and 65 new records were added.
With these new discoveries the latest estimate of plant diversity in India stands at 54,733 taxa including 21,849 angiosperms, 82 gymnosperms, 1310 Pteridophytes, 2791 bryophytes, 2961 lichens, 15,504 fungi, 8979 algae and 1257 microbes.
This year one new monogeneric family Hanguanaceae has been recorded for the first time from India.
Most discoveries have been made from seed plants, with 1,199 (37%) taxa, followed by fungi 894 (27%).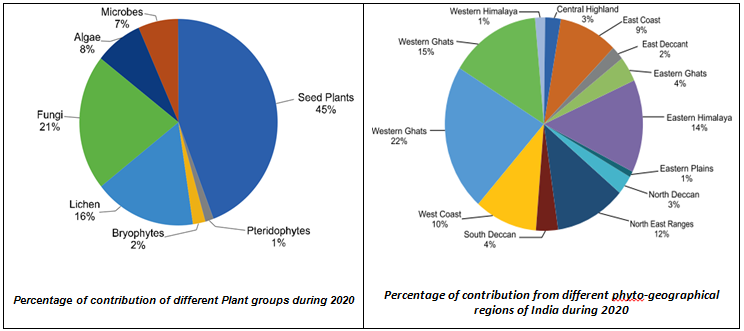 The following are some of the new discoveries this year
Nine new species of balsams (Impatiens)
One species of wild banana (Musa pradhanii) were discovered from Darjeeling
One species of wild jamun (Sygygium anamalaianum) from Coimbatore
Fern species (Selaginella odishana) were recorded from Kandhamal in Odisha
There are 14 new macro and 31 new micro fungi species recorded from various parts of India.
Note: The Global Strategy for Plant Conservation (GSPC) under the targets 2, 7 and 8 of Convention on Biodiversity (CBD) call for the status assessment of all known plant species and ex-situ or insitu conservation of 75 percent of the threatened species in every country. For this purpose, each country must have a working list of all plant species with data recorded for their distribution and occurrence. This can be achieved through systematic inventorization, exploration and documentation of the floristic wealth of the respective region.
World's First 5-Country Biosphere Reserve
---
The United Nations Educational, Scientific and Cultural Organization (UNESCO) has designated Mura-Drava-Danube (MDD) as the world's first 'five-country biosphere reserve'.
Aim
The strategy's aim is to revitalise 25,000 km of rivers and protect 30 per cent of the European Union's land area by 2030.
Area Covered
The biosphere reserve covers 700 kilometres of the Mura, Drava and Danube rivers and stretches across Austria, Slovenia, Croatia, Hungary and Serbia.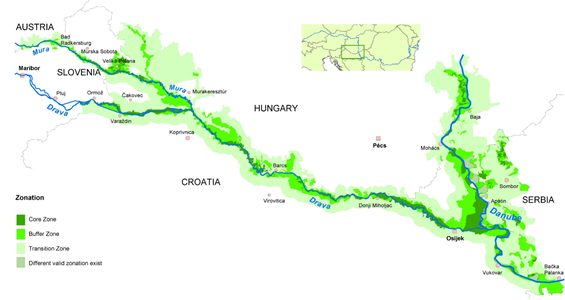 Source: WWF
The total area of the reserve — a million hectares — in the so-called 'Amazon of Europe', makes it the largest riverine protected area on the continent.
India's First Dugong Conservation Reserve
---
Tamil Nadu state government has announced to set up India's first dugong conservation reserve at the northern part of the Palk Bay.
About Dugong
The dugong (Dugong dugon), also called the sea cow, is herbivorous mammal.
They can grow upto three meters long, weigh about 300 kilograms, and live for about 65 to 70 years.
They graze on seagrass and come to the surface to breathe.
They are found in over 30 countries and in India are seen in the Gulf of Mannar, Gulf of Kutch, Palk Bay, and the Andaman and Nicobar Islands.
Conservation Status
Dugongs are listed as 'Vulnerable' on the IUCN Red List of Threatened Species.
Internationally, dugongs are listed in Appendix I of the Convention on International Trade in Endangered Species of Wild Fauna and Flora (CITES), which prohibits the trade of the species and its parts.
Dugongs are protected in India under Schedule 1 of the Indian Wildlife Act 1972 which bans the killing and purchasing of dugong meat.
Threat
The loss of 'seagrass' habitats, water pollution, and degradation of the coastal ecosystem due to developmental activities, have made life tough for these slow-moving animals.
Dugongs are also victims of accidental entanglement in fishing nets and collision with boats, trawlers.
Four more sites of India added to Ramsar List
---
Four more wetlands from India got recognition from the Ramsar Secretariat as Ramsar sites.
These sites are Thol and Wadhwana from Gujarat and Sultanpur and Bhindawas from Haryana.
Now, the number of Ramsar sites in India is 46.
While Haryana got its first Ramsar site, Gujarat got two more after Nalsarovar which was declared in 2012.
Brief about the New Ramsar Sites
Thol Lake Wildlife Sanctuary from Gujarat lies on the Central Asian Flyway and more than 320 bird species can be found here. The wetland supports more 30 threatened waterbird species, such as the critically endangered White-rumped Vulture and Sociable Lapwing , and the vulnerable Sarus Crane, Common Pochard and Lesser White-fronted Goose.
Wadhvana Wetland from Gujarat is internationally important for its birdlife as it provides wintering ground to migratory waterbirds, including over 80 species that migrate on the Central Asian Flyway. They include some threatened or near-threatened species such as the endangered Pallas's fish-Eagle, the vulnerable Common Pochard, and the near-threatened Dalmatian Pelican, Grey-headed Fish-eagle and Ferruginous Duck.
Bhindawas Wildlife Sanctuary, the largest wetland in Haryana is a human-made freshwater wetland. Over 250 bird species use the sanctuary throughout the year as a resting and roosting site. The site supports more than ten globally threatened species including the endangered Egyptian Vulture, Steppe Eagle, Pallas's Fish Eagle, and Black-bellied Tern.
Sultanpur National Park from Haryana supports more than 220 species of resident, winter migratory and local migratory waterbirds at critical stages of their life cycles. More than ten of these are globally threatened, including the critically endangered sociable lapwing, and the endangered Egyptian Vulture, Saker Falcon, Pallas's Fish Eagle and Black-bellied Tern.
Ramsar Convention
The Ramsar Convention is an international treaty for the conservation and wise use of wetlands. It is named after the Iranian city of Ramsar, on the Caspian Sea, where the treaty was signed on February 2, 1971.
Ramsar List
The aim of the Ramsar list is "to develop and maintain an international network of wetlands which are important for the conservation of global biological diversity and for sustaining human life through the maintenance of their ecosystem components, processes and benefits".
Importance of Wetlands
Wetlands provide a wide range of important resources and ecosystem services such as food, water, fibre, groundwater recharge, water purification, flood moderation, erosion control and climate regulation. They are, in fact, are a major source of water and our main supply of freshwater comes from an array of wetlands which help soak rainfall and recharge groundwater.
Ecosystem Services
---
On 5th October, 2020, The Energy and Resources Institute (TERI)released an assessment according to which the annual economic value of ecosystem services provided by the Delhi Zoo works out to be Rs 426 crore.
The study was commissioned by the Central Zoo Authority (CZA).
Key Points
The ecosystem services constitute heads such as biodiversity conservation, employment generation, education and research, carbon sequestration and recreational and cultural contributions.
When one-time ecosystem services are considered, such as carbon storage, the surrogate value of land and land value of Delhi Zoo, their contribution climbs to nearly Rs55,209 crore.
Significance
The study is 'first-of-its-kind' in India which gave a "powerful baseline assessment" of the important ecosystem services provided by the zoo.
These estimates could be used to compute value provided by zoos across India.
Ecosystem Services
These are the benefits provided by ecosystems that contribute to making human life both possible and worth living.
Examples of ecosystem services include products such as food and water, regulation of floods, soil erosion and disease outbreaks, and non-material benefits such as recreational and spiritual benefits in natural areas.
As per the Millennium Ecosystem Assessment (MEA), 2005,ecosystem services are "the benefits people obtain from ecosystems".
Categorization
MEA categorizes ecosystem services in four main types-
Provisioning Services: These are the products obtained from ecosystems such as food, fresh water, wood, fiber, genetic resources and medicines.
Regulating Services: These are defined as the benefits obtained from the regulation of ecosystem processes such as climate regulation, natural hazard regulation, water purification and waste management, pollination or pest control.
Habitat Services: These highlight the importance of ecosystems to provide habitat for migratory species and to maintain the viability of gene-pools.
Cultural Services: Theseinclude non-material benefits that people obtain from ecosystems such as spiritual enrichment, intellectual development, recreation and aesthetic values.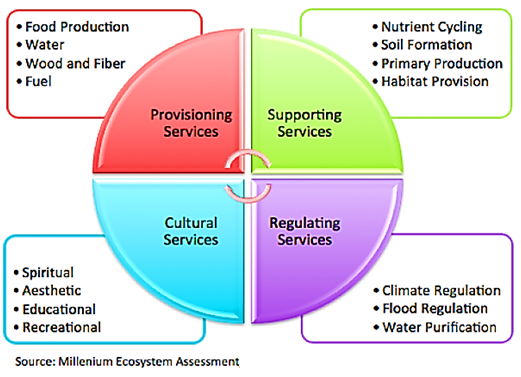 Millennium Ecosystem Assessment (MEA)
MEA is a major assessment of the human impact on the environment, called for by the United Nations Secretary-General Kofi Annan in 2000.
Objectives
To assess the consequences of ecosystem change for human well-being.
To study the scientific basis for action needed to enhance the conservation and sustainable use of those systems and their contribution to human well-being.
Himalayan Ibex
---
A recent study by scientists of the Zoological Survey of India (ZSI) has proved that Himalayan Ibex is a distinct species from the Siberian Ibex.
The paper, 'Genetic evidence for allopatric speciation of the Siberian Ibex (Capra sibirica) in India,' has recently been published in Endangered Species Research, an international peer-reviewed journal.
About the Findings
The study reveals that Siberian ibex is a polytypic species, plausibly formed by lumping of at least 2 species and or 3 to 4 sub-species.
The researchers, under a project funded through the National Mission on Himalayan Studies undertook field surveys and collected faecal samples from Lahaul and Spiti, Himachal Pradesh.
The genetic analysis conducted with the inclusion of the sequences available from all across the distribution ranges in Central Asia, Tajikistan, Altai Mountains, Mongolia and Russia provided first evidence to claim that Himalayan Ibex is genetically different from all other ranges of Siberian Ibex.
The samples collected from India clustered with the sequences from Tajikistan in a phylogenetic analysis, which were adequately different from the other two clades: KZ clade of Tajikistan (which broadly represents one of the clusters in the phylogeny) and AMR clade of Altai Mountains, Mongolia and Russia.
Based on the findings, it was estimated that the Siberian Ibex diverged from Alpine Ibex during the Pleistocene epoch (2.4 million years ago).
Reasons for Diversion
The scientists are now working to understand how the mountain oscillations might have led to this allopatric speciation with the inclusion of sophisticated tools of genomics and GIS.
It was presumed that the 'montane systems', formed by a series of climatic oscillations and temporal topographic metamorphosis, have broken up the contiguous distribution of widespread species and accelerated allopatric speciation.
Allopatric Speciation
Allopatric speciation occurs when a species separates into two separate groups which are isolated from one another.
A physical barrier, such as a mountain range or a waterway, makes it impossible for them to breed with one another.
Each species develops differently based on the demands of their unique habitat or the genetic characteristics of the group that are passed on to offspring.
It is speculated to be the most common way of species formation.
A famous example of allopatric speciation is that of Charles Darwin's Galápagos Finches, another one involves the Asian Elephant.
Polytypic Species
A species population which consists of two or more subspecies is known as a polytypic species.
It was first defined by Huxley (1940).
Examples are tiger, Panthera tigris which has several subspecies; such as—(i) Indian tiger, Panthera tigris tigris, (ii) the Chinese tiger, P. t. amoyensis, (iii) the Siberian tiger, P. t. altaica, (iv) the Javan tiger, P. t. sondaica, etc.

Significance of Study
The study is going to be the breakthrough in the global understanding of the Ibex distribution and evolution.
It will grab the attention of the global experts so that the species can be evaluated under IUCN.
The identification of Indian Tajikistan Ibex as a distinct species will prioritize the conservation of the species at global level.
Siberian Ibex (Capra sibirica)
It is a species of wild goat and is distributed in diverse habitats, ranging from cold deserts, rocky outcrops, steep terrain, high-land flats and mountain ridges to low mountains and foothills.
Most Siberian ibexes are seen in central and northern Asia, Afghanistan, western and northern China (Primarily Xinjiang), north-western India, south-eastern Kazakhstan, Kyrgyzstan, Tajikistan, eastern Uzbekistan, Mongolia, northern Pakistan, and south-central Russia.
IUCN Status: Least Concerned
Himalayan Ibex (Capra sibirica hemalayanus)
They are found in the western Himalaya in Pakistan and India, usually at elevations of 3800m and higher.
In India, the Ibex is distributed mainly in the trans-Himalayan ranges of the Union Territories of Ladakh and Jammu and Kashmir and Himachal Pradesh up to the river Sutlej.
Ecosystem Roles
Ibexes can be a significant prey item for many species.
Siberian ibexes host many different species of ectoparasites and endoparasites. The presence of ectoparasites on Siberian ibexes creates a symbiotic relation with magpies (Pica pica), and other birds These birds benefit from food that is supported on the body of Siberian ibex, while Siberian ibexes benefit from being groomed.
Throughout their distribution, ibexes browse and graze, impacting vegetation communities.
Snow Leopard Population Assessment Of India
---
On the occasion of International Snow Leopard Day (23rd October, 2019), Union Ministry for Environment, Forest and Climate Change (MoEFCC) launched the First National Protocol on Snow Leopard Population Assessment in India (SPAI).
The launch was made at the Inaugural session of the 4th steering committee meeting of the Global Snow Leopard & Ecosystem Protection (GSLEP) Program.
Objective
To help the Snow Leopard double its population.
About the Protocol
This protocol is evolved from the international efforts to develop a global protocol for the Population Assessment of World's Snow Leopards (PAWS) under the Global Snow Leopard Ecosystem Protection Program (GSLEP) of the twelve countries.
It has been developed by scientific experts in association with the Snow Leopard States/UTs namely, Ladakh, Jammu & Kashmir, Himachal Pradesh, Uttarakhand, Sikkim and Arunanchal Pradesh and the Wildlife Institute of India, Dehradun and Nature Conservation Foundation, Mysuru.
The Indian survey will extensively use camera traps, artificial intelligence, drones and genetic tools to find out the numbers of not only the snow leopard, but also its prey base like ungulate prey base like markhor, argali, urial, ibex, blue sheep (bharal), Tibetan wild ass, wild yak, Tibetan antelope, Tibetan gazelle and possibly Hangul or Kashmir red deer, musk deer, and Himalayan tahr.
Challenges to Assessment
Vast Habitat Area: Snow leopards occur over a vast, relatively remote and difficult to access mountainous area which will pose a major challenge to the estimation.
Unclear Distribution: Even their distribution remains unclear. For example, recent surveys show that they do not occur in 25 % of the area that was thought to be their range in the state of Himachal Pradesh. Variation in density across space also poses the risk of biased sampling.
Elusive Nature of Species: Snow leopard are known as the ghost of the mountains are due to their most elusive nature. This makes a complete population census of snow leopards an unfeasible goal.
Global Snow Leopard and Ecosystem Protection Program (GSLEP)
The GSLEP is a world first joint initiative that aims to conserve the endangered snow leopard within the broader context of also conserving valuable high mountain ecosystems.
In 2013, the 12 snow leopard range countries and partners signed the Bishkek Declaration and agreed to the goal of the GSLEP for the 7 years through 2020. These countries agreed to work together to identify and secure at least 20 snow leopard landscapes across the cat's range by 2020 or, in short – "Secure 20 by 2020."
It seeks to address high-mountain development issues using the conservation of endangered snow leopard.
Member Countries
India, Nepal, Bhutan, China, Mongolia, Russia, Pakistan, Afghanistan, Kyrgyzstan, Kazakhstan, Tajikistan, and Uzbekistan.
Population Assessment of the World's Snow Leopards(PAWS)
At the International Snow Leopard and Ecosystem Conservation Forum 2017 in Bishkek, the GSLEP country governments formally endorsed a plan to develop a global snow leopard population assessment.
Aim
It aims to produce a robust estimate of the threatened cat's population status within the next 5 years.
Significance
Will Provide First National Estimation: The protocol will help the snow leopard range states to estimate distribution and population of the big cats and prey in a uniform manner to arrive at a national estimate for the first time.
Guiding Document: This protocol will now serve as the main guiding document for the snow leopard range States in India and other agencies interested in snow leopard distribution and abundance estimation. This will provide crucial basis to design our management and conservation interventions and assess the effectiveness of the same in the long-term for better planning and management.
Site Identification: The program is expected to help identify sites in need of greater protection as well as how the species is responding to climate change.
Contribution to PAWS Initiative: will contribute to the global 'Population Assessment of the World's Snow Leopard's (PAWS) initiative.
Snow Leopard (Panthera uncia)
Habitat
The snow leopard inhabits the higher Himalayan and trans-Himalayan landscape at an altitude between 3,000 and 5,400 metres.
In India, it is found in Jammu & Kashmir, Himachal Pradesh, Uttarakhand, Sikkim and Arunachal Pradesh.
India contributes to about 5% of the global snow leopard population.
Conservation Status
In 2017, IUCN changed the status of Snow leopard in its Red List from 'endangered' to 'vulnerable'.
Listed in Schedule I of Wildlife (Protection) Act 1972.
Listed in Appendix I of the CITES.
Ecological Significance
Snow leopards are apex predators, meaning they play a key role in maintaining the biodiversity in an ecosystem. Through population dynamics and trophic cascades, snow leopards are an important indicator of the health of the environment at high altitude.
As the top predator in the high mountains of Inner Asia, the snow leopard plays an important ecological role in controlling the populations of the wild ungulate species it preys on, thus balancing the food chain system in the region.
Project Snow Leopard
Launched in 2009, it aims at safeguarding and conserving India's snow leopard and their habitats by ensuring their conservation and welfare through the participation of local population and through supportive actions of government.
Project is operational in Jammu & Kashmir, Himachal Pradesh, Uttarakhand, Sikkim and Arunachal Pradesh.
SECURE Himalaya Project
In 2017, Government of India and United Nations Development Program (UNDP), with support from the Global Environment Facility, started the "SECURE Himalayas - Securing livelihoods, conservation, sustainable use and restoration of high range Himalayan ecosystems", to ensure conservation of locally and globally significant biodiversity, land and forest resources in the high Himalayan ecosystem, while enhancing the lives and livelihoods of local communities.
Key Components
Conservation of key biodiversity areas and their effective management to secure long-term ecosystem resilience, habitat connectivity and conservation of snow leopard and other endangered species and their habitats
Securing sustainable community livelihoods and natural resource management in high range Himalayan ecosystems
Enhancing enforcement, monitoring and cooperation to reduce wildlife crime and related threats
Threats to Snow Leopard
Habitat Fragmentation
The snow leopard habitat range continues to decline from human settlement and increased use of grazing space. This development increasingly fragments the historic range of the species.
Climate Change
Climate change, such as the increasing climate aridity observed in Central Asia, is another emerging threat to high-mountain ecosystems, with the potential to directly or indirectly reduce habitat for snow leopards and their prey.
Increasing Livestock and Overgrazing
Although human population density in the snow leopard's ecosystems is relatively low, its habitats are heavily used by people whose livelihoods depend on traditional pastoralism and agro-pastoralism.
The resulting overgrazing leads to degradation of pastureland and wildlife habitats and serious soil erosion. This reduces wild prey numbers, which already live at relatively low densities due to the low productivity of the habitat, thereby impacting the snow leopard population.
Illegal Poaching
Illegal trade and illicit demand for snow leopard products exists at national and international levels, including in the West.
Snow leopards are killed and traded for their fur and other body parts, including teeth, claws, and bones.
Retaliatory Killings
Snow leopards are often killed by local farmers because they prey on livestock such as sheep, goats, horses, and yak calves. As their natural prey becomes harder to find, snow leopards are forced to kill livestock for survival, which leads to retaliatory killing of leopards.
Lack of Transboundary Cooperation
A lack of transboundary cooperation for snow leopard conservation threatens protection, law enforcement, and habitat connectivity as well as recovery efforts for the snow leopard and its prey.
It is estimated that up to a third of the snow leopard's known or potential range is located either along or less than 50‐100 km from the international borders of the 12 range countries.
Suggestive Conservation Measures
Enhance the role of local communities in snow leopard conservation.
Take firm action to stop poaching and illegal trade of snow leopards by adopting comprehensive legislation, strengthening national law-enforcement systems, enhancing national, regional, and international collaboration
Encourage meaningful participation of industry and the private sector in snow leopard conservation.
Ensure that infrastructure projects and other development programs are fully sensitive to the conservation needs of snow leopards and their ecosystems.
Increase bilateral and regional cooperation for snow leopard conservation in transboundary landscapes.
Strengthen capacity for community-based conservation, law enforcement support, and wildlife and ecosystem management, among policy makers and civil society by supporting knowledge exchange and communities of practice and communication and cooperation among stakeholders.
Way Forward
Snow leopard symbolizes the rich natural and cultural heritage of the Indian high-altitudes. The unique high-altitude ecosystem inhabited by snow leopards offer invaluable livelihood, ecosystem and economic services to millions of local and national populace.
Snow leopard habitat forms the source of most of the life sustaining rivers of Asia, including Indus, Satluj, Brahmaputra, and Ganga.
Snow leopard itself is a major attractor of tourism in the Himalayas, thereby, contributing to the local economy. Although challenges are many, it is on us to grab the opportunities of working together and help this unique, fascinating species persist in the future.
Forest-PLUS 2.0 Programme
---
Recently, India's Ministry of Environment, Forest and Climate Change (MoEF&CC) in collaboration with the US Agency for International Development (USAID) launched the Forest-PLUS 2.0 programme.
It is the second set of pilot projects, is meant to enhance sustainable forest landscape management after Forest-PLUS completed its five years in 2017.
Aim
It aims to reduce emissions from deforestation and forest degradation and enhance sequestration through afforestation, conservation, and sustainable management of
Need for Forest-Plus Programme
India has communicated in its Nationally Determined Contribution (NDC) under Paris Agreement (2015)to capture 2.5 to 3 billion tonnes of Carbon dioxide through additional forest and tree cover by 2030.
Key Actions under Forest 2.0
To Develop Tools for Managing Forests for Multiple Services:
Under the project, forestry management tools to enhance the flow of ecosystem services (water, in particular) will be developed in addition to development of model forest management plans based on an established ecosystem approach.
It help respond to increasing recognition of the need to manage forested watersheds to enhance water flow and quality, and improve the livelihood opportunities and resilience of forest-dependent communities.
Market-Based Instruments for Enhancing Finance:
The program will develop tools to better monitor and value ecosystem services, and will also demonstrate market-based mechanisms for efficient delivery of these services.
For example, a municipality or industry would make payments to upstream forest communities for using water flowing down from the forests because of improved forest management.
Conservation along Economic Opportunities:
USAID will focus on modeling and setting up conservation enterprises to provide viable economic opportunities to forest-dependent people (rather than subsistence-scale livelihoods) and will leverage considerable investment by the private sector.
Target Area for Forest-Plus 2.0
It comprises pilot project in three landscapes — Gaya in Bihar, Thiruvananthapuram in Kerala and Medak in Telangana.
The choice of these sites was driven by the contrast in their landscapes – Bihar is a forest deficit area, Telangana is a relatively drier area where there is ample scope for community livelihood enhancement and Kerala is rich in biodiversity.
Targets to be achieved
1,20,000 hectares of land under improved management
New, inclusive economic activity worth $12 million
Measurable benefits accrued to 800,000 households
Three incentive mechanisms( Strategy, Capacity and Support) demonstrated in managing landscapes for ecosystem services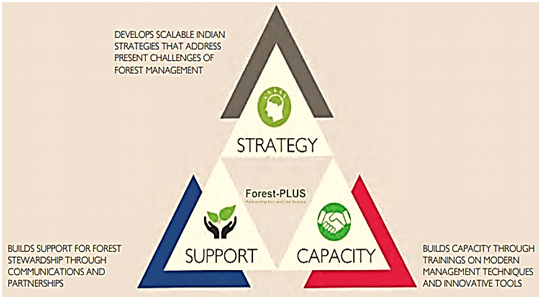 Source: USAID
Forest-Plus (Partnership for Land Use Science)
Implemented from July 2012 to November 2017,it focused on:
Developing tools, techniques and methods through scientific exchange and technical collaboration between the United States and India
Testing and deployment of tools and approaches in four pilot landscapes in India
The programme's first set focused on capacity building to help India participate in Reducing Emissions from Deforestation and forest Degradation (REDD+).
Achievements
Promotion of bio-briquettes in Sikkim
Introduction of solar heating systems in Rampur
Development of an agro-forestry model in Hoshangabad
Reducing Emissions from Deforestation and forest Degradation (REDD+)
It is a mechanism developed by Parties to the United Nations Framework Convention on Climate Change (UNFCCC), which creates a financial value for the carbon stored in forests by offering incentives for developing countries to reduce emissions from forested lands and invest in low-carbon paths to sustainable development. Developing countries would receive results-based payments for results-based actions.
REDD+ goes beyond simply deforestation and forest degradation and includes the role of conservation, sustainable management of forests and enhancement of forest carbon stocks.
Significance
Maintaining Ecosystem Health: Over the past few years, ithas helped target households reduce fuel wood use by almost 50 percent and improve management of about 1 million hectares of forests.
Enhanced Forest Monitoring:The project has helped the Government of India to develop a robust forest carbon monitoring system so that it can participate in the global forest carbon market.
Securing Livelihoods of Weaker Sections:The project has contributed to the betterment of the vulnerable USAID works with poor and marginalized forest communities in some of the remotest regions of India. For ex. in the Koraput district of Odisha, community members learned new skills for the sustainable harvest and processing of non-timber forest products. Then they invested in five women-led producer companies, boosting incomes for 4,000 families by 40 percent.
Innovative Private-sector Engagement: It has brought together local communities, government agencies, civil society groups, and the private sector for afforestation activities. This model enables the private sector to provide timely and effective inputs for forest management. Because India's current forest policy framework does not include roles for private sector in all aspects of forest management, this partnership model will enable the private sector to scale-up its vital engagement in forest management within the current policy constraints.
Way Forward
Increased pressure on forest resources of the country over the last few decades has threatened the livelihoods of millions of forest-dwellers and other poor people living in the vicinity of the forests. Forest resources have been important for the prosperity of any nation and its communities.
They are an essential natural resource providing multiple benefits to people besides other important functions such as biodiversity conservation, global carbon storage and a storehouse for future option values. The richand the poor alike are dependent on forest resources, directly or indirectly, and forestry in many developing countries, including India is also seen as a means for eradicating rural poverty and achieving sustainable development goal (SDG).
India Identifies 130 Wetlands For Priority Restoration
---
On 7th September, 2019, theGovernment identified 130 wetlands for priority restoration in the next five years.
The key decision came on the sidelines of the ongoing fourteenth session of the Conference of Parties (CoP) to the United Nations Convention to Combat Desertification (UNCCD) at Greater Noida, Uttar Pradesh.
Priority Actions
The identified wetlands will be restored under a comprehensive scheme of the National Plan for Conservation of Aquatic Ecosystems (NPCA) for conservation and restoration of wetlands and lakes.
Concerned states have been asked to submit their respective integrated management plan.
A new concept of 'Wetland Health Card' would be introduced to monitor the entire ecosystem based on multiple parameters.
Wetland Mitras (group of self-motivated individuals) will be formed for taking care of the identified wetlands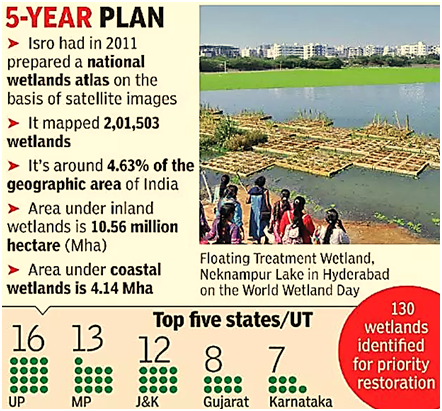 Wetlands in India
Indian Space Research Organisation(ISRO) in 2011 came out with a national wetlands atlas on the basis of satellite images, mapping over two lakh wetlands covering around 63% of the total geographic area of India
The highest number of such identified wetlands are in Uttar Pradesh (16) followed by Madhya Pradesh (13), Jammu & Kashmir (12), Gujarat (8), Karnataka (7) and West Bengal (6).
India's prominent wetlands include Chilika lake areas (Odisha), Wular lake (J&K), Renuka (Himachal Pradesh), Sambharlake (Rajasthan), DeeporBeel (Assam), East Kolkata wetlands (West Bengal), NalSarovar (Gujarat), Harika (Punjab), RudraSagar (Tripura) and Bhoj wetland (Madhya Pradesh).
Ramsar Convention
It is an international treaty for the conservation and wise use of wetlands, named after the Iranian city of Ramsar, on the Caspian Sea,
Officially Known as 'the Convention on Wetlands of International Importance especially as Waterfowl Habitat' (or just 'the Convention on Wetlands'), the treaty was signed on 2 February 1971 and came into force in 1975.
Currently, it has170 Contracting Parties, or member states with 2370 Ramsar site all over the globe.
The convention entered into force in India on 1 February 1982.
India currently has 27 sites designated as Wetlands of International Importance (Ramsar Sites), with a surface area of 1,056,871 hectares.
Montreux Record
It is a register of wetland sites on the Ramsar list, which are facing immediate challenges.
The listed sites are threatened by changes that affect their ecosystem components, processes, benefits and services.
It helps to identify priority sites for positive national and international conservation
Wetlands
A wetland is a land area that is saturated with water, either permanently or seasonally and it takes on the characteristics of a distinct ecosystem.They include:
swamps, marshes
billabongs, lakes, lagoons
saltmarshes, mudflats
mangroves, coral reefs
bogs, fens, and peatlands
It may support both aquatic and terrestrial species. The prolonged presence of water creates conditions that favor the growth of specially adapted plants (hydrophytes) and promote the development of characteristic wetland (hydric) soils.
Threats to Wetlands
Drainage for irrigation and agriculture
As a source of drinking water
Using the wetlands waters for electricity generation
Human settlements
Dredging sediments and exploiting mineral resources
Intensive harvesting of wetland goods
Industrial Pollution
Climate change
Land fillings
Importance of Wetlands
Ecological Importance
Carbon Sequestering Systems: Wetlands have the ability to store excess carbon (via photosynthesis) from the atmosphere, one of the primary components of greenhouse gases and a driver of climate change.
Water Store House:Wetlands work like giant sponges. They store water and then slowly release it, and this helps to deal with dry seasons with little rainfall.
Water Purification:Wetlands acts as water filter by filtering out sedimentation, decomposing vegetative matter and converting chemicals into useable form.
Flood Barriers:Wetlands can store the excess water, and slow it down so it distributes more evenly over a floodplain. The roots of trees and other vegetation also help slow the speed of flood waters.
Ground Water Recharge: Wetlands allow water to soak into the ground, and to replenish the natural ground-water supply.
Erosion Control: Wetland vegetation binds the soil on stream banks and riparian wetlands, preventing excessive erosion and sedimentation downstream.
Biological Supermarket: Wetlands can be regarded of as biological supermarkets. As they harbor a variety of species of microbes, plants, insects, amphibians, reptiles, birds, fish and mammals can be part of a wetland ecosystem.
Economic Importance
Food for Livestock:Wetlands provide good areas for grazing, and the variety of grasses, along with a supply of running water, can be beneficial to farming livestock.
Other Economical Value:Wetlands yield fuel wood for cooking, thatch for roofing, fibers for textiles and paper making industries and timber for building. Medicines are extracted from their bark, leaves, and fruits, and they also provide tannins and dyes, used extensively in the treatment of leather.
Recreational Opportunities: Many wetlands contain a diversity of plants, animals and water features that provide beautiful places for sightseeing, hiking, fishing, hunting, boating, bird watching, and photography, providing a better chance for development of tourism industry in any country.
Way Forward
Wetlands are ecosystems that provide numerous goods and services that have an economic value, not only to the local population living in its periphery but also to communities living outside the wetland area.
Restoring damaged wetlands should be a high prioritynot only for Indian government but for any government all over the world.
Recognizing the economic importance of wetlands in addition to their biodiversity, scientific value, climate regulation, potential tourism, socio-cultural and other important wetland values is yet another good reason to reverse global wetland loss.
Effort To Preserve Sunderbans Mangrove
---
On 19th August, 2019, Discovery India and World Wide Fund for Nature (WWF)-India partnered with the West Bengal government and local communities in the Sundarbans in a bid to help save the world's only mangrove tiger habitat.
Vision
WWF India and Discovery India are working with government agencies, civil society partners and scientific institutions to incorporate climate resilience into development planning, thereby helping secure livelihoods, biodiversity and ecosystem services.
The preservation effort aims to create climate-smart villages in the Sundarbans area.
Initiatives under the Project
Use of Technology in Dealing with Climate Change: It will make use technology to solve several of the issues faced in the region. This includes building datasets on impacts of climate change on the estuarine ecosystem.
Establishing Ecological Observations: Two Sundarbans Ecological Observatories will be set up, each featuring data loggers, monitoring buoys and an onsite laborator, in partnership with the West Bengal Forest Directorate and Indian Institute of Science Education and Research (IISER) Kolkata.
Enhancing Farmland Productivity: It also focuses on enhancing farmland productivity through low-cost measures and adjusting crop calendars to deal with climate change.
Securing Tiger Habitat: It will also include work towards securing habitats for tigers and prey species, under the Project Conserving Acres for Tigers (CAT), aimed at building healthy habitats for Tigers.
Sunderbans Mangrove Forest
It is the world's largest mangrove spreading at the mouth of delta of the Ganges, Brahmaputra and Meghna rivers on the Bay of Bengal.
It is home to hundreds of species including the Bengal tiger, the Ganges dolphin, and river terrapin, estuarine crocodile, water monitor lizard and olive ridley turtle.
The Sundarbans was inscribed a UNESCO World Heritage Site in 1987 because of its wildlife and unique ecosystem.
Project CAT
The project was launched in 2016 by Discovery in partnership with World Wildlife Fund to fund and conserve nearly 1 million acres of protected land across India and Bhutan to help protect wild tigers.
It aims to double the number of tigers in the wild globally by 2022.
Climate Smart Village (CSV)
CSV is a part of a project led by the CGIAR Research Program (formerly the Consultative Group for International Agricultural Research) on Climate Change, Agriculture and Food Security (CCAFS).
CSV are sites where researchers from national and international organisations, farmer's cooperatives, local government leaders, private sector organisations and key policy planners come together to identify which climate-smart agriculture (CSA) interventions are most appropriate to tackle the climate and agriculture challenges in the village.
The idea is to incorporate climate-smart agriculture into village development plans, with the help of local knowledge and expertise and assisted by local institutions.
Significance of the Initiative
Better Community Development: The partnership between WWF India and Discovery India is significant as it brings together different institutions for the benefit of communities and wildlife of Sundarbans by providing scientific inputs for proper management and preservation.
Conserving Biodiversity: It will help to develop a climate resilient Sundarbans that supports biodiversity, ecosystems services and sustainable development.
Reducing Human-Animal Conflict: It will help to reduce instances of human-wildlife conflict, thus, helping in better conservation of wildlife thriving in the forest.
Issues in Sunderbans Forest
Rising Sea Level: Situated in the low coastal zone, the Sundarbans are more vulnerable to the consequences of the changing climatic conditions such as floods, cyclones, relative sea-level rise, and coastline erosion. Rising sea levels are swallowing the forest, and increasing water salinity is damaging plant and marine life with worse effect on larger animals like Bengal Tigers and crocodiles.
Increasing Poaching and other Illegal Activities: Under the strain of land loss, poverty, limited livelihood options and unavailability of adequate infrastructure, communities living in the area are encroaching on the animal's habitat, tearing down trees to make space for farmland poaching activities. This biotic pressure and unsustainable exploitation of forest resources causes degradation of the natural habitat, which results in loss of biodiversity.
Human-Wildlife Conflict: The human population in the Sundarbans is very much dependent on biodiversity resources for their subsistence. They are even more prone to biotic hazards such as snakebites and tiger attacks, due to their proximity to the forests. On the other hand, incidents of wildlife straying into the villages are also increasing resulting in death of endangered species.
Increasing Pollution: A variety of anthropogenic activity, including intensive boating and fishing, dredging, tourism, port activities, operation of mechanized boats, excavation of sand from the riverbed and the establishment of power plants has led to increase in water pollution, impacting badly the entire mangrove ecosystem.
Way Forward
Sundarbans are highly productive mangrove wetland ecosystems, contributing several social, financial and environmental benefits. While it supports a sizeable population of wild tigers and other wildlife, it is also an ecologically fragile and climatically vulnerable region that is home to over 4.5 million people.
Inspite of several laws, policies and management plans, clear signs of degradation are showing up in the forest.
Proper implementation of the proposed resilient strategies i.e. incorporate all stakeholders to protect the forest, awareness programs, reduced forest dependency of local people, access to clean and sustainable energy, strengthen monitoring, effective human wildlife conflict management, ecological restoration, implementation of legal bindings, disaster management and adequate research and planning can be helpful for sustainable management of Sundarbans and its people.
Gogabeel: Bihar's First Community Reserve
---
On 8th August, 2019, Gogabeel in Bihar's Katihar district which is an ox-bow lake,was announced as the state's first Community Reserve(CR).
The water body was notified as a 57 hectare Community Reserve and a 30 hectare Conservation Reserve on August 2, 2019 by Department of Environment, Forest and Climate Change, Bihar.
It is the 15th Protected Area (PA) in Bihar.
Background:
Gogabeel was initially notified as a 'Closed Area' by the state government in the year 1990 for five years.
In 2004, Gogabeel, including the neighbouringBagharBeel and BaldiaChaur, were given the status of an Important Bird Area of India (IBA) by the Indian Bird Conservation Network(IBCN).
About Gogabeel Lake:
Situated in Amdabad block of Katihar district,it stretches to nearly an area of 217.99 acres, of which 143.84 acres is lake possessedby the Government of Bihar.
It is formed from the flow of the rivers Mahananda and Kankhar in the north and the Ganga in the south and east.
During monsoons and winter, close to 300 migratory birds come to the lake and its vicinity from the Caspian Sea and Siberian region.
Among the threatened species, the Lesser Adjutant Stork is listed as 'Vulnerable'by the IUCN while the Black Necked Stork, White Ibis and White-eyed Pochard are 'Near Threatened'.
Other species reported from this site include Black Ibis, Ashy Swallow Shrike, Jungle Babbler, Bank Myna, Red Munia, Northern Lapwing and Spotbill Duck.
What is a Community Reserve(CR)?
CRs refers to Protected Areas (PA), which typically act as buffer zonesto or connectors and migration corridors between established national parks, wildlife sanctuaries and reserved and protected forests of India.
India has at present four categories of protected area (PAs) - National Parks, Sanctuaries, Conservation Reserves and Community Reserves which are provided legal sanctity by the Wildlife (Protection) Act 1972.
Criteria to be declared as CR:
Such areas are designated as conservation areas if they are uninhabited and completely owned by the Government of India but used for subsistence by communities and community areas if parts of the lands are privately owned.
The State Government may, where the community or an individual has volunteered to conserve wild life and its habitat, declare any private or community land not comprised within a National Park. Sanctuary or a conservation reserve, as a community reserve, for protecting fauna, flora and traditional or cultural conservation values and practices.
These protected area categories were first introduced in the Wildlife (Protection) Amendment Act of 2002− the amendment to the Wildlife Protection Act of 1972.
Need for CR:
These categories were added because of reduced protection in and around existing or proposed protected areas due to private ownership of land, and land use.
In India, Meghalaya has the maximum number of CRs (65) followed by the Nagaland (57).
Importance of Protected Areas:
Ecosystems and Species Conservation:
Theseconserve a variety of species and ecosystems. They have been established in forests, grassland,wetlands, coastal and marine areas, high-altitude pastures or a combination of land types.Their purpose may be to protect a landscape, a patch of forest, ora specific species or its habitat.
It offer special conservation benefits for species and ecological processes that cannot survive outside these landscapes and support good numbers of rare and threatened species not found elsewhere.
Helps in Minimising Natural Hazards:
These are crucial in minimising the impacts of a wide range of natural disasters in different habitat types. They absorb excessive rainfall and control stream flows by gradually releasing the water into the soil and the streams and rivers of the watershed.
They provide space for the escape of floodwaters, weakening their damaging potential. Ecological loss from uncontrolled fires is kept to a minimum in P.As through effective fire-protection measures.
PAs can reduce or prevent the disastrous effects of hurricanes and storms, for example, the Sunderbans is credited with shielding inland areas from cyclones. Mangroves can reduce the impact of storm waves, and coastal areas with this type of vegetation suffer less than those areas without.
Helps in Maintaining Forest Cover:
They are a proven instrument to maintain forest cover in large areas and can strengthen the resilience of ecosystems and landscapes to climate change and provide safety through their genetic resources and ecosystem services. For example, while bamboo has disappeared from many areas of central India owing to heavy cattle grazing and frequent fires, the species is supported in several P.As.
Role in Water Conservation:
These maintain water supplies in a region of fragmented or denuded areas because they can absorb and then gradually release water into the soil, plants and streams. This makes them capable of capturing and storing rainfall during the rainy season and ensuring water availability throughout the year.
These areas minimise their net water flow, resulting in low run-off. They are sources of many important rivers and streams.
Reducing Water Contamination:
Natural wetlands and grasslands play an important role in reducing contamination levels in water. The quality of such water is generally better than that obtained from ordinary catchment areas. In addition, effectively managed P.As may also help control the emergence and rapid spread of a wide range of diseases, including malaria, trypanosomiasis and filariasis, which are reported to be caused by massive ecological disturbances.
Source of Livelihood:
PAs play a vital role in the rural economy. In many areas, forests and trees are among the few resources that are available to rural dwellers. They provide different kinds of benefits: jobs and incomes often needed to supplement inadequate returns from agriculture; produce such as fuel wood, food, fodder and building poles for the home; and a range of environmental benefits, without which other activity, such as agriculture might be impossible.
Conservation of Wild Relatives of Crops:
The wild relatives of crops are conserved by P.As. These plant species are the main source of much of the genetic material used for crop breeding. Also, these are vital sources of important traditional medicines and support a wide range of natural genetic resources, providing material for commercial medications.
Way Forward:
Protected areas are important tools for the conservation of biological diversity and are cornerstones of sustainable development strategies. They are tried and tested approach that have been put in application for centuries to conserve nature and related cultural resources by local communities, indigenous peoples, governments and other organisations.
As the world is keeping up with constant developmenttaking place rapidly, constraints on ecosystems and natural resources are escalating. Protected areas, when administeredrightly and embedded in development strategies, can offer nature-based solutions to this problem, and take their place as an integral component of sustainable development.
Aqueduct Water Risk Atlas
---
On 6th August, 2019, the World Resources Institute released a report- Aqueduct Water Risk Atlas, according to which seventeen countries, home to 25% of the global population are facing "extremely high" water stress.
Of the 17 nations, 12 are in the Middle East and North Africa. Two countries–India and Pakistan are in Asia. The remaining hotspots are San Marino in Europe, Botswana in Africa and Turkmenistan in Central Asia.
Key Findings of the Report
17 countries i.e. India, Pakistan, Saudi Arabia,Turkmenistan,Qatar, Israel, Lebanon, Iran, Jordan, Libya, Kuwait, Eritrea, UAE, San Marino, Bahrain, Oman and Botswana, face the risk of extremely high water stress.
Almost a quarter of the world's population lives in these countries facing extremely high water stress, close to "day zero" conditions when the taps completely run out of water.
While the Middle East and North Africa (MENA) region is hot and water supply can be low to begin with, rising demand has pushed countries into extreme stress, according to WRI. Qatar, the most at risk from water scarcity, depends heavily on seawater desalination systems to supply drinking water to people and industries.
The report states that even nations with low average water stress can have alarming hotspots. For instance, the US ranks 71 on the list, the state of New Mexico faces water stress much the same as UAE.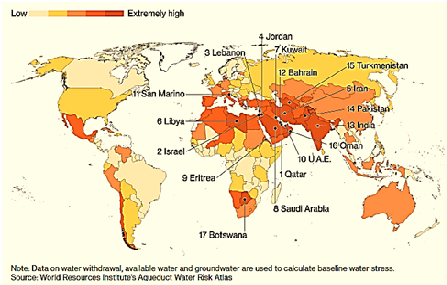 India's Water Woes
Of all the water-stressed countries, India has the highest population at risk.
India, which is ranked 13thon the list of countries with extremely high water risk, has more than three times the population of the other 16 countries in this category combined. The country, followed by neighbouring Pakistan, was under 'extremely high' levels of baseline water stress.
The problem in India is not isolated to the southern states. Northern India is facing extreme groundwater depletion.
Both surface water and groundwater in India was highly exploited. Groundwater levels, in fact, declined at more than eight centimetres per year between 1990 and 2014 in northern India.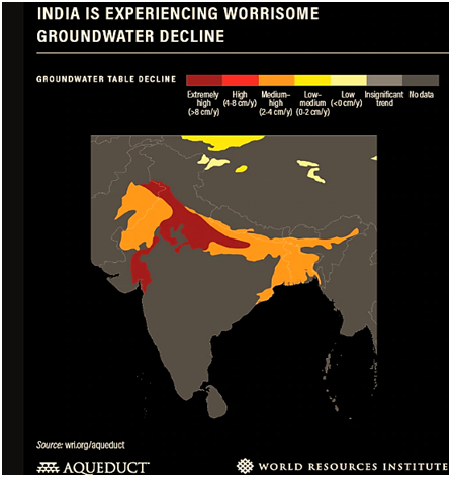 Aqueduct Water Risk Atlas(AWRA)
The AWRA, developed by the World Resources Institute, is a global water risk mapping tool that assistsfirms, investors, governments, and other users comprehend where and how water risks and opportunities are surfacingglobally.
The Atlas employs a sturdy, peer reviewed methodology and the most accurate available data to create high-resolution, customizable global maps of water risk.
Aqueduct now includes 13 indicators of water risk, including new additions such as groundwater availability and water depletion, and monthly snapshots of water stress and variability.
World Resources Institute (WRI)
It is a global research non-profit organization (based in USA) which focuses on 7 areas:

Food
Forests
Water
Energy
Cities
Climate
Ocean

The mission is to shift human society to live in ways that safegaurd Earth's environment.
Steps to Avoid Future Water Woes
Change Consumption and Lifestyles through Education:Education to motivate new behaviors will help in changing the face of this crisis. Major revamping of various forms of consumption, from personal use to the industrial use, leading to judicious and better use of water resources is much needed for coping up with coming era.
New Water Conservation Technologies:Innovation in areas where aquifers are drying up and rainwater is increasingly uncertain. Key factors contributing to this strategy are smart technology, regulation, metering and water-sensitive design.
Recycle Wastewater:Wastewater recycling helps customers optimise water costs and minimise their environmental footprint. Some countries, like Singapore, are trying to recycle to reduce water imports and become self-sufficient. The rich East Asian republic is a leader in developing advanced technology that cleanses wastewater for drinking and other uses.
Improve Irrigation and Agricultural Practices:Nearly 70 percent of the world's freshwater is used for agricultural purposes. Narrowing the supply and demand gaps can be done by making improvements in irrigation. Applying a more intelligent approach to water management by deploying precision irrigation systems and computer algorithms and modelling is already beginning to bring benefits to farmers in water scarce countries.
Develop Energy Efficient Desalination Plants:To date, desalination has been an energy-intensive way out to water scarcity. Typically the Middle East has capitalized on its huge energy reserves to construct desalination plants. But Saudi Arabia could be bringing up a new kind of desalination with its announcement to use solar-powered plants.But these innovations highlight another required resource - the capital for technological experimentation.
Improve Water Catchment and Harvesting:Water catchment systems are crucial for areas with no other dependable water sources. Countries like India and Pakistan, struggling with some of the worst effects of climate change, are revamping rainwater harvesting systems. These efforts offerunconstrained control of water resources.
Holistically Manage Ecosystems:Holistic management applies to a practical approach to manage natural resources that takes into account economic, cultural, and ecological objectives. In essence, the whole is greater than the sum of its parts, and each facet is related to and influences the others. Good examples of holistic management are communities that operate sewage treatment plants while pursuing partnerships with clean energy producers to use wastewater to fertilize algae and other biofuel crops. The crops, in turn, soak up nutrients and purify wastewater, significantly reducing pumping and treatment costs.
R&D / Innovation: Access to water in a water-scarce world will become a much higher priority in business decisions. Communities are likely to pursue public-private partnerships that draw on the innovative capacities of companies. One example - cities that operate sewage treatment plants are likely to pursue partnerships with clean energy producers to fertilize algae and other biofuel crops with wastewater.
Pollution Prevention: Less pollution creates more opportunity for water reuse and conserves natural water reserves. Regulatory policies are introduced on water discharging facilities. Also, numerous technologies exist to treat the effluents from domestic and industrial facilities.
Population Growth Control:Because of the accelerating growth in global population, parts of the world could see a supply-demand gap of up to 65 percent in water resources by 2030. Currently, more than one billion people don't have access to clean water. And with 70 percent of the world's freshwater used for agriculture, water's critical role in food production must be considered as climate and resource conditions change.
Way Forward
We can all be more efficient with the water that we use and help the environment along with helping with the scarcity problem. It is going to take a big change in politics to avoid one the biggest natural disasters of all time but we can all do our bit to try to help solve this major issue.
All India Tiger Estimation – 2018
---
KOn the occasion of Global Tiger Day(29th July), Prime Minister released the results of the fourth cycle of All India Tiger Estimation – 2018 in New Delhi.
The once-in-four-year survey, conducted by National Tiger Conservation Authority(NTCA) in collaboration with the State ForestDepartments, Conservation NGO's andcoordinated by the Wildlife Institute of India (WII), shows that the country witnessed a 33 percent increase in population since 2014.
Report Name: Status of Tigers Co-predators & Prey in India
Background
In 2006, when the survey was first conducted, India had only 1,411 tigers and since then the population has increased at six percent per annum.
In 2010, at the Tiger Summit of St. Petersburg, Russia, group of countries (Bangladesh, Bhutan, Cambodia, China, Indonesia, Laos PDR, Malaysia, Myanmar, Nepal, Russian Federation, Thailand and Vietnam) agreed to put in efforts to double the tiger population by
Need for Census
To Ensure Well-Being of Forest Ecosystem:The tiger sits at the peak of the food chain, and its conservation is important to ensure the well-being of the forest ecosystem.
Parameter of Government's Conservation Efforts:The numbers reflect the success or failure of conservation efforts. This is an especially important indicator in a fast-growing economy like India where the pressures of development often run counter to the demands of conservation. More than 80% of the world's wild tigers are in India, and it's crucial to keep track of their numbers.
To Achieve the International Goal:The Global Tiger Forum, an international collaboration of tiger-bearing countries, has set a goal of doubling the count of wild tigers by 2022.
Major Findings of the Survey
The total count has risen to 2,967 from 2,226 in 2014 - an increase of 741 individuals (aged more than one year), or 33%, in four years.
Madhya Pradesh witnessed the highest number of tigers at 526, followed by Karnataka (524) and Uttarakhand (442).
Chhattisgarh and Mizoram saw a decline in tiger population and all other States saw a positive increase.
The biggest increase has been in Madhya Pradesh - a massive 218 individuals (71%) from 308 in 2014 to 526. In Maharashtra, the number has gone up from 190 to 312 (64%), and in Karnataka, from 406 to 524 (118, or 29%). Uttarakhand has gained over 100 tigers (340 to 442; 30%).
Pench Tiger Reserve in Madhya Pradesh recorded the highest number of tigers, while Sathyamangalam Tiger Reserve in Tamil Nadu registered the "maximum improvement" since 2014.
No tigers were spotted at three tiger reserves - Buxa in West Bengal, Palamu in Jharkhand and Dampa in Mizoram.
Tiger populations at Nameri (Assam) and Pakke (Arunachal Pradesh) have also shown a decline.
Tigers colonised 25,709 sq km new areas; thier presence could not be ascertained in some areas, the report noted. Overall, areas occupied by tigers shrunk by 17,881 sq km (2014-18).
Since state boundaries do not apply to the movement of tigers, conservationists prefer to talk about tiger numbers in terms of landscapes rather than of states.
India's five tiger landscapes are: Shivalik Hills and Gangetic Plains, Central Indian Landscape and Eastern Ghats, Western Ghats, North-East Hills and Brahmaputra Plains, and the Sundarbans.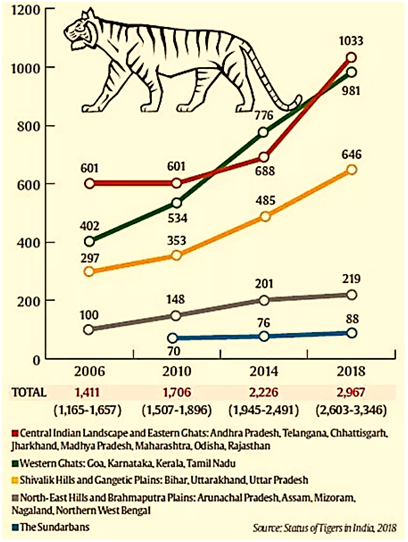 Reasons for Decline in Population of Tigers
Habitat Loss
Biggest concern is the habitat loss. Tiger habitat is being destroyed or fragmented by agricultural expansion and development. The fact that the forest covers are being cleared at an alarming rate is hugely impacting the lives of the big cats. This is why tigers move out and start feeding on livestock and some actually turn man-eater.
Conflict with Humans
As tigers continue to lose their habitat and prey species, they are increasingly coming into conflict with humans as they attack domestic animals and sometimes people. In retaliation, tigers are often killed by angry villagers.The most recent example is killing of a tigress by villagers near Pilibhit Tiger Reserve in Uttar Pradesh, on July, 24, 2019.
Poaching & Illegal Trade
Tigers are being killed indiscriminately for their skin, claws, teeth and bones. The tiger skin is a very costly and luxurious item and sought after in the west and among the rich and the luxurious. Its bones, teeth and claws are said to have magical medicinal properties and are of high demand especially in China and Thailand .In spite of legal actions against poaching and appointing forest guards, the big cats are not safe even in the sanctuaries.
Unregulated Tourism
Unfortunately and not surprisingly unregulated tourism is adding to its peril. Huge vehicles, too many safari rides & vehicles at the same time, littering and noisy tourists affect the already traumatized tigers. They move further deep into the forest, letting go of their favorite patches of the forest leading to more territorial fights and hence leading to less tigers.
Reasons for Increase in Tiger Population in India
Increased Conservation Efforts:
Sustained conservation efforts through continued "political will" have resulted in an increase in tiger numbers. The success owes a lot to increased conservation efforts by the Forest Department. From 28 in 2006, the number of tiger reserves went up to 50 in 2018, extending protection to larger numbers of tigers over the years.
Healthy increases in core area populations eventually lead to migrations to areas outside the core; this is why the 2018 census has found tigers in newer areas.
Over the years, there has been increased focus on tigers even in the areas under the territorial and commercial forestry arms of Forest Departments.
Increased Vigilance and Protection:
The other important reason is increased vigilance, and the fact that organised poaching rackets have been all but crushed.
According Wildlife Protection Society of India, there has been no organised poaching by traditional gangs in Central Indian landscapes since 2013.
The increased protection has encouraged the tiger to breed. According to Wildlife Institute of India, tigers are fast breeders when conditions are conducive.
More Availability of Space for Tigers:
The rehabilitation of villages outside core areas in many parts of the country has led to the availability of more inviolate space for tigers.
In the last five years, the number of protected areas (for tigers) increased from 692 to over 860 and community reserves from 43 to over 100.
Use of Technology and Digital Techniques:
Also, because estimation exercises have become increasingly more accurate over the years, it is possible that many tigers that eluded enumerators in earlier exercises were counted this time.
In this SURVEY, recording of primary field data digitally through mobile phone application like M-STrIPES (Monitoring System for tigers - intensive protection and ecological status), that uses GPS to geotag photo-evidences, and survey information made this exercise more accurate, with smaller margins of human error.
Way Forward
Maintaining the source values of tiger reserve populations through good management, protection and making the core areas inviolate through incentivized voluntary relocation of human habitation has been the most important reason for continued improvement in the status of tigers in India in the recent years.
Managing conflict promptly and providing economicincentives from tigers will foster coexistence in these multiple use forests and ensure the long-term future of tigers in India.
Further, India has managed to develop without compromising on the conservation of its natural heritage and has once again lived up to its expectations and contributed significantly to the common goalof the Global Tiger Recovery targets.
A New Species 'Impressive' Tortoise Discovered
---
A team of herpetologists from the Forest Department and two NGOs found the Impressed Tortoise (Manouria impressa) in Lower Subansiri, Arunachal district a few days ago.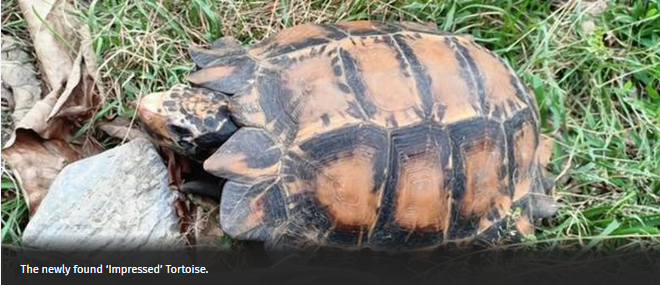 Impressed Tortoise:
An 'impressed' tortoise (Manouria impressa) has been found in Arunachal Pradesh. It is considered so beautiful that it has been named 'impressed'.
This is the first occurrence of this tortoise in India, taking the count of tortoise to five and the non-marine chelonian count to 29. Chelonian is an order of reptile that includes turtles, terrapins and tortoises.
Other species of tortoise:
There are only two species of tortoises under the Manouria genus i.e. Asian Forest Tortoise and Impressed tortoise. India was known to be the home of only the Asian Forest Tortoise (Manouria emys) until the discovery of the Impressed Tortoise.
The Asian Forest Tortoise is the largest in mainland Asia and is found only in the northeast in India.
Plantation Of Native Species In Bhubaneswar
---
Why is it in News?
Experts have urged the Bhubaneswar city administration to undertake plantation of native species which could withstand strong cyclonic winds in future.
How much did the trees suffer?
Around 99% of trees had suffered damage when Cyclone Fani hit the city on May 3. About 6% trees were uprooted and 5% suffered complete damage. As high as 57% of trees were partially damaged.
Although the fig plants like Ficus bengalensis and Ficus religiosa survived Fani's fury, most of their branches were lost. Kadamba (Anthocephalus cadamba) trees suffered heavy loss in the cyclone.
However, native species such as Karanja, Chhatiana, Nimba (Azadirachta indica), Bahada (Terminalia bellerica), Jamun (Jambul), Amba (mango) and Arjuna (terminalia) trees withstood the high wind speed and lost only 50% of their branches. These species should get priority when plantation would be undertaken in future.
DNA Database For Indian Rhino
---
Why is it in News?
The Union Environment Ministry has started a project to create DNA profiles of all rhinos in the country.
About the Project:
By 2021, the project's deadline, the Indian Rhino could be the first wild animal species in India to have all its members DNA-sequenced.
The project is supported by World Wide Fund for Nature-India (WWF-India) and the Centre-funded Wildlife Institute of India (WII).
The exercise would be useful in curbing poaching and gathering evidence in wildlife crimes involving rhinos.
There are three species of rhinos, of which only one — the Indian rhino — is found in the country. There are about 2,600 rhinos in India, with more than 90% of the population concentrated in Assam's Kaziranga National Park.
World Wide Fund for Nature:
It is an international organization founded in 1961 which is committed to conservation of the environment.
Today its mission statement is threefold:
oTo conserve the world's biological diversity.
oTo ensure that the use of renewable natural resources is sustainable.
oTo promote the reduction of pollution and of wasteful consumption.
The WWF provides money for conservation initiatives around the world. These include programs focused on individual species, forests, and freshwater and marine issues as well as climate change and responsible international trade.
The WWF works closely with the World Conservation Union and has formed partnerships with the United Nations, the World Bank, and the European Union.
It also seeks cooperation between nongovernmental organizations, local governments, and local populations.
Wildlife Institute of India:
Situated in Dehradun, India, WII is a government institution run by the Indian Council on Forestry Research and Education which trains wildlife managers and wildlife researchers.
Started in 1982, WII offers training programs and courses in wildlife research and management.
New Parasitic Plant
---
Why is it in News?
An orchid, which is a variant of a Japanese orchid, has been found in Assam which is a mycoheterotroph.
Parasitic Plants:
Parasitic plants are those plants which obtain complete or a part of their nutrition from other plants. It is broadly divided into two groups namely:
i.Mycoheterotrophs- It is a symbiotic relationship between certain kinds of plants and fungi, in which the plant gets all or part of its food from parasitism upon fungi rather than from photosynthesis.
A mycoheterotroph is the parasitic plant partner in this relationship. Mycoheterotrophy is considered a kind of cheating relationship and mycoheterotrophs are sometimes informally referred to as "mycorrhizal cheaters". An example is Orchids.
ii.Haustorial plants- It is those plants which obtain their nutrients from another plant via a modified roots called as "Haustorium".
This plant penetrates the host plant's cell wall and siphon nutrients from the space between the cell wall and plasma membrane. An example is Dodder.
Insectivorous Plants/ Carnivorous Plants:
Carnivorous plants are plants that derive some or most of their nutrients (but not energy) from trapping and consuming animals or protozoan, typically insects and other arthropods.
Carnivorous plants generally grow in places having high light and where the soil is thin or poor in nutrients, especially nitrogen.
What is the Cause of this Evolution?
Most carnivorous plants live in habitats with high light, waterlogged soils, and extremely low soil nitrogen and phosphorus, producing the ecological impetus to derive nitrogen from an alternate source.
High light environments allowed for the trade-off between photosynthetic leaves and prey capturing traps that are inefficient in photosynthesis. To compensate for the inefficient material, the nutrients obtained through carnivore would need to increase photosynthesis by investing in more leaf mass, i.e. growing.
This means when there is a shortage of nutrients and enough light and water, prey capture and digestion has the greatest impact on photosynthetic gains, favoring the evolution of plant adaptations which allowed for more effective and efficient carnivory.
Source: TH
Lecanorchis Taiwaniana
---
Why is it in News?
A Conservator of forests has discovered 'Lecanorchis taiwaniana' in Assam, which is the smallest orchid in terms of size and duration of bloom to be recorded ever botanically.
About the Discovery:
Precise identification of the 'Lecanorchis' species is often difficult due to short duration of flowering periods and close similarities in morphology.
The new species appeared close to the nigricans species while bearing 90% resemblance with the taiwaniana species named after Taiwan.
Detailed morphological study revealed that this unknown species can be considered as Lecanorchis taiwaniana.
The discovery of Lecanorchis taiwaniana has added to the orchid wealth of northeast India, which has 800 of some 1,300 species in the country. Nearly 300 species are found in the Western Ghats and 200 in the northwestern Himalayas.
Lecanorchis:
Lecanorchis are terrestrial, leafless myco-heterotrophs (formerly called saprophytes).
They contains over 30 species distributed across a large geographic range that includes China, Indonesia, Japan, Laos, Malaysia, New Guinea, the Pacific Islands, the Philippines, Taiwan, Thailand, and Vietnam.
The orchid, discovered earlier in Japan, Taiwan, and Laos, was found to have a maximum height of 40 cm and a blossoming period of five-six days.
They produce numerous, long, thick, horizontal roots under a short rhizome and bear dull brown, purple, yellow or green flowers with a somewhat brighter lip which is covered with dense, yellow hair.
Source: TH
Purple Frog
---
Why is it in News?
Purple Frog is soon to be honored as Kerala's state frog.
About the Species:
It is a rheophilic frog i.e. it survives in running water. It is endemic to the Western Ghats.
It has been evolving independently for around 100 million years. Hence, it is an excellent example of Living Fossils.
It is listed as 'Endangered' as per the IUCN Red List.
It is also known as Maveli Frog or Pignose Frog.
It is threatened due to deforestation from expanding cultivation, in addition to consumption and harvesting by local communities.
Earlier they were confined only to Palghat Gap of Western Ghats, but now is seen all across the Western Ghats.
Palghat Gap:
Palakkad Gap or Palghat gap is a mountainous gap present in between the Nilgiri hills and the Anaimalai Hills of Southern Hill Complex.
Shenkota gap is present in the Cardamom Hills.
Nilgiri, Anaimalai, Palani Hills and Cardamom Hills are collectively called as the 'Southern Hill Complex".
Southern Hill Complex is neither a part of the Western Ghats nor a part of the Eastern gGhats.
Source: TH, G. C. Leong
Indian Bullfrog
---
Why is it in News?
Indian Bullfrog has become invasive in Andaman & Nicobar Islands.
Relevance to Prelims 2019:
In UPSC 2018, question was asked on invasive species 'Prosopis juliflora (Videshi Kikar)', so this new species becomes important from prelims perspective and a question was also asked on 'Barren Island Volcano'. Andaman & Nicobar has been frequently seen in the news, therefore this segment becomes important from prelims perspective.
About Indian Bullfrog (Hoplobatrachus tigerinus):
They are found in India, Bangladesh, Pakistan, Nepal, Myanmar, Afghanistan, and Sri Lanka. They are also found in the Maldives and Madagascar.
They prefer freshwater wetlands and aquatic habitats. Generally they avoid coastal and forest areas.
It was introduced in India's Andaman Islands in 2000, where it is now a widespread invasive species. It eats native fishes and lizards which is threatening the endemic species of the Andaman Islands.
IUCN status- Least concern
What is an Invasive Species?
As per Convention on Biological Diversity, "An invasive alien species (IAS) is a species that is established outside of its natural past or present distribution, whose introduction and/or spread threaten biological diversity".
An invasive species can be any kind of living organism – an amphibian, plant, insect, fish, fungus, bacteria, or even an organism's seeds or eggs - that are not native to an ecosystem and may cause harm. Mainly, the species that grow and reproduce quickly, and spread aggressively, with potential to cause harm, are given the label "invasive."
Andaman & Nicobar Islands:
Andaman and Nicobar islands is a set of 572 islands out of which 36 are inhabited. It is situated between 6 degree & 14 degree latitude and hence it receives rainfall from both South-west Monsoon & North-east Monsoon.
Andaman & Nicobar Islands are extension of Purvanchal ranges and are thus not of Coral origin as that of Lakshwadeep.
Barren Island is an island located in the Andaman Sea, dominated by Barren Volcano, the only confirmed active volcano in South Asia.
Great Channel separates Nicobar Island with Sumatra.
Ten Degree channel separates Andaman & Nicobar Islands.
Tribes Present in A&N Islands:
There are four 'Negrito' tribes in the Andaman Islands - Great Anadamanese, Jarawa, Onge and Sentinels and two 'Mongoloid' tribes in the Nicobar Islands - Nicobarese & Shompen.
Source: TH, India Year Book 2019
Indian Vultures
---
Why is it in News?
Three Indian Vultures were found dead in Bejjur Forest range of Telangana.
Indian Vultures:
The Indian Vulture (Gyps indicus) is an old world vulture native to India, Pakistan and Nepal. It has been listed as 'Critically Endangered' on the IUCN Red List since 2002, as the population severely declined.
Cause of Decline in the Population:
Vultures usually act as scavengers, i.e. they feed on the carcass of animals. A drug called 'Diclofenac' was given to animals / cattles to increase their strength, relieve pain and increase milk production. When the vultures fed on the carcass of the animals injected with Diclofenac, it led to the renal failure of the Vultures leading to decline in their population exponentially.
If Diclofenac led to the killing of Vultures, why is it used?
Government came with an alternative - Meloxicam, but since it is costlier, people generally inject the cattles with Diclofenac instead of Meloxicam.
IUCN Status of other Vultures:
Slender Billed Vultures, White Rumped Vultures & Indian Vultures are listed as 'Critically Endangered.'
Cinerous Vultures:
The Cinereous Vulture (Aegypius monachus) is a large raptorial bird that is distributed through much of Eurasia.
It is also known as the black vulture, monk vulture, or Eurasian black vulture.
It generally occupies forests, grasslands and shrub lands.
During winters, it migrates from mountainous region of Europe to Asia (including India).
It is listed as 'Near Threatened' in the IUCN Red List and is present in Appendix II of CITES.
Source:
TH, Down to Earth
Neelakurinji
---
Why is it in News?
Due to forest fires, scientists are skeptical about the blooming of Neelakurinji in the next cycle.
About Neelakurinji:
Kurinji or Neelakurinji (Strobilanthes kunthianus) is a shrub that is found in the Shola forests of the Western Ghats in South India.
Nilgiri Hills, which literally means the blue mountains, got their name from the purplish blue flowers of Neelakurinji that blossoms only once in 12 years.
It grows at an altitude of 1300 to 2400 metres.
Besides the Western Ghats, Neelakurinji is also seen in the Shevroys in the Eastern Ghats.
The Paliyan tribal people living in Tamil Nadu use it as a reference to calculate their age.
The Shola Forest:
'Sholas' is the local name for patches of stunted tropical montane forest found in valleys amid rolling grassland in the higher montane regions of South India (Tamil Nadu, Kerala & Karnataka).
These patches of shola forests are found mainly in the valleys and are usually separated from one another by undulating montane grassland.
Distribution of Shola Forest in India:
Shola forests are found in the higher elevation hill regions of the Nilgiris, Anaimalai, Munnar, Palani hills, Meghamalai, Agasthyamalai to the south and the Malnad and associated ranges in parts of Wayanad, Coorg, Baba Budhangiri hills and Kudremukh up the north, in the states of Karnataka, Kerala and Tamil Nadu.
Shevroy Hills of Eastern Ghats:
Shevaroy Hills is named after the local deity Servarayan in Tamil Nadu.
Shevaroy Hills is a towering mountain range (1620 m) near the city of Salem, in Tamil Nadu. It is one of the major hill stations in Tamil Nadu and in the Eastern Ghats.
Source: TH
Sunderban Wetlands
---
Why is it in News?
Indian Sundarbans was accorded the status of 'Wetland of International Importance' under the Ramsar Convention in January 2019. Also, Sundarbans is constantly in news for tiger habitats facing extinction.
About Sunderban Wetlands:
The Sundarbans is a mangrove area which is formed mainly by the confluence of Ganga, Meghna and Brahamputra River in the Bay of Bengal.
It spreads from Hooghly River in West Bengal to Baleshwar River in Bangladesh.
Indian Sundarbans constitutes over 60% of the country's total mangrove forest area.
It is the 27th Ramsar Site in India, and with an area of 4,23,000 hectares, it is now the largest protected wetland in the country.
India has 40% of the total Sundarban region while 60% of the Sundarban region lies in Bangladesh.
The Indian Sundarbans, also a UNESCO world heritage site, is home to the Royal Bengal Tigers.
The part of the Sundarban delta, which lies in Bangladesh, was accorded the status of a Ramsar site in 1992.
How did Indian Sundarbans qualify for the Ramsar list?
Out of the 9 criterion prescribed by the Ramsar list, sites must satisfy at least 4 criterion to get listed.
The Indian Sundarbans met four of the nine criteria required for the status of 'Wetland of International Importance' - presence of rare species and threatened ecological communities, biological diversity, significant and representative fish and fish spawning ground and migration path.
What will be the Benefits of this Status?
The part of the Sundarban delta, which lies in Bangladesh, was accorded the status of a Ramsar site in 1992, and with Indian Sundarbans getting it too, international cooperation between the two countries for the protection of this unique ecosystem will increase.
This could lead to a better synergy in the conservation for flagship species such as the tiger and the northern river terrapin.
Is there any threat to the Sundarban Wetlands?
Over 4 million people live in the vicinity of that ecosystem; this has led to the undue pressure on the Sundarbans.
Excessive fishing & aquaculture is the other major threat to the wetland ecosystem of that region.
Drilling for oil & gas, fredging etc. are other major concerns for this region.
Some Salient Species Endemic to Sundarbans:
The Indian Sundarbans is home to the Royal Bengal Tigers.
The Indian Sundarbans is also home to a large number of rare and globally threatened species, such as the critically endangered northern river terrapin (Batagur Baska), the endangered Irrawaddy Dolphin (Orcaella brevirostris), and the vulnerable Fishing cat (Prionailurus viverrinus).
The Ramsar Convention:
The Ramsar Convention on Wetlands is an intergovernmental treaty which provides for the conservation and wise use of wetlands and their resources. It was signed in 1971 in Iran but came into force in 1975.
The Ramsar Convention is the only global environment treaty dealing with a particular ecosystem.
Montreaux Record:
Montreaux Record is a register of wetland sites of international importance where changes in ecological character have occurred or are occurring or likely to occur in the future due to pollution or other human interference.
It is maintained as a part of the Ramsar list.
Source: TH
Bumphead Parrotfish
---
Why is it in News?
Andaman & Nicobar has recorded a sharp decline in the number of the species.
About Bumphead Parrotfish:
It is the largest species of parrotfish, growing to lengths of 1.3 m and weighing up to 46 kg. It is named as Bumphead as it has a peculiar habit of ramming into the coral reefs and it can nibble up to 5 tonnes of coral reefs every year.
It is not legally protected in India but is listed as 'Vulnerable' as per the IUCN.
Does its Ramming into the Coral Reef damage the Coral Ecosystem?
Prima facie it appears that this peculiar habit of ramming and eating the coral reefs can have detrimental effect on the Coral Ecosystem, but in practice it has been found that this practice promotes coral growth and the overall health of the ecosystem.
Geographical Spread of Bumphead Parrotfish:
It is found on the reefs in the Indian and Pacific Oceans, from the Red Sea in the west to Samoa in the east, and from the Yaeyama Islands in the north to the Great Barrier Reef, Australia, in the south.
Threats to Bumphead Parrotfish:
Coral bleaching is one of the major causes of the decline in its number.
They get caught in the fishing nets which hampers their being.
They are considered as prized catch due to its meat delicacies.
Source: TH
Phen Wildlife Sanctuary
---
Why is it in News?
The NTCA (National Tiger Conservation Authority) has decided to develop a buffer zone of Kanha Tiger Reserve.
About Phen Wildlife Sanctuary:
Phen forest area was declared as a wildlife sanctuary in year 1983 by the Government of Madhya Pradesh. It is a popular buffer zone of Kanha National Park and lies in the southern region of Kanha National Park.
It is surrounded and connected to the Kanha Tiger Reserve through Motinala buffer range.
Faunas Present:
Tigers, Leopards, Wild boars, Cheetal, Sambhar among others.
Source:
TH
India's Newest Frog
---
Why is it in News?
A new frog was discovered in Wayanad, Kerala. It is a new species and is different enough to be assigned to a new 'subfamily'. Genetic analysis revealed that the species is at least 60 million years old.
About the New Species:
The frog which has been named it the starry dwarf frog Astrobatrachus Kurichiyana (genus Astrobatrachus after its starry spots and kurichiyana in honour of the Kurichiya tribal community who live in the area). The frog is just 2 cm long and sports pale blue spots and brilliant white thighs.
It is nocturnal amphibian and lives under leaf litter.
About the Kurichiya Community:
Kurichiya tribes, also known as Hill Brahmins or Malai Brahmins are a matrilineal tribe of Kerala distributed mainly in Wayanad and Kannur district of Kerala.
Kurichiyans
Megamalai Wildlife Sanctuary
---
Why is it in News?
A species of wood snake has resurfaced in Megamalai Wildlife Sanctuary after 140 years.
About Megamalai Wildlife Sanctuary:
This wildlife sanctuary is located in the Western Ghats in the state of Tamil nadu.
As this wildlife sanctuary is at the border of Tamil Nadu & Kerala, hence it acts as a buffer zone for Periyar Tiger Reserve which is present in state of Kerala.
Megamali Wildlife Sanctuary is famous for the Nilgiri Tahr, Lion-tailed Macaque, Great Indian Hornbill etc.
Wood snake is "point endemic" to Megamali Wildlife Sanctuary i.e. it is only found in that sanctuary and nowhere else.
Source: TH
Golden Langur
---
About the Species:
Golden Langur is found in a few forest patches of Assam, Tripura and Bhutan only. Due to its restricted habitat it is listed as 'Endangered' as per IUCN.
Golden Langur mostly prefers evergreen or moist deciduous forests to be their habitat.
Why is its Number Decreasing?
Stone quarrying and its habitat destruction is one of the major reasons for the number going down.
High decibel noise generated during stone quarrying has led to change in its behaviour and ultimately leading to a low survival rate.
Source: Down to Earth
Migratory Birds
---
Why is it in News?
A Heuglin's Gull was sighted with a plastic bottle ring around its beak in Kerala recently, which has raised alarm about the plastic wastes present in ocean.
About Heuglin's Gull:
Heuglin's Gull or Siberian Gull breeds in Tundra belt of Northern Russia and migrates South to South West Asia, including India during the winters.
They are listed as 'Least Concern' in the IUCN Red List and mainly feeds on molluscs, worms, and crustaceans.
In India, they are often seen in the Ganga-Yamuna flood plains and South India.
Threats to Gulls in India:
Plastic present in the ocean is a major threat to the gulls as they think it as a prey and it gets entangled around their neck or beak. This finally leads to their death.
Encroachment of their habitats and bird traps are the other threats to gulls in India.
Chilika Lake And Irrawaddy Dolphins
---
Why is it in News?
An expert panel has recently cited that highway projects in Odisha are threatening the birds, Olive Ridley Turtles etc. in the Chilika range vicinity.
About Chilika Lake:
It is the largest brackish water lagoon lake in India and second in the world.
It is located in Odisha at the mouth of River Daya flowing into the Bay of Bengal.
It was the first lake to be listed under Ramsar convention.
Chilika Lake is highly productive as it is an excellent example of Mangrove Ecosystem.
Nalbana Bird Sanctuary is present in the core area of Chilika Lake.
In a recent survey, Chilika Lake emerged as the single largest habitat of Irrawaddy dolphins in the world.
About the Nalbana Bird Sanctuary:
Nalbana Bird Sanctuary or Nalbana Island is the core area of the Ramsar designated wetlands of Chilika Lake. It was declared a bird sanctuary under the Wildlife Protection Act, 1972.
'Nalbana' in Odia means weed covered and this bird sanctuary appears due to accumulation of weeds in the post monsoon season and disappears during the monsoon season. The availability of shallow water and abundance of prey attracts the birds and is the largest breeding ground for Flamingo's in the world.
About Irrawaddy Dolphins:
Irrawaddy Dolphin is a Euryhaline species which is listed under Appendix I of the Convention on International Trade in Endangered Species (CITES) as well as the Convention on Migratory Species (CMS).
Irrawaddy Dolphins are found in Bay of Bengal Region, South East Asia (Mekong River Belt) etc. It is considered as a sacred species by Khmer & Lao people.
It is listed 'Endangered' as per the IUCN Red List.
What is a Euryhaline Species?
Euryhaline Species are those species which adapt to a wider and varying range of salinity, e.g.- the species that lives in estaury, creeks etc. as due to variation in flow of fresh water salinity of these ecosystem continuously changes.
Source: Down to Earth, TH, IE
Pench Tiger Reserve
---
Why is it in News?
Over a thousand of birds were killed in the buffer zone of Pench Tiger Reserve in Madhya Pradesh as the area was hit by a hailstorm recently. 590 egrets, 360 parrots and 152 crows are among the birds that were killed.
About the Pench Tiger Reserve:
The Pench Reserve or the Pench National Park is named after River Pench which originates from the Mahadeo Hills and divides the national park approximately into two equal halves.
This national park is present in southern part of Madhya Pradesh, but has some portions in the neighboring state of Maharashtra. But, when we say Pench Tiger Reserve, it broadly means we are referring to the tiger reserve of Madhya Pradesh.
Pench National Park was established as a tiger reserve in 1992.
It broadly spreads over the Districts of Chindwara and Seoni in MP.
It is situated in the southern slopes of Satpura-Maikal Range
Which other Wildlife Sanctuaries are part of the Pench Tiger Reserve?
The Pench Tiger Reserve comprises of the Indira Priyadarshini Pench National Park, the Pench Mowgli Sanctuary and a buffer zone.
Source: TH
New Delhi Declaration (NDD)
---
Why is it in News?
'The New Delhi Declaration on Asian Rhinos 2019' was signed by the five rhino range nations for the conservation and protection of the species. To increase the population of three species of Asian rhinos, including the Greater one-horned rhinoceros found in the Indian sub-continent, India will collaborate with Bhutan, Nepal, Indonesia and Malaysia.
What are the Different Asian Rhinos?
Asian Rhinos are classified into three species:
a) Greater One Horn Rhino/ Indian Rhino
b) Javan Rhino
c) Sumatran Rhino
Asian Rhino Countries: India, Nepal, Bhutan, Malaysia and Indonesia.
What has been the Outcome of NDD?
Countries have agreed for Trans Boundary Collaboration.
Real time intelligence sharing
Review of Population after 4 years
Expanding the Rhino habitat.
About Greater One Horn Rhino/ Indian Rhino:
It is largest of all the Rhino species.
IUCN status- Vulnerable
Current global population of Indian Rhino is 3,584. Kaziranga National Park has the highest rhinos in India (2,938) and Nepal has 646 Rhinos.
New Delhi Declaration (NDD) vis-à-vis One Horned Rhino:
At NDD it was realised that the single population of rhinos in Sukla-Phanta (Nepal), Valmiki Tiger Reserve (India), Chitwan National Park (Nepal) and Dudhwa (India) is separated by the political boundary between the two countries; hence, complete coordination has to be there for the free movement of Indian Rhino.
At NDD it was also decided that Bhutan per-se has no One Horned Rhino but sometimes Rhinos from Buxa Tiger Reserve or Manas National Park goes to Bhutan and therefore Bhutan too was taken on board for the conservation strategy.
Sumatran Rhino:
It is the only Asian Rhino having two horns.
It is the smallest of all the Asian Rhinos.
IUCN status- Critically Endangered.
Javan Rhino:
Only 65 Javan Rhinos are there in Unjung Kulan National Park, Javan Island, Indonesia.
IUCN status- Critically Endangered
Source:
TH
Wildlife Protection Act (WPA), 1972
---
Why is it in News?
The Forest Department has issue a warning-cum-advisory to the Telangana State Beedi Leaves and Forest Contractors' Association (TSBLFCA) against wanton destruction of forest or encouraging others to do so by way of burning it as part of beedi leaf collection activity.
It quoted penal sections of relevant laws to be circulated among the members, aimed at getting their cooperation in protecting the forests. It also mentions the provisions under Sections 29, 30, 51, 51 (ic) of the Wildlife (Protection) Act-1972. WPA is constantly making it to the news, so it is advisable to know about the important provisions of WPA.
About Wildlife Protection Act (WPA)-1972:
WPA- 1972 is an Act of the Parliament of India enacted for protection of plants and animal species. Before 1972, India only had five designated national parks. National Tiger Conservation Authority and National Board for Wildlife is the outcome of this Act. This Act extends to whole of India except J&K which has its own law on wild life conservation.
Section 1 & 2 of this Act protects those plants & animals that are in the category of Endangered Species. The sections in this schedule give absolute protection to certain species and these cannot be infringed on any account.
National Park, Wildlife sanctuary are set up under the provisions of WPA-1972, but Biosphere reserves are set up under Man and Biosphere Reserve Programme of UNESCO.
Source: Down to Earth
---